Are you a fitness freak who's effectively turned your fitness passion into an engaging Instagram presence? It's time to take that passion, turn it into a stream of income, and join other Instagram fitness influencers.
If you wonder how to make money as a fitness influencer, you're at the right place. Below, we'll talk about how you can go from being a fitness fanatic to a fitness influencer and make some big money in the process.
The fastest way to make money with your Instagram account is through influencer marketing platforms like Ainfluencer which is free and perfect for fitness bloggers.
But before that, you must learn how to become a fitness influencer. Click here to learn more about how to use Instagram for business.
How To Become A Fitness Influencer On Instagram?
To figure out how to make money as a fitness influencer, first of all, you need to know how to become a well-known fitness influencer on Instagram. This is the path that all Instagram fitness influencers took. If you desire to become a fitness influencer on Instagram and end up finding ways to make money in fitness, go through the following steps;
Start
Be a master of your content
Increase your Engagement
Increase your followers
Observe your progress
Learn from Instagram fitness influencers
Have patience
1- Start
To become a fitness influencer on Instagram and make money in fitness, allow yourself to start. All the other Instagram fitness influencers started with their flaws.
It does not mean you should not try your best at all. It simply means that you should start and try. Then everything falls into its right place, and you will be one of the successful Instagram fitness influencers one day.
Start To Be An Instagram Fitness Influencer
Define your objectives to become an Instagram Influencer.
Target your audience.
Make a professional Instagram fitness account.
1- Define Your Objectives To Become A Fitness Influencer
Be clear about your goals to make money as a fitness influencer on IG:
1- What is it that you want?
2- Do you want to be a fitness or bikini model, or do you want to bring more clients to your gym?
3- How many followers do you want to have in the short and long term?
2- Target Your Audience
Who the most do you try to inspire?
Those who are suffering from obesity?
Mothers after they give birth to their children?
Or normal people who want to be more good-looking?
Hanna Oeberg, for example, can inspire all moms who gave birth to their children.
To target your audience, you can hire your Instagram virtual assistant in AiGrow. In the VIP plan of AiGrow, your Instagram virtual assistant guarantees hundreds of target followers.
3- Make A Professional Instagram Fitness Account
Another easy yet important step is to professionalize your Instagram account to become a fitness influencer. Here is how to make a professional Instagram fitness account to be able to make money as a fitness influencer:
#1- Switch to Instagram Business Account
You are trying to become a fitness influencer on Instagram so that you'd make money out of it. So switch to Instagram business.
Here is how to switch to Instagram business accounts.
Go to your profile and tap those three lines in the upper right corner.
Tap Settings.
Tap Account.
Tap Switch to Professional Account.
Tap Business.
If you'd like, you can follow the steps to connect your professional account to a Facebook Page associated with your business. This step is optional and will make it easier to use all of the features available for businesses across the Facebook family of apps. At this time, only one Facebook Page can be connected to your professional account.
Add details, like your business category and contact information. Tap Done.
#2- Put Your Own Name in Username
Since you are trying to be an Instagram fitness influencer, you need to work on personal branding. So it is highly recommended to put your own name in your username.
#3- Put a Fitness Related Profile Photo
Your Instagram profile photo can be a picture of your athletic body, yourself, or your brand's logo.
#4- Write a Fitness Related Bio
In all business profiles, it matters to write a catchy bio relating to your niche. Your niche is supposed to be fitness modeling. So write a fitness-related bio.
Now that you had the rocket start, it is time to move toward the next step.
2- Be The Master Of Fitness Content On Instagram
You should not forget that there are so many good Instagram fitness influencers out there. To join them and compete with them, you must be the master of fitness content on Instagram. This is how!
#2-1 Find Your Tone
If you want to be an Instagram fitness influencer, you need to find your own tone. Do not copy another Instagram fitness influencer. Do not limit your abilities to theirs. Why would users follow the copy of someone who already exists?
You are unique in your own way! Find your way! Be yourself!
#2-2 Highlight Your Best Content
Instagram Story highlights are used as a showcase for all Instagram business accounts. Make sure you as well Use Instagram Story Highlights to Spice Up Your Page.
As a fitness coach, it is a great idea to highlight your clients' before/after photos. That can generate trust in visitors and turn them into your followers and possibly your fitness client.
#2-3 Take Care Of Aesthetical Features Of Your Instagram Account
When a user checks your page and gets satisfied with your profile, bio, and highlights, he might scroll to have an overlook on your page. As an Instagram fitness model, you are expected to post high-quality pics and videos. So take care of Aestatical features.
Natacha Oceane is one of the Instagram fitness influencers who took excellent care of the aesthetical features of her Instagram account. Scroll down to know what I mean.
#2-4 Master The Caption Of Your Content
Write a worthy caption. Something that engages your followers.
If your content is a video of you exercising, you can write the instructors, tips, and anything related in the caption.
In case your caption is long, divide sentences with emojis or free space. Make your caption skimmable.
Do not forget to add a clear call to action in the caption. You can ask them to click the link in bio, give giveaway instructions, or simply ask them to leave comments.
#2-5 Make Video Fitness Content
It has been proved that videos engage people more, especially when it comes to fitness.
You can make videos of your daily routine or compare the right and wrong way of the workouts so that they exercise properly and don't harm themselves.
Look how this Instagram fitness influencer shows off her abilities through a video.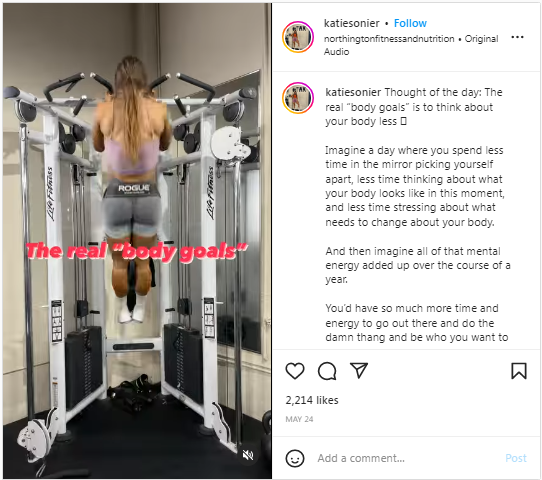 #2-6 Make Content For Special Days
It is not just limited to Instagram fitness influencers. All business accounts should bring it under consideration. You can either make content for special days or Sign up in the VIP package of AiGrow and have access to the social calendar feature unlimitedly or for free.
You can upload the already prepared content for special days and schedule it in advance to go live in this feature.
#2-7 Post Contents Relating To Healthy Diets And High-Qualified Sleeping
Fitness is not just about workouts. Fitness is more of a lifestyle. Publish content regarding healthy diets and high-quality sleeping.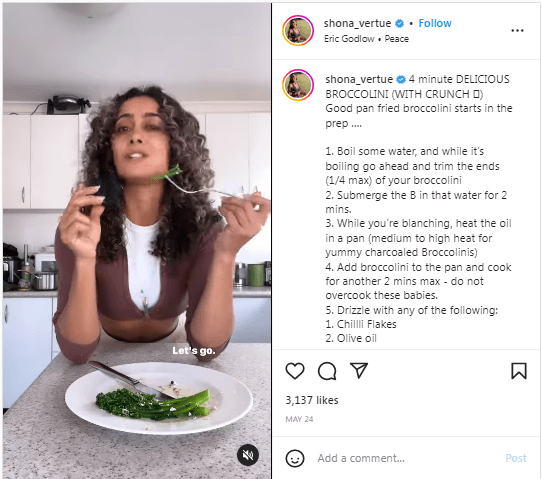 #2-8 Be Playful Time To Time
It is okay to post non-related fitness content once in a blue moon. As an example, Ulisses Jr makes funny videos from time to time. Many Instagram fitness influencers are the same. It is okay for you too.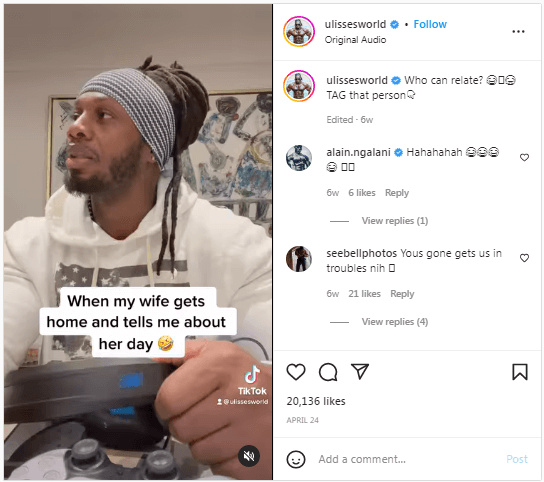 #2-9 Increase The Engagement
There are certain ways to increase your engagement rate. Wanna know how? Stay tuned!
Post when followers are most active.
Engage With Your Followers
Go Live On Instagram
#2-10 Increase Your Followers
The very first thing you need to focus on if you want to be known as a fitness influencer and find ways to make money in fitness on Instagram is to grow followers.
Wanna boost your followers? Keep reading!
Collaborate with other influencers. (Build a network with other influencers and try to promote one another.)
Install An Instagram Followers App. (You become a fitness influencer when you have a considerable number of followers. There are lots of Instagram followers apps that help you increase followers. Install one.)
Run A Giveaway To Increase Your Followers. (Run giveaways strategically to increase both the engagement rates and your followers.)
Buy The VIP Package Of AiGrow To Increase Your Followers
#2-11 Learn From Instagram Fitness Influencers
One of the greatest techniques to be successful is to look carefully at what your competitors are doing. For example, to be one of the well-known Instagram fitness influencers and make money as a fitness influencer, you can follow your competitors to get ideas and learn from them.
Then be patient. Go through the right path. Sooner or later, you will become a fitness influencer and find ways to make money in fitness.
#2-12 Act Now and Make money As a Fitness Influencer
Now is the time to act. Look again. in which level are you? How long are you away from being an Instagram fitness influencer? What you missed out on? Bring them down on a piece of paper.
AiGrow is a platform that helps you become a fitness influencer. In the VIP package of AiGrow, your manager gets you more than 500 new and target followers each month, engages with your followers, and makes 3 content a week. To see the pricing, sign up here.
How to make money as a fitness influencer?
Are you a fitness freak who's effectively turned your fitness obsession into an engaging Instagram presence? So, now, it's high time you should make money on Instagram fitness. How? Let's find out!
1- Practice influencer marketing
Influencer marketing is a phenomenon that is originated on Instagram. Influencer marketers are those who have a dedicated social following and are viewed as experts in niche and are able to influence Instagrammers.
Brands are seeking influencers with a large number of followers who are likely to buy their products. So, if you want to make money as a fitness influencer on Instagram, you'll need a large fan base who are interested in health and strength and some brands within your niche to connect and collaborate with. Isn't that so?
If you find the process of finding and collaborating with brands daunting and time-consuming, you can take advantage of influencer marketplaces like Ainfluencer to make this process faster and easier.
Ainfluencer_ Instagram influencer marketplace
Ainfluencer acts as a middleman that helps both brands and influencers meet and make deals. As mentioned earlier, one of the very first steps to making money in fitness and making money as a fitness influencer is to find the right brand that needs your influence to promote their products and services.
Ainfluencer helps you as a fitness influencer explore and discover thousands of sponsored content opportunities that fit with your style and audience.
Influencers can simply browse brands marketplace ads, use the built-in chatbox feature to negotiate with them, and close the deal. Ainfluencer to closely supervise the payments and make sure no issues will be raised later.
2- Digital courses and workshops
One of the very effective ways for Instagram fitness influencers to make money on Instagram fitness is to make the most of digital courses and workshops.
To monetize your audience as a fitness influencer, you can prepare different types of courses and workshops with different benefits and costs. Some courses teach basic workout techniques, while others focus on more advanced workouts or nutrition advice.
3- Ebooks
If you are one of those Instagram fitness influencers who are thought leaders and experts in their fields, so you will definitely have useful stuff to share with your followers.
One of the best ways to see how to make money as a fitness influencer is by selling your content in the form of an eBook.
Note: In case you have a fitness app, you can put the link in your bio and invite people to download and pay for it.
4- Affiliate marketing
Affiliate marketing is a great way to make money as a fitness influencer. There are many ways to do affiliate marketing, and the best way to find out is to look into different programs and see what works best for you.
Affiliate marketing allows influencers_ in this case, affiliates_ to get paid by companies for their marketing efforts.
For example, if you are one of the Instagram fitness influencers looking for ways to make money as a fitness influencer, you can simply add an affiliate link of a product or service in the caption of one of your Instagram posts. This could include weight loss medications such as appetite suppressants or fat burners. When a visitor or customer uses this affiliate link to go to the company's website or product page and makes a purchase of the weight loss medication, you'll receive a commission (a percentage of the sale).
How Much Do Instagram Fitness Influencers Make?
How much do fitness influencers make? Based on the number of followers one has, their engagement, and some other factors, the number can be different for each influencer.
Currys PC World investigated the world of health and fitness influencers, examining how well-known the biggest social media stars are, how much they earn, and what type of content they give.
Check out the health and fitness influencer index and filter the list by followers, niche, social media platforms, etc.
5 highest-earning fitness influencers
If you are still wondering how to make money as a fitness influencer on Instagram, it would be a beneficial approach to know the most popular ones and follow their steps.
1. Michelle Lewin
With almost 15M followers, she is one of the top Instagram fitness influencers. Michelle Lewin is a well-known fitness model and bodybuilder from Venezuela. She began modeling at an early age and quickly discovered that she had the capacity to do more than walking the runway, so she entered various competitions, including the NCP bikini competition.
She's also developed two fitness applications, Fitplan and Mealplan, to assist others in achieving their health objectives. With guided training instructions, coaching recommendations, and performance tracking, Fitplan acts as a personal trainer. Mealplan, on the other hand, complements your exercise with nutritious meals and customized dietary plans.
2. Jennifer Selter
Jennifer Leigh Selter aka Jen Selter is a social media influencer and an American fitness model born in Roslyn, New York. This fitness, nutrition, and lifestyle influencer has a massive following on social media. She has 13.4M followers on Instagram.
Jennifer wants her fans to feel like they're a part of her community and to engage other women in their fitness journeys. Thousands of women used the hashtag #seltering to share their training results, which helped her become one of the most popular fitness Instagram accounts.
3. Kayla Itsines
Kayla Itsines is an Australian fitness guru, YouTuber, and social media star. The fantastic fitness trainer was born in Adelaide, South Australia.
She launched her own fitness ebooks series "Bikini Body Guides". The Bikini Body Training Company was started by Itsines in 2014. Kayla Itsines is the director, while Tobi Pearce, her fiance, is the CEO.
TIME magazine named her one of the "30 Most Influential People on the Internet" in 2016. Kayla's Instagram following continues to increase as a result of her incredibly adaptable programs.
4. Ulisses Williams Jr.
Ulisses Jr is an American fitness model, bodybuilder, fitness instructor, and entrepreneur. He is best known for his Instagram account, which has more than 9.5 million followers. He is best known as a bodybuilder who has won numerous Musclemania events.
5. Simeon Panda
Simeon Panda is a professional bodybuilder, fitness artist, and entrepreneur from the United Kingdom. He is best known for competing in and winning numerous bodybuilding competitions. He also owns two well-known exercise equipment brands, SP Aesthetics and Just Lift. He's been featured in magazines including Train Mag, MuscleMag, and Fitness RX.
As one of the most well-known Instagram fitness influencers, he has more than 8M followers.
Conclusion
For Instagram fitness influencers, there are many ways to make money such as using an influencer marketplace like Ainfluencer to help them connect and collaborate with brands. But first of all, you need to become an influencer in your community and get paid to do sponsored posts. To do so, you will need a follower base with a high engagement rate, and the quickest and most natural way of growing is to use a managed Instagram service, like the one offered by AiGrow.
FAQs
1- How do you get paid for Instagram for fitness?
There are different steps to achieving your objective of making money as an Instagram fitness model.
1- Recheck your entire Instagram profile
2- Create quality content
3- Connect to other Instagram users
4- Learn from Instagram fitness influencers
5- Practice influencer marketing
6- Make the most of digital courses and workshops
7- Start affiliate marketing
8- Sell your content in the form of an eBook
2- Do fitness influencers make money on Instagram?
Yes, they do. They need to grow an audience of users who they interact with on a daily basis, and then turn those Instagram followers into a source of money. The number of followers needed to make this happen will vary depending on the person, but it will almost certainly take at least a million.