The competition on Instagram is getting more challenging to win, and working with well-known influencers is one way to stand out on this crowded platform. But do you investigate influencers before collaborating with them based on the niche, location, or their audiences using services like Hypeauditor?
Hype Auditor and other influencer marketing platforms can assist individuals and businesses in campaign planning, finding influencers on Instagram and other channels, building a solid relationship, audience analysis, and engagement rate monitoring, among other important metrics.
Services like HypeAuditor are designed for this purpose. But is it a legitimate service that delivers everything it promises? In this post, we will investigate Hypeauditor reviews and all its features to know if it's worth using or not.
But suppose you want to use a better service. In that case, we will introduce you to AiGrow to manage all aspects of your Instagram account, and Ainfluencer a better influencer marketplace to find an influencer and build your influencer marketing strategies.
So, stay with us.
What Is Hypeauditor
Hypeauditor is not an Instagram growth service, but it used to be an Instagram account authenticity-checking analytics platform that is now powered by AI.
After gradually evolving and improving, this service purportedly now provides all of the capabilities for people who are interested in influencer marketing and want to determine whether an influencer account is fraudulent or not.
Hype Auditor, apparently, is a SaaS company that claims to provide complex solutions in relation to influencers. This Instagram analytics tool claims to make it easier for organizations to collaborate with influencers and acquire more transparent influencer marketing insights.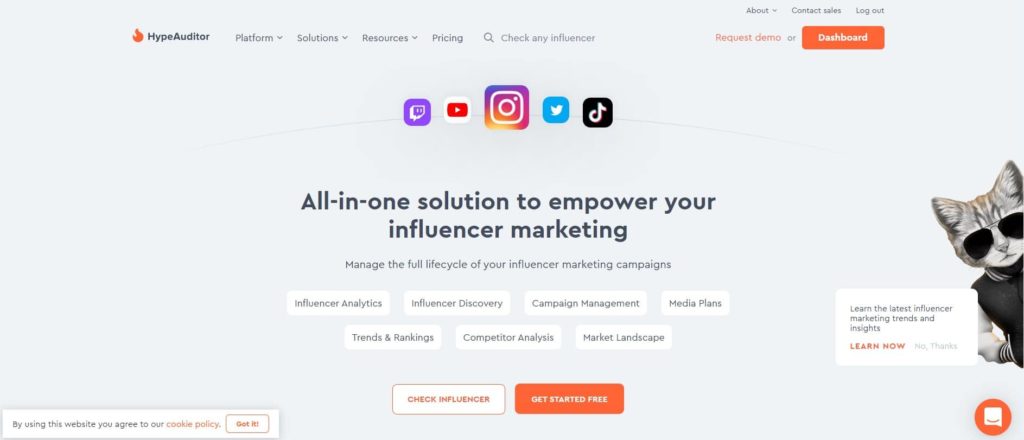 Additionally, the HypeAuditor Influencer marketing platform allegedly has created a comprehensive set of tools and reports for analyzing influencers on Instagram, YouTube, TikTok, Twitch, and Twitter.
Despite Hype Auditor having gained a lot of positive reviews on the g2.com website, on the Trustpilot website they couldn't gain a good score. So, before delving into the entire Hypeauditor reviews, take a look at the screenshot below.
According to this review on Trustpilot, Daniel Rosefeld say: "One of the worst experiences we have come across, took $500/mo for a plan and then we got cut off at 30 searches… asked for our money back and were told it's not possible as we already used up "resources" really!"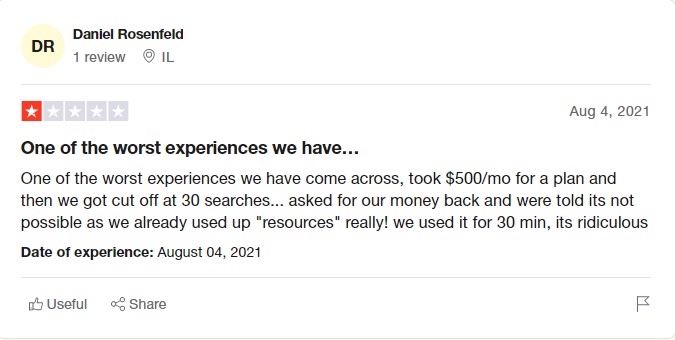 Leveraging influencers and local Influencer marketing may help you gain more IG followers and increase the engagement rate on your account, but it will not help you improve all aspects of your account.
But if you want to just contribute to influencers and focus on influencer marketing, we recommend you try another service instead of HypeAuditor.
Ainfluencer is the best influencer marketplace with a huge database of influencers that helps you to analyze influencers as well as plan strategic influencer marketing campaigns.
On the other hand, organic Instagram growth services, such as AiGrow, provide you with additional features such as DM tools, bulk delete posts, mass unfollowing, hosting effective giveaways, and a variety of other tools that help you improve your social media presence on Instagram with the assistance of their human-based managers.
But let's not digress from our main topic and continue our Hypeauditor review. So, keep reading to find out how it works.
How Does HypeAuditor Work
As we mentioned, this influencer search engine is said to help brands, agencies, and platforms find relevant influencers on Instagram, TikTok, and other social media platforms.
Hype Auditor then manages the entire lifecycle of their influencer marketing campaigns as well as determines the legitimacy of Instagram influencers' accounts by employing artificial intelligence algorithms.
The Hypeauditor toolset allegedly assists in discovering and comparing the quality of influencer accounts, verifying their audience authenticity, and analyzing audience demographics. But, first, let's look at the methods and algorithms that underpin Hype Auditor data.
AI Algorithms And Machine Learning
All of Hypeauditor's features, according to their website, are based on AI algorithms. This enables users to detect suspicious accounts and identify behavioral patterns. Furthermore, Hypeauditor's machine learning is a data analysis method that automates the creation of analytical models.
In essence, machine learning is a branch of artificial intelligence based on the idea that systems can learn from data, identify patterns, and make decisions without human interference.
As a result, it cannot be an additional benefit of this service because all services that provide influencer information and focus on influencer marketing must use this method.
Natural Language Processing And Сomputer Vision
Another branch of artificial intelligence that Hypeauditor claims to use is natural language processing (NLP), which enables computers to comprehend, decipher, and manipulate human language.
Additionally, it uses computer vision, a branch of artificial intelligence that teaches computers to recognize and interpret visual data.
Hypeauditor claims to use a variety of other methods, including deep learning, KNN, Native Bayes, and others. All of the methods they employ can be good, but only if they work!
Unfortunately, according to Hypeauditor reviews, this platform performed poorly, which we will investigate in the Reviews section. But first, let's take a look at the features of Hypeauditor.
Hypeauditor Features
Apparently, Hypeauditor used to be just a fraud detection tool, but it now offers users a variety of features related to influencers that help people in their influencer marketing strategies.
The goal of Hype Auditor is to provide analytics solutions to ensure that the company's clients work as quickly and efficiently as possible with social media influencers and producers of any size.
The most important Hypeauditor features are as follows:
#1 Hype Auditor Influencers Discovery Tool
The Hypeauditor Influencer discovery tool allegedly assists users in locating influencers within a 50.5M+ database from five major social channels.
For example, their AI-powered tool analyses around 29 million Instagram influencers and identifies them according to the target audience you need.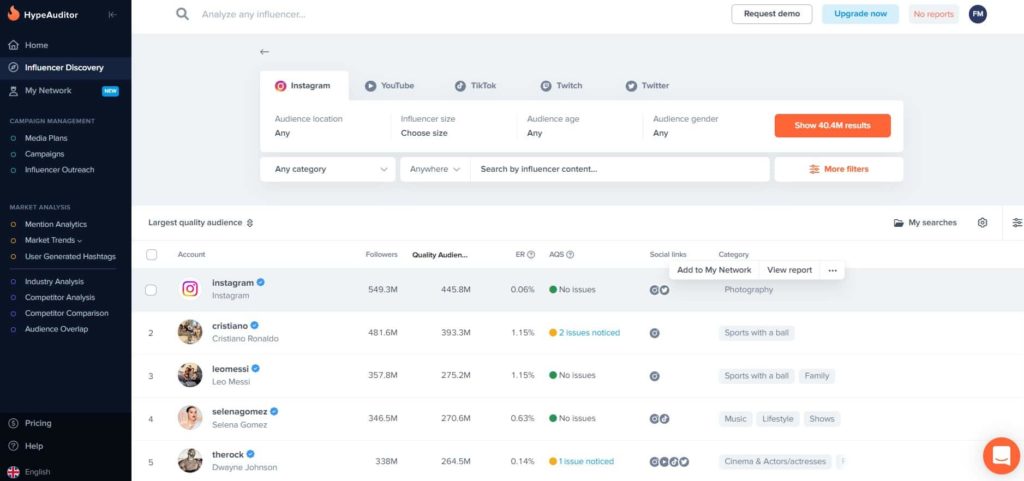 They claim that the database of this influencer search platform, which includes profiles of YouTubers, TikTokers, Twitch streamers, and Twitter influencers, is growing on a continuous basis.
What you see in the influencer discovery section is simply a list of the most famous influencers who are known by everyone in the world.
You can, however, filter them by location, gender, number of followers (Nano, micro, and mega influencers), and age, and then press the enter button to see the results.
According to studies, try to find local influencers in your niche because working with the most famous influencers is not always beneficial to businesses!
#2 Influencer Analytics
Deep learning algorithms are used by Hypeauditor to provide insights about influencers' audiences, detect fraud activity, find the best influencers for marketing campaigns, and assist businesses in obtaining more straightforward influencer marketing analytics.
However, take a look at the screenshot below of an analysis of one of the most well-known Instagram influencers, @Cristiano. Cristiano Ronaldo is a Portuguese footballer who lives in Manchester. As you can see, the HypeAuditor analysis is not very accurate.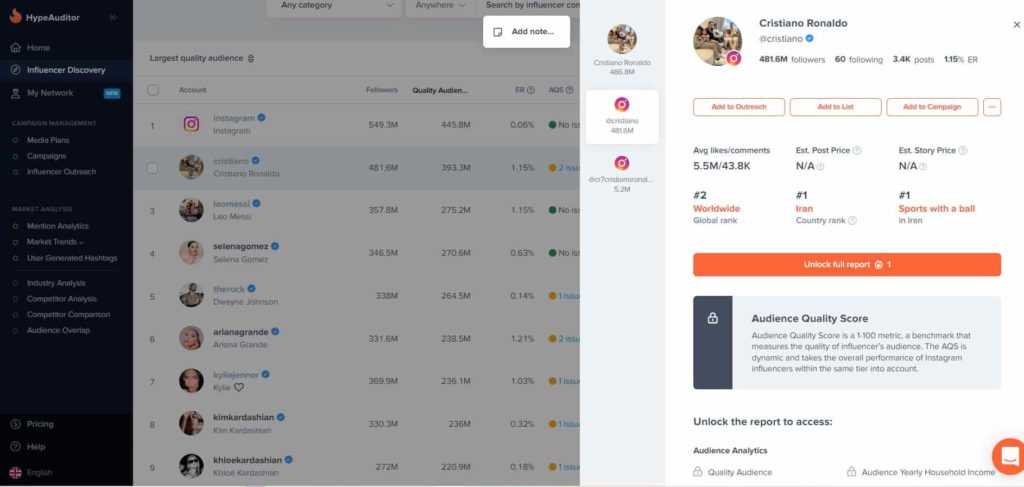 As a result, their analysis cannot be trusted! We recommend that you consider another option that will provide you with more precise information.
Ainfluencer is another influencer marketplace that you can consider as a Hypeauditor alternative with exact metrics. This influencer discovery tool helps you find the most relevant influencers. Read the Ainfluencer review to know more about it.
#3 Campaign Management
The Hypeauditor campaign management tool helps users to manage their campaigns at every stage, from influencer lists to a final report.
The Campaign Management Solution allows businesses to create branded media plans for influencer campaigns, manage and automate campaigns with AI-based features, and track their performance.
Hype Auditor allegedly integrates with Shopify and provides brands and agencies with a toolkit capable of implementing creative approaches and automating manual tasks. But according to Hypeauditor reviews, it is not completely automatic and you should do some adjustments manually.
#4 Hypeauditor Media Plans
According to the Hype Auditor website, you can allegedly create media plans in minutes for campaigns on Instagram, YouTube, Twitter, or TikTok.
You can also calculate KPIs automatically, and share and demonstrate influencers to your prospective customers via a link when preparing a successful business pitch without exports to Excel.
You can also estimate how much the influencer campaign will cost by adding influencers to your campaign list.
Hypeauditor allegedly evaluates campaign KPIs, target audience percentage, engagement, CPE, EMV, and ROI automatically.
#5 Competitor Analysis
Hypeauditor competitor analysis reports include analysis for exploring influencer strategies of competitive brands. This helps to compare multiple brands' influencer marketing campaigns. And also provide users with the information about estimated campaign budget, target audience, and sponsored content.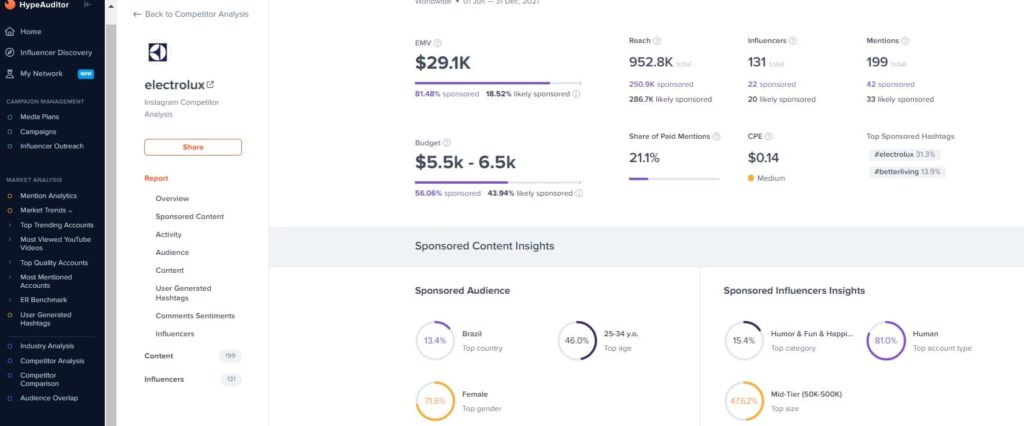 #6 Market And Industry Analysis
Market Analysis report from HypeAuditor is designed to provide businesses with industry insights and the influencer marketing geography in various countries and niche markets.
It includes reports on the value of influencer marketing activities, key market players, engagement rates, and influencers that you may want to work with.
Comparing different brands, analyzing the effectiveness of their campaigns, and discovering the top-performing businesses in terms of their influencer marketing activities are also other information that you may reach.
#7 Audience Overlap
Another feature that Hypeauditor claims to have is audience overlap which helps to filter and refine the influencer list for the marketing campaigns.
Using this feature, you can gain access to the list of influencers and check the percentages of unique or repeated followers that your brand and rivals are reaching with influencers.
Hypeauditor also provides users with other features like market landscape, content analysis, and account tracking.
But can you believe a company that invests in such features and technology, engages in suspicious activity, and overcharges users' credit cards? How did this happen?
To assist you in making an informed selection, we will present a case study, evaluate Hype Auditor's benefits and cons, and then proceed with HypeAuditor reviews and the best alternative for it. Continue reading.
Hypeauditor Case Studies
We tried its dashboard to evaluate the Hype Auditor Instagram Influencer discovery and analysis. To do so, we chose two Instagram influencers, searched their names, and viewed their dashboard to see what information they provided.
Continue reading to find out what information you will have access to using this influencer marketing platform.
Shayne Topp And Brent Rivera On HypeAuditor
In the influencer discovery section, we look up the names @shaynetopp, and @brentrivera, two Instagram influencers. The HypeAuditor free account just allows you to check the number of followers, influencer classification, and engagement rate.
However, you should pay and charge your account to see the quality of audiences and the authenticity of engagement.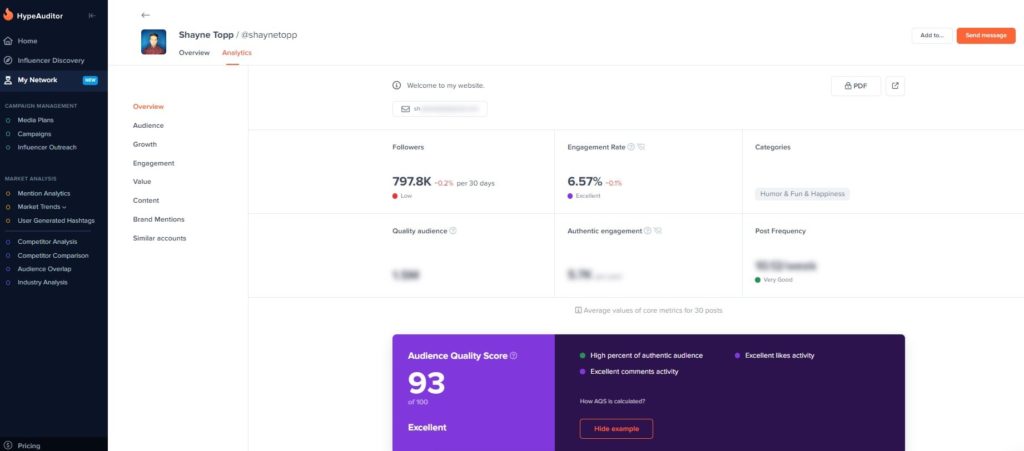 While browsing each influencer's report in Influencer Discovery, you may see that the information for each has a score/assessment. The engagement rate, for example, reveals the percentage of the audience who engaged with the content shared by this influencer, including likes and comments.
Furthermore, you can get information on influencer audiences such as geography, demographics, education level, and so on. However, what disappointed us was that with the HypeAuditor Free package, all of the information they provide for an Influencer that you search for is not real.
As you can see in the screenshot below, they stated that the information about Shayne Topp is not real. As a result, you should charge your account in order to access the accurate information.

You'll also get an evaluation of how many of the followers are 'quality,' which gives you a more realistic estimate of that influencer's reach. You will also get access to information about influencer growth in recent years, their value, the evaluation of their content, brand mentions, and similar accounts.
For example, we went through the content analysis of Brent Rivera. The Hypeauditor report found that 50% of comments were positive, 6.29% were negative, and the rest were neutral, based on an analysis of 2K comments across 49 posts.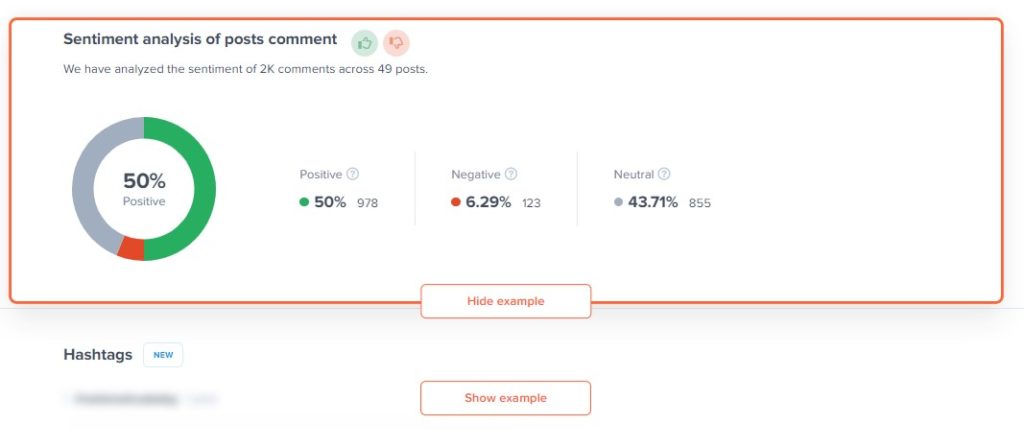 You can also test its dashboard to see if the output meets your expectations. The issue with this service is that the dashboard is a little complicated, and it takes a long time to figure out how to use it. Furthermore, some of the information is not accurate.
Hypeauditor Pros And Cons
HypeAuditor is a fantastic influencer marketing platform that assists you in discovering and analyzing influencers on YouTube and Instagram, but they also claim to support TikTok, Twitch, and Twitter.
Its vast network is connected to millions of influencers, allowing it to connect with them and build meaningful relationships. We've compiled its benefits and drawbacks to help you make the best decision.
Hypeauditor Pros
It has a comprehensive dashboard with a lot of capabilities.
Hypeauditor has advanced AI fraud detection technology.
It supports different social media platforms.
Monitored account growth included.
Free demo and account available.
A good score on the g2.com website.
Hypeauditor Cons
Their dashboard is intricate and difficult to understand.
A low score on the Trustpilot website.
In the Hypeauditor free package, the information is limited and some of them are not real!
According to some reviews you just access Instagram and YouTube influencers.
HypeAuditor Reviews
You have now learned about the features of Hype Auditor as well as the technology that they use to collect all of the information about Influencers. You undoubtedly noticed that their service may be lacking in any case!
We investigated Hypeauditor reviews revealed by users on various websites to learn about their first-hand experiences with this service. One of them is this review on the Trustpilot website that is shown in the screenshot below: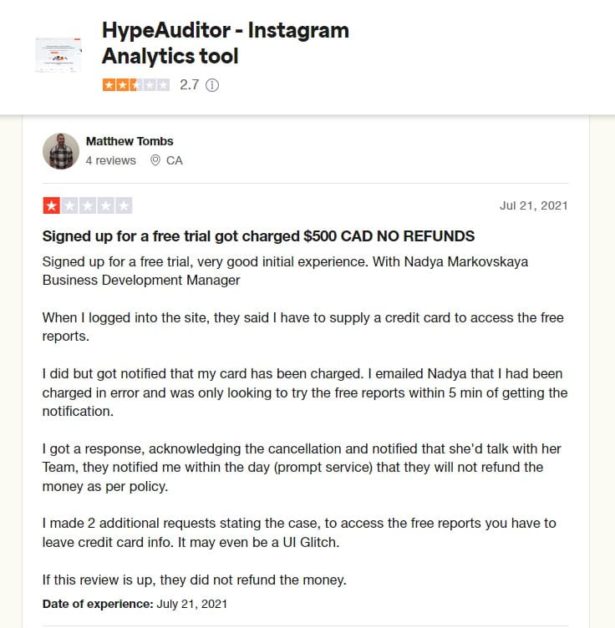 An issue that repeatedly is declared by users is that they signed up for a free trial, but the Hypeauditor service has wanted users to leave their credit card information to access the free reports, and then they have been charged $500 or more!
Another review on the getapp.com website says something like that.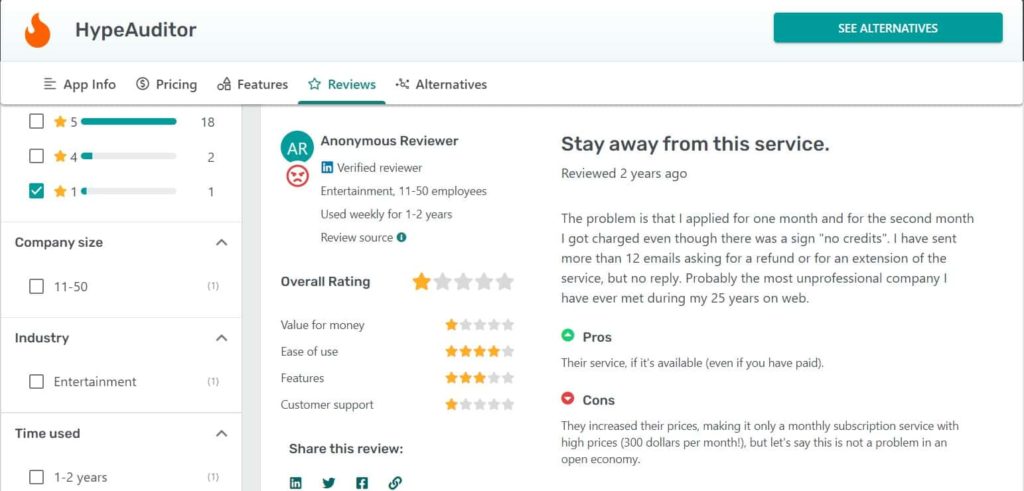 Again another review on the g2.com website says the same thing about their service. This user purchased their service for one month but has been recharged for the second month too.
According to this Hypeauditor review, the price of their service is also so high.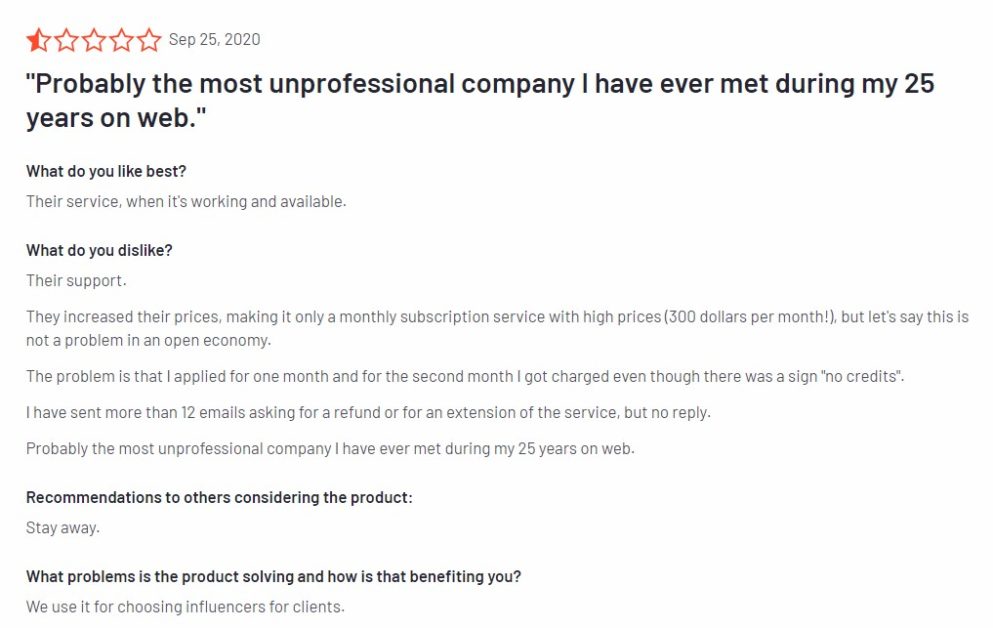 Here we should mention that the Hypeauditor Reviews on the g2 website have an acceptable average score. However, according to other Hype Auditor reviews, we can conclude that this influencer marketplace is just designed to collect emails and credit card information from clients and then deliver defective information and reports.
So, stay away from them and consider another platform. Additionally, there is a suspicion of the relationship between Hypeauditor and Socialmeep that we previously talked about.
Social Meep used to be an Instagram growth tool, and the design of their website was exactly similar to Hypeauditor.
You can read its review and also a lot of other Instagram services' reviews on our website.
On our site, you can read more reviews about Instagram growth services.
Hypeauditor Pricing And Plans
Hypeauditor provide a Free plan as well as subscription plans. However, when you sign up and start using the service, you can see all the features on the dashboard, but to use them, you should charge your account.
For example, for the free plan, you just access basic features like influencer discovery and outreach tools and campaign management. But to use a subscription plan, you should pay at least $399 monthly, which is very high.
This plan provides features that exist in the free plan, in addition to 30 analytical reports per month, the ability to create branded media plans, Instagram account comparison, etc. There is also a Pro Add-Ons plan that you can purchase to obtain access to it.
Purchased plans allow you to access more reports and features. But the prices are so high and not worth using. In the next section, we introduce you to the best Hypeauditor alternative that you can use with confidence.
Best Hypeauditor Alternative; Ainfluencer
If you want to connect with a targeted customer to promote your product and services, you need to work with the right influential people. A successful influencer marketing campaign will help you to build your brand.
Ainfluencer is the best marketplace that works as an influencer search engine to find the most relevant influencers for your brand.
Ainfluencer is the best marketplace that works as an influencer search engine to find the most relevant influencers for your brand.
Ainfluencer is a huge influencer directory. Using its influencer discovery tool, you can find relevant influencers, which will help improve your online presence and reach your marketing goals more quickly.
It aids in developing your influencer marketing strategy and generates greater conversions, gaining IG followers, and turning your followers into paying customers.
Additionally, if you are an influencer, you can download Ainfluencer's app to explore thousands of brands and send them invitations to collaborate.
In short, Ainfluencer is a complete solution that enables you to find, get in touch with, and manage campaigns with influencers from all over the world.
So, let's see what feature Ainfluencer provides you.
Ainfluencer Features
Influencer marketing platforms and campaign management tools, if work properly, can run the most enthusiastic social influencer campaigns with personalized messaging, automate influencer affiliate marketing metrics, and deliver competitor analysis.

AInfluencer provides you with all these features. It also manages and tracks payments and provides ROI calculations. The listed features of Ainfluencer are as follows: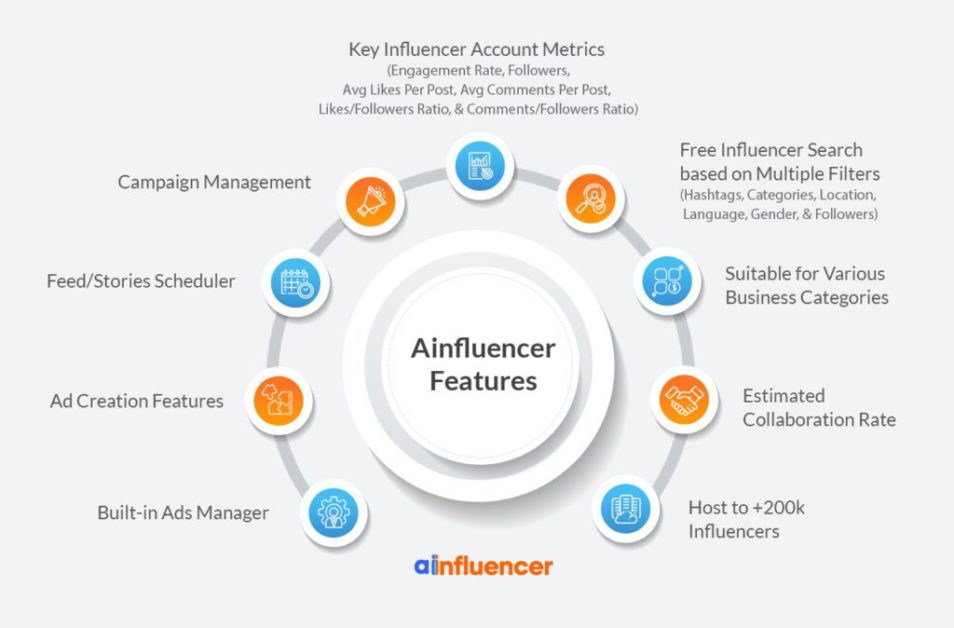 Ainfluencer helps you find Instagram influencers with its AI-powered technology.
It gives you detailed reports on influencers and their account metrics.
It analyzes influencers' audiences and gives you an insight into what you will gain from the influencers you choose to collaborate with.
Ainfluencer helps track performance from start to finish.
You can get real-time analytics including likes, comments, Bio link publishing, clicks (if applicable), and more.
It lets you scale your efforts with macro and micro-influencers.
Ainfluencer provides users with a built-in chat box.
It allows brands and influencers to negotiate the marketing terms and close the deal right in the app.
Ainfluencer will deliver you ROI calculations.
It lets brands create marketplace ads that are posted to the marketplace where thousands of influencers can see and make offers.
Ainfluencer is free to use.
It is risk-free.
It is fast and easy.
Additionally, the Ainfluencer dashboard is easy to use and simple. In contrast, the Hypeauditor dashboard is complex, and it takes a lot of time to learn how it works.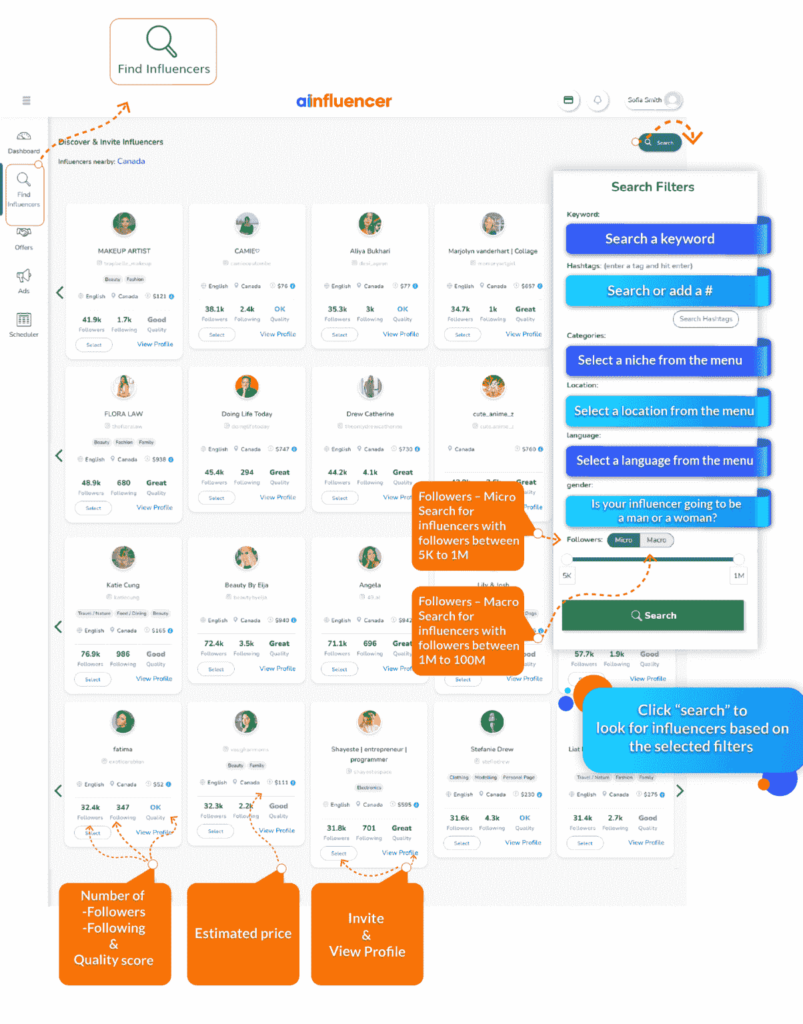 Ainfluencer provides a bustling marketplace of worldwide Instagram influencers, so don't waste more time and signup for it.
And if you're still not convinced, check out this video to see how it works.
Ainfluencer Packages
Here are three different paid plans of Ainfluencer to get started with. The Ainfluencer DIY package is 100 percent free and has features like unlimited Influencer discovery (200k+ profiles), unlimited ads and campaigns, automated invites, unlimited offers, payment escrow, and post-analytics.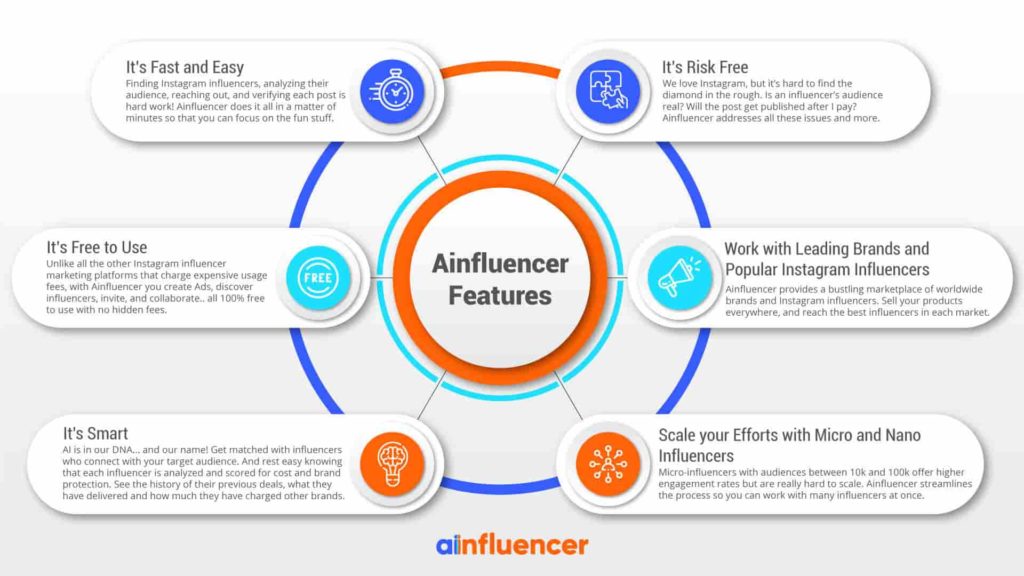 But to use Bootcamp and starter plans you must pay to use all the features like campaign strategy session and kickoff, ad and campaign deliverables copywriting, Influencer posts, and stories. In comparison with other similar services, these packages are reasonably priced.
Final Verdict: Hypeauditor VS. Ainfluencer
A powerful influencer directory is available from both Hype Audit and Ainfluencer. We gathered and compared several aspects here. It's clear what features they're missing.
| FEATURES | HYPEAUDITOR | AINFLUENCER |
| --- | --- | --- |
| AI-powered technology | ✅ | ✅ |
| Easy to navigate dashboard | ❌ | ✅ |
| Finding hashtags | ✅ | ✅ |
| Advanced filtering & targeting options | ✅ | ✅ |
| Campaign analysis from A to Z | ✅ | ✅ |
| Analytics & monitoring tools | ✅ | ✅ |
| Instagram content analysis | ✅ | ✅ |
| Holding social influencer campaigns | ✅ | ✅ |
| DM marketing | ❌ | ✅ |
| Influencer affiliate marketing | ✅ | ✅ |
| ROI calculations | ✅ | ✅ |
| Manage and track payments | ✅ | ✅ |
| An experienced account manager will take care of your Instagram account | ❌ | ✅ |
| 24/7 Support | ❌ | ✅ |
| No password required | ✅ | ✅ |
| Advanced search based on AI | ✅ | ✅ |
| Secure payment | ❌ | ✅ |
| Safe | ❌ | ✅ |
| Trustpilot Score | 2.7 | 4.6 |
One another option that you have is using an Instagram growth service like AiGrow. This is the best solution for everyone who wants to manage their Instagram account.
If you want to manage all aspects of your Instagram account, you can use the services of the best Instagram growth agency on the market; AiGrow.
AiGrow; The Most Comprehensive Instagram Solution
AiGrow provides users with a variety of features to facilitate their work on Instagram. Using this app, you can save more time and energy to grow your IG account safely and organically. AiGrow features are as follows:
Instagram account monitoring tools
AI-powered hashtags and competitors research
Location research
Manual growth activities of follows, unfollows, likes, comments
Post scheduling
Reposting to story and feed
Dedicated account manager
Adding links in your IG bio to increase your credibility and brand awareness
Scheduling content to post on Instagram at the best time
Sending mass DM to your followers
Mass delete Instagram posts
Content creation for Instagram
24/7 support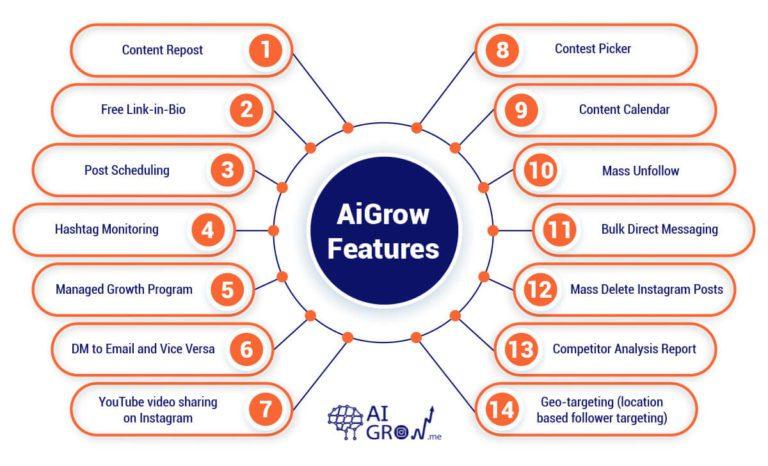 Let's take a look at AiGrow packages and pricing.
AiGrow Packages And Pricing
Recently AiGrow divided its packages into three packages (starter, premium, and advanced). You can choose every plan that you want according to your needs. For example, if you are a startup and want to start your account on Instagram, the Managed Starter plan is for you.
Another package that they provide and is an appropriate package for every business is their Managed Premium package with a reasonable price of 129$ monthly. This package includes all the features provided by AiGrow.
But if you want to use the AiGrow Influencer marketing plan and delegate your content creation to them, you need to supply the AiGrow Managed Advanced package.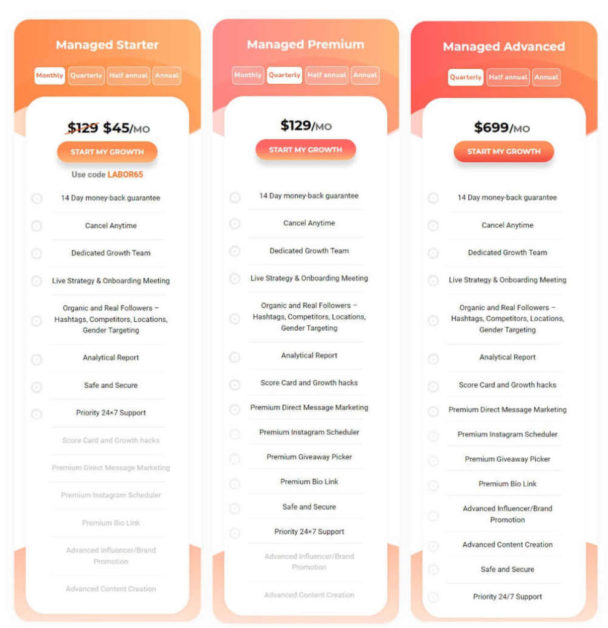 Here we should say that you can cancel the contract at any time that you feel unsatisfied, and AiGrow will refund you at any time you want. So, you can purchase AiGrow packages with confidence.
FAQs On Hypeauditor
Here we tried to address other issues that may not be included in this Hypeauditor review. If you have more questions, feel free to ask them in the comment section.
Q1. Is Hypeauditor Legit And Safe?
By reading our investigation and also Hypeauditor reviews revealed by users, we can't say Hypauditor is legit. Moreover, nobody can trust a service that charges the customer's credit cards for its free trial. So, it's better to consider another service.
Q2. What Is The Best Hypeauditor Alternative?
There are a lot of influencer marketing management tools that you can find on the net. But as we mentioned, our recommendation for you is to use Ainfluencer with the biggest database and a supportive team that is behind you 24/7.
Last Words On Hype Auditor
According to this Hypeauditor review, you can conclude that this service exaggerates the services and technology it uses. What do you think? Why a company with these features overcharge the user's credit card?
On the other hand, when users pay for the service they won't get more reports than they have in Hypeauditor free trial. Now that you know all the things about Hypeauditor, the point is that you may not have enough time to spend on finding influencers on Instagram.
In such a situation, ease your work and delegate it to reliable services like AiGrow.
Additionally, services like Ainfluencer help you to find targeted influencers and promote your IG account.