Nowadays, social media marketing has taken over the world of business. With Instagram being the king of social networking apps, business owners thrive to use growth services like Kicksta to expand their enterprises.
Kicksta claims to be one of the best Instagram growth services for helping grow your Instagram organically. However, Kicksta reviews say something else!
If you want to kickstart your growth on Instagram and wonder whether this service is worth your money, continue reading this Kicksta review.
Remember that investing in a perfect Instagram growth service is a crucial decision worth your consideration and evaluation.
So let's get started!
Kicksta Review; Is It Worth Investing?
With so many Instagram follower apps, services, and agencies available on the market, each claiming to be the best, it can be highly confusing for marketers to pick the right one.
Reliable Instagram growth tools like AiGrow take on the entire burden of getting you new followers and helping your business stand out from the competition.
But according to some of the Kicksta reviews, this platform is just a bot that uses automation to grow users' number of followers. While some others insist on the genuineness of this platform, that is unlikely to be true.
Hence, to better decide if this platform is the right choice for you based on your needs, read this complete Kicksta review.
After reading this article, you will gain a deeper insight into what Kiksta can do for your Instagram follower growth. In short, we must say that we've had deep research, and as it turns out, Kicksta IS a scam!
So, keep reading to know why…
Instagram Growth Service; Why Should You Use One?
Do we really need Instagram for our brand to succeed?!
With over 1 billion monthly active users, and 500 million daily users, Instagram is a highly effective yet free marketing tool for any business.
Nevertheless, if Instagram serves as your marketing tool, followers are your marketing fuel. In other words, Instagram's true power comes from loyal and engaged followers who constantly interact with your content.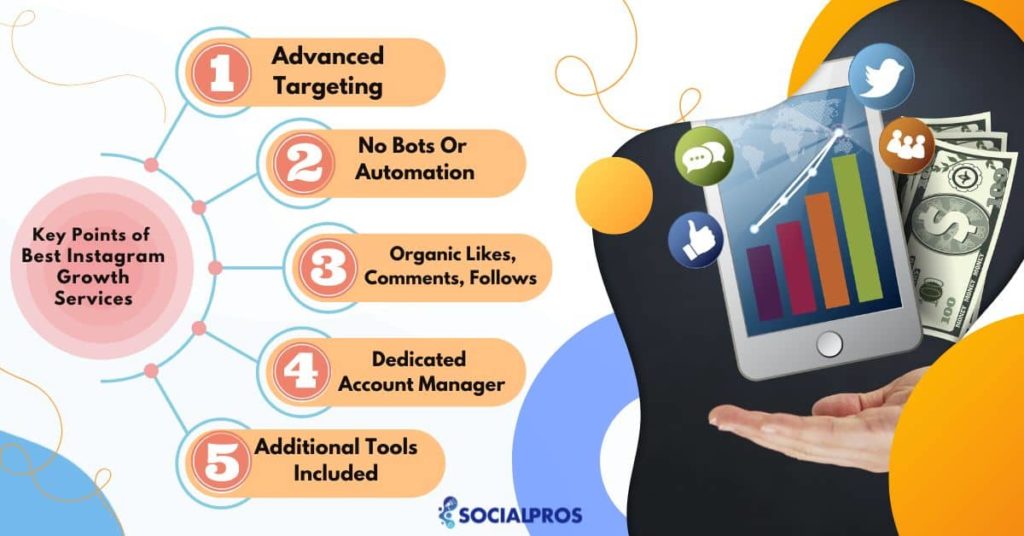 Hence, gaining more followers will improve your social proof, leading to more gigs, paid partnerships, and sales for your business. Moreover, having more followers will enhance your online visibility and authority.
However, attracting more new qualified followers isn't easy at all. It is getting even more challenging as Instagram becomes increasingly competitive.
That is where an Instagram followers service comes into play, helping you get more IG followers and grow your Instagram business account safely and organically.
Additionally, they will save you a lot of time and energy. But with so many options out there, such as Ampfluence, Instaboostgram, or AiGrow, you need accurate information to make an informed decision and choose the best Instagram growth service worth your investment.
Stay with us as we will look at Kiksta to determine how it is doing by analyzing its strengths and weaknesses.
What Is Kicksta
Kicksta (already known as Kickstagram) is an automated Instagram growth tool that allegedly uses artificial intelligence technology to get real, organic followers for you through automated engagement marketing strategies.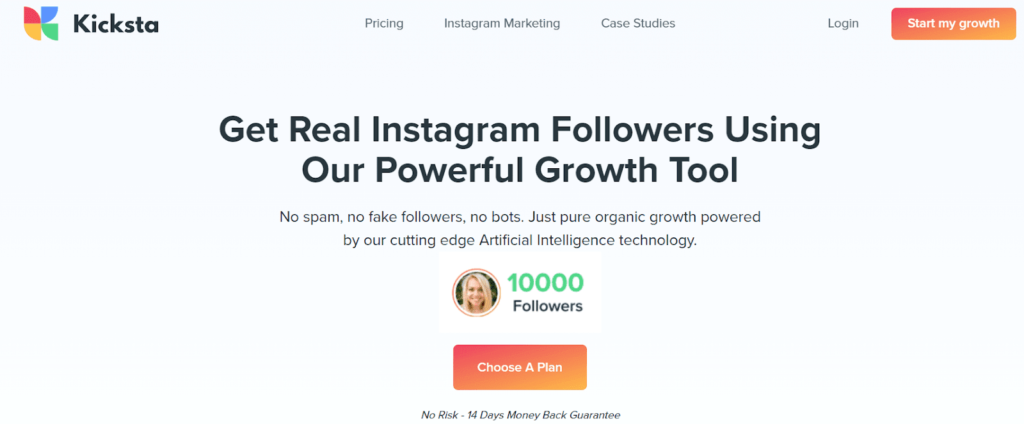 They strongly oppose the practice of buying Instagram followers. Why? Simply because they know that buying Instagram followers may result in inactive or ghost followers who have no use and lower your engagement rate.
Additionally, buying Instagram followers may put your page at risk of being banned from Instagram. Therefore, you don't buy Instagram followers with Kicksta.
But While, Kickstart claims to deliver steady organic growth without spam, bots, fake, or paid followers, there are complaints from users that they didn't gain real followers!
So, according to Kicksta reviews, they do not keep their promises and instead engage in automated and suspicious actions. Let's look at the features that it is said to have.
Kicksta Features
However, there are many ways to expand your network on Instagram, like being an influencer, promoting your content using an Instagram promotion, or even using the 1000 free followers trial that some services offer.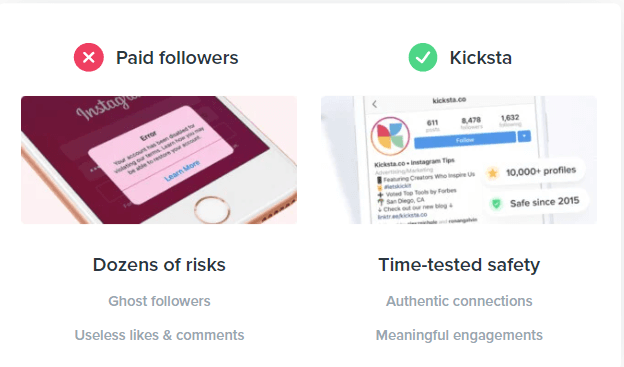 Kicksta also provides users with some features to help IG users increase their followers.
So, let's have a look at its key features:
Advanced targeting options
Instagram analytics & social media monitoring tools: The weekly and monthly stats are available, and you can easily remove or add new target accounts as needed within your online dashboard.
The growth is allegedly organic
Smart filtering
Adjustable growth speed: Moderate or maximum growth
Video Onboarding
Kicksta Pricing
The Kiksta website offers no free trial. Kiksta Standard plan starts at $49, which lets you set 10 target accounts to increase your Instagram real followers at a moderate speed.
It has to be noted that with the Kiksta Standard plan, there will be no email support, blacklist, or advanced targeting.
If you sign up for the Kiksta Premium plan for $99 per month, you can add up to 40 pages for Instagram account management with a maximum growth speed.
The Premium Plan is more suitable for those who want to grow Instagram followers rapidly.

Moreover, this package offers more features. It includes maximum growth speed, video onboarding, VIP email support, blacklisting, and advanced targeting.
The Kiksta Boost Plan costs $218/month and guarantees at least 850 new followers per month. Customers on the Boost Plan have also access to live chat support.
How To Start With Kicksta
To Start using it, you can go to their website, choose a plan, and sign up for it. To help you understand what to do, here we will explain it.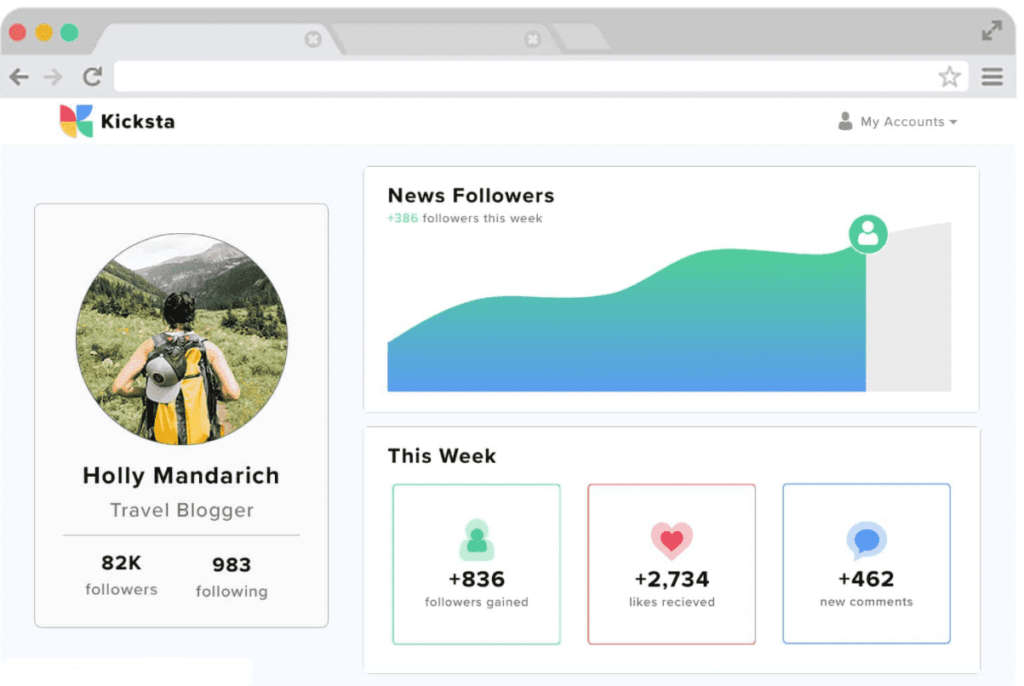 How does kicksta work to grow your Instagram account?
After signing up with Kiksta, an email confirmation will be sent to you. After up to 24 hours, you will get another email confirming the start of the activity.
Following your Kicksta login, you should provide Kiksta with a few sample accounts whose followers you want to target. It can be a list of your competitors, influencers in your niche, related brands, gender targeting, etc.
Then Kiksta will like and engage the followers' posts of the target accounts you have listed. Therefore, those accounts are more likely to follow you back and engage with your content.
Kiksta likes about 10,000 photos each month, helping to boost overall organic reach on your IG page.
Inside your Kiksta dashboard, you can set filters to get the best results and monitor your growth with tracking.
Additionally, in your online dashboard, you will see the performance of each of your target accounts.
Following that, you can remove accounts that aren't performing well and add new ones to ensure your Instagram follower growth goals are met.
On top of these, you can monitor your progress through your online dashboard. You can view your daily stats and receive detailed monthly reports about the performance and growth of your account on your dashboard.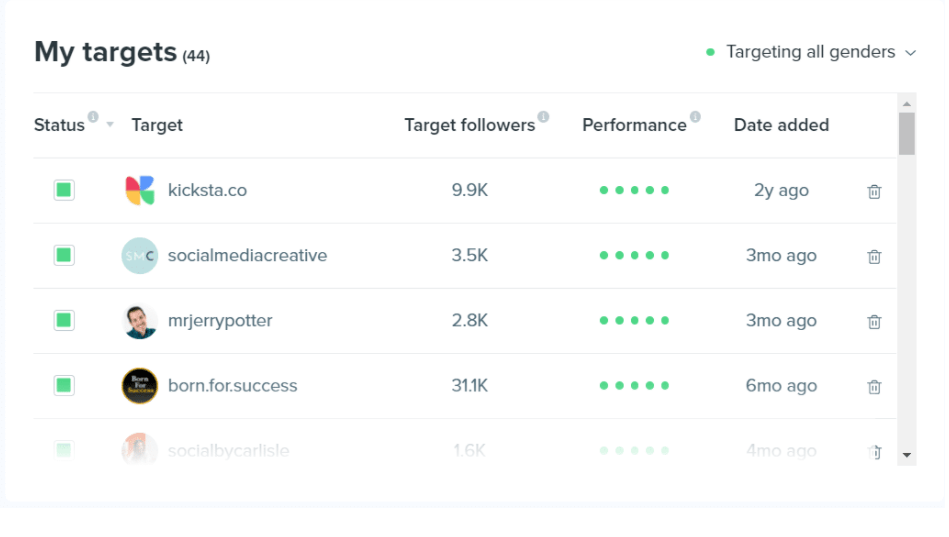 You will receive different amounts of followers based on Kiksta plans (i.e., Standard, Premium, or Premium & TSMA). For example, Kiksta's Standard Plan is $49 per month, while the Premium Plan is $99 for more targets, support, and maximum growth.

The rest of the story depends on you. You will undoubtedly gain more followers if you consistently post high-quality content ideas on your Instagram account.
It is also possible to cancel your Kiksta account at any time.
But are these activities helpful for growing your Instagram? Or will you get banned by Instagram because of over-liking, following, and using automation? Keep reading this Kicksta review to know it.
Kicksta Pros & Cons
The following are some of the advantages and disadvantages of Kiksta:
Pros:
You won't need to download Kiksta.
A 14-day money-back guarantee. So, if you are not happy within your first two weeks of service, you will receive a refund.
Your account and data are secured on Kiksta's US-based servers, and no third parties have access to your data.
Kicksta hashtag generator tool allows you to increase your brand's reach on Instagram. With this tool, you can find trending IG hashtags, unique hashtags, or ideal hashtags for your industry.
Cons:
Kiksta offers no free trial.
According to Kicksta Instagram reviews, it doesn't perform well.
With Kiksta, you may get irrelevant, non-qualified followers.
It does not guarantee the growth rate of your followers.
Kicksta's biggest shortcoming is its lack of additional automation features like mass DM or an IG unfollower tool.
Unlike AiGrow, Kickstart lacks both manual and human resources.
If you use the Kicksta Instagram growth service, you may be banned.
Live customer support is only available to Premium plan subscribers. Basic plan subscribers have no access to live chat support.
Its customer support isn't very satisfactory. Based on Kickstagram reviews, its tech team promises to fix the issues but makes no attempt.
It only uses the 'liking' method to attract new followers organically.
Please note that the TSMA plan (Kicksta boost plan) is non-refundable.
Kicksta is an automated service. Even email replies are generic and automated.
It does not work with Instagram ads.
According to reviews, Kicksta's Instagram login fails most of the time.
If you are not convinced that Kicksta's disadvantages outweigh its advantages, let's look at Kicksta reviews revealed by users on different websites!
Kicksta Reviews: It Is Not Worth Your Money
Trustpilot is an online review platform that shares more than 4 million written reviews to help customers make informed buying decisions. Reviews and ratings of Instagram growth services are also available at Trustpilot.
For example, if you've heard about the Social Growth Engine tool but don't know how it works, you can go to Trustpilot and look at Social Growth Engine reviews and ratings to better understand its strengths and weaknesses from the point of view of other customers.
However, since we focus on Kicksta reviews in this post, let's examine its overall rating before looking at some individual Kicksta reviews in 2022. Ready to Start?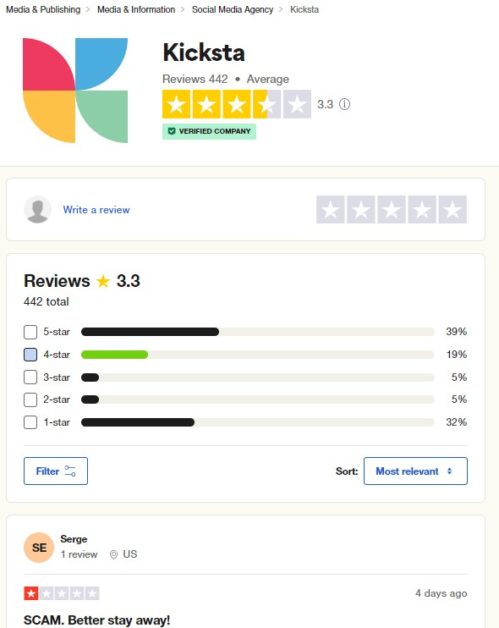 More than 420 people have already left Kicksta reviews on Trustpilot. Its TrustScore on the platform is 3.3 (which has dropped by 0.2 within only a month).
If you check this site regularly, you will notice that the score is lowering, and the number of unfavorable reports is increasing!
As a result, based on the reviews on the platform, this tool does not have a very good reputation. Kicksta has answered 70% of their negative reviews, but their responses don't seem very helpful.
It is worth mentioning that we have been observing the Kicksta reviews in 2022 to track its performance and see if its issues are being fixed, only to realize that these numbers continue to drop as time passes by.
Here are some recent reviews from people who have used this service before.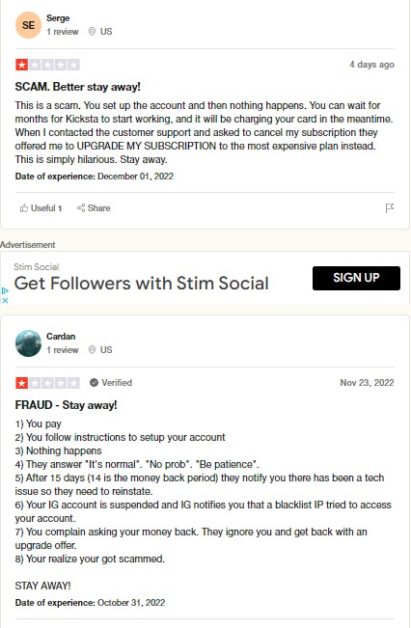 As you can see, the most recent comments on Kicksta are all negative. Users have complained about how it is a 'scam' and hasn't been able to meet their expectations.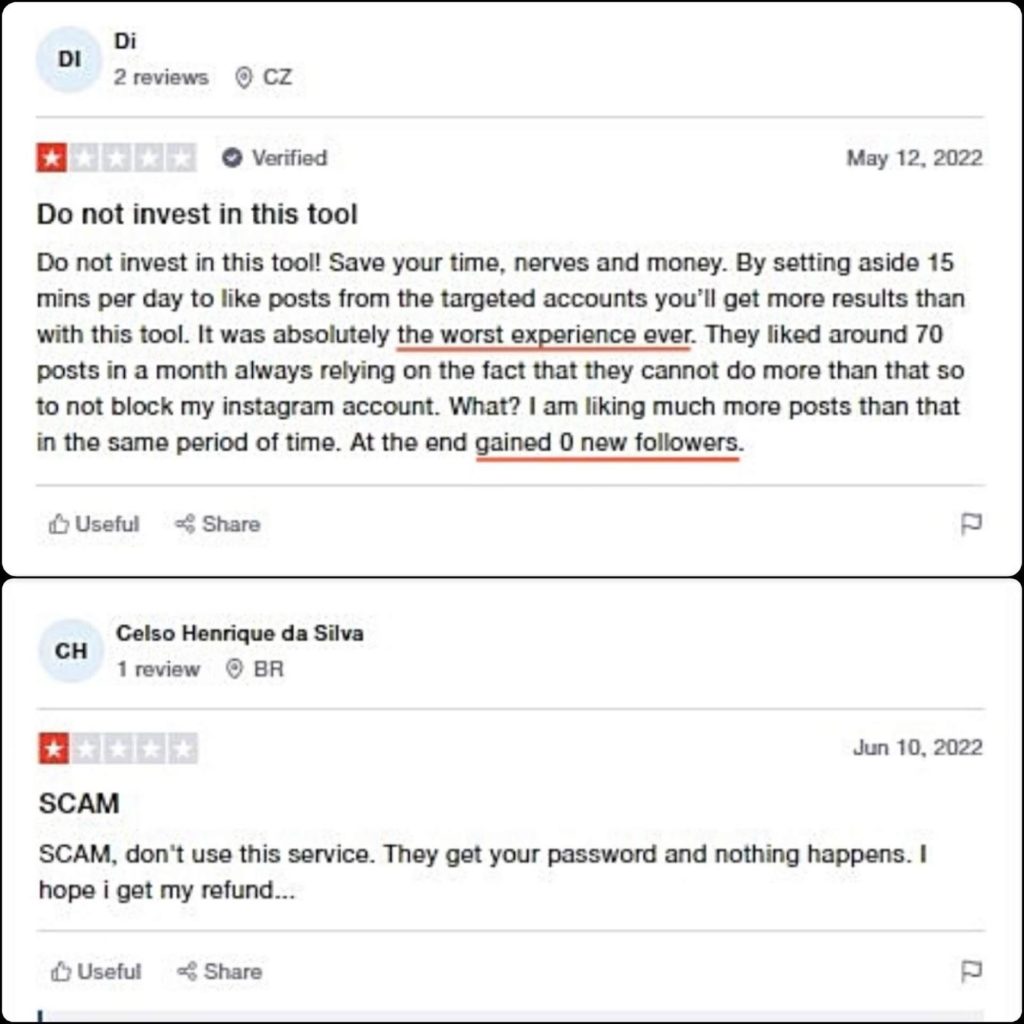 In one Kicksta review, for instance, a user stated how he used this service and gained no followers in the end. According to another review, Kicksta was a waste of time and money, and it did not bring qualified followers to her account.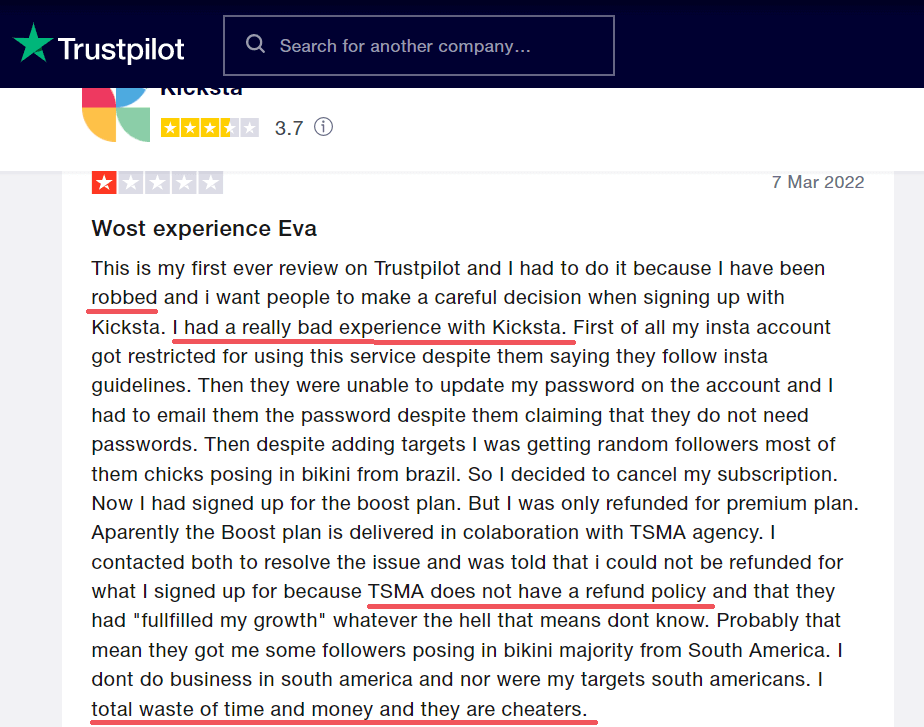 Other online reviews on other platforms concerning Kicksta are not very optimistic either. You should be aware of these negative reviews if you plan to invest in the service.
For instance, according to many online negative reviews on the g2.com website, Kicksta does not have satisfactory customer support.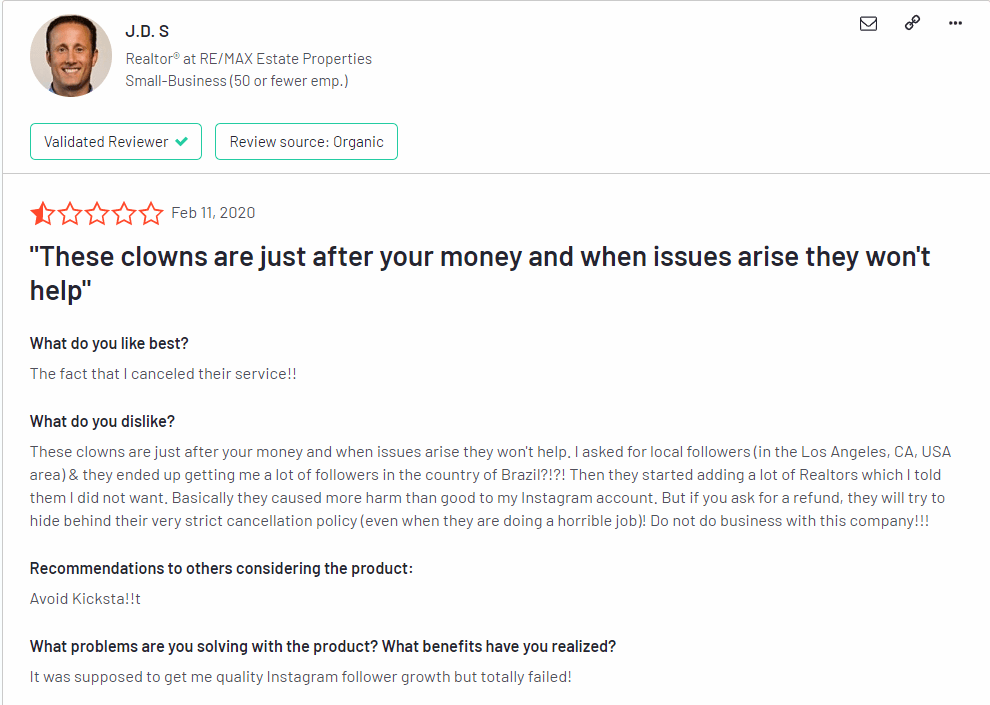 The user complained that "Kicksta caused more harm than good to my Instagram account."
So, kicksta appears to be not functioning as they claim, leaving many customers unhappy.
Kicksta Reddit Reviews
Now let's turn our attention to Kicksta reviews on Reddit. There are some negative reviews about this Instagram followers service on Reddit, as well. For instance, here's an unhappy customer complaining:

Here's yet another one of Kicksta reviews on Reddit; a more recent one: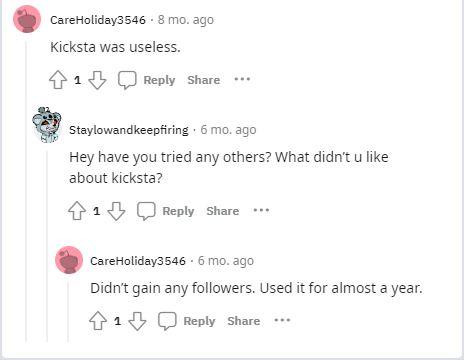 Additionally, you can't find Kicksta Instagram reviews when searching this platform, showing they may clean negative reviews on their page!
As a result, it is preferable to explore alternative services. To assist you in locating the best solution, we examined numerous alternative Instagram growth services, including:
And many other services you can find by exploring our website. One of the best Kicksta alternatives is AiGrow which we will introduce to you in the following. So, keep reading.
The Ideal Kicksta Alternative: AiGrow
Looking for an alternative to Kicksta? AiGrow is an all-in-one Instagram growth management service that helps you grow your organic Instagram followers, boost your engagement rate, and generate more revenues and sales.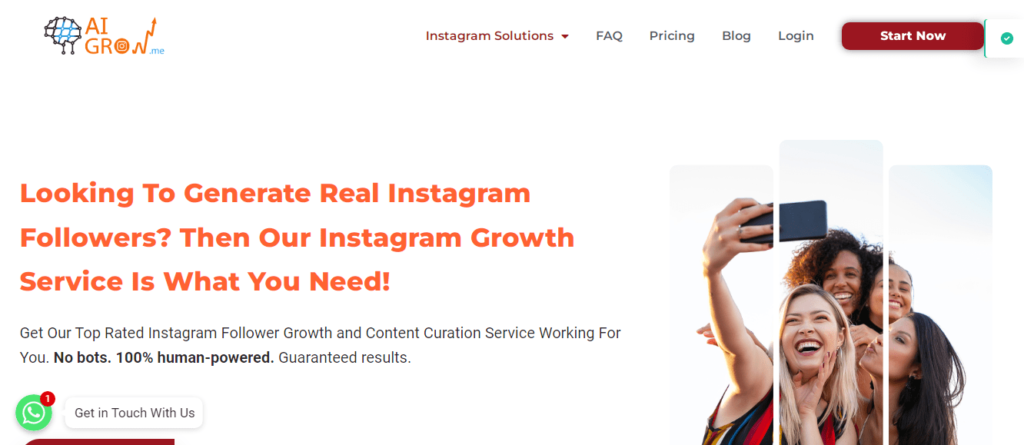 We have prepared this AiGrow review to help you understand its features. But in short, allow us to ensure you that the AiGrow tool doesn't use any bots, so there is no risk of getting banned or blocked from Instagram.
Furthermore, in addition to liking potential followers' posts for you, AiGrow will follow and unfollow target accounts, helping you to grow your Instagram business account more rapidly.
Try AiGrow for free to make sure AiGrow is the right choice for you.
AiGrow Features
All-in-one Bio-Link Tool: You can use this tool in AiGrow to place as many links as you want on your Instagram bio.
Effective DM marketing Tool: Through AiGrow's DM feature, you can automatically send welcome messages to your followers, provide auto-messages, generate more leads, etc.
Instagram Post Deleter Tool: Using this feature, you can remove many selected posts in just one click.
Instagram Analytics Tool.
Social Monitoring Tool.
PostMate Service: AiGrow's postMate feature offers a wide range of services, including Instagram design plans, customized content, and post creation. However, this content creation strategy is available only for Pro and Managed Plans.
Content Repost: With this great feature, you can easily repost viral or user-generated content, generating lots of shares and likes that help your business grow.
AiGrow's Hashtag Generator Tool.
Instagram Unfollow App: AiGrow's Unfollow tool will help you analyze and manage your Instagram followers, helping you identify and unfollow inactive or fake followers with ease.
Dedicated Account Manager: AiGrow's significant advantage is that it provides you with a dedicated account manager as you begin using the service. You can schedule weekly or monthly meetings with your account manager to discuss and evaluate the kind of material and design your account manager should create and deliver for you.
24/7 customer support: AiGrow's customer support representatives are always available to assist users.
How Does AiGrow Work
After you register for free, you will go to your account dashboard.
Click on 'Upgrade' at the top of the page and pick the package that best fits your needs.
AiGrow asks you to specify your targeting options, including your niche, location, hashtags, or Influencer accounts. Moreover, AiGrow lets you choose the speed at which it takes action on your behalf.
AiGrow will run activities based on your preferences to bring real and engaged followers to your Instagram page and generate more exposure and awareness for your business.
Then, AiGrow's AI-powered engine will create a list of qualified, organic Instagram followers for you. Using AiGrow, you don't have to worry about bots, spam, or fake followers.
If you subscribe to AiGrow's Pro-Managed plans, you will be assigned a dedicated account manager responsible for acquiring more followers, generating more likes, comments, etc.
As a final note, you can send an email to support@aigrow.me in case you have any questions. You can reach out to AiGrow's customer support at any time.
Guarantee your growth on Instagram with AiGrow, powered by advanced AI technology & professional human resources.
AiGrow's Pricing
With AiGrow's Pro-managed services, you have the opportunity to grow your business and build your brand on Instagram without having to spend a lot of money on it, as it offers you a variety of perks such as organic new followers, automated DMs, bulk delete posts, and many more.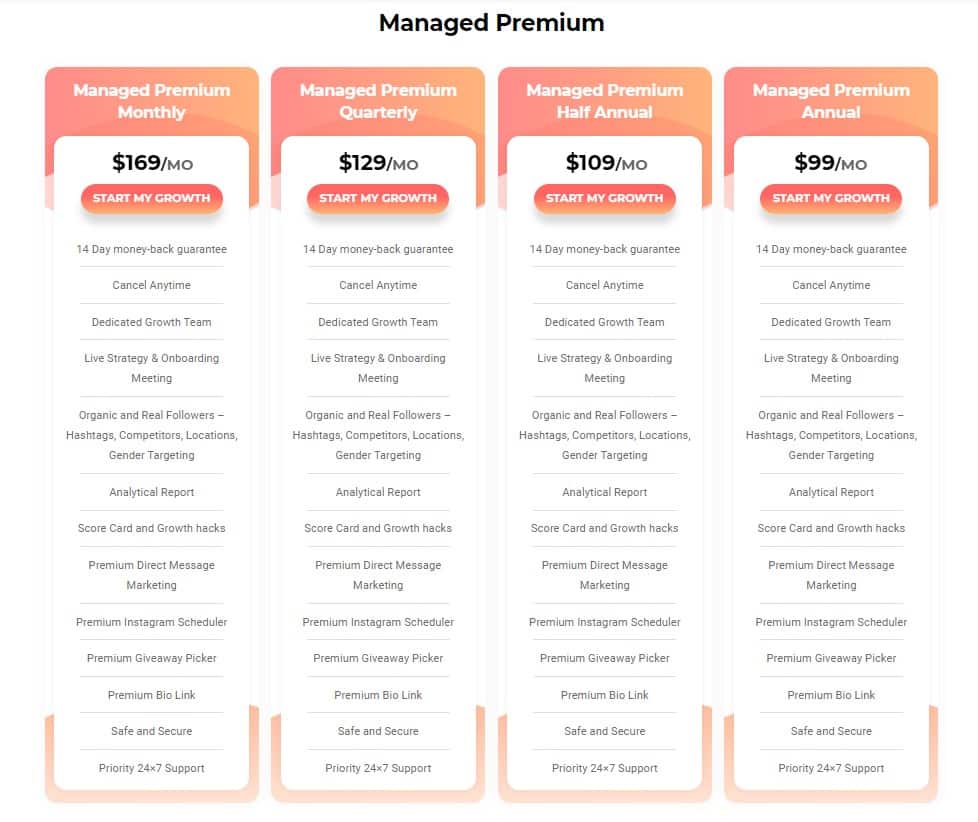 What's even more interesting is that although AiGrow is very cost-efficient, you can get a discount code for on your first payment as well! Isn't that amazing?
AiGrow Vs. Kicksta: Final Verdict
In our last investigation, we will compare AiGrow and Kicksta features in the table below.
| Features | Kicksta | AiGrow |
| --- | --- | --- |
| AI-powered technology | ✅ | ✅ |
| Organic growth method. No bots, spam, or fake followers. | ✅ | ✅ |
| Hashtag generator tool. | ✅ | ✅ |
| Advanced filtering & targeting options | ✅ | ✅ |
| Instagram analytics & social monitoring tools | ✅ | ✅ |
| Managed Growth Plans. | ✅ | ✅ |
| Support in developing your Instagram content strategy. | ❌ | ✅ |
| An experienced account manager will take care of your Instagram account (Manual Growth). | ❌ | ✅ |
| The number of followers and success guaranteed. | ❌ | ✅ |
| Free trial | ❌ | ✅ |
| Content design template (feed/stories). | ❌ | ✅ |
| Scheduling Tool. | ❌ | ✅ |
| Multiple links in bio. | ❌ | ✅ |
| Instagram post deleter tool. | ❌ | ✅ |
| Instagram unfollow tool. | ❌ | ✅ |
| Mass DM marketing. | ❌ | ✅ |
| Trustpilot Score | 3.3 | 4.6 |
As you can see in the table above, Unlike Kicksta, AiGrow offers a variety of valuable tools plus a dedicated account manager that are essential for improving your online presence on Instagram.
To put it another way, Kicksta costs more and offers lesser services and features in comparison to AiGrow.
FAQs On Kicksta
Now that you have read a few Kicksta reviews as well as AiGrow reviews and know all about the two, it's time for some of your most frequently asked questions about the this growth service. Check them out and find answers to your questions!
1- How To Get Kicksta Coupon Code?
Kicksta's discount codes are found somewhat rarely. It is a highly sought-after brand when it comes to coupons and discount offers, despite its relatively low volume of coupons offered.
You can check the Kicksta coupon codes by clicking here. At the top of this page, you will always see the best Kicksta discount codes first.
To begin, copy the Kicksta coupon code. Enter the code on Kicksta's website during checkout. You will either see a confirmation message of your savings or an error if the code does not work.
2- Is Kicksta Legit Or A Scam?
The bottom line is that Kicksta uses an organic growth and engagement strategy. The accounts it targets are legitimate and active Instagram users who are more likely to be interested in your content.
Additionally, we haven't heard any complaints from customers about the security of Kicksta's site. So is Kicksta legit?
Remember that it is an automated service. Automated tools and services are risky on Instagram. Hence, this Kicksta's automated feature can sometimes be flagged as spam by Instagram.
To put it in simple terms, Instagram's terms and conditions prohibit automation. Kiksta admits that liking target accounts is automated. Still, it also adds that they do so in a way that 'resembles human activity' and at a frequency consistent with Instagram's guidelines. On this claim, you have to take their word for it, since their website doesn't offer any more explanation in this regard.
In this sense, it walks a thin line between what's permitted and what's not on Instagram. They don't have fake or paid followers for sure. Still, the automated process cannot guarantee 100% safety. That's why Kicksta login is a bit risky as it rises the chance of getting banned or losing your account altogether.
Moreover, according to many recent reviews, Kicksta is no longer functional, making its use more difficult without adverse consequences. It might be because Kicksta does not keep up with Instagram's new algorithm changes to avoid getting suspended or banned.
3- How Long Does Kicksta Take To Work?
After you're done with Kicksta login, and giving some information such as locations, hashtags, etc., to the platform, you will receive an email indicating that it will take 24 hours for them to get everything ready for you.
Once everything is ready for your account, Kicksta will get down to business. The time required to get the results you need depends on your goal. The higher ambitions you have, the longer time it will take for you to fulfill them.
Note that increasing followers on Instagram is a process, and it requires time and effort even in the case of using growth services.
Conclusion On Kicksta Reviews
After reading all the information presented to you here, you are better prepared to make the right decision. To summarize, Kicksta only relies on its automated AI technology to get more followers for you.
However, AiGrow uses AI technology and a team of experienced account managers working on your Instagram account to help it reach new heights.
Secondly, both services focus on organic growth. However, unlike Kicksta, AiGrow employs other targeting methods besides only 'liking' to get more relevant, organic followers in no time.
And most importantly, beyond increasing your follower count, AiGrow provides you with extra helpful tools to make the most of Instagram for your business.
The online Kicksta reviews are also not very optimistic, and even some recent reviews have described it as a scam. Also, its rather expensive tariff plans hurt the Kicksta service further.
Therefore, with a proven and more comprehensive growth strategy, additional useful features for helping to grow your Instagram account, and a better price and online ranking, AiGrow is the best alternative to Kicksta.