Among Instagram growth companies, those that promise users to buy followers and likes are widely speculated to be scams. One of them is Social Follow, which dupes users by offering ten free followers every day!
In this post, we will review Social Follow to determine whether it is one of the best Instagram growth services you should consider investing in or a dangerous scam to avoid.
After reading this Instagram followers app review, you will better understand how Socialfollow works and what its main pros and cons are.
Additionally, we will discuss why Instagram growth services like AiGrow are worth it and what the proven Instagram growth tools are for growing your Instagram account.
So, are you ready to get started?
Why Should You Use an Instagram Growth Service
Before diving into our topic, let's focus on why you need an Instagram account management service.
With more than one billion monthly active users, undoubtedly, Instagram is a valuable marketing tool for your business. But first, you have to get more followers on Instagram and master social media tactics to improve your online presence. These actions require a lot of patience, hard work, and time.
If you do everything by yourself, you'll just get burned out. At this time, many marketers turn to Instagram growth services to increase their Instagram following organically and safely. Some of them even take risks and go to growth companies like Social Follow to buy followers and likes, which we never suggest doing so!
It is reliable Instagram growth services that come to your aid, taking on the complete responsibility of acquiring your new targeted followers and increasing your business's visibility on the network. Picking the best app to gain followers on Instagram will save you more time and energy.
However, it can be challenging to choose from so many Instagram followers apps, services, and agencies, all claiming to be the best. Without a doubt, not every growth company is worth your trust.
We will help you choose one of the proven Instagram growth tools for real results while avoiding risky ones in reviews like this. Accordingly, we will thoroughly review Socialfollow from every point of view to see if they are reliable or not?
So, without further ado, let's get into the Socialfollow review.
What Is Social Follow
Socialfollow Instagram growth service claims that it helps its clients get free Instagram followers easily. They promise to give you up to 10 new followers each day.
Thus, the service should provide up to 300 free Instagram followers in a month.
We immediately see 'free' and 'easy' as red flags, reminding one of low-quality or even scams. Moreover, the fact that they give away followers seemingly for nothing is not acceptable to us. The free followers you receive are not relevant or engaged.
As you will see in the following sections, these new free followers (should they be received) follow you to get followers in return. They will not engage with your content and will not care about your brand or anything else you offer.
After all, we tried to get those free followers offered by them, but we encountered an error and were unable to do so. Also, in Social Follow reviews on the Trustpilot website, a lot of users complained that they didn't receive any free followers at all. In light of this, it is clear that they do not keep their word.
In short, Socialfollow sounds like a problematic tool that doesn't deliver what it claims.
When you use free apps, you run the risk of being blocked by Instagram or having your security information stolen. So, be less frugal and consider paying for and using a suitable service instead. Instagram growth companies such as AiGrow offer a plethora of features to users for a reasonable fee.
How Does Socialfollow Work
This section will answer the question 'how does Social follow work?' Here are the steps you need to take:
First, you have to download their app. There is a download button on the homepage. You can also download it through the Google Play store. Moreover, they will ask for your Instagram username, a random password, and email address to set up your account.
After signing up, you can add several target accounts to your dashboard. Make sure you are clear about the niche(s) and interests. It is then matched with other users with similar interests. Thus, related accounts can start following you back.
Next, you must follow ten other accounts that they specify. You have to click on a checkbox to confirm that you have completed the task when you have done this. It is the classic follow/unfollow method, which many people still manually use.
This Socialfollow method, which provides free followers in exchange for a follow/unfollow setup, is unlikely to be very successful. Thus, Social Follow has to master other social media tactics to improve your online presence effectively.
In other words, simply following related accounts does not mean that these accounts will begin following you back. So Socialfollow may not be as helpful as they claim.
Moreover, according to Socialfollow reviews, those accounts that this tool asks you to follow are real Instagram users. But the accounts that start following you in return are not real Instagram followers and are just bots or fake accounts that will not engage with your content.
In this way, the service offers free Instagram followers who have absolutely no value in improving your engagement rate and your Instagram growth strategies. Hence, it damages your follower-to-engagement ratio.
Social Follow Features
Compared to Instagram growth agencies like AiGrow that offer organic growth, dedicated account managers, and other useful tools, Socialfollow just offers followers and likes automation. Let's take a look at its main features:
Free Instagram followers
Socialfollow free likes
Follow/unfollow method
Socialfollow Pricing
Social Follow claims that it is free. Accordingly, no payment is needed. This offer seems a bit too good to be true. We suspect that they keep their actual prices hidden.
In this case, the old saying, "You get what you pay for," also rings true. Because when you choose Socialfollow as your social media marketing tool, you still need to do many tasks manually, which will require a significant amount of time and energy on your part.
Getting followers requires you to follow ten accounts each day in Socialfollow manually. If you forget or something more urgent comes up, you will lose that day's followers. Also, you have to monitor your growth strategy yourself because the app doesn't offer such helpful features as analytics or an Instagram follower checker tool.
As a result, you can't find a free service that works properly. Therefore, if you want organic, consistent growth, it's better to use a service that provides everything you need to successfully grow all aspects of your Instagram account. To this end, AiGrow can work magic for you. Sign up and benefit from its incredible features.
Social Follow Reviews
On Trustpilot, there are 36 reviews of Socialfollow, and 91% of users consider it a bad Instagram marketing service.
As a result, Social Follow's TrustScore on the platform is 1.9, which is very low.
Any service provider can claim whatever they want. That's why we love hearing from their real customers.
So, let's see what the user complaints are about this tool.
As you can see, according to customer testimonials, Social Follow is a scam that does not work most of the time.
Its follow/unfollow method has no guaranteed results. For example, Edmond Kalarya from the US says: "It makes you follow many profiles, but you never get a single follow. Want to use your credit? Same thing, zero followers back. Don't use it!"
Based on many Social Follow reviews we came across, their promise that they will provide 50 new followers is entirely baseless. You may not believe it but consider what their clients say:
There is no way we can list all the negative Socialfollow scam reviews here, but we encourage you to read them to avoid falling prey to their false promises and claims. Furthermore, we noticed that the Social Follow company has not responded to these complaints. They have no concern for their customers, which is entirely frustrating.
The lack of customer support raises questions about the company's credibility.
Social Follow Pros and Cons
Like any company out there, Socialfollow has its pros and cons. It will be easier for you to evaluate if this service will fulfill your needs by looking at its strengths and weaknesses.
Socialfollow Pros
No IG password is required.
It is free. (but it doesn't work!)
They have SSL encryption, which means your data is secure from phishing and hackers.
Socialfollow Cons
Socialfollow doesn't offer any advanced targeting method or filter to attract a target audience on Instagram.
With Social Follow, you may not get relevant followers interested in your content. Many clients even received bot or fake followers using the service.
If you want your 50 free followers, you must follow 50 people. Following so many people is a pain, and they will not like it when you unfollow them later.
You have to download the app. In light of Socialfollow scam reviews, doing so can put your PC at risk.
Social Follow provides very terrible customer support. It is disappointing to note that customer support is not a priority. Therefore, you will not receive any help when you need it.
There are allegedly false reviews and statistics on the website. Visit the Socialfollow co-review section and decide for yourself whether they are real or not.
They don't offer any analytics for you to see. So through the platform, you can't monitor your growth strategy. To do this, you have to go to your Instagram analytics and track the changes over time.
AiGrow: The Best Alternative to Social Follow
Our top suggestion is AiGrow which has comprehensive features for growing your Instagram account organically and safely and enjoys its well-established reputation among past and present clients. This service offers guaranteed results at a reasonable price to drive highly engaged and targeted followers to your IG account.
With AiGrow's Instagram growth service, you can transfer all responsibility to your experienced and dedicated account manager and even relieve yourself of the whole stress of social media content strategy.
AiGrow is one of the most secure, reliable, and effective services for getting new targeted followers and increasing your Instagram engagement. Unlike Socialfollow, AiGrow provides a broad range of valuable tools you can use to grow and manage your IG account like a pro. It provides all the features you could want, from automating DMs to hosting contests and giveaways! In the following sections, we will discuss its helpful features.
Guarantee your success with AiGrow right now!
How Does AiGrow Work
1. You will access your online dashboard once you sign up on AiGrow for free. The signing-up process is straightforward.
2. Now, you can choose the growth package that suits your needs.
3. Next, you should specify your targets based on your niche, location, hashtags, or similar accounts.
4. Following this step, AiGrow will connect you with its experienced growth team and begin improving your Instagram account to create visibility for your brand. AiGrow's powerful AI-powered engine will provide a list of qualified, organic Instagram followers passionate about your content. This tool removes the risk of bots, spam, or fake followers who have no use but lower your engagement rate or put your account at the risk of getting banned or blocked by Instagram.
5. If you purchase AiGrow's pro pack, a very experienced and dedicated account manager will be in charge of designing your content marketing strategy, monitoring your growth strategy, raising your engagement rate, etc. If you have any questions, please email us at [email protected]. AiGrow's customer support representatives are always available to assist their users.
However, before delving into the specific features, watch this video to learn about AiGrow's user experience.
AiGrow Features
Advanced Targeting Options
All-in-One Bio-Link Tool: you can add many links to your Instagram bio.
A Dedicated Account Manager
AiGrow's Scheduler Tool: This powerful post-scheduling tool allows you to post your content at the best times on Instagram to achieve the highest engagement rate.
AiGrow's Smart Instagram Giveaway Picker Tool: You will run more efficient Instagram giveaways and contests and select random winners fairly & quickly.
Effective DM Marketing Tool: This feature allows you to automatically send welcome messages to your new followers, provide auto-messages, generate more leads, etc.
Instagram Post Deleter Software
Instagram Analytics and Social Monitoring Tool
PostMate service: this new feature offers Instagram design plans, tailored content, etc.
AiGrow's Hashtag Generator Tool
Mass Unfollow App: AiGrow's unfollow tool identifies inactive or fake Instagram followers and allows you to unfollow them effortlessly.
Content Repost Tool: This tool allows you to repost the viral content or what your customers love.
YouTube Video Sharing on Instagram
Instagram Analytics Tool + Competitor Analysis Report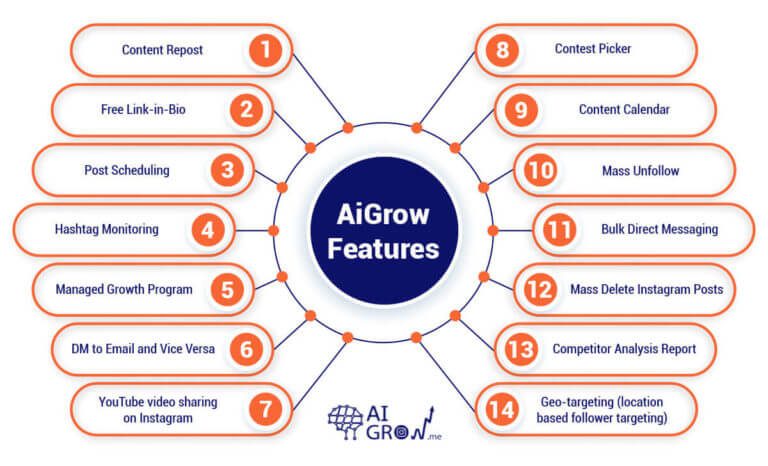 Get more out of Instagram with AiGrow.
AiGrow Pricing
AiGrow has a wide range of growth packages that you can choose according to your business needs. Please keep in mind that when you use AiGrow, you will work with an account manager who has a lot of experience and is always there for you. Due to this, the prices are pretty reasonable considering the amount of manual labor required.
AiGrow Vs. Social Follow; Final Verdict.
In comparison to Socialfollow reviews, AiGrow has received a lot of positive feedback on various websites, such as this Hoothemes AiGrow review. The table below also differentiates between AiGrow and the SocialFollow spammy service.
| | | |
| --- | --- | --- |
| Features | Social Follow | AiGrow |
| Real and Organic Instagram Followers | ❌ | ✅ |
| Advanced Targeting Options | ❌ | ✅ |
| Real Engagement | ❌ | ✅ |
| Hashtag Targeting | ❌ | ✅ |
| Automated DM Marketing | ❌ | ✅ |
| Account manager | ❌ | ✅ |
| Providing Instagram content strategy assistance | ❌ | ✅ |
| Sustainable growth | ❌ | ✅ |
| Designed templates for content (feeds/stories). | ❌ | ✅ |
| Instagram scheduling tool | ❌ | ✅ |
| All-in-One Bio-Link Tool | ❌ | ✅ |
| Instagram post deleter tool | ❌ | ✅ |
| Instagram unfollow tool | ❌ | ✅ |
| Instagram Analytics Tool | ❌ | ✅ |
| Social Media Monitoring Tool | ❌ | ✅ |
| Human-driven + advanced-AI Growth Growth Strategy | ❌ | ✅ |
| 24/7 customer service | ❌ | ✅ |
| Trustpilot Score | 1.9 | 4.6 |
AiGrow vs. Social Follow
Unlike Social Follow, AiGrow offers an extensive range of valuable features and a dedicated account manager with guaranteed results for boosting your online presence on Instagram safely and organically.
Don't miss out on AiGrow's awesome features and sign up right now!
FAQs on Socialfollow
Here, we will focus on some frequently asked questions about the Social Follow service. Please take the time to go through them and get the information you need.
Q1. Is Social Follow Legit?
Our answer to the question 'Is Socialfollow legit?' is definitely no. Using this tool will hurt your follower-to-engagement ratio. It will increase the number of followers, but they will not engage with your content since they are low-quality or irrelevant followers. It won't provide you with the social evidence you want.
As punishment for buying followers, Instagram's algorithm actively seeks out accounts with a poor follower-to-engagement ratio and stops showing the content to other users. In this sense, the answer to the question: 'Is Socialfollow a legit follower app?' needs more research. Using this service will not have any benefit for you. Hence, it will be better to stop using the service.
Q2. Is Socialfollow Safe?
Let's answer the question, is Socialfollow reliable or safe? Your IG account's security is of vital importance. Socialfollow doesn't ask for your username or password, meaning you never have to log in with your Instagram details. Although it is good, it is essential to remember that you will need to download their app on your device. You also have to confirm your email address.
Doing so can bring viruses to your computer. It means you should download it at your own risk. We don't consider it a safe app and recommend proceeding with caution.
Q3. Are You Allowed to Unfollow Any Of the Accounts You Follow Using SocialFollow?
No. It's also not allowed to unfollow any of the accounts you follow through Socialfollow, or your followers will get a notification telling them to unfollow you. As a result, you have no way to unfollow all these Instagram unfollowers who stick around because they feel obliged rather than because they enjoy your content.
Q4. Which Instagram Growth Services Provide Free Instagram Followers?
Like Socialfollow, Insta follow app, Instafollower app, and Mr.Insta (https://www.mrinsta.com/) claim they provide free Instagram followers. However, it is always important to keep in mind that price isn't everything.
It will be best to choose a safe tool that grows your Instagram account organically and gets you more engaged audiences.
Conclusion on Social Follow Review
Although Social Follow is free, its risks outweigh its benefits. According to this Socialfollow review, it is not the best option for your Instagram business account because it only provides bot or fake free Instagram followers for you who do nothing but harm your IG account.
Moreover, they do not care about their customers. Socialfollow does not follow through on its promises to its clients and only offers irrelevant or low-quality followers.
On the other hand, AiGrow provides organic and genuine followers who are highly interested in your content. AiGrow employs advanced targeting methods to bring your Instagram account in front of relevant and interested people in your business. Also, AiGrow has a higher user rating on Trustpilot with plenty of 5-star reviews from happy customers.
Although AiGrow is a paid service, it is well worth the price. Give AiGrow a try now and see the results.