Let's face the facts! Without Instagram growth tools, it's pretty much impossible to promote your posts and account. To beat your competitors, increase your brand awareness, and boost your engagement, you'll need the best Instagram growth tools that won't damage your account. 
This article will show you ten proven Instagram growth tools that will get you real results. So, stay with Social Pros to find out!    
Why Should You Use Instagram Growth Tools
Even if you're a pro-Instagrammer, you cannot promote your Instagram without help. Here are the reasons why you should use Instagram growth tools:
1- Instagram Is too Crowded
We all know that Instagram is super popular among people. With over one billion active users,  it seems everyone's on Instagram! Although this is an advantage, especially for small businesses looking for local followers, it can also be very competitive. 
You can find every niche and business on Instagram. So, it isn't easy to be seen and heard in this crowded community. To create a buzz around your business or personal brand on Instagram, you need to use the app's potential to its finest.
That's why using Instagram tools for growth is a must in your marketing strategies. These tools make it easy to do social listening, schedule your posts, reach new audiences, and analyze your Instagram marketing campaign.  
2- Instagram Growth Tools Save Time and Energy
Growing Instagram is a full-time job, and it's challenging. If you have other responsibilities, you won't manage all Instagram tasks properly. Using Instagram growth tools offered by some third-party apps is like outsourcing all or some of your activities.
This way, you avoid boring tasks, save your precious time, and use it for more important issues such as planning your post strategies.
3- The Best Instagram Growth Tools Reduce the Danger of Being Banned
Thanks to  Instagram's latest algorithm, Instagram growth is all about gaining real engagement. The more active you are on the platform and the more interaction you have with other users, the more engagement you'll get.
However, there's a daily limitation for Instagram activities, and if you cross it, you'll be banned by Instagram. 
The companies that offer an Instagram growth service usually have Instagram experts in their teams to avoid such problems. These experts constantly monitor and test Instagram limitations to keep the client accounts safe and secure. 
Using these Insta tools and their experts means spending much less money and seeing more favorable results! It will eliminate or, at least, reduce the chance of waking up and seeing that your account is gone or that you are losing your Instagram followers! 
4- In-app Tools Are Not Adequate
Although it has developed in so many ways, Instagram still has some limitations regarding growth tools. For example, scheduling posts is an important feature that helps you with consistency, but Instagram does not have such a tool yet. 
Or let's consider Instagram analytics! No one can deny the importance of keeping up with this information and learning from them to attract a target audience on Instagram. However, IG insights only offer data for the last seven days.
On this highly competitive platform, we need all the help we can get! And considering Instagram won't provide the essentials for facilitating our progress, we need tools for Instagram growth! 
Top 10 Instagram Growth Tools for Real Results
Without any further ado, let's check out the best Instagram growth tools:
#1 AiGrow: The Best Instagram Growth Tool
At the top of our lists sits AiGrow, an Instagram growth tool you can't possibly go without! This tool offers multiple practical features, all in one simple dashboard and for a very reasonable price.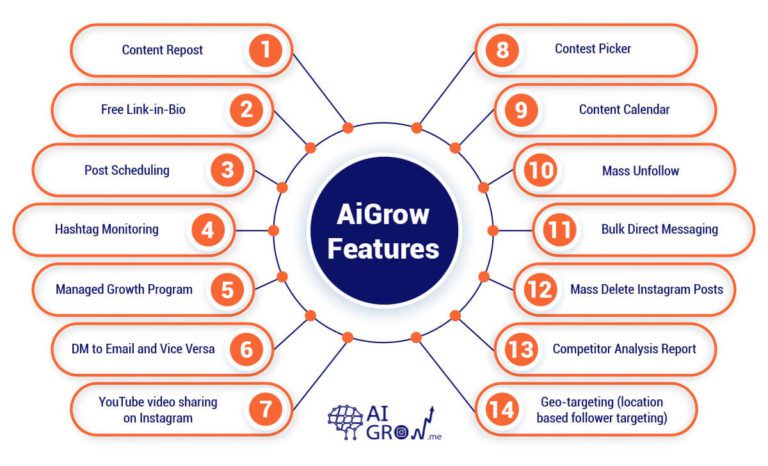 That's why it is so appealing; we can access everything and ensure success with one tool! Plus, this Instagram growth app is compatible with all operating systems. So, let's see what features AiGrow offers and how it can help.
Growth Service

AiGrow first gained a reputation as an Instagram growth tool that can help you get more IG followers organically. It promises real followers who will engage with your content. But, can it be dangerous? How do they deliver such a promise?!
Using AiGrow is risk-free since no Instagram bots are involved in the process. Instead, the tool offers professional social media managers vastly experienced in what they do!
So, you get a professional manager you can share your concerns with and rely on to manually manage your Instagram accounts for a fair price. You can bounce ideas off of them and plan the best strategies. 
Besides, once you apply your strategies, you can analyze your results with the analytics tool to see what performs well for your audience. It is a genuinely comprehensive tool!
So sign up on AiGrow right now to get immediate access to the tools and your very own IG manager!
Scheduling Tool
Uploading your content during the best times to post on Instagram can work miracles for your engagement rate. Yet, how can you figure out when your audience is most active? And how can you make sure you don't forget to post then?!
Not many Instagram growth tools offer a scheduler for your content. However, AiGrow's scheduling feature is available for your feed, story, or IGTV posts. It enables you to specify the date and write a caption.

Not to mention you can also exploit it to repost content on your Instagram. This feature covers all bases, right?!
So, create a free account now to enjoy!
Giveaway Picker 

I won't even mention how effective giveaways can be in growing your business! All I will say is that AiGrow provides two practical tools that will automate your giveaways and choose the winners in a matter of seconds!
Bulk DM & Mass Delete Features
Are you still wondering what features set AiGrow apart from other Instagram growth tools?! Well, AiGrow also offers tools to help you bulk delete your Instagram posts and mass DM existing or potential followers on Instagram. 
Other Instagram growth tools are available, as we will see in this article, but none are as complete as AiGrow. Once you create an account, all these fantastic features and more will come to your aid to ensure your efforts will pay off. 
Sign up now to take your Instagram growth to the next level with AiGrow!
#2 MyURLs.Bio
One of the most significant limitations of Instagram is that it doesn't allow users to add clickable external links to the feed posts. Actually, it's only possible to add one hotlink to the bio.
MyURLs.Bio is one of the best all-in-one Instagram growth tools to cross this limitation. It builds a practical landing page for your Instagram, where you can add all of your social media links to your bio and add one clickable link to each post and Story. 
After signing up for Myurls .bio, you can add your Instagram account(s) and start designing your landing page. Go to your user-friendly dashboard, click on "Bio-Link," and claim your unique URL.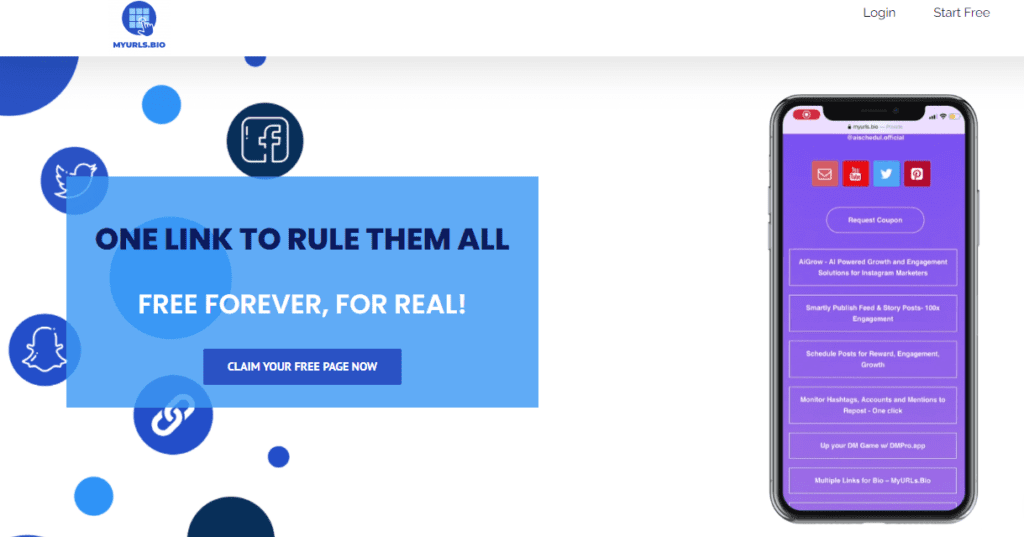 Use the social media widgets to cross-promote your channels, and don't forget to add buttons such as "Shop Now" or "Delivery Info" to make your Instagram more interactive. 
Plus, you can add external links to the posts and scroll down a little bit to see all of your posts. Under each post, you'll see two buttons: "Add Link" (for adding the clickable external link) and "Tag Product" (to add product price).
Finally, choose a theme for your page and then hit "preview" to see what your landing page looks like. 
But Bio-Link is not the only feature that MyURLs.Bio offers. It also has a smart Instagram scheduler that helps you to stay consistent. Using this tool, you can plan your posts days and even months ahead. 
Last but the least, MyURLs.Bio provides organic growth packages and "Direct Messages" that boost the number of followers. So, sign up for myURLs.bio now to gain immediate access!
Related Article: How to Post Affiliate links on Instagram: Tips for Everyone
#3 Curalate: BazaarVoice Instagram Growth Tools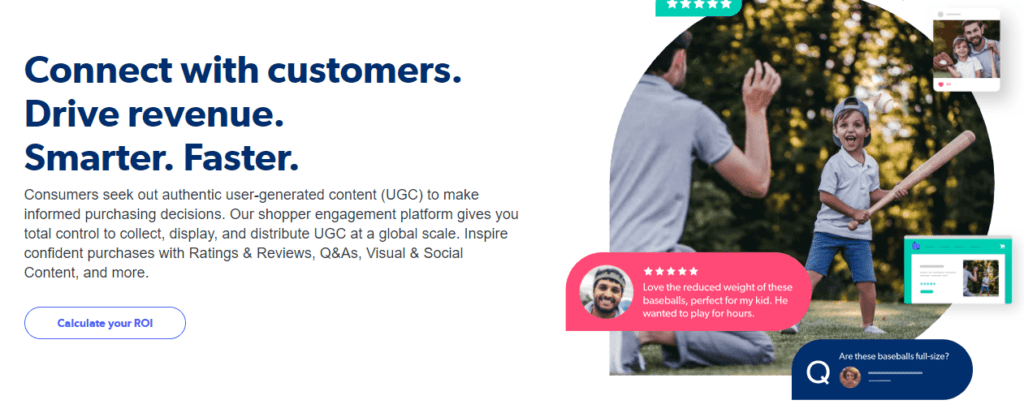 Curalate, Bazaarvoice now, is among the Instagram growth tools that can help as well! This Instagram tool claims it has everything that you want for marketing Instagram in one place.
It might not be the best Instagram growth app, but with the Bazaarvoice dashboard, you can:
Access data of your activities, 

Find content similar to your business, 

Monitor your campaigns, 

And have a shoppable gallery and stories.
Related Article: Instagram Manager: Why is it Essential to Have One?
#4 FollowingLike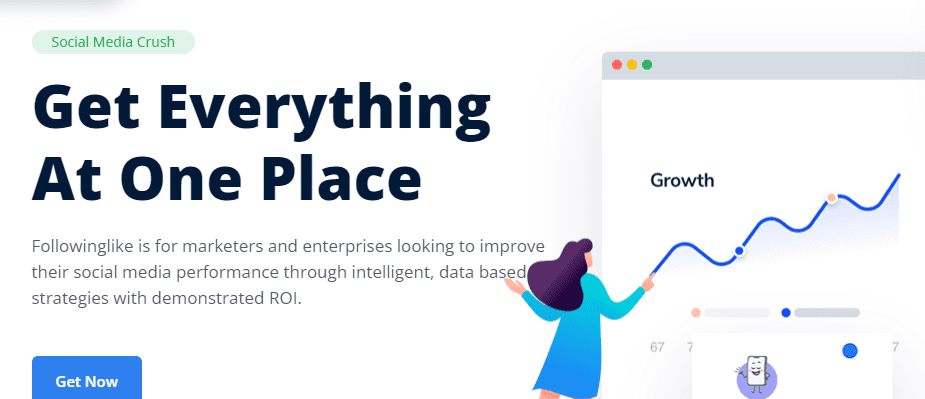 If you're looking for IG tools for followers, you can also rely on FollowingLike. It is another Instagram account manager that can also work as an IG unfollowers app.
FollowingLike automates your account activities on other platforms as well. Its goal is to save your time as you can control all your social media in one place on Followinglike. 
Related Article: Followinglike: Reviews, Alternatives, and the Cracked Version
 #5 EverLiker: Instagram Growth Tools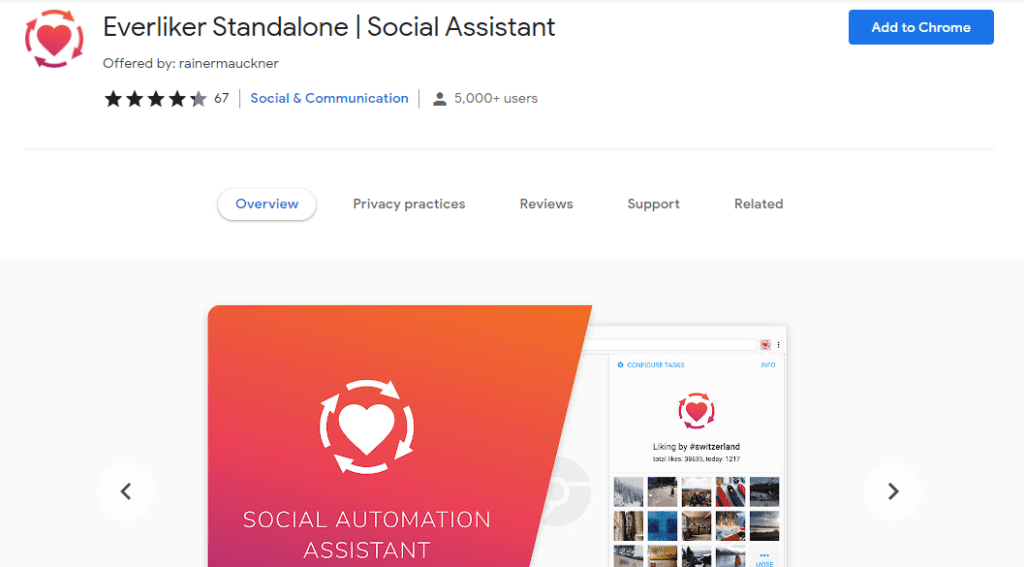 Everliker | Social Automation Assistant is a Chrome Extension that helps you  reach a higher rate of Instagram engagement by offering auto likes. The Everliker Extention has received more than four stars which is a good sign!
There are two versions of this plug-in. The free version uses hashtags to find relevant posts and likes them. The PRO version of Everliker allows you to experience a broader range of features.
Suppose Everliker is not working for you, especially considering how it will automatically like IG posts! In this case, you can find an Everliker alternative here that will suit your needs!
#6 Combin 
It's high time we discussed Combin in our list of the best Instagram growth tools! This tool has two features, one for growth and the other for scheduling. But you need to purchase the plans separately. 
The scheduling tool enables you to edit your images, schedule them for the best time to post on Instagram, and monitor hashtags.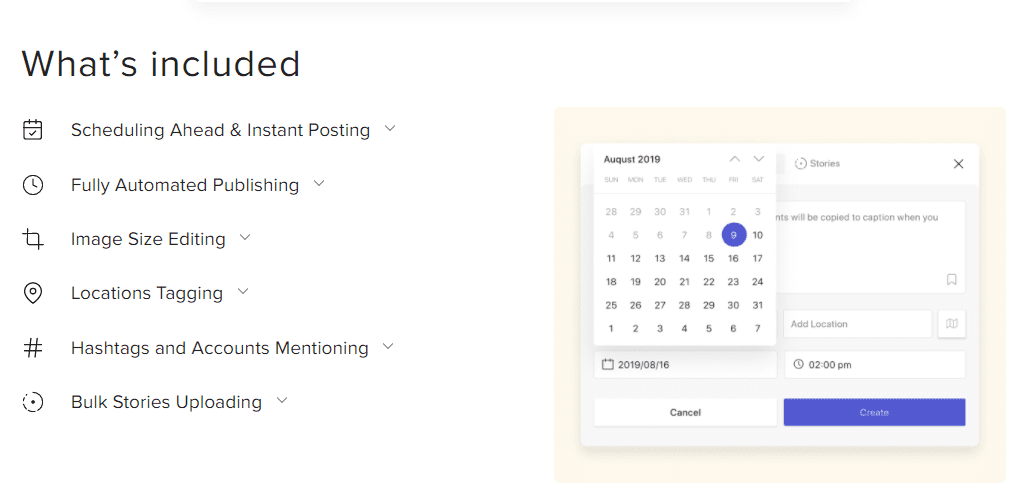 And the growth feature promises to deliver statistics about your performance alongside an engaged audience targeted based on location, language, or gender.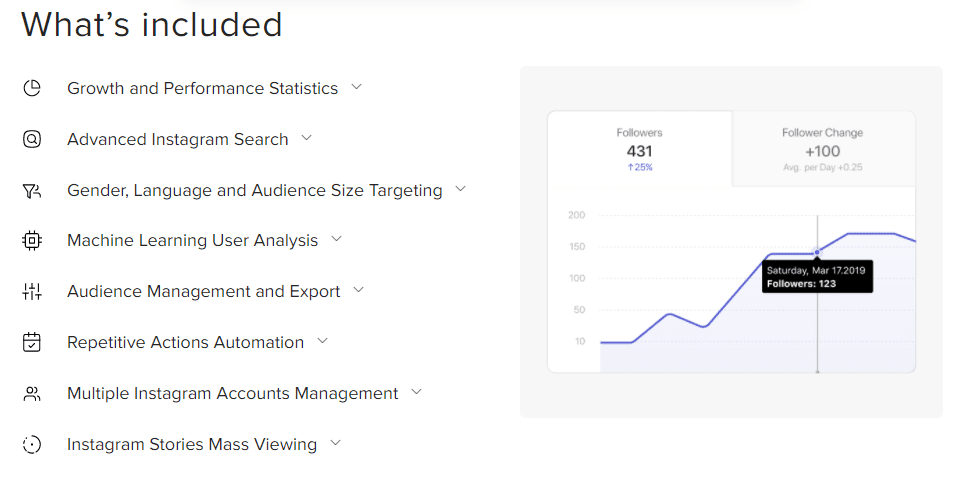 This platform will work nicely for you. However, since you need to purchase the plans separately, it's more economical to choose a tool, like AiGrow, that offers all features in one place.
#7 Social Insight: Instagram Growth Tools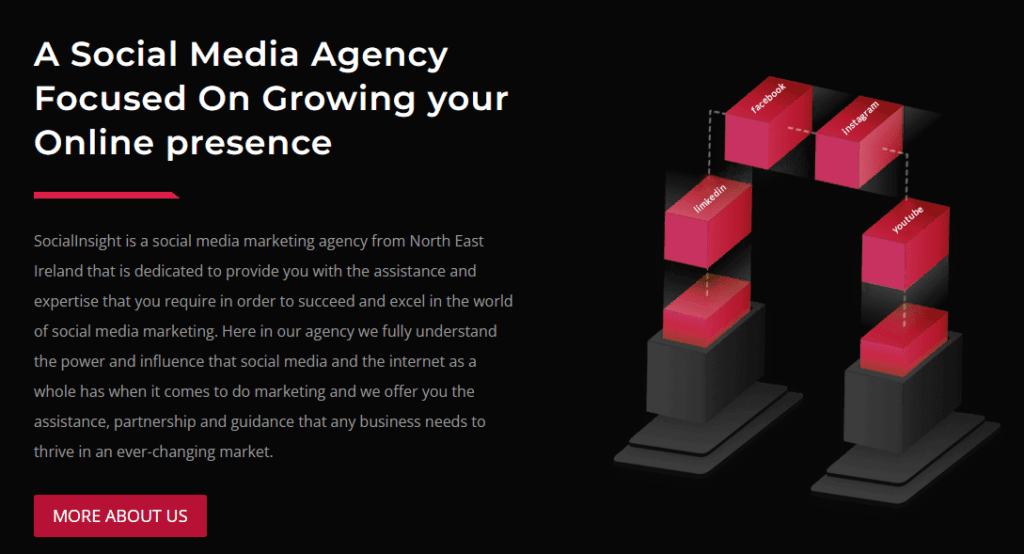 Social Insight claims to be among the best marketing tools for social media. It will help you focus on your IG presence and brand awareness so that you can grow faster and yet in a safe way.
#8 HashtagsForLikes.co 
We all know about the immense power of hashtags in helping brands reach a broad range of interested Instagrammers. Yet, how can you identify the best Instagram hashtags for your content?!
Hashtag For Likes allows you to research the best hashtags in your niche. So, if you are simply looking for Instagram growth tools that can help you grow using the right hashtags, don't forget this handy tool!
#9 Instazood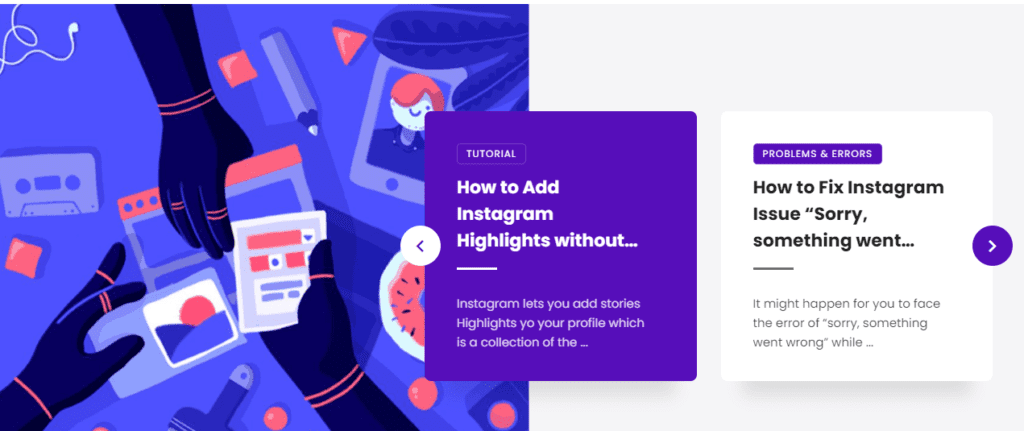 If you're determined to try Instagram growth tools that will automatically post, like, comment, and follow on your Instagram account, Instazood is a decent choice. 
If you ask us, Instagram bots are dangerous and not worth the risk. But then again, if you're looking for fast results, you can give Instazood a try. 
#10 AudienceGain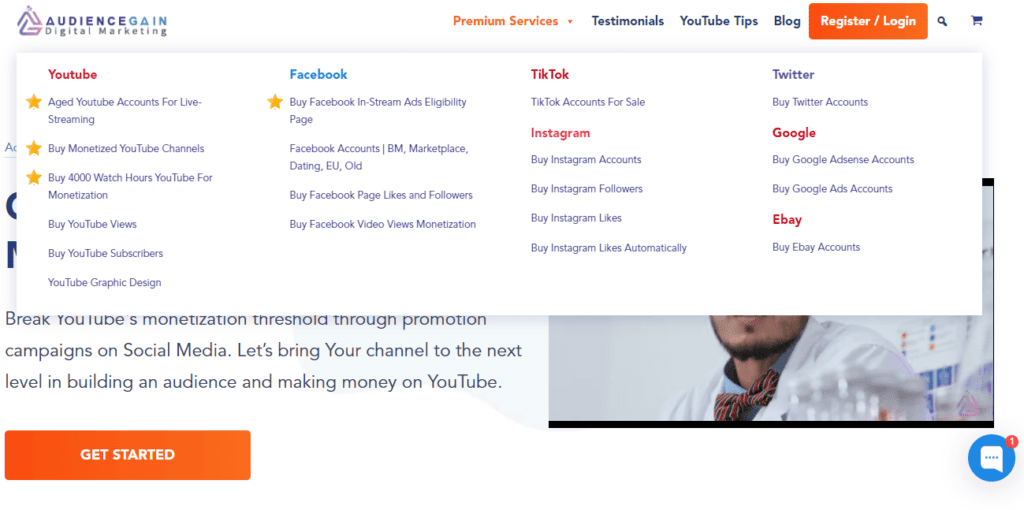 Audience Gain helps you to promote your Instagram account by providing four different services. You can buy followers, likes, video views, and auto likes.
Also, each service consists of several packages. For example, you can buy likes in packages of 500, 1000, 2000, 5000, 10000, and 20000. Audience Gain collects likes from all over the world and from real Instagram ads.
It also offers a 30-day like replacement guarantee. And it works for multiple social networks, like Facebook, YouTube, and TikTok. Despite all the features, it has a rating of 1.7, which makes it an undesirable option among all the best Instagram growth apps.  
Besides, we all know it's not the best idea to start buying likes and followers and risk being shadowbanned by Instagram! So, allow me to mention that although it appears on our list of Instagram growth apps, it is not your best choice!
FAQ on Instagram Growth Tools
So far, we have successfully answered your most common questions on the best Instagram growth tools. Now, it's time to check what else you asked!
1- Do influencers use growth services?
We have no way of determining if all Instagram influencers use Instagram growth tools or not. But the chances are most of them need help in managing their accounts. 
So, they have to get help from social media managers and growth tools or dedicate their whole time to managing their IG. Yet, remember that they will never risk losing their followers by using unreliable tools or bots!
2- How do you become Instagram famous overnight?
Well, you don't! Instagram organic growth is a slow process. You can, of course, facilitate it by using the best Instagram growth tools, such as AiGrow. 
But sadly, you still need to be patient, create engaging content, and interact with your audience to reach the results. Nothing good ever comes easy, right?!
Final Thought on the Best Instagram Growth Tools
In this article, I tried to show you the top proven Instagram growth tools for getting real results to boost your Instagram engagement. Don't forget that among these services, the best, most comprehensive service is AiGrow which can genuinely help with every aspect!