There are numerous Instagram growth companies available, making it difficult to select one. Knowing more about them allows you to select an effective growth tool to achieve the goals of your online business. Otherwise, you risk your online reputation and credibility by falling for false promises and claims made by some of them, such as Socialmeep.
Why then do we say that? Today, we will focus on the Social Meep Instagram growth agency. If you think about trying out SocialMeep or plan to invest in the best Instagram growth services, so, continue reading this post.
After reading this comprehensive Social Meep review, you will better understand its quality, key features, alternatives, strengths, and weaknesses. We will analyze the tool from different perspectives to dissect it to its very core.
Note: Our most recent update revealed that this service is no longer functional. As a result, if you're looking for an alternative and are concerned about safe and organic growth, we'll also introduce you to AiGrow.
So, let's dive in.
Why Instagram Growth Services Worth It
First of all, let's go over why Instagram growth services are worth it. Even though Instagram can be a powerful tool for promoting products, services, or whatever you want, it takes a lot of time and hard work to succeed on the platform. You need to create high-quality and value-adding content ideas for your Instagram marketing account and consistently publish them at the best time to increase your engagement rate. In addition, you must follow, unfollow, like, comment, view posts, and send direct messages.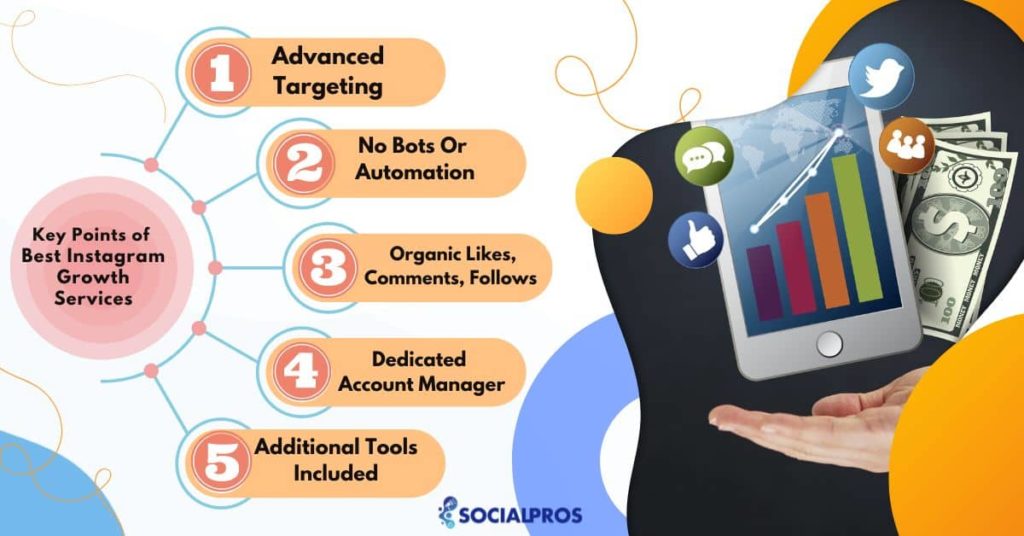 It will take a lot of time and energy to do all these on your own and improve your online presence on this social media platform.
Due to the challenges of growing and engaging on Instagram, people are turning to Instagram automation tools to save time and get an edge over the competition.
Instagram automation tools aren't perfect, but they can do incredible things for your Instagram growth if you choose a reliable service. Whether you have years of experience with social media marketing or have just created your Instagram page, the proven Instagram growth tools can help you achieve your goals faster.
However, several spammy growth tools and companies exist that will waste your money and cause you problems with Instagram's algorithm. Therefore, you need to know which ones function and which ones are not.
For this reason, we covered various Instagram growth services, including:
and many other services that you can learn about by exploring our website. Reading them will assist you in making the investment in Instagram growth services worthwhile.
Hence, let's begin our complete SocialMeep review and see what it can (or cannot) do for you. Will this tool help you, or is it just another false claim? Keep reading to find out everything.
What Is Social Meep
SocialMeep is a relatively new Instagram follower growth service in the market. It claims that it uses AI-powered technology to get you real, organic Instagram followers. No bots are allegedly involved in the growth process. So they promise that everything they do for you will be 100% organic and authentic.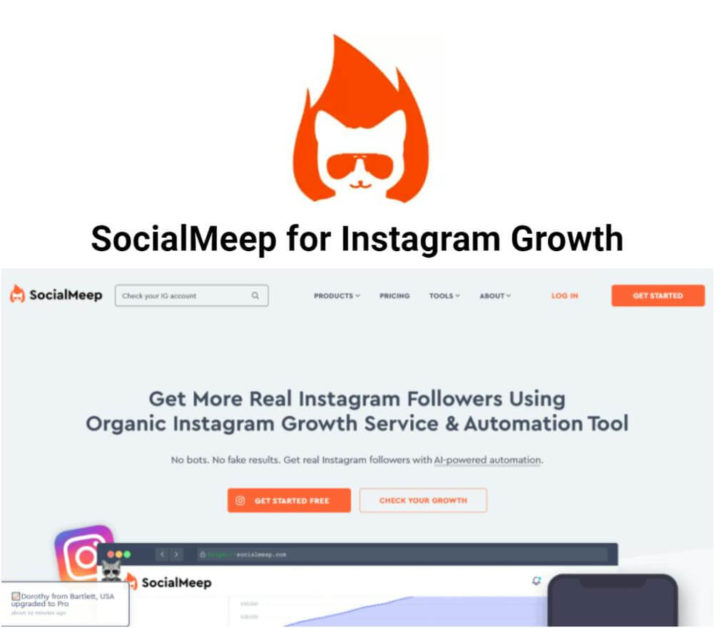 However, we are very suspicious of such claims since many Instagram growth companies lie about using bots and spammy methods. Many automation services use buzzwords and tricky words like 'organic growth' or 'artificial intelligence technology' (AI-powered automation), but they do not practice what they preach. To find out whether SocialMeep is the right company for your Instagram growth or not, we conducted this research.
At first, by looking at their website, we noticed that SocialMeep had altered the logo and the text of HypeAuditor (HypeAuditor is a growth tool) slightly, but that's all. They even forgot to change the photo and the name of Hypeauditor's CEO!
Furthermore, the website's format closely resembles Nitreo and Kicksta's websites.
It's not a good sign. It means that their site is an exact replica. Interestingly, they have put a cat on the top of Hypeauditor's logo!
Aside from its copyright infringement, is Social Meep safe? Can it help grow your Instagram followers organically and safely? What is the quality of this service like? We will answer all these questions in the following sections.
How Does Social Meep Work
Signing up for Social Meep is as follows:
You need to go to their official website, which is currently inactive. It means that the service is no longer functioning.
Then, you should connect your Instagram account and sign up for a plan.
Then, you have to define your target accounts for the bot.
In the end, you have to make your payment.
The company's website has been closed, according to Trustpilot. It's correct, and when we went to their website, it was down. So consider another alternative. AiGrow is the best Instagram growth service on the market. You can read our AiGrow review to learn more about this incredible service.
SocialMeep Features
The SocialMeep website is not active anymore. We have no idea if these features work currently, but take the following information with a grain of salt.
Allegedly AI-powered targeting: you can attract a target audience on Instagram using hashtags, geotags, competitor accounts, age, and gender. Among the other filters are the number of likes, followers, and followings of an account.
Automated growth & engagement. The Social Meep automated engagement with target accounts is provided by the tool. After successful Social Meep login, this feature will supposedly start liking, viewing, and reacting to posts. The company uses the term "micro-interactions" to describe this activity. Besides sounding fancy, the term conveys nothing.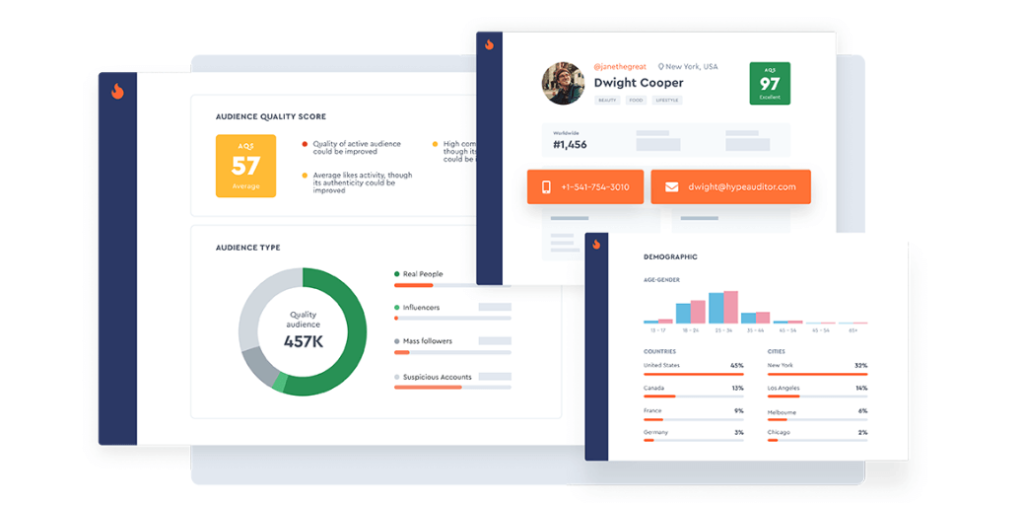 SocialMeep does not provide much information on how they get more followers on Instagram and the quality of followers that you'll receive.
Analytics tool. SocialMeep offers a live growth tracking tool to monitor your Instagram activity. Using this tool, you can track your followers, referral source, country, etc.
Cloud. Only Pro Plan customers can access this feature. It includes additional growth tools and insights.
SocialMeep provides what you'd expect from an Instagram bot and doesn't offer anything unique.
There is no need to repeat that using bots may get you in trouble as it violates Instagram's terms of use.
Social Meep Pricing
SocialMeep has two monthly subscriptions:
Basic Plan
Pro Plan
They cost $49 and $99, respectively.
The primary difference between these two plans is that the Pro plan comes with Cloud (a set of additional growth tools and Instagram insights) and faster growth with more followers.
Is it worth the price? No, because you don't know what you're getting for your money. Most likely, you will not gain anything by using the service. You may also lose your Instagram account, which is a big hassle that we barely like to discuss.
You can get real organic growth from a legitimate company for the same price. If you are looking for a better alternative to SocialMeep, Keep reading this post.
Social Meep Reviews
When you visit Trustpilot, you see this red banner saying, "Warning! We've detected misuse on this page."
Trustpilot has removed the Social Meep company from its website because of paying for fake reviews. These fake reviews were probably written for money.
Even with its fake reviews, SocialMeep did not have such a good ranking before its removal.
91% of reviews do not consider SocialMeep legit. However, let's take a closer look at these reviews to see the most common complaints about using this Instagram automation service.
We have reviewed all the SocialMeep reviews. The following are the most common complaints about the SocialMeep Instagram automated service:
Those who used SocialMeep to buy Instagram followers received a bunch of bots/fake accounts in return.
Many gained low-quality and inactive followers, which decreased their engagement rate.
SocialMeep clients did not receive any helpful customer service.
The SocialMeep cancellation process is very intricate and challenging. According to the customer experiences, there will be no response to your cancellation request.
Despite cancellation requests from customers, the service continued charging.
SocialMeep's targeting options are not efficient at all. Thus, followers gained through Social Meep will not engage with your content and have no interest in what you offer.
A Review of SocialMeep on Reddit
Social Meep Reviews Reddit also confirm that this service is a dangerous scam. For example, here is what a SocialMeep review on Reddit says:
Click here to view other Social Meep Reddit reviews.
Social Meep Pros & Cons
We have covered a lot of information so far. To get a clearer idea of the service, let's weigh its pros and cons. First, let's look at what's good:
Pros
Visible pricing
Analytics tool
Cons
At the moment, the website is inactive. Amazingly, we couldn't find the website when we googled SocialMeep. In the last round of Instagram crackdowns, Social Meep was probably shut down for its horrible service and constant lies.
Possible use of bots
SocialMeep scam reviews. Their reviews were misleading and provided fake information about their services.
No free trial
It provides terrible customer support.
You will get bots or fake accounts using the tool.
Getting them to refund the money is very challenging.
They are utterly shady about what they do. There is not much information about the methods to grow an Instagram account.
It copied another company's website design. They stole HypeAuditor's format and changed the wording. Businesses that act in such an unethical manner cannot be considered credible.
We could not find anything about the team members behind the SocialMeep.
Why Should You Consider an Alternative
We do not recommend using SocialMeep. Why? First of all, their website is not available, meaning they are no longer in operation. More importantly, their previous website was also an exact copy of another site (i.e., HypeAuditor).
Secondly, Trustpilot has flagged it as a scam and removed it. Also, many real customer testimonials and reviews are available on the internet, all complaining that it ruined their IG account with bots and fake followers. Furthermore, you will not get any customer support using their service.
These are enough reasons to believe that SocialMeep is not legit or safe to use.
Top Social Meep Alternatives
If you're worried about getting scammed, we'd advise you to stay well away from Social Meep and invest in more trusted platforms. These reputable and well-known services are the best to use instead.
AiGrow: The Best Alternative to SocialMeep
AiGrow is a well-established and reputable organic Instagram growth service. This comprehensive Instagram growth tool provides you with everything you need to grow your Instagram organically. So, AiGrow is the best alternative to Social Meep on our list.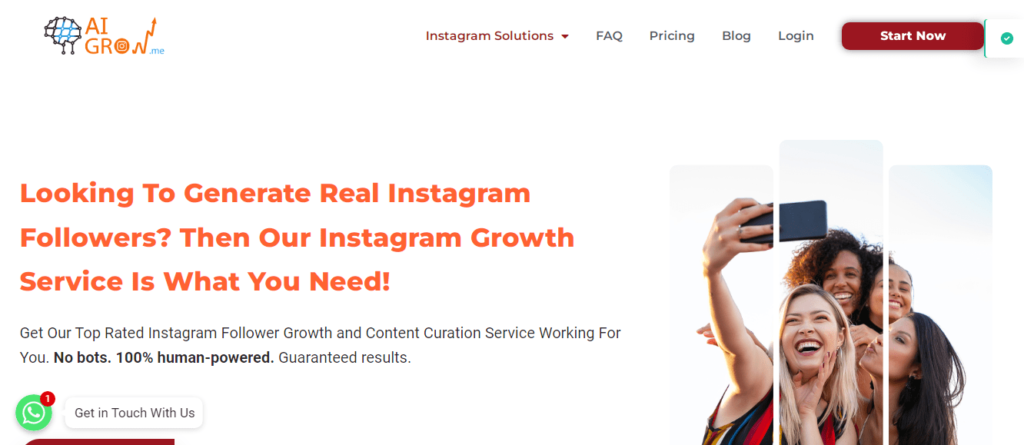 After signing up, AiGrow will assign you a dedicated account manager who will help grow your online business. Thus, you will gain more followers with genuine interactions and also have peace of mind knowing your social growth is in safe hands. AiGrow provides you with peace of mind that a professional manager takes care of your growth.
Its unique combination of human knowledge and artificial intelligence will result in rapid and organic growth.
AiGrow is an excellent example of a business that is honest with its customers and cares about providing high-quality service. It is safe, secure, and above all, won't let you down!
Do you want a steady flow of organic followers? Click here.
Kicksta Vs. Social Meep
Kicksta is also a reliable Instagram growth service compared to spammy SocialMeep.
It ranked second in our list because we had already reviewed the Kicksta Instagram growth tool. If you refer to this article, you will realize why AiGrow comes to the top of the list.
So, don't waste any more time and start your Instagram growth journey with AiGrow.
How Does AiGrow Work
It is simple to get started with AiGrow. All you have to do is follow these steps:
Sign up on AiGrow, and connect your account to the dashboard.
Click on the 'Growth' tab at the top of your dashboard.
Then, identify your target accounts. AiGrow uses advanced targeting options (i.e., hashtags, location, competitor or similar accounts, and more) to bring high-quality, engaged followers to your Instagram account.
After this step, AiGrow will connect you with experienced team members to help you improve your account for maximum engagement and followers.
AiGrow's support team is available via email if you have any questions. They will answer all inquiries 24/7.
Sign up now to get started with AiGrow.
AiGrow Features
AiGrow has growth, scheduling, and also a lot of other unique features. You can see some of them in the following list:
Automated DMs
Instagram post, story, and IGTV scheduling tool
Social calendar
Post & reward: AiGrow's post & reward tool finds qualified users who followed your rules and sends them to your DMs.
PostMate feature:
Multiple links in bio: with this tool, you can add multiple links to your Instagram profile.
Advanced Targeting Options (including niche, hashtag, location, and influencer targeting)
A dedicated account manager:
Manual growth activities
24×7 customer support
Mass delete Instagram posts.
Account monitoring
Content repost tool
AiGrow's Giveaway Picker Tool. It allows you to host giveaways on Instagram effectively, choose and announce your random winners, and more.
Having a wide range of features available to choose from, AiGrow gives you the freedom to decide how you want to grow your Instagram profile. Moreover, AiGrow continues to update its features constantly so that you always get the best with them.
Get immediate access to AiGrow now to use all its practical tools!
AiGrow Pricing
AiGrow's prices are very fair and affordable. To see all AiGrow's growth packages, click here.
The good news is that AiGrow also offers a one-week package for new users. The service costs $25, and you can cancel it at any time.
Watch this video to learn what AiGrow's consumers say about its features:
AiGrow Vs. Social Meep; Final Verdict
In comparison to Socialmeep, AiGrow received a lot of positive feedback on Trustpilot. Furthermore, many websites, such as this AiGrow review on the Hoothemes website, attest to its effectiveness. All of AiGrow's features are compared with Social Meep in this table.
| Features | Social Meep | AiGrow |
| --- | --- | --- |
| Organic Growth | ❌ | ✅ |
| Personal account manager | ❌ | ✅ |
| Real Engagement | ❌ | ✅ |
| Providing Instagram content strategy assistance | ❌ | ✅ |
| Sustainable growth | ❌ | ✅ |
| Designed templates for content (feeds/stories). | ❌ | ✅ |
| Instagram scheduling tool | ❌ | ✅ |
| All-in-One Bio-Link Tool | ❌ | ✅ |
| Instagram post deleter tool | ❌ | ✅ |
| Instagram unfollow tool | ❌ | ✅ |
| Social Media Monitoring Tool | ❌ | ✅ |
| Human-driven + advanced-AI Growth Growth Strategy | ❌ | ✅ |
| 24/7 customer service | ❌ | ✅ |
| Trust score | Social Meep was removed from Trustpilot. | 4.4 out of 5 |
FAQs
Here are some frequently asked questions about SocialMeep. Check them out to learn more.
Q1. Is Social Meep Legit?
We do not believe that SocialMeep is legit. Why? It has infringed on HypeAuditor's copyright by copying its website. Due to fake reviews, it was removed from Trustpilot, and its website is currently unavailable. Based on our research and customers' reviews, we believe SocialMeep is too risky and could get your IG account suspended or banned by Instagram.
Q2. How to Cancel Social Meep Account?
According to customer testimonials, there is no way to cancel your Social Meep account. Many had no choice but to change or cancel their credit cards to stop this service from charging them.
Q3. Is SocialMeep Safe?
No. SocialMeep is very risky, and it can get your IG account banned or deleted. Furthermore, if they acquire your credit card information, they may steal your money and overcharge you for nothing.
Conclusion
The Social Meep app is no longer functional. It is a dangerous Instagram bot that will hurt your investment and reputation. For Instagram growth, you shouldn't be associated with a bot as they may result in your account being suspended or closed. Remember that giving it a try will have more risks than benefits for you.
Considering what we have read, it's pretty clear that SocialMeep is not the kind of Instagram growth service you should use for your Instagram business account, and you need to avoid it at all costs. They are copycats looking for unsuspecting Instagram newcomers to scam. Therefore, if you care about your Instagram's reputation, avoid using the Social Meep scam tool.
AiGrow is the best option for you as it uses organic methods and assigns you a professional account manager to manage your growth strategies manually. Since AiGrow's experts are working on your account, you do not have to worry about your Instagram profile looking spammy.
Moreover, AiGrow's advanced targeting options will drive high-quality targeted followers to your page who are highly interested in your content. As a result, you can build a solid community around your feed using this service.
Furthermore, based on customer testimonials and a high online ranking, AiGrow delivers what it promises. In short, AiGrow will get you way better results than SocialMeep.
Give AiGrow a try now and get guaranteed results.