Are you looking to buy Instagram followers and likes from Stormlikes and interested in reading a comprehensive and unbiased review about it? Then you have come to the right place to learn the truth.
We all know how challenging it can be to find one of the best Instagram growth services to grow your IG account effectively and safely. The problem is that the market is full of shady and scammy tools and services that do not deliver what they promise. Even worse, they come with more risks than benefits, leading to your IG account being suspended or deleted.
Therefore, we decided to provide this all-inclusive review to help you make an informed decision and invest your money more intentionally. Thus, We will evaluate its features, prices, pros, and cons to determine what Stormlike can (or cannot) do for you. This article will also show you why AiGrow can potentially be a better alternative to Strormlikes. So, if you are thinking about using the service, it would be wise to read this Stormlikes review in full first. Alright, let's get started then.
What Is Stormlikes
Stormlikes is an Instagram followers app that claims to offer real and exclusive likes, followers, and views to Instagram accounts. They promise to grow your Instagram profile instantly, with no risk.
Additionally, they say that all their engagement and growth are from legitimate Instagram profiles, not from bots or fake accounts. According to its website (www.stormlikes.net), this growth service works with a community of its users to boost Instagram engagement.
However, we are suspicious of these claims, so we conducted this research to analyze the storm agency from different perspectives. Is this company really what it claims to be? Is Stormlikes legit, or will it put your account at risk? Is Storm Likes Scam? Will you receive high-quality followers from it? Keep reading to discover the truth.
Stormlikes.com Vs. Stormlikes.net
In conducting our research, we discovered another Instagram account management service with the same name but a different domain (www. stormlikes.com).
Both websites are third-party services that let you buy followers on Instagram. It has to be noted that the focus of this article is on Stormlikes. net. (The Trustpilot feedback on Stormlikes com has been very negative lately, so there is no need to waste your time and money on it.)
How Does Strormlikes Work
to sign up for Stormlikes,
First, go to its official website at www.stormlikes.net.
Then, you should click on the "Get Started" button.
Choose your desired growth package and the billing method. You can pay either with a credit card, PayPal, or Bitcoin.
Finally, enter your Instagram username and click on 'Continue.' Meanwhile, Stormlikes won't ask you to give them any passwords, which is great.
That's all. According to the website, you should receive your order instantly.
Key Features of Stormlike
StormLikes offers various features that you might find interesting or not. However, you should know about them if you're thinking about utilizing the service. Below are the details.
It provides Instagram followers, likes, and views.
Stormlikes allows you to buy Instagram followers/engagement in various packages. Through one of these packages, you can buy 2500 followers or views! A weird thing about this is that the company claims all Storm followers are real people. For this to be true, StormLikes would need over 30K users. While it isn't impossible, it seems highly unlikely to us.
It offers location and gender targeting.
Automatic post detection. Whenever you post your engaging content ideas for your Instagram marketing account, Stormilikes will detect and scale it up with engagement. This will go on until the Storm views or likes you purchased are used up.
Managed growth strategy. Using Stormi Likes, you can adjust the speed of your likes or engagement for a more organic look. Also, its likes randomization allegedly adheres to Instagram's daily limits. However, sometimes, the automatic likes randomization falls short. At this time, if you think that the Storrmlike engagement rate is too high or low, you can adjust the speed manually.
Fast delivery. Remember that instant delivery is a double-edged sword. It's best to opt for instant delivery when buying a smaller number of followers (e.g., up to 1K).
However, if you want thousands or tens of thousands of followers (for example, 20K followers), it is better to reach them gradually. Getting so many followers in a few minutes may seem unnatural to the Instagram algorithm, resulting in your account being suspended or banned. Unfortunately, Stormlikes' offer doesn't include gradual delivery, so it may be wise to choose its smallest packages.
Stormlikes Pricing
Storm Likes offers various packages in different categories, including Instagram likes, views, and followers. It means that you can choose a price point that best suits your needs.
Additionally, they promise the same features with each package, including instant delivery, real followers, 24/7 support, and no password required.
If these packages don't meet your needs, Stormlike allows you to create your own custom package. To do so, you can use a simple slider to set your preferred amount of likes/views/followers. Then, the price will be displayed on the side.
Strormlikes Instagram likes packages start from $1.39. Stormlikes enables you to split paid likes between multiple posts, which is a great feature if it works.
They offer high-quality and premium (or VIP likes). Premium Likes are supposed to be real Instagram likes from real people genuinely interested in your content. However, by clicking on "Premium Likes" you will be directed to another website (Likes.io) that we will talk about it a bit later.
2) Stormlikes Instagram Views Packages. It's pretty much the same as with likes. Keep in mind that Instagram views can have a significant role in increasing your engagement rate.
3) Storm Likes Instagram followers packages are the most expensive service this company offers. According to their pricing page for Instagram followers, you can buy 100 followers for just $2.89, which is reasonable.
?Note: Although the low prices of Stormlike might be tempting, it is important to keep in mind that it does not deliver genuine engagement/followers.
The odd thing is that clicking on the "Premium" button to check the rates for Stormlikes followers will take you to another website named likes.io!
Is Likes.io Legit
Now, you may ask, "Is likes.io legit?" Based on our Likes.io review, the answer is certainly no. The Likes.io website hasn't even implemented SSL encryptions to protect transactions made with them.
Aside from security shortcomings, likes.io reviews on Sitejabber were very negative. According to the website, Likes.io has a consumer rating of 1 star from 2 reviews indicating that customers are dissatisfied with their purchases.
Moreover, we searched for Likes io reviews on Trustpilot, but we got the following message:
All these points suffice to say that we cannot guarantee Likes.io is legit – and not a scam. So, better not to use this website to buy Instagram followers or likes.
Now, let's get back to our Stormlikes reviews.
Stormlikes Reviews
It is always essential to check reviews before buying from any online service. 375 people have already reviewed Stormlikes on Trustpilot. Its TrustScore on the platform is 3.7. As a result, based on the reviews on the platform, this tool does not have an outstanding reputation. Storm Likes has not answered their negative reviews yet, which is also very concerning.
Here are some recent reviews from people who have used this service before.
We can not list all Stormlikes reviews here, but these are some of the most common complaints about the tool:
The main complaint is about the low quality of followers and engagements it provides. Most users received followers with zero engagement. There is only one explanation for this- these Stormlikes followers are bots. The most likely scenario is that Stormlikes mixes real followers with fake ones.
The service does not have a guaranteed retention rate.
Most comments consider Storm Likes a scam.
Customer service is not satisfactory. The majority of users complained that the support team did not assist them and dismissed complaints regarding the decline in following.
Many people received no results after paying for the service.
We kept searching but did not find any customer comments on the Stormlikes review Reddit. However, some Stormlikes.net reviews on Sitejabber express the same complaints about the service. For instance, consider the following reviews to see how similar they are to those we saw on Trustpilot.
Based on the reviews, if you are concerned about the sustainability and quality of your followers and engagements or need 24/7 customer service, Stormlikes isn't the right choice for you. Keep reading this post to see our top recommendation that won't let you down in the long run.
Stormlike Pros & Cons
Just like every other growth service, Stormlikes has its weaknesses and strengths. Here, we will take a look at the pros and cons of Stormlikes to help you make an informed decision. Let's start with the pros of the service.
Pros
It has a secure HTTPS website.
You do not have to give them any passwords.
Its registration process is straightforward.
The service offers affordable packages.
Stormlikes offers services for several other social media sites, including Facebook, Spotify, Twitch, TikTok, and SoundCloud. However, the quality of its services is questionable.
Cons
Storm Likes offers no retention guarantee.
Stormlikes net reviews are mostly fake.
Responding to customer service requests is slow.
If you buy Instagram followers from Storm Likes, your follower count will drop.
The source of Stormlikes' followers and engagements is hidden. The lack of transparency is worrying.
Moreover, according to customer testimonials, the quality of followers is not as good as claimed. As reported, most clients received nothing but fake or ghost followers.
Choosing Stormlikes as your service is risky as you will get neither a free trial nor a refund. You will have to pay for the service, and there is no money-back guarantee if you are not satisfied with it.
It does not have an about page, so we could not learn more about its team or location.
It offers a few basic features to grow your business intellectually on Instagram.
AiGrow: The Best Alternative to Stormlikes
AiGrow is a reputable and high-quality Instagram growth service working with its clients for a long time now. Upon signing up with AiGrow, they assign you a dedicated, professional account manager who interacts with your target accounts and grows your profile with real followers and engagements. Moreover, AiGrow's advanced AI technology and targeting methods will drive more qualified traffic to your page.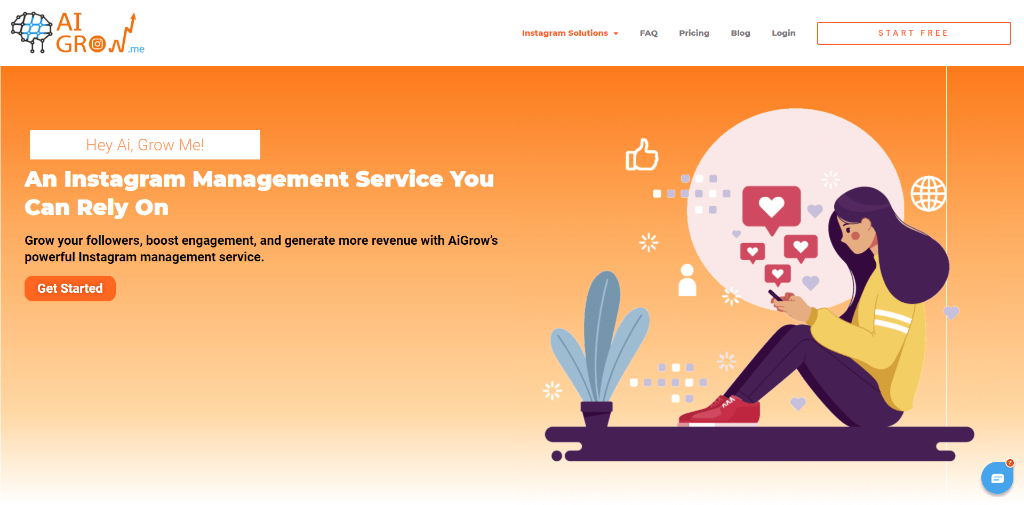 With this organic, manual Instagram growth service, you can relax knowing that your account is managed by a professional team committed to your success. As it is one of the best organic and manual Instagram growth services on the market, you do not have to worry about getting blocked or banned from Instagram.
Furthermore, choosing AiGrow as your Instagram growth service allows you to access all the valuable features needed to boost your online presence.
To learn more, you can check out our detailed AiGrow review.
How Does AiGrow Work
Click here to sign up for free. The signing-up process is easy and takes only a few minutes.
Upon signing up, you will go to your online dashboard.
The next step is to click on 'GROWTH' at the top of the dashboard and select the package that best suits your needs.
Then, select your targets based on location, gender, niche, hashtags, competitor accounts, etc. You can edit the list as often as you like. Now, AiGrow will connect you with its experienced team and start growing your Instagram followers organically and safely.
Note: Feel free to contact AiGrow's customer support team via [email protected]. They are available at any time to answer any questions you might have.
AiGrow Features
Now, let's jump in and learn about AiGrow's extensive and helpful features, which are unique in their own right.
A Dedicated Account Manager
Instagram Giveaway Picker: You can use this top Instagram giveaway picker to run your giveaways more effectively and choose winners more fairly.
Post Mate Feature: AiGrow has recently added this new feature to provide clients with an efficient social media content strategy, keeping their Instagram pages fresh and engaging.
Automated DMs: As a result of AiGrow's DM feature, you can automatically send Instagram messages to your followers, provide auto-messages, generate more leads, etc.
Bio-Link Tool: This tool lets you hyperlink on Instagram, allowing you to add as many links as you want to your Instagram profile.
Powerful Scheduling Tool: This tool allows you to automatically schedule and publish your posts at the best time to gain more views and likes on Instagram.
Social Monitoring + Detailed Analytics Reports
Instagram Post Deleter: Use this tool to delete Instagram posts with a single click.
Content Repost Tool
Post & Reward Tool
Hashtag Generator Tool: This excellent tool will help you add top Instagram hashtags to your posts to increase your chance of gaining more free Instagram followers who are interested in your content.
24×7 Customer Support
YouTube Video Sharing on Instagram
AiGrow is a comprehensive solution that includes all the tools and features you'll need to grow your business on Instagram. So, why not get more out of Instagram with AiGrow?
Sign up for AiGrow, gauranteed results.
AiGrow Pricing
AiGrow offers a wide range of growth plans to meet any requirements and needs. Click here to view all growth packages.
With AiGrow, you will have access to an experienced Instagram manager who will assist you every step of the way. Therefore, given the quantity of manual labor involved, its prices are pretty reasonable. Additionally, note that you can get AiGrow's first weekly package for only $29 and cancel it anytime you want by entering the discount code.
AiGrow Vs. Stromlikes; Final Verdict.
| | | |
| --- | --- | --- |
| Features | Stormlikes | AiGrow |
| Offering a variety of growth packages | ✅ | ✅ |
| Providing Instagram engagement | ✅ | ✅ |
| A Dedicated Account Manager | ❌ | ✅ |
| Sustainable & Organic Growth | ❌ | ✅ |
| Real and Organic Instagram Followers | ❌ | ✅ |
| Advanced Targeting Options | ❌ | ✅ |
| Providing Instagram Content Strategy Assistance | ❌ | ✅ |
| All-in-One Bio-Link Tool | ❌ | ✅ |
| Instagram Giveaway Picker Tool | ❌ | ✅ |
| Instagram Post Deleter tool | ❌ | ✅ |
| Content Repost Tool | ❌ | ✅ |
| Social Media Monitoring Tool | ❌ | ✅ |
| Human-Driven + Advanced-AI Growth Strategy | ❌ | ✅ |
| 24/7 Customer Service | ❌ | ✅ |
| Trustpilot Score | 3.7 out of 5 | 4.6 out of 5 |
FAQs on Stormlikes
In this post, we tried to provide a complete guide on the Stormlikes Instagram growth tool. Let's read on to find out more about it.
Q1. Is Stormlikes Safe to Buy Real Instagram Followers?
According to various Stormlikes reviews, there are many negative comments about the tool. Many said their followers unfollowed them soon after the purchase. Since the company does not guarantee retention, you cannot hold them responsible for losing your Instagram followers.
On top of this, many people were unsatisfied with the quality of their followers. Therefore, Stormlikes is not a safe choice in the long run.
In this article, we suggested growing your followers with AiGrow. You can use AiGrow to achieve long-term, sustainable results without fear of being blocked or banned by Instagram. Additionally, AiGrow's customer support is always there to help you if needed.
Q2. Is Storm Likes Scam?
Yes. According to customer feedback and reviews, they are scammers. They use bot technology which violates the Instagram terms of use.
Q3. How Long Does Stormlikes Take to Deliver The Order?
According to the website, you can expect to receive your followers within 10 minutes. However, your page has to be public so that Stormlikes can work on it.
Q4. Is It a good idea to Buy Instagram followers from Stormlikes?
No. In most cases, when you buy Instagram followers, you will receive bots or fake followers. Further, since they are not targeted or engaged followers, after a while, you will start losing your IG followers. It not only does nothing for your engagement rate, but it also puts your IG account in danger of being banned or suspended by Instagram.
Therefore, we recommend organic Instagram growth companies like AiGrow that combine advanced AI technology with professional human resources to grow your IG account organically and safely.
Q5. Does Stormlikes.net Provide You with Facebook Followers?
Stormlikes is a third-party service that can provide you with Instagram views, likes, and followers. However, in addition to Instagram, it also offers growth services to Facebook, Tik Tok, Spotify, Soundcloud, and Twitch.
Thus, Stormlikes.net is one of the few companies in the industry to buy Facebook followers. Moreover, with Storlikea, you can also buy Facebook page likes and also likes for each FB post you make.
However, just as with Instagram, it is not advised to buy Facebook followers or likes. Facebook wants real engagements and followers, not fake ones. When you buy Facebook followers/engagements instantly from services like Storm likes, you may end up with fake followers or bots in return. Spam users and bots won't engage with your posts. Right?
Additionally, Facebook will delete Spam accounts if it detects them. Consequently, it will result in nothing but wasting your time and money.
Final Note
Our final verdict is to stay away from the Stormlikes Instagram growth service. Stormlikes' major flaw is that their followers and likes are of questionable quality, and many of them come from Instagram bots. You will likely lose your Stormlikes followers after a while, and you cannot do anything about it. Also, it has horrible customer service and limited features. Therefore, if you need genuine followers and engagements, Stormlikes is not the right choice.
We highly recommend AiGrow and believe that your Instagram business account will grow enormously, thanks to its extensive range of valuable features and services. With AiGrow, you can get more Instagram followers organically and manually in any niche since an experienced and dedicated account manager will manage your account. Additionally, AiGrow is highly rated on Trustpilot and other credible websites by many customers who have tested the service and are happy with its quality. In this sense, it is among the proven Instagram growth services well worth the investment.
Give AiGrow a try now and get guaranteed results.