You may think you should hold on tight to your followers on Instagram and never let them go, right? That's what common sense says. Well, when it comes to ghost followers, that's not the case. Ghost followers are like ugly weeds in your beautiful flower garden; not only do they make your page look bad, but also they can severely damage your Instagram engagement rate by spamming your page. You need to kill these weeds as soon as possible! 
In this article, I'm going to tell you what exactly these ghost followers are and how you can find them to get rid of them. So, keep reading this article till the end. 
What Are the Ghost Followers?
They have many names, ghosts, lurkers, ghost accounts, and ghost followers. Simply put, we can use this definition for them:
"A ghost follower is a completely inactive account. It won't like your posts, leave comments, view your stories, or DM you." 
Some people call them fake followers; however, you should consider that every fake follower is a ghost follower, but the other way around is not always true. 
So, How Do You Get Ghost Followers?
Ghost followers might sneak into your account in these ways:
Buying Instagram followers who are mostly fake

Using Instagram bots

Have people as followers who abandoned their accounts (yes, sometimes people just create fake accounts to spam others!)
Whatever the case is, you need to detect all the ghost followers and get rid of them fast! Why? Let's see.
Related Article: Instagram Followers vs. Following: How to Get The Ideal Ratio?
Are Ghost Followers Bad for My Account?
Absolutely! Ghost followers can damage your account's reputation and weaken your engagement rate, which is the most important metric when it comes to running a page. 
You may ask, these accounts seem harmless as they don't do anything. Well, this is exactly the problem.
To have a clearer idea about this issue, let's see how the engagement rate is calculated. 
There's no solid formula to calculate engagement rate, but most people consider this one:
"(The number of likes + the number of comments)/the total number of followers."
Some people even include saves and shares to the numerator as these two factors are becoming more and more critical. But one thing never changes, the denominator will always be the total number of your followers. 
On the other hand, thanks to the ever-changing Instagram algorithm, users now see the posts from the accounts that they are most engaged with. This means when your posts show up in your ghost followers' feed, and they don't engage with it, Instagram will probably hide your posts from their feed in the next time.
But that's not the only problem; the real problem is that Instagram does this for all the other accounts. This means Instagram took these indifferences as a signal that your content is not engaging enough and tries to show it less and less in all the followers' feeds. 
That's pretty horrible, isn't it? So, the more ghost followers you have, the more damage is done to your page. That's why you need to find the existing ones, remove them, and then prevent them from following you in the future. 
Let's see exactly how you can do this.   
How to Avoid Ghost Followers on Instagram?
To avoid having ghost followers on your Instagram account, first, you need to recognize them.
As mentioned above, there's a high possibility that these accounts are bots or fake accounts. Open your Instagram following list and see if you can find any weird users between them. 
What do I mean by weird account?
They usually don't have a profile picture.

They didn't share any posts.

Their names are not real.
To avoid attracting ghost followers, consider these:
1- Don't Ever Buy Followers
I know, it's tempting, you pay $20 for 1K followers, and they deliver it in one day. But you should know that almost all of these accounts are fake! Your Instagram account might look cool with a big number written next to the follower, but anyone can tell that they're fake when they check one of your posts.  
2- Never Use or Buy a Pre-existing Instagram Account
Another mistake that can lead to gaining a huge number of ghost followers is using a pre-existing Instagram account in the hope that it makes your word easy as it already gained some audience. You should know that those people who followed that page might not be a fan of the new page. 
These followers might unfollow you, or worse,  just keep you in their following and ignore you.
Also, Instagram might find out that you bought an account and ban you for violating its terms of use.  
3- Don't Buy Likes and Comments for Your Posts
It's possible to buy comments and likes only for a single Instagram post. You might think this is not a harmful thing to do. But, it's only a temporary solution for your lack of engagement, and it won't last. Read the following in which I tell you about the best way to gain engagement. But first, you need to remove the existing ghost followers. 
If you have a limited number of followers, you can check them one by one and remove them manually. But it's going to be a boring task if you have a considerable number of followers. So, what should you do?
How Do I Get Rid of Ghost Followers?
To make your Instagram clear up from ghost followers, consider these two steps:
Step 1- Use Ghost Followers App to Find and Clean Them
Luckily, there are many apps, both for Android and iOS, that will help you to find ghost followers and remove them from your account. Just type in "Instagram ghost followers" in the search bar of Google Play or App Store to see many apps that help you detect and clean your Instagram app from ghost followers.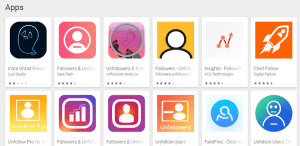 Some of the best of these apps are: 

Unfollowers & Ghost Followers – Follower Insight

Ghost Unfollowers For Instagram & Fake I.G. Clean

Reports + Followers Analytics for Instagram (Mobile X)
Some of these apps have additional features, like analyzing your Instagram performance.  
Step 2- Use AiGrow to Get Real Results 
Now that your account is safe and clear from ghost followers, you need to grow it in a safe and sustainable way. One of the best ways to promote your Instagram is by using AiGrow. This service gives you instant and real results on Instagram. 
How? Let's see what this app offers.
AiGrow is an Instagram account manager that offers various features, from Instagram growth packages and smart Instagram scheduler to All-in-one bio link and monitoring your DM messages easily. 
A combination of these tools can guarantee your success on Instagram. One of the most popular services of AiGrow is its promotional packages. The good thing about AiGrow is that no matter how much is your budget and what is your business niche, AiGrow has the right growth plan for you. 
To discover more about AiGrow plans, watch this video:
As AiGrow only gets you real and engaged followers, you don't have to be worried about the ghost followers anymore!
Final Words
In this article, I showed you how ghost followers are responsible for your lack of engagement. You found out why you only get a negligible number of likes and comments despite having lots of followers. Remember, finding and removing the ghost followers is not enough; you need to make sure that they won't poison your account again. That's why you need to get help from an Instagram growth service such as AiGrow. 
So, what are you waiting for? Sign up for AiGrow for free!