With 1 billion active users, Instagram is the ideal platform for teenagers, social media influencers, and even those who wish to grow a brand on social networks. But no matter what our purpose is, we all need to learn how to hyperlink on Instagram to reach success on the platform.
We don't want to start our article with 'What is an Instagram hyperlink?' or even 'What is a hyperlink' to gain some SEO benefits but waste your time. We will jump right into it and show you how to hyperlink in Instagram.
Just to make sure that we are on the same page, any clickable link to an external URL is a hyperlink, right?! So let's start.
To give this article some structure, let's say you have four main options to hyperlink on Instagram:
Hyperlink in your Instagram bio
Add a hyperlink to your Posts and photo descriptions
Hyperlink in an Instagram story
At the end of the article, you can read answers to some FAQs on how to hyperlink on Instagram.
Let's get started then, shall we?
#1 How to Hyperlink in Instagram Bio
Those who want to know how to hyperlink on Instagram usually want to drive blog traffic from Instagram. That's why their first option to add a hyperlink on Instagram is bio. 
Instagram bio is like the homepage of a website. People may find you through one of your posts or stories, and their next action would be to visit your homepage. 
So at first, try your best to create a catchy Instagram bio to leave a good impression on the viewers and increase your IG follower. Then, find out how to hyperlink on Instagram bio!
Fortunately, Instagram allows you to add a hyperlink in the Instagram bio description. You can easily add any URLs to your bio following this path:
Open your Instagram profile feed.

Then, tap on 'Edit Profile.'

Under the 'Website' section, add the link to your website.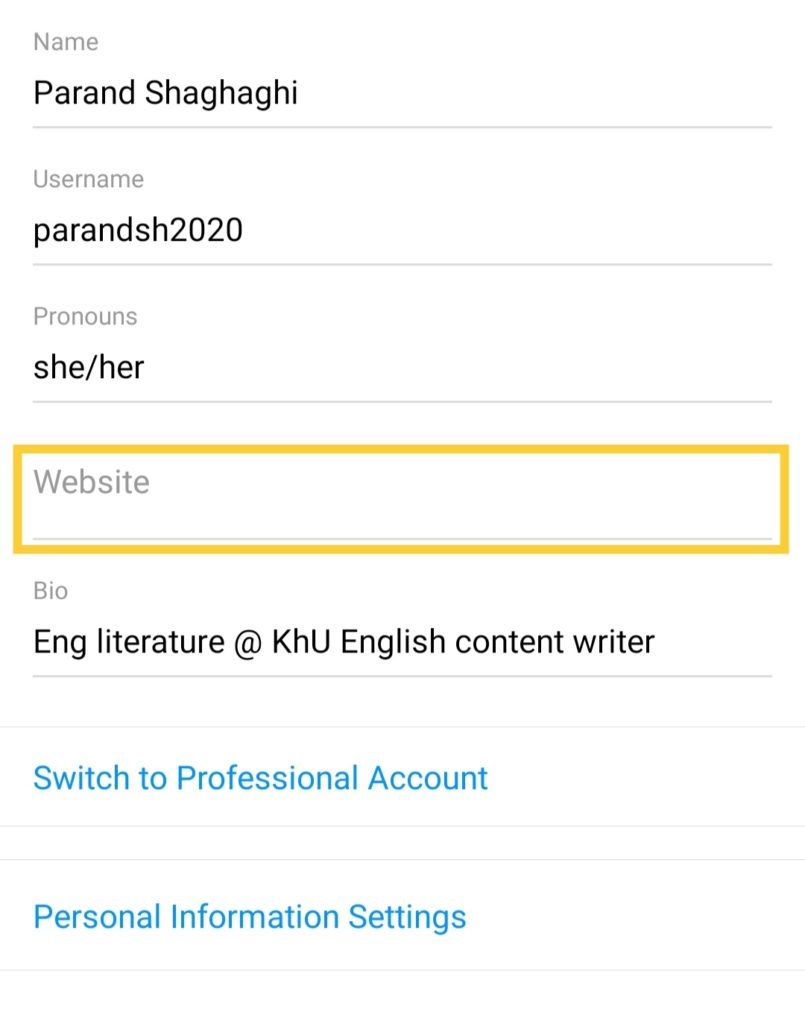 Finally, select the checkmark in the top right corner when it's over!
Congrats! Now you know how to hyperlink in your Instagram bio, and you can include any hyperlinks you wish. It can be your shop and eCommerce website, youtube channel, Facebook page, or any other addresses you want to link to from your bio.
However, there is a limitation here; you have only one place for one hyperlink or Instagram web link! But what if you want to have multiple hyperlinks in your bio at the same time? Is it possible at all?
Well, Instagram doesn't officially allow for multiple hyperlinks in your bio, but there IS a solution for that!
> How to Hyperlink on Instagram with Multiple Links
There are some 3rd party developers to help with each limitation posed by Instagram. The same rings true for our case. 
Using some tools like MyURLs.Bio, you can create a landing page and include as many hyperlinks as you wish. Then simply hyperlink that LP in your Instagram bio, and you can have all the same URLs in your bio simultaneously. 
Create a free account here to use MyURLs.Bio for your hyperlink purpose.
#2 How to Hyperlink on Instagram Posts
Using a hyperlink for Instagram posts!!! It's a disgrace that Instagram does not officially allow users to create a hyperlink in Instagram posts (photo descriptions). 
You can hyperlink in youtube videos; you can add hyperlinks in your Tweets; you can even hyperlink your Pinterest pins. But on Instagram posts, it's not possible! 
I'm sure that almost all YouTubers, Instagram influencers, e-commerce owners, and bloggers will agree that not knowing how to hyperlink on Instagram captions is annoying. 
But don't worry. As we said, we have a solution for every limitation! Below you can see and compare all the available options and then decide how you wish to hyperlink on your Instagram post and captions!
> Create a Hyperlink in Instagram Shoppable posts
A recent feature on Instagram is the shoppable post. If you are selling physical goods and your business complies with Instagram merchant agreement and commerce policies, you can use this feature. 
Besides the restrictions on qualifying accounts to use the tool, the setup is demanding. So I guess this option is not ideal for every account! Moving on!
> Use Instagram Promo to Hyperlink on Instagram
You have surely heard of the Instagram promo! It is a new tool for Instagrammers who run a business account and allows them to promote some of their content. 
Here's how it works in a nutshell:
You will select a post to promote. Once you specify your target audience and pay the money, Instagram will show it to interested individuals or potential customers.
Now with Instagram promo, you can add web links! But let's face it; the Instagram promo is not exactly an economical choice! It's simply not reasonable to spend money to add a hyperlink for one Instagram post, right?!
So, if you want to know how to hyperlink on Instagram for free, keep reading!
> Don't Hyperlink, Refer to the Link in Bio
An alternative solution here would be to refer people to your bio hyperlink. It is a widespread method among Instagrammers who wish to hyperlink in their posts. 
So, you simply place your hyperlink in your Instagram bio and write down "Link in Bio" under your posts. Don't worry about the number of links either. Because, as mentioned in the first section, there is a hack to let you add multiple hyperlinks to your Instagram bio.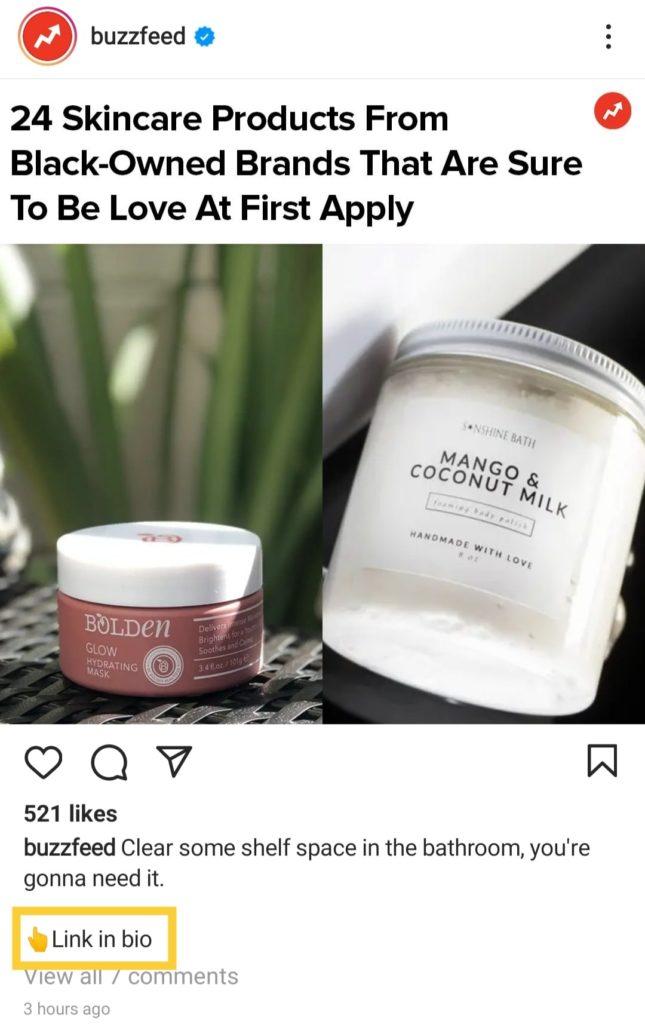 To make it a little easier, you can mention your own Instagram account and ask people to click on it to reach the link. 
However, because they still need to visit your profile first and then open your link, it will take too long! So, if you want to ease the process for your followers (which will result in a higher conversion rate), you can use other methods.
https://www.instagram.com/p/CA1GSqfFfp3/?utm_source=ig_web_copy_link
> Shorten the Instagram Weblink
I know it won't sound convenient, but bear with me! You can shorten the link using a URL shortener like Bitly. Then, after you write an engaging Instagram caption under your post, you can share the link in the caption. 
Then, if your post was engaging enough, your followers can memorize the link and type it in their browsers. It works great for those who wish to understand how to make a hyperlink on Instagram shorter. 
But I'm fully aware that there's a minimal chance that your followers would do so! And, we have to take it unless you choose to take the following option! 
Tbh, I don't like any of the previous methods myself!
> Hyperlink Instagram posts from your Bio hyperlink
Yes, you read it right! Using MyURLs.Bio, you can connect your Instagram posts and stories to any external URLs inside your Bio hyperlink.
Although it is not as convenient as placing the hyperlink directly under your posts, it is much better than previous methods. Take a look at the video below to see the details and learn the setup:
#3 How to Hyperlink on Instagram Story
Many of you ask, 'Can you hyperlink on an Instagram story?' Of course, you can! Finally, a straightforward answer for how to hyperlink on Instagram, right?
Here, you can quickly learn how to add a hyperlink to an Instagram story with two straightforward methods!
> Use the Swipe-Up Feature
Well, Instagram officially allows you to use the swipe-up feature if and only if:
You have a verified Instagram account (with a blue tik ✓) OR

You have a business account with over 10K followers.
You can simply add a hyperlink to your story with the swipe-up feature if you meet the conditions.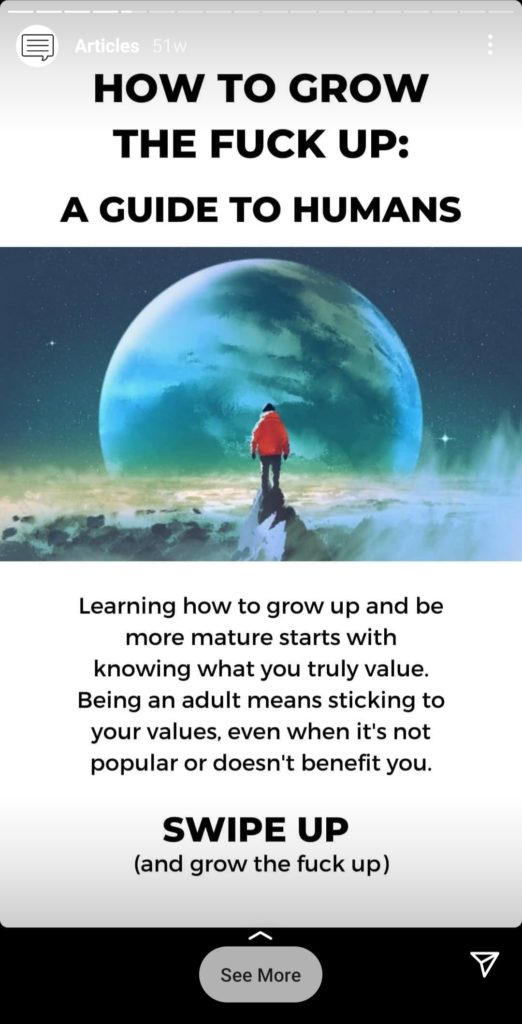 But what if you don't? Are you deprived of adding hyperlinks to your Instagram story? Well, no! Read the following method if you don't have 10K followers and want to know how to hyperlink on the Instagram story.
> Use the Instagram Story Sticker
As you have noticed, Instagram stories offer several stickers. Among them, you can see a 'Link' sticker enabling you to add external links. 
To find it, follow these steps:
Open your Instagram story and load your content. 

Then, tap on the sticker feature at the top of the screen.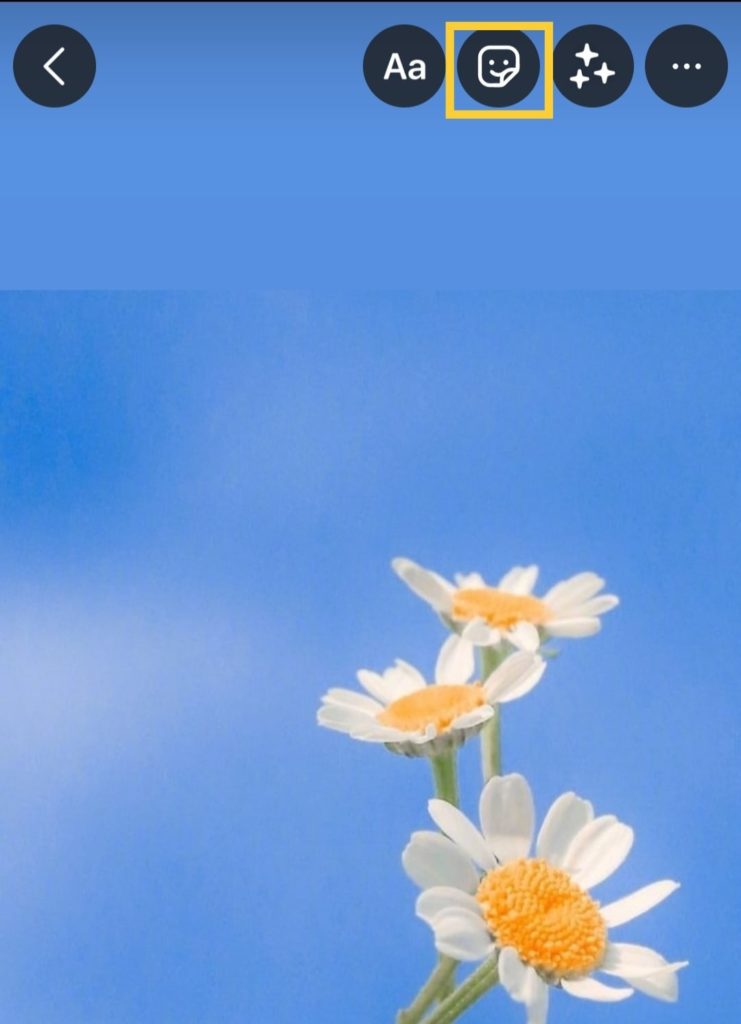 Select the 'Link' sticker.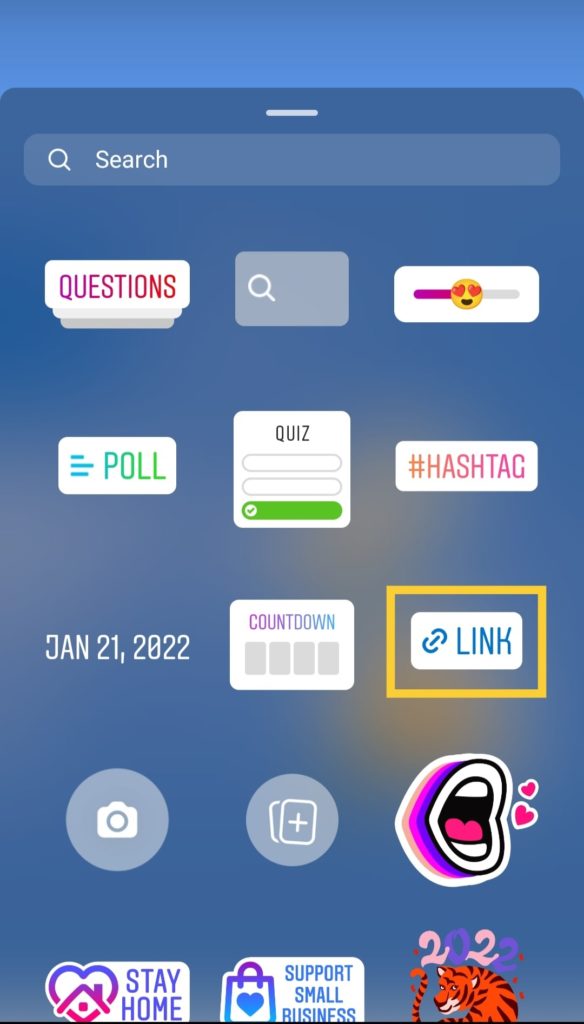 Finally, add your external link and click on 'Done.'
Now, when your followers tap on the sticker in your story, it will open in their browser! You can even add a download link to your Instagram stories using this feature!
#4 Hyperlink in IGTV Videos
The last and, let's say, the least-used option is to place your hyperlink in your IGTV videos. IGTV (Instagram TV) is a new feature by Instagram which DOES offer the opportunity to include a hyperlink in the video description like youtube. 
So you can simply add your URL, and your hyperlink will appear under your video description.
FAQs on How to Hyperlink on Instagram
We will answer the frequently asked questions around Instagram hyperlinks with all the previous notes in mind.
> Why Instagram won't hyperlink my website in bio?
It is an unprecedented issue! So, you need to check if you are doing something wrong. 
First, make sure that you place a valid URL in your bio (paste it in your browser to see if it loads). 
Then, ensure that you have placed your link in your profile's "WEBSITE" section, not the description section. 
And finally, check if you are using the last version of the Instagram app.
> Can you add links in direct messages?
Fortunately, yes! You can include links in your direct messages and send them to your followers. 
But, it might be too time-consuming to send messages to every single one of your followers. Instead, you can automate your DMs using a reliable tool like AiGrow. 
Sign up on AiGrow for free and see how it works!
> How do you add a hyperlink to an Instagram post?
As mentioned earlier, Instagram does not officially allow for hyperlinks under posts. You have to use shoppable posts (if you are qualified) or use one of the hacks mentioned earlier in the article!
> How to put a call hyperlink on my Instagram profile?
All previous notes on Instagram hyperlink options apply to any links and hyperlinks. If you wish to place a clickable phone number in any of the places mentioned above (your bio, your posts, or stories), you must first make your phone number a clickable link. Then place that hyperlink anywhere on your Instagram.
> How to Hyperlink a youtube channel or a Facebook page on Instagram?
Again, you can hyperlink any URLs within the locations mentioned above inside your Instagram account. This URL can be your youtube channel link or your Facebook account!
Conclusion on How to Hyperlink on Instagram
Any social media marketer knows the value of sharing a hyperlink on Instagram. It can increase your engagement rate and enable you to drive traffic to your website! However, it is genuinely complicated to add an Instagram hyperlink! 
This article aimed to answer all your questions on how to hyperlink on Instagram. If you have any other question on Instagram hyperlink, feel free to leave us a comment!