Have you ever thought of setting a goal for your Instagram business and trying hard to achieve it? Have you ever seen Instagram accounts celebrating 10K followers? It seems to be a common goal among Instagram marketers. But most Instagrammers don't know how to get 10K followers on Instagram for free, and without being banned. 
In this article, I walk you through a few proven tips that help you get your first 10K followers on Instagram for free. Stay tuned and find a way to reach your marketing goals. 
How to Get 10K Followers on Instagram for Free? 
Actually, getting 10K followers on Instagram is a big goal and I recommend you to accomplish it in 3 smaller steps: 
Step 1:

If you are starting from 0, getting 300-400 followers in a month is a reasonable goal. You have enough time to set up strategies, come up with content ideas, and create your marketing personas. 

Step 2:

For the second month, try to get 1000 followers. You already have a good number of followers, and getting about 600-700 others is much easier. Also, you can

use 1000 Instagram followers' free trial

for instant results.

Step 3:

Next, try to reach 5K Instagram followers. I suggest you reach this number in about 6 months. This way, you have enough time to attract audiences who engage with your posts and

turn your followers into customers

. 

Step 4:

As the final step, give yourself another 6 months, attract another 5K, and get 10K followers on Instagram without being banned. 
Following these steps, in about 1 year you hit 10K followers. This doesn't mean that you cannot reach this number in a shorter time; however, if you want a high conversion rate, more sales, and more likes on your posts, you have to take your time and perform your best. 
But what should you do during these steps? Here's how to get 10K followers on Instagram organically:
#1 Create Your Editorial Calendar and Post Intellectually
During the first 2 steps, especially the first one, try to come up with new ideas in the market. Write down what's on your mind and set up your strategies for Instagram posts, stories, and also your profile. 
For better results, I recommend you to find the top 10 Instagram accounts in your niche and monitor their activities. Learn about the hashtags they use, the time they post on Instagram and have a close look at their posts to know what kinds of posts will get more likes and comments. 
Then, create your Instagram content calendar and start sharing. 
Actually, the first 10 posts you share will not get many interactions. But don't get upset; these are like introductions to your business and help your very first followers know about your business and products. 
Read More: Instagram Post Strategy for Small Businesses: All to Know
#2 Engage Your Target Audience
To attract your target audience, you must show them that you exist. Following the first tip and monitoring your competitors, you find your potential followers. Go ahead and follow them, like their posts, and engage with them. However, make sure not to exceed Instagram daily limits
#3 Cross-Promote Your Instagram Account 
As a marketer, you are definitely active on networks other than Instagram. Sometimes, attracting new audiences using other networks is way easier. So, go ahead and take advantage of this fact. For instance: 
Share Instagram feed posts on your blog or website, 

Include Instagram feed posts in your newsletter, 

Promote your posts on Facebook, Twitter, Pinterest, and YouTube 
And try Instagram ads as well. This way, you grow on all your channels simultaneously and this results in reaching a greater group of audiences. Hence, you can get 10K followers on Instagram in a quicker way. 
Also Read: How to Link Social Media Account(s) – All at Once
#4 Host an Instagram Giveaway Contest
Until now, all the mentioned tips help you reach your first 1000 followers. Now, you need to try some other Instagram marketing strategies to boost your growth and get 10K followers on Instagram. 
Running an Instagram giveaway contest you can go from 1K to 5K really fast. Well, contests help you speed up your growth by up to 70%. Just choose some of your best-selling products as prizes, set some simple rules, ask people to follow your account to win, and grow your Instagram business in 1-2 weeks. 
Keep Reading: How to automate giveaway contests on Instagram?
#5 Get Sponsors with More than 10K Followers on Instagram
Finally, to get 10K followers on Instagram and take the last step, you need to try something more impactful. Here, you have to come up with a strategy with the highest conversion rate and that is getting sponsors on Instagram. 
Try to choose an influencer whose audiences are interested in your niche and have more than 10K followers. 
Here's an example: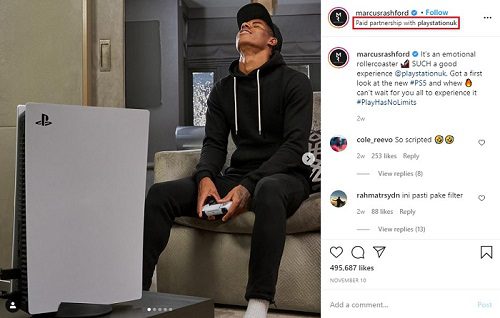 People who follow Rashford on Instagram definitely like football and they might be interested in playing FIFA games. So, they are more likely to buy PS5 and try new features of it. 
By the way, if you cannot afford the prices for such great influencers, try working with micro-influencers with about 50K-100K followers. 
Get 10K Followers on Instagram Instantly Without Being Banned
While taking all the steps above, you have to keep connected with your followers and interact with them to get more Instagram engagement. But this can be a bit risky because having more and more followers, you are more likely to go over Instagram action limits and get shadowbanned. So, I recommend you to use Instagram marketing packages and hire an account manager. One of the best services out there that offer both these things is AiGrow.

This is a complete package of tools that must belong to your Instagram toolkit; a scheduler, repost app, hashtag research tool, DM automation tool, all-in-one bio link app, and monitoring tools. Apart from all these, using their pro packages, you'll have a dedicated Instagram account manager who manually follows people, like their posts, and DMs them to attract them to your page. 
Here are the details of the packages and services: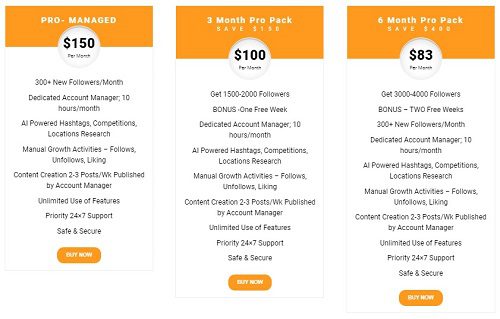 Sign up for free and get 10K followers on Instagram instantly. 
Wrap Up 
To sum it up, getting a great number of followers on Instagram is a bit tricky. Here you find some tips on how to get 10K followers on Instagram for free and without being banned. Try these tips and leave us a comment about your results.