The time you begin to build your brand on Instagram, you focus on growing your followers to help your business as much as possible. After a while, you notice your followers' count is not satisfactory. Therefore, you may think 'Instagram followers bot' would be a lovely hero to aid you on this challenge. Then, you hire one, but the next dilemma is your low engagement rate! Your comments, likes, and interactions are embarrassing, and everyone will identify that your followers are not real.
If you establish your Instagram to sell a product or service, the results would be more devastating! Because they will never buy from you! The worst is that someday you will notice that you have lost many followers desperately. And the process starts again! Sometimes you fall into a loop of growing and losing followers using the Instagram followers bot.
This article will define every aspect of using the Instagram followers bot, and you will realize why you should not use them. Also, I do not leave you alone on this and will guide you to get real and instant followers for your business.
So, stay tuned!
You May Like:
Is Using Instagram Followers Bot Riskey?
Many small businesses, brands, and Instagram Influencers hire free Instagram followers bots to increase their followers and credibility. However, Instagram followers bots have some downsides that you can't deny as below:
1. Instagram Followers Bots Break Instagram Terms of Use
You may wish for a free Instagram followers bot, but they will access Instagram's API without the platform's permission. This breaks Instagram's Terms of Use indeed. That is because only those who have permission from Instagram can access Instagram's private API.
If you use an Instagram followers bot that breaks Instagram's API, the platform will ban or action block you. Therefore, you won't be able to keep on your activities and will lose whatever you have done for your brand and business. 
Also Read: 5 Trusted Tools for Real and Safe Social Growth
2. They Bring You Low Engagement
Since many free Instagram followers bots provide you many inactive or fake followers, they will never take action or buy from you. Also, they do not leave comments or like any post. As a result, if you want to increase your engagement rate, they will never be helpful. The importance of engagement rate will show up when Instagram decides to bring your page up according to that! Actually, that is what Instagram does!
So, your feed won't be visible very often!
3. Instagram Followers Bots Leave Nonsense Comments
Instagram bots are funny! Most of the time, they leave irrelevant comments below your followers' posts, which would be extremely awkward. Therefore, the audience will identify that it is not an actual human leaving absurd comments below their posts. 
Consequently, they may unfollow you immediately, and spilled water cannot be returned to its bowl.
Keep Reading: How to Find a Perfect Instagram Consultant for Growth & Marketing
4. Instagram Will Shadowbann You
You get an Instagram followers bot for free, and you like the way it works! fast and furious! However, that is not Instagram's favorite, and this app is too clever to recognize that you are not acting naturally. Especially the time that your free Instagram followers bot is not considering Instagram daily limits.
The prize for you is getting shadowbanned! What an unpleasant award! Because your feed won't be visible to non-followers, and only your current followers will get your posts. That is, you can not boost your followers, and they will go far away from your reach. 
As far as I know, no Instagram marketer likes to get banned, or action blocked. They all try to do their best and make most of Instagram marketing strategies to stand out on the platform. So, Instagram banning them is more like a nightmare!
Don't worry, be happy! Here, I will provide you an excellent solution to get real and instant followers without using free Instagram followers bots! 
So your dreams about your brand on Instagram will come true!
Get Real & Instant Followers Without Free Instagram Followers Bot
To get real followers without using free Instagram followers bot, I strongly recommend a powerful Instagram growth service that I have used for my Instagram business account.
AiGrow is an all-in-one Instagram management tool that helps you grow followers organically.

Using Aigrow, you can hire a settled Instagram account manager and access an expert Instagram management service.
To acquire precise information about this wonderful app, you can study the AiGrow review.  
The good news is that AiGrow will help you get 10K followers on Instagram without being banned.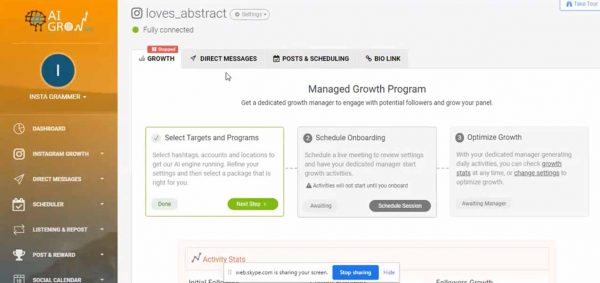 Then, the account manager, with your permission, will manually interact with your followers and leave comments below their posts.
Also, it will like their posts and will make trust and credibility for you and your business. 
So sign up for free and start your solid growth!
Above all, you can get five days of unlimited growth just for $5 to make most of all its features!
Final Thoughts
Instagram followers bot might seem a fast cure but not the best. It will jeopardize your privilege in a way you can not take it back. That's why I recommended you AiGrow Instagram growth service. In this case, you can comfortably grow your followers and interact with them and build up your credibility.