It is undeniable that Instagram marketing is a golden opportunity. However, how can you establish a thriving Instagram presence on such a competitive platform? In response, many Instagram tools have emerged, and one tool that claims to grow your account with little effort is Ingramer.
Perhaps you have heard a lot about Ingramer Instagram automation services but are unsure whether it is safe to use. The question that arises is if Ingrammer has worked safely and genuinely, why has it rebranded into Inflact? What do Ingramer reviews reveal about this service?
If you are interested in knowing whether Ingramer (or Inflact) can be put on the list of the best Instagram growth services to assist in growing your brand organically and safely on Instagram, you have come to the right place to find the answer.
We will also introduce its features, services, and alternatives to help you find out what it can (or can not offer). Plus, we'll provide information on AiGrow, an excellent alternative. So, stay tuned, and let's get started.
Is Ingramer Still Work?
Ingramer is still an active and working social media automation platform. However, it is now known as Inflact. Despite the fact that Ingramer has changed its name to Inflact, the fundamental software is still the same, with a few changes.
Ingramer's rebranding into Inflact was a strategic decision made by the company to align its brand with its services better. But is Ingramer safe enough for you to leave your Instagram account to?! Will it provide you with high-quality targeted followers and a sustainable engagement rate?
While rebranding can have various advantages, it is vital to recognize that it can also have disadvantages. Don't be concerned if you're wondering whether it's a good or terrible indication. We'll review everything you need to know about this Instagram growth tool to make the best decision.
Now let's see what Ingrammer is or, in other words, used to be!
What Is Ingramer (Now Renamed As Inflact)?
Ingramer or Inflact is an Instagram growth toolkit that provides tools and services to allegedly help you attract your target audiences. It also offers an Instagram story viewer tool, Instagram scheduling tool, and Instagram DM bot, among many other features and services, which we will examine in more detail later.
When you go to Inflact.com (which was previously Ingramer.com), the first thing you will notice is that they are an Instagram bot. Although we are grateful they are not hiding it, it does not change the fact that Instagram is opposed to bots.
⚡ Due to its spammy and bot practices, using Ingrammer will put you in danger of being banned or suspended by Instagram. Let's see what features of Ingramer caused this platform not to be beneficial and rebrand to Inflact.
Ingramer Features
The rebranding from Ingramer to Inflact was simply a name change, but the core services, features, and functionality remain unchanged. In this section, we'll discuss the key features of Ingramer (or Inflact). Are you ready to get started?
#1. Instagram Growth Bot
Ingramer helps you automatically like, follow, and unfollow IG accounts. And the only network that they support is Instagram. However, note that they carry out these tasks using a bot, not an Instagram account manager. And they are proud enough to admit that they exploit a bot even with their new name, Inflact!
You might think that using an Instagram followers app that employs bots can't be too terrible. However, by experience and by analyzing reviews, it is clear that they can't help organic Instagram growth!
In fact, bots will only get you fake and ghost followers. One day, you'll wake up to see that you're losing your Instagram followers for no reason, and when you realize what's wrong, it will be too late! So, we have no shred of doubt that Instagram bots are often dangerous, and you'd better stay well away from them.
#2. Automated Direct Message (DM) Tool
Using the DM tool, you can send auto-DMs to all your Instagram followers you have previously connected with, manage your messages, and send quick auto-replies. However, an Instagram bot usually exceeds Instagram's limitations.
Therefore, if Ingramer (or Inflact) DMs an unusually large group of followers, Instagram will notice this unusual activity on your side. So, you will be shadowbanned by IG. And according to Ingramer reviews on Reddit and Trustpilot, Instagram often bans and blocks Ingramer clients.
The Ingramee DM feature is difficult to set up. Another negative point concerning its DM app is that it sends out spammy messages.
🔥If you are looking for the best Instagram DM apps to manage your DM marketing professionally on Instagram, DMpro is a powerful DM tool with lots of useful features to help you DM like a pro.
What is best about DMpro is that there is no fee to enjoy its incredible benefits; its Free plan is FREE TO USE. Moreover, unlike Igramer, with DMpro, there is no risk of getting banned by Instagram since it strictly adheres to Instagram's daily limits. Furthermore, you'll be able to communicate with your audience in more naturally designed ways so as not to appear spammy. For more information, click here.
Get started with DMpro Free Plan now to see how efficient it will be in meeting your DM needs.
#3. Instagram Scheduler
You may find the best times to post on Instagram for your niche, but the timing might not fit your schedule. Or worse, you may often forget to post during those times! In such a situation, an ideal Instagram scheduler enables you to schedule your Instagram posts and stories in advance.
🔥Pro Tip: Instead of using Inflact as an Instagram scheduling bot, our top recommendation is to use Aischedul. Because AiSchedul is more than an effective Instagram scheduling tool. In addition to scheduling posts, you can repost content, respond to comments automatically, and edit your posts once they have been scheduled via AiSchedul.
Additionally, you can download high-quality photos, videos, stories, highlights, IGTV videos, and all profile posts in bulk with a single click.
Also, the Aischedul platform offers social monitoring and alerts for trending tags and accounts, profile bio links to link feed posts to web pages, and the ability to generate and implement an effective content plan.
It is loved and trusted by 2+ million people all over the globe. Give Aischedul a try now and see its guaranteed results.
For more information, check out this all-inclusive AiSchedul review.
#4. Story Viewer
Using this feature, you can view an Instagram story anonymously. As effective as this Ingrammer stalker feature might be, other free tools could be of more help. You may ask, 'why?' Well, that's because, with Igramer, downloading stories from private accounts is not an option; you can only view stories.
To exploit Ingramer Insta viewer, follow the steps below:
First, open the profile whose stories you'd like to view or download and copy the username.
Next, go to the website, paste your profile username, and wait for the stories to appear.
Now, you can press the 'Download' button.
Easy, right?! But is Ingramer com safe in the sense that it won't give you away?! We don't think so because Ingramer story viewer lacks a human factor and its automated activities may cause trouble.
#5. Ingrammer Video, Profile Photo, and Story Downloader
With the Ingramer Instagram videos to Mp4 tool and Instagram profile picture downloader, you can conveniently save anything you'd like. It's relatively straightforward. All you have to do is open Igramer, paste the video URL, and download it!
If you wish to use this feature for photos, you can also download them by pasting their URL. It's easy! So, with Ingrammer, video downloading is not just a possibility but a straightforward process.
Plus, the tool offers an Instagram hashtag generator and a profile analysis tool. By the way, as you may have noticed, Igramer is more of an Instagram automation tool that helps you automatically interact with your prospective followers and let them know that you exist. So, it may not be the best tool to get more IG followers in a safe way. But before finding an alternative for it, let's check its pros and cons.
Ingramer Review (Inflact): Pros & Cons
Like all the apps and tools out there, using Ingramer can be both advantageous and disadvantageous.
Pros
Cons
However, you might find that Igramer is not worth using because:
So, before purchasing any plans, make sure that it fits your needs and doesn't have any risks to your Instagram accounts.
Ingramer Pricing
If you just want to use Igramer to download videos and photos or analyze your profile, you don't have to pay a penny and purchase any plans. In any case, there are different plans and packages for those who want to use its growth services.
Ingramer used to come with 4 modules:
The Promo Module for advanced audience targeting
The Direct Module for sending bulk DM messages
Scheduled Posting Module
Hashtag Generator Module
As you can see in the picture above, you have to choose the number of accounts you want to use the services for. Additionally, you have the chance to select multiple services and pay for them all at once and reduce the expenses. Otherwise, you can choose the module that best suits your business needs.
Considering that Inflact has changed its plans but yet does not provide organic Instagram growth services, and its automated process is also highly risky, its packages seem overpriced. You can read the Inflact review on our site.
Note: The Ingrammer (aka Inflact) refund policy is very complicated. They offer specific services that are non-refundable. Reviews also indicate that many clients didn't receive their refunds despite not getting a result. It is a huge letdown.
Ingramer Review: What Their Customers Say?
So far, we have covered its features, tools, pros, and cons! However, to complete this review, let's see what the clients have to say.
Because Ingrammer rebranded to Inflact, we searched for Inflact reviews on Trustpilot but noticed that they still do not provide successful services for their customers. Here's a recent one:
A client claimed that Ingramer, AKA Inflact, has followed accounts not relevant to the client's target audience and unfollowed accounts that hadn't been inactive. And when this unfortunate customer asked for a refund, the team responded that they couldn't perform better because Instagram's terms of use are against them!
Many customers report that their account was completely banned because of using this service. So for those who ask, 'Is Ingramer legit?' they'd better reconsider!
And yet, more customers suffered from its terrible customer service. For example, Emily paid for the features but didn't receive anything!
Unfortunately, there are many similar reviews on Trustpilot, all indicating that the company has stolen their credit card info!
Despite the rebranding from Ingramer to Inflact, concerns and complaints about the service persist. If you're seeking an alternative to both Ingramer and Inflact that can assist you in growing your Instagram organically and converting your followers into customers, continue reading to discover the top alternative to Ingramer.
AiGrow: Best Alternative to Get Real Followers
If you are looking for an alternative for Ingramer, AiGrow may be the best choice possible. It is a highly efficient Instagram management service that offers you all the benefits and tools provided by Igramer at a lower cost and with higher quality.
Moreover, since everything is done manually by a professional manager, it works faster and doesn't have the risk of being blocked on Instagram because human managers are aware of and careful with Instagram limits!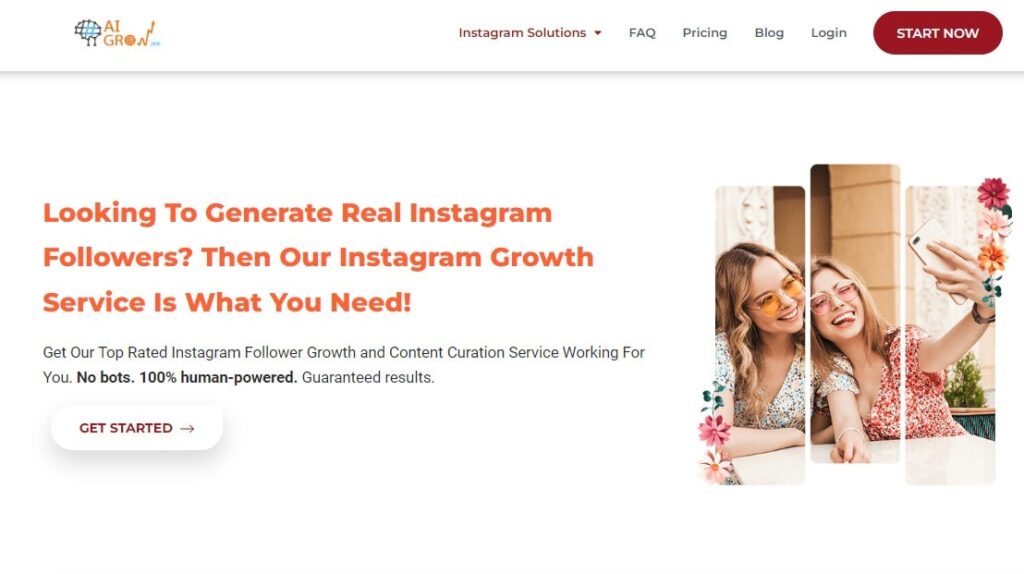 AiGrow is one of the highly-rated and proven organic Instagram growth services. It provides you with a variety of helpful tools and features to improve every key metric of your Instagram account in a safe and organic way.
AiGrow is a powerful tool you can depend on in every aspect of your Instagram marketing strategy. It can provide you with highly targeted followers and boost your engagement rate in a sustainable manner. In addition, it can help you run successful marketing campaigns to convert your followers into customers, increasing sales and revenues a great deal.
Many people have already tried AiGorw and are happy with their choice. If you are still not convinced, watch the video below:
Kindly, check out this comprehensive AiGrow review if you are interested to know more about this organic Instagram growth service.
AiGrow Features
Aigrow is an Instagram growth service that stands out as a strong alternative to both Ingramer and Inflact. What sets Aigrow apart is its unique features, including a money-back guarantee and a team of dedicated human-based managers. For just $1 a day, Aigrow offers a personalized approach to help you achieve organic growth on Instagram.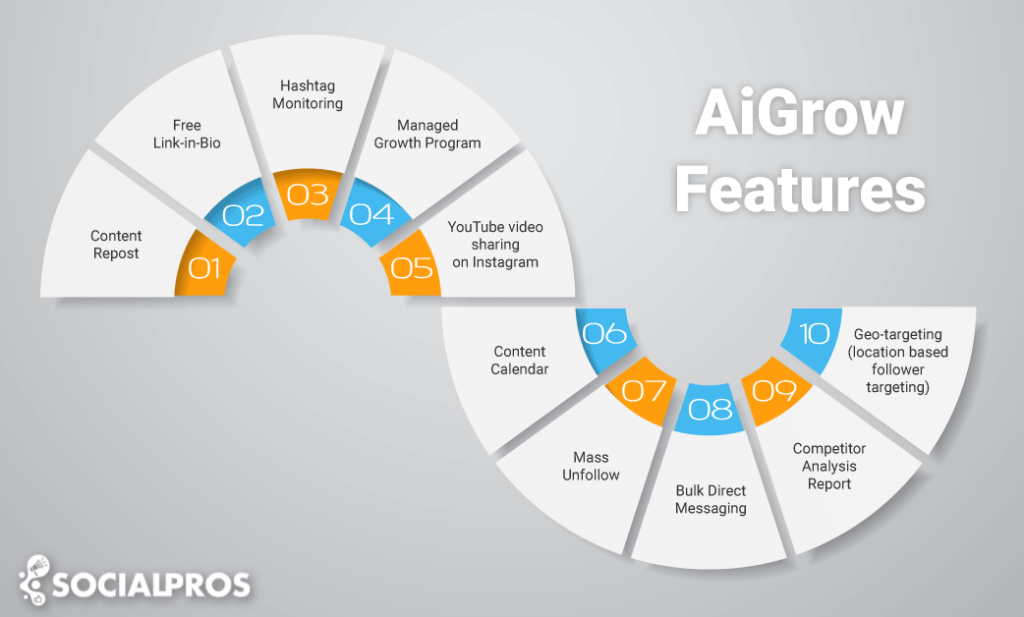 let's briefly check out AiGrow's main features:
And much, much more. The fact that AiGrow uses competent managers for managing your account makes it a much better alternative. It covers all the features offered by Ingramee and even ranks higher by delivering more effective services and tools at a lower price and higher quality.
With Aigrow, you can be confident in their commitment to your success. The money-back-guarantee ensures that if you're not satisfied with the results, you can request a refund. This speaks to the confidence Aigrow has in its services and its dedication to customer satisfaction.
So, don't waste more time. Guarantee your success with AiGrow now!
How to Work With AiGrow
AiGrow functions with the help of human managers. That is, a support team will be in charge of your growth, and hence, they are available to answer your questions and address your concerns. To start with AiGrow and use the help of a professional team, you only need to follow the steps below:
The human-based team and managers employed by Aigrow add an extra layer of expertise and personalized attention. Unlike purely automated services, Aigrow understands the value of human interaction and guidance. The team of managers works closely with you to develop effective strategies tailored to your specific goals and target audience.
By investing just $1 a day, you gain access to a comprehensive set of features and services provided by Aigrow. From targeted follower growth to content scheduling and engagement strategies, Aigrow aims to help you optimize your Instagram presence and turn your followers into valuable customers.
Bottom Line
In this article, we had a closer look at Ingramer, also known as Inflact. To sum it up, it can be a good automated service to schedule your Instagram content, send automated DMs, and gain new followers. However, it is a bot, and Instagram bans accounts that use such automation tools. Moreover, it is an expensive automation bot that has not been successful in its performance.
And answering the question from the title, "Is Ingramer (or Inflact) safe for your Instagram account?" the answer is a big No. Again, it is a bot and highly risky.
That is why we introduced AiGrow as an ultimate and organic solution for your Instagram growth. AiGrow's experienced account managers are completely aware of Instagram's new updates and algorithms, so they can safely and seamlessly grow your account without having to worry about anything.
FAQs
1- Does Ingramer Still Work?
This tool is still practically functional, but it has been renamed 'Inflact.' So, to provide a clear-cut answer, we'd have to say that it still works but under the name of Inflact. And it offers the same set of features plus the story viewer and video downloader.
If your question is about its performance, that's a different story. You can practically use Inflact, but it won't get you real results. It might increase the numbers, but those are just fake and can't increase your engagement rate!
2- Do You Have to Pay for Ingramer?
Yes, indeed! It doesn't offer a free plan or a free trial. So, you have to pay to play. That is, if you'd like to have those features, you have to pay to get started. 
But if you ask us, it's not worth your money or time! Instead, you can go for AiGrow, a more comprehensive all-in-one tool that can fulfill all your expectations for reasonable prices!
3- Are Ingrammer and Inflact the same?
It appears that Ingramer and Inflact are indeed the same Instagram growth services offering the same functionality. The rebranding from Ingramer to Inflact was simply a name change, but the core services, features, and functionality remain unchanged. The company decided to rebrand in order to create a stronger brand identity and better reflect its focus on influencer marketing and social media growth.
4- Is Ingramer (Now called Inflact) Safe for Your Instagram Account?
No.  Ingramer uses 'gram' in the name, which is clearly illegal under Instagram's copyright. We think it is the main reason behind their name change from Ingramer to Inflact. Moreover, many people have complained that it has gotten their IG accounts banned. 
At the end of the day, Igramer is a bot, and Instagram is doing everything it can to kill such automated services. Hence, don't get surprised if their services stop working sometime in the future. Therefore, it is wise to avoid these dangerous bots and try to use organic Instagram growth services like AiGrow.