Want to know some quick Instagram story viewer hacks to gain more views on IG stories? One of the most reported concerns is that people are dissatisfied with the number of views on their posts. If you want to increase your story views, you should do two major things:

Secondly, you can learn some hacks on Instagram story viewer below to increase the engagement of your stories.
If you, like many others, would like to drive engagement from your followers and succeed, you should keep on reading this article. Here, you will learn many helpful Instagram story viewer tips. Besides, we are going to discuss how you can watch Instagram stories anonymously.
Top Instagram Story Viewer Hacks
Do you want to learn how to turn an Instagram story viewer into a loyal customer or a fan?? I'm sure you do. You can rarely find someone who doesn't because we all understand the power of Instagram stories and we want to see an increase in our IG story viewers. To do this, just follow these suggestions and keep them in mind.
Instagram Story Viewer Hack #1: Check Your IG Analytics
When it comes to changing an Instagram story viewer to a customer or a fan, checking analytics is a priority. They provide you with a good picture of where you should focus your efforts. 
These statistics show engagement. That is, it will tell you about the number of story replies, taps to another account's story, taps on a link in your story, impressions, reach, forward taps, backward taps, exit taps, and order of viewers on Instagram story.
What is the point of it all? You should know your audience, their attitudes, and their desires if you want to get a lot of IG story viewers. The assessment assists you in distinguishing what performs well with your audience and what doesn't. The most important thing to remember is that in order to use the analytics tool, you must have an Instagram Professional Account.
Instagram Story Viewer Hack #2: Use Hashtags/Geotags
Another way to turn an Instagram story viewer into a follower is by using hashtags or locations in your stories. By showing your Instagram story to a larger audience, features like hashtags and location will help you get more views. In other words, your story will appear as users search for a specific hashtag or location. 
Instagram allows you to use up to 10 hashtags per story, so you should identify the best IG hashtags. Also, keep an eye on the quality of your post, the actions of your target audience, and the number of stories with the same hashtag.
Using immensely famous and trendy hashtags can have a significant impact on your hashtag efforts. And you're either exposing your story to the risk of being buried by the flood of new stories with the same hashtag, or you're hiding it in the darkness where no one can see it. To eliminate these two issues, choose the hashtags that are halfway between the two poles.
Moreover, you should remember to take advantage of the location feature! Using location tags allows you to reach a target audience for your stories. 
Here is an example of a location tag by @Airbnb: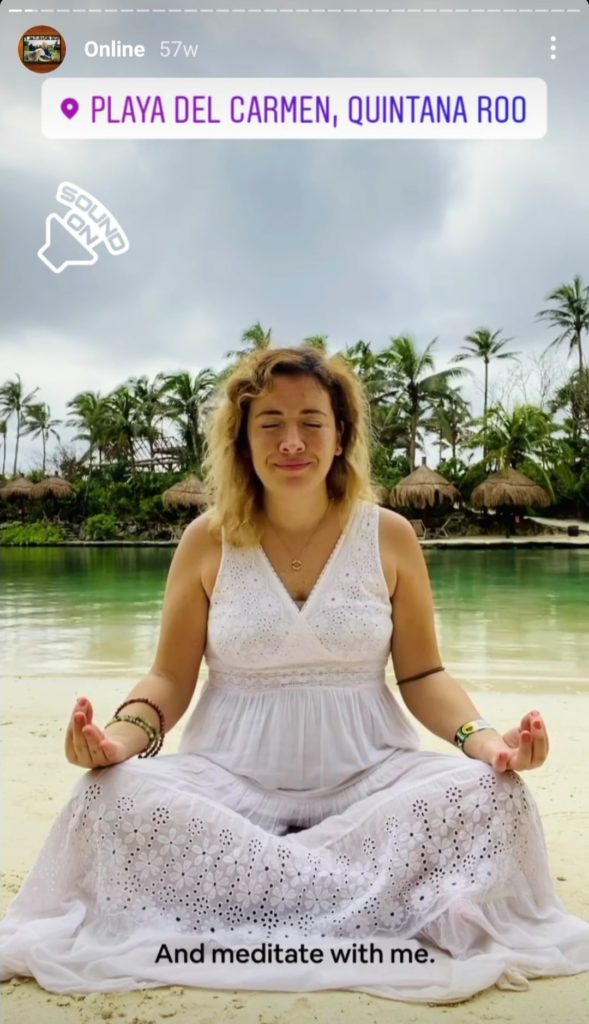 Instagram Story Viewer Hack #3: Use Stickers
Have you had followers who view your Instagram stories but don't interact at all? One of the best Instagram story viewer hacks is to use a variety of stickers in your stories. We recommend using stickers to visually impact the audience and inspire their participation! 
How does using stickers help your Instagram story viewer analytics? Well, the Instagram algorithm rewards posts and stories that increase your IG engagement rate. So, if you have creative ways to use the IG story and drive interaction, you will get more attention! That is, Instagram will automatically boost your story, resulting in more views.
Here is an example of a question sticker by @colorfactory: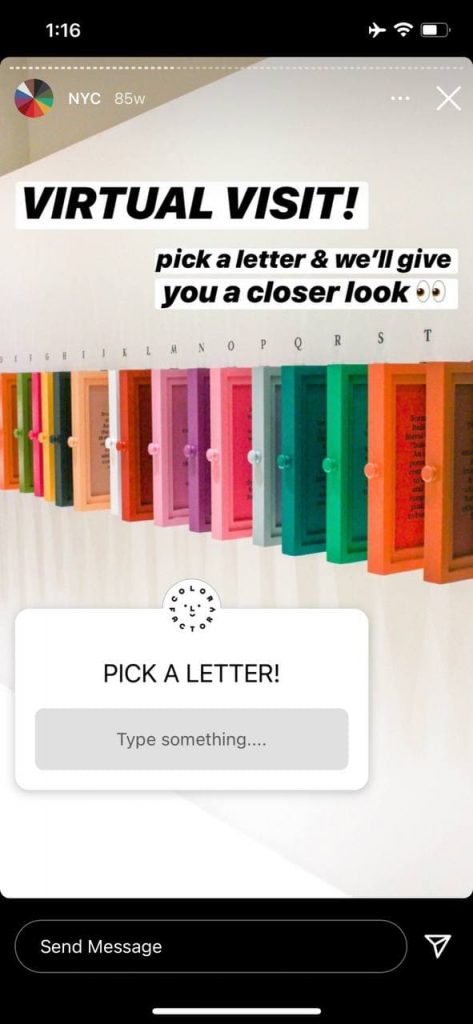 The best stickers for engaging your audience are polls, emoji sliders, quiz stickers, question stickers, and countdown stickers. But don't forget that you can also use the music sticker to add music to your IG story. Generally, using these stickers helps you form stronger bonds with your followers and engage in more successful interactions. Use your creativity to make entertaining games with these features to get the most out of them.
Read More: How to Make Custom Instagram Stickers for Stories?
Instagram Story Viewer Hack #4: Collaborate with Influencers 
The future of social media influencers is rosy. That is, they will continue to affect your followers' judgments! So, inviting an influencer or affiliate brand to take over your Instagram stories can be successful if you want to reach a far larger audience and don't have any budget constraints.
Since they are already on top and have their own trusted audience, having an influencer share your content will boost your story views. Plus, an influencer's positive opinion about you or your brand will definitely push the Instagram story viewer to follow you! 
Collaborations are very common and competitive among Instagram professional accounts in general. Create a new project with a brand or influencer, share with them, go Live with them, and engage your audience.
You surely remember the collaboration of @lancomeofficial with @zendaya: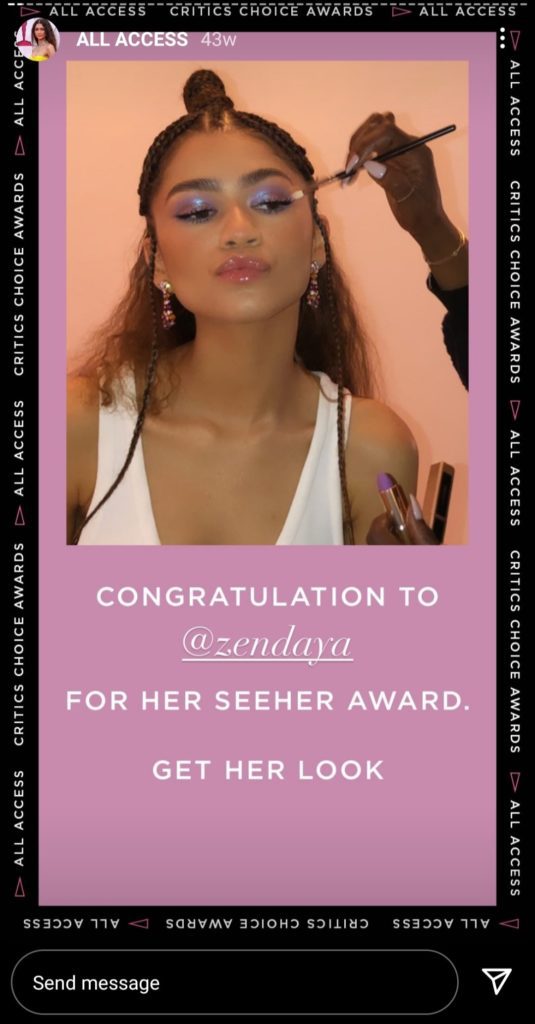 However, finding and negotiating with influencers is too demanding and time-consuming. To easily find influencers, you can start with a trusted platform that will connect brands with the right influencers. A platform that can make sure that the influencer you'd like to collaborate with has real followers and an excellent engagement rate.
Instagram Story Viewer Hack #5: Promote a Limited Offer
Another Instagram story viewer hack we have for you is to share an enticing discount, deal, or giveaway. What's the point of a limited-time deal or hosting a giveaway? Doubling your IG engagement! 
Your followers will tell their friends about your promotion, increasing the number of views on your story and, as a result, your engagement. Plus, an Instagram story viewer who thinks you will host more giveaways will follow you. So, you can also grow your followers organically. 
On the other hand, you get to sell your products on IG while promoting your Instagram account. This is a win-win situation, right?
Instagram Story Viewer Hack #6: Highlight Best Stories
Since the launch of Instagram's other feature, story Highlights, your stories will stay on your page and display even after the 24-hour period has passed. Your best stories will stay in the Highlights section as long as you want and it will still gain views. So, if a story manages to keep your IG story viewers engaged, you can highlight it to drive more engagement and follows from new visitors too!
Look at story highlights of @lushcosmetics: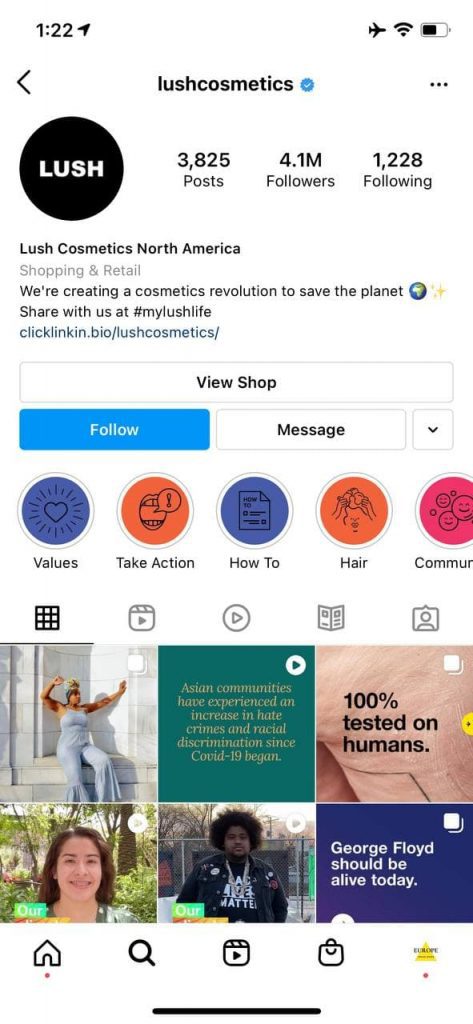 Instagram Story Viewer Hack #7: DM Targeted Stories
Build a DM community with users who have the same accounts as you or who you believe are interested in your brand. Now, you can send multiple DMs, share your stories with the community and request that other members read them.
However, how can you find interested audience to DM them?! Even if you do find them, sending DMs to every single user is time consuming! No need to freak out, though. We have the best, most efficient platform to help you with all these issues!
DMPro: The Best App for Automating Instagram DMs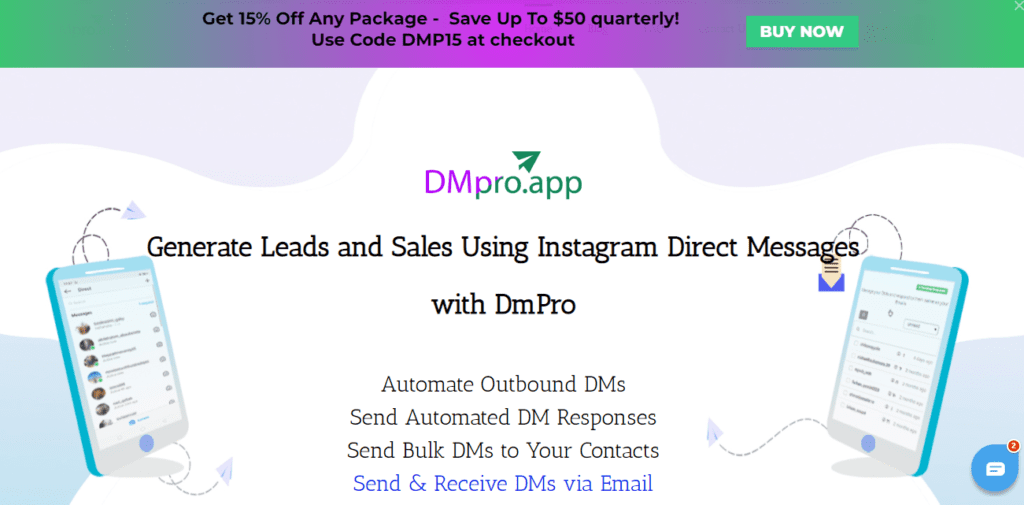 DMPro is an excellent platform that can help you acheive all your goals! It allows you to:
Automate your DMs
Receive and send DMs through Email without the 'seen' receipt
Automate outbound DMs
and much more! Sign up for free right now to acheive all your marketing goals with a user-friendly, straightforward tool!
Instagram Story Viewer Hack #8: Use Branded Content
Branded content is a great way to increase your Instagram story views and is ideal for a marketing campaign. To create branded content, you can use any related content, image, slogan, or hashtag. The most important thing is to remember to ask your audience, or influencers, to share the content and tag you in the process. Try to repost their content if at all possible to keep the cycle going until the end of your campaign.
Instagram Story Viewer Hack #9: Unlock Re-Sharing Option
Unlocking the re-sharing option of your Instagram story is possible through the Settings of your Instagram app. If you tag someone (up to ten people per story), the repost feature allows certain people to share your stories and get more people to see them. As soon as you allow other users to share your posts, your Instagram story's chances of being seen have increased.
Plus, you can repost stories, reels and posts that revolve around trending subjects or are particularly appealing. This is an amazing opportunity for you to drive engagement while spending as little time as possible. 
Instagram Story Viewer Hack #10: Use the Swipe Up Feature
This option is not available to accounts with less than 10,000 followers. As a result, concentrate on getting to the point before worrying about it. You can use the Swipe Up feature or the CTA button to add a link to your website to give your followers more stats, show them more products, or sell services. The button will inspire more people to click on your connection, ultimately leading to your business's goal.
This is how @wetnwildbeauty uses swipe up feature: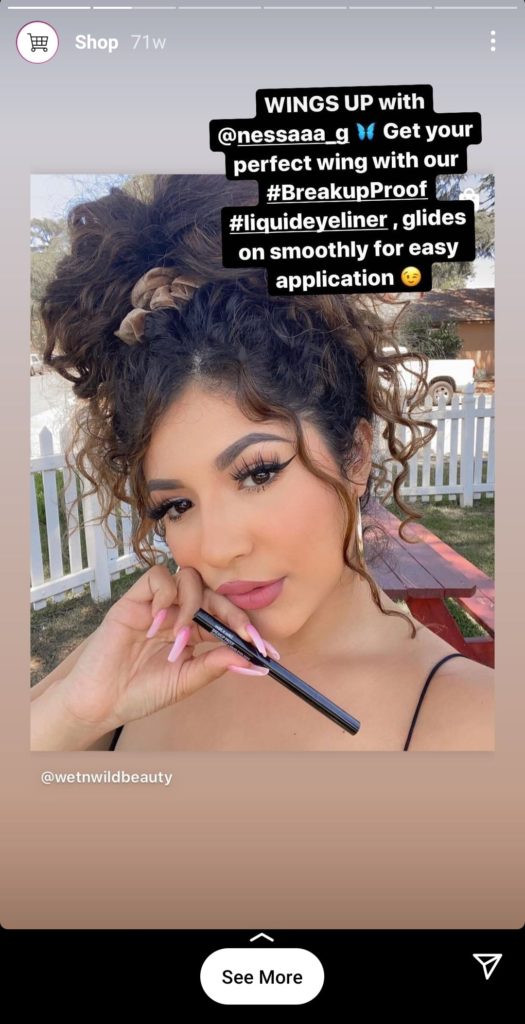 Also Read: How to Add Link to Instagram Story Without Being Verified
Instagram Story Viewer Hack #11: Post at the Best Time
Among the most effective Instagram story viewer tips is to share stories during the best times to post on IG. Usually, there is no clear-cut answer to indicate what time will perform perfectly for everyone. That is, it depends largely on your target audience. But, once you find that perfect timing, exploit it!
Of course, we are not time free and online to post stories at any given time. That is, we might be too busy and our schedule might not match that timing! In such situations, it's best to use a reliable platform that can schedule our posts, stories, and reels for the best possible times! 
AiSchedul is an excellent tool that offer fantastic features, including:
You can start with AiSchedul right now and enjoy their amazing features!
How to View Instagram Stories Anonymously
Now that you know how you can turn an Instagram viewer into a loyal follower, you might want to check your competitors' stories. It will help you understand their strategies and what works efficiently for a similar target audience! But, you probably want to view their IG stories anonymously.
You might think that on Instagram, 'anonymous' means nothing. And you're probably right! Whether you view a story or leave a comment, your ID will display. But remember how we thought it's impossible to see who viewed our IG but we were proved wrong? As always, there's a way around limitations. 
For this purpose, you can use websites that help you be anonymous in the list of Instagram story viewers. A practical Instagram story viewer website is StoriesDown. It allows you to watch the stories, and download them if you want. For using this tool, all you have to do is follow these steps:

Enter the IG username of that account

Scroll down to find their stories in the last 24 hours. 
However, there are two downsides to this solution. The first one is that you can only search for Public accounts. The other is that they can always use Instagram view tracker apps to find out.
Conclusion on Instagram Story Viewer Hacks
Finally, we'd like to emphasize that following all of the above tips at the same time is the secret to total success in getting more Instagram story views. Make an effort to be as involved and creative as possible, and show that you care for your followers. Get to know them better and anticipate their behavior. Instagram marketing isn't a difficult or far-fetched goal; rather, it's very simple if you coordinate all of your strategies.