To protect their privacy on Instagram, many IG users change their profiles to private mode. In this way, no one can view their Instagram stories or photos unless they approve them and let them follow their page.
But what can be done when you get curious to view private Instagram profiles anonymously? Is there any website or tool you can use to do this?
Instalooker claims that it provides you with the best Instagram web viewer tools. But is this claim really true? Can it be considered one of the best private Instagram viewer tools on the market for your needs? Can it help you gain access to private Instagram accounts?
We understand your concerns and are here to answer any questions that you may have about the topic. In this Instalooker review, we will reveal all you need to know about these private Instagram viewer apps to help you decide if they really work or not. So, without further ado, let's get started.
What Is Instalooker
Instalooker.net is an online Instagram web viewer tool that allegedly allows you to view or download the content of targeted private Instagram accounts freely and anonymously. In this sense, you can monitor any type of IG content without following the user or revealing your identity.
Additionally, Instalooker claims that it helps you stalk private Instagram accounts that have blocked you.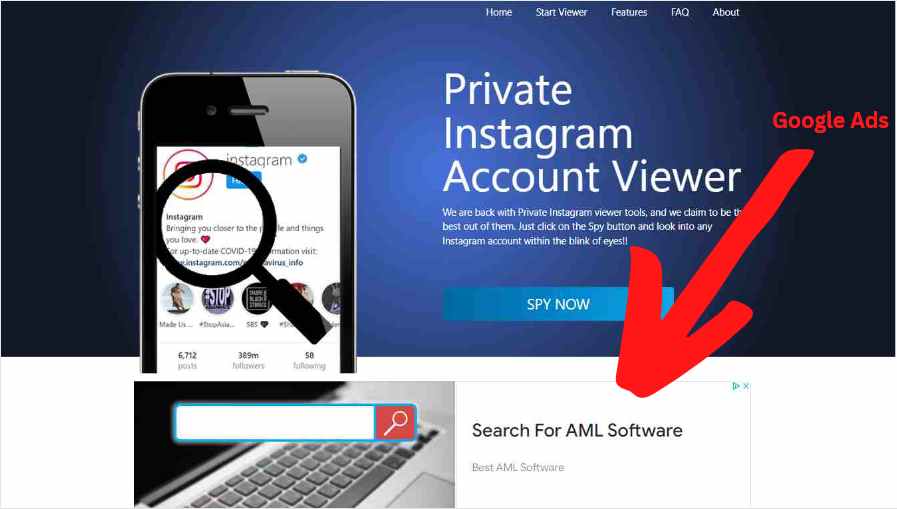 The truth is that they lie and your search for viewing private Instagram accounts through the Instalooker website will result in nothing. Their only goal is to increase website traffic by making baseless claims.
Moreover, there are many annoying Google ads on the website. In fact, these ads are what keep the website running because the website's promise of providing private Instagram account viewers is a big lie.
How Does Instalooker Work
If you plan to spy on any private Instagram profile using Instalooker, you need to follow the steps below:
First, go to Instalooker.net and hit on the 'Start Viewer' button at the top of the page.
Then you need to copy and enter your target profile username (like Instagram.com/, or only the username "".) According to the website, you should enter the username without @.
Check the username to see if the account is active or not. If active, continue to the next step.
It may take up to two or three minutes before you can view the results via the Insta looker panel. If you want to view private Instagram content later, click on the 'Export All' option.
🔥Warning: Instalooker is a scam that does not work. So, they are lying when they claim they can help you spy on private Instagram accounts without following them. Instalooker is a total waste of time, and can even be potentially harmful.
Instalooker Features

A Private Instagram Profile viewer Tool
This tool can supposedly help you spy on any private IG account without any need to follow them. Interestingly, you can view those private profiles that have blocked you on Instagram.
Instalooker Pros & Cons
Now, let's discuss its pros and cons separately for a better understanding of the Instalooker app:
Insta looker Pros
Instalooker is Free and there is no need to download any software.
Learning how to use this private Instagram viewer tool is easy.
The website supports three languages.
Insta looker Cons
Instalooker does not work. So, do not waste your time and pick another private Instagram account viewing service instead.
Additionally, according to E.veritas.com, Instalooker is unsafe.

Those two facts are sufficient to say that Insta looker is a scam website that you'd better stay away from for security and privacy reasons. But, if you are still looking for a reliable Instagram viewer alternative to help you view and download public Instagram accounts anonymously and Freely, continue reading the article.
AiSchedul; The Top Public Instagram Viewer and Downloader Tool
AiSchedul is one of the best Instagram viewer tools that allows you to monitor or download any public IG account freely and anonymously. In this way, you can view and evaluate your competitors' pages under the radar to see what type of content and Instagram marketing strategies they use to attract target audiences to their pages.
To use the AiSchedul Instagram web viewer tool, follow the steps below:
1. Go to https://aischedul.com/instagram-story-downloader/
2. Next, enter the username of the public account whose content you want to check in anonymously and freely. Then, click on the Search button.

That is it. Now you can view or download Instagram stories, Reels, Highlights, posts, and more easily and safely.
Moreover, by signing up on AiSchedul, you will be able to grow your followers and engagement rates. We will discuss its features and services in more detail in the following section.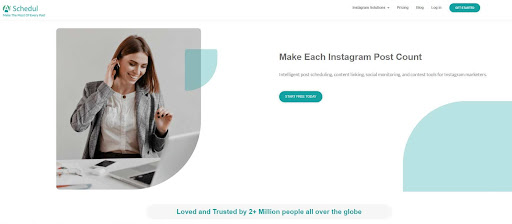 Aischedul Features
AiSchedul offers a bunch of features, such as
And many more. Moreover, its 24X7 customer support is there to help you in case of any technical issues. So, what are you waiting for? Try AiSchedul for Free now to see its effectiveness for your Instagram marketing strategies.
AiSchedul Reviews
A good way to learn about a tool's effectiveness and reliability is to look at its reviews and user ratings. A Trustpilot rating of 4.8 stars indicates that 95% of AiSchedul customers are satisfied with the service.
Thus, this all-inclusive Instagram marketing toolkit can be relied upon for guaranteed results.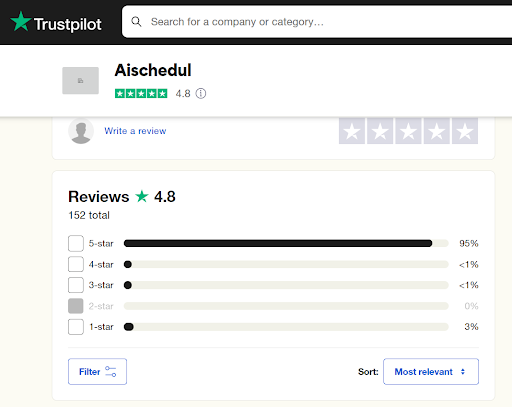 🎯Note: To learn more about this powerful Instagram viewer tool, you can check out this AiSchedul Review.
FAQs on Insta Looker
In this section, we will attempt to answer some of your frequently asked questions regarding the topic. Continue reading this Instalooker review for more answers.
1. Is Instaloker Safe to Use?
On the Home page, they claim that the whole system is entirely safe and secure for anyone to use. However, under the Terms of Service, they state that the site may contain computer viruses, malware, or other programs or materials from outside sources that may be transferred or copied to your system.
In this way, they wriggle out of their responsibilities for any direct, indirect, incidental, or consequential damages or any other damages whatsoever and howsoever caused, resulting from, or related to the use of the site or reliance on its content.
Thus, in a nutshell, Instalooker is not safe to use and you'd better stay away from it.
2. Is There Any Difference Between Instalooker.net and Instalooker.com?
No. The two are actually the same. Despite different domains, both sites offer the same content and features. Actually, both of them are scam websites that you should avoid.
3. Is it Possible To View Private Instagram Accounts Without Following Them?
If an Instagram account is public, then anyone can view its Instagram stories and posts. But if you wish to do this anonymously or download their content to your PC without having an IG account, you can employ a reliable Instagram web viewer tool like AiSchedul.
For private accounts on Instagram, only approved followers are allowed to view the content. However, when you search for private Instagram viewer apps, you come across tons of websites and tools like Insta looker, all claiming that they can help you take a peek at anyone's profile, regardless of whether it is private or not. Sometimes, they even claim that they can help you view those accounts that have already blocked you!
Note: Please do not use any of these websites or private Instagram viewer apps because all of them are 100% scam websites or tools.
They pretend to provide you with search engines, but when you click on Search, you must complete a human verification process containing queries and surveys. So, no matter how many queries and surveys you have completed, you will not see anything at the end.
Therefore, if you want to view private Instagram accounts, the only way to do so is to submit your follow request and wait for the account holder to approve your request.
Final Note
In conclusion, it is necessary to reiterate that Instalooker (regardless of whether it is Instalooker net or Instalooker com) does not work at all. Their claim for being the best tool to spy on private Instagram accounts without following them is baseless, and nothing more than a waste of time.
So, if you need to view or download public Instagram content anonymously and freely, you should use other Instagram viewer tools like AiSchedul.
Aside from providing you with a powerful free, anonymous Instagram story viewer and downloader tool, AiSchedul is an all-in-one Instagram tool that can improve your engagement rates and help you reach your target audience on Instagram.