You may have heard about the best Instagram web viewer! Like Pikdo, Piknu, Pictame, Picbear, Pictaram, etc. But do they help you grow your Instagram account? Or are they just some tools to view messages on Instagram privately? 
Right now, Instagram is the 6th most popular social media over the globe. Growing followers out there has become a concern for almost every Instagramer. 
If you search for the term 'Grow on Instagram,' you will face numerous tools and services offering different ways of growth.
It will help a lot if you use all the potent tools to increase your posts' quality and timing. But for posting on Instagram, you have to have a plan, take your time, and your effort will be admirable if you do your best.
This article will help you to gain great insights into the 16 best Instagram web viewers.
So stay tuned!
You may also like: 
What Are Instagram Web Viewers?
Contrary to many people's expectations, Instagram web viewers can not help users view private Instagram accounts information without being identified. So, be careful not to be scammed with any applications or web sites that offer you access to private Instagram accounts.
We've tested some of the top Instagram web viewers, including Pikdo, Piknu, Pictaram, Pictame, Picbear, and Picdeer. Actually, all of these Instagram online tools let you view others' Instagram accounts without logging into your account. And here's what we've learned:
1. Instagram web viewers work through the Instagram API
As you know, API is an abbreviation for "Application Programming Interface," and Instagram as an application has its own. Some Instagram Web Viewers like Pikdo, Piknu, Pictaram, and Pictame as separated applications use Instagram API to help their audience view pictures, videos, tags, hashtags, likes, comments, and other information taken from Instagram.
2. Get Cool Metrics with Instagram web viewers.
As mentioned above, these tools can not give you access to private Instagram accounts. But they are brilliant tools for tracking down some details that you can not get on your own.
3. Easily Stalk Instagram Users Anonymously
Eventually, these tools can help you view the Stories, Highlights, and Posts of Instagram users anonymously. You can search for their Usernames, Tags, Locations, or Stories. Remember that if someone has a private Instagram account, these tools can not help you anymore.
Also Read: 6 Ways to Keep Instagram Stories Viewers Engaged
Best Instagram Web Viewer to Use in 2021
Here, you can find a list of the best Instagram web viewers that'll help you accelerate your Instagram growth, view Instagram stories, and the most exciting part: how to view messages on Instagram privately.
1- AiGrow: The Best Instagram Web Viewer
AiGrow is an Instagram management service with a team of Instagram experts. All you need to do is sign-up for free on the platform and choose a plan based on your target number of followers. Also, specify your target audience based on their location, hashtags they use, or accounts they follow, and that's all. Then, your dedicated account manager will start growing your account manually, based on the goals you've set. If you consider "how to view messages on Instagram privately" or "how to view Instagram stories without them knowing," AiGrow will provide you the best situation. You can easily view Instagram stories and download them. 
The best point of this app is that it performs according to the Instagram algorithm. In a nutshell, it is IG friendly. Moreover, they guarantee the numbers, and you can be sure that you will meet your goals. Above all, this is an excellent method to grow Instagram followers organically.

2- IG stories: View Instagram Stories
Instagram Story Viewer is an online web service that lets you watch Instagram Stories without a footprint. So you can view all Stories and Highlights of public Instagram accounts and save them.
3- Pikdo:
How to View Instagram Stories Without Them Knowing?
When you are using Pikdo for Instagram, once you open an Instagram profile, Pikdo shows you the most used filters and hashtags by that profile. Then, you can analyze this information and get used to them for your page growth.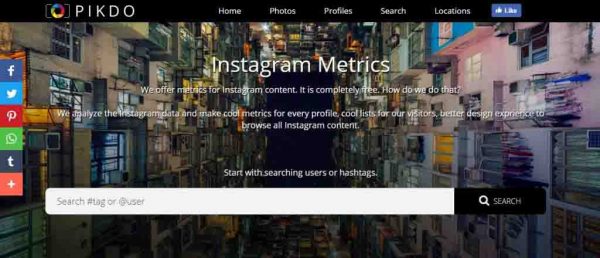 4- Webstagram
:
How to View Private Instagram?
Webstagram is an Instagram web viewer that lets you view photos of the people you follow, like and comment on photos, and follow and unfollow other users. But if you are trying to see private users, Webstagram cannot display private users.
5- Deskgram: How to View Messages on Instagram Privately?
Deskgram, an Instagram-based app, lets you upload photos and videos to Instagram from PC/MAC. Also, you can like and comment on posts, follow-unfollow profiles, and check new feeds.
6- Pictame: Instagram Web Viewer and a Profile Analyzer
Pictame is an online Instagram tool where you can instantly analyze your accounts with its own developed algorithm. With this tool, you can instantly see your own profile strength and interaction rates. You may then use the analytics to schedule your posts and stories for the best time to get the most engagement on your posts. If your pictame is not working, try another browser or check DNS cache validity because it may not be working in your location.
7- Piknu What Is It?
You may think about "what is piknu" or "what is piknu used for." Piknu is an Instagram web viewer. Piknu as an Instagram viewer, introduces you to the most popular users and posts on Instagram.
Meanwhile, Piknu used to be one of the fastest user-friendly and simple to use Instagram web viewers. However, it didn't last long for it to become famous among Instagram users and vanished out of the blue.

8- JolyGram
JolyGram is an Instagram online viewer that allows you to browse users, hashtags, stories, followers, location, popular content, and statistics. Actually, Jolygram uses the Instagram API but is not approved or certified by Instagram.
9- Tofo
You can use Instagram online fast and clear. Browse, explore, comment, like, and more! Also, Tofo helps you find the most popular users and posts and create your own favorite collection! 
10- Yooying
Yooying is an online web viewer that can show profiles of celebrities and brands. Also, it enables users to search the popular hashtags and posts.
11- Picgram
If you are seeking an alternative, which you could use for viewing Instagram content on your desktop, here is what you need. The PicGram is a new and amazing tool for accessing Instagram content and downloading Instagram content anytime, without any cost and hurdles. Highly secure and easily approachable Instagram web viewer.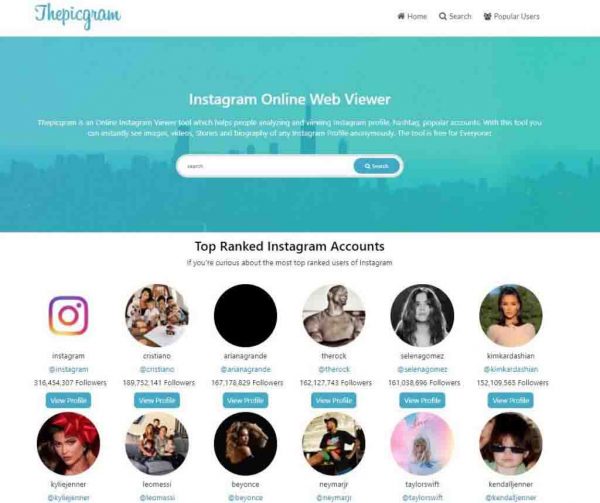 12- Picluck
Picluck is an Instagram viewer that lets you easily access quotes, hashtags, and captions. PicLuck location, revenue, industry, and description. Find related and similar companies as well as employees by title and much more.
13- Picodash
Picodash is an Instagram web viewer that exports Instagram hashtag or location posts with usernames and like counts. Therefore, you can find influencers and target audiences easily. 
14- Pictaram
Pictaram as another Instagram web viewer, can help you view the profiles, Stories, Highlights, and posts of Instagram users and give you the most used Instagram tags and locations. This will help you choose the best Instagram hashtags when posting content on your own account. 
15- pintaram
Pintaram is actually the web viewer of Instagram without analytics. You can search for the newest hashtags, users, photos, and videos on Instagram. This is a website that displays your Instagram photos, and when clicking on an image, it directs you to a random Instagram post of a person.
16- Picbear
 Instagram Viewer Picbear is an Instagram Online Viewer that you can easily browse users, location, stories, followers, hashtags, popular content, and statistics.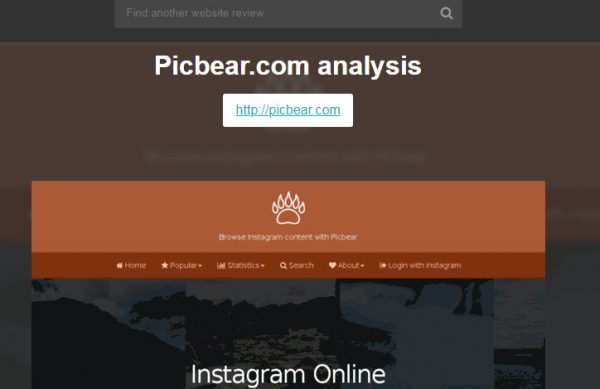 Keep reading: Is It Legal To Buy An Instagram Account With 100K Followers? +Alternatives
Final Thoughts on The Best Instagram Web Viewer
At first, growing Instagram accounts seems hard for Instagram marketers. Many people google it and face a lot of scamming applications. However, now you can identify the best Instagram web viewer that you desire to help accelerate your growth on Instagram.
Utilizing the best Instagram web viewer is excellent because it helps you analyze Instagram accounts and find out the reasons for their popularity. Actually, some web viewers like AiGrow, Pictame, Pikdo, and Pictaram can easily do the review task for you. Therefore, they will give you a review of your own profile strength and also your account or post-interaction rates.