If your likes and comments decrease as your followers are increasing, you probably have "inactive Instagram followers," also known as "ghost followers."
This article offers you the best solutions to find your inactive Instagram followers. 
What Are Inactive Instagram Followers
In the case of inactive followers, Instagram is just like any other social media. Many inactive accounts belong to people who might have created a new account, forgot the log-ins, or stopped using the application.
Inactive Instagram followers are accounts that have no actual value for you in spite of increasing your followers' rate. If you use Instagram to expand your business, they will never buy your products, and if you want your followers' performance, they won't. Actually, they are not your real followers.
In a nutshell, inactive Instagram followers or ghost followers follow you on Instagram but don't comment, like, or engage with your posts even some of them will never show up, and they are just a bunch of fans.
Inactive Instagram Followers Robots or Real People 
Consider two types of inactive Instagram followers robots and real people who do not take any action. 
You could easily recognize the robots by knowing their features:
They usually don't have a profile picture.

Rarely have posts

Their comments are mostly the same.

Have a few followers 

Use wired usernames 

Use low quality and unattractive pictures 
There are many other factors, and of course, you need to check them carefully and make sure because there could be people who have all of these features. 
The thing which matters is our goal, engaging the followers in our content. 
How to Find Ghost Followers
There are two methods to find inactive Instagram followers; the easiest way is the solution that Instagram provides; however, numerous applications recognize your ghost followers. 
Instagram has eased how to recognize the inactive Instagram followers or ghost followers by adding the lists of "Least Interacted With" and "Most Shown in Feed" to IOS and Android applications to see if they are inactive aren't used anymore.
Therefore, to identify your ghost followers using the Instagram app, follow the instruction below:
1- open your Instagram application 
2- Go to your profile 
3- Tap on the "following" in your profile; you will see "categories" with two options "Least Interacted With" and "Most Shown in Feed":
Least Interacted With: provides the list of the accounts which were Least Interacted With you during the last 90 days. 
Most Shown in Feed: Includes the list of the accounts which were most Interacted with you during the last 90 days (likes, posts, direct messages, …)
Checking one by one of your followers to find fake followers might waste time and be difficult, so the second method is recommended, which depends on choosing excellent tools for this issue.
Top Proven Apps to Find Ghost Followers
Using applications is one of the easiest ways to find inactive Instagram followers. You can download them in the App Store or Google Play Store by searching "Instagram analytics/followers/unfollowers," The thing is that they are not free, and you have to pay for them.
Just pay attention not to unfollow or remove inactive Instagram followers in these applications because Instagram will find out you are using another app and will block your account. If you want to remove or unfollow them, you must do it manually.
This article introduces some applications that could help you find your ghost followers:
1. AiGrow – Find and Replace Ghost followers with Active followers
Get a dedicated account manager to engage with potential followers and grow your panel. With a one week trial, a dedicated account manager will try to engage with your followers. Then he will find your inactive Instagram followers and try to replace them with fresh followers by the latest techniques of organic growth on Instagram.
AiGrow is so confident in AI targeting and team, and it guarantees new followers each month. AiGrow AI algorithm will find the most suitable Instagram users based on hashtags, popular accounts, and even locations. The right people translate into real leads and real performance.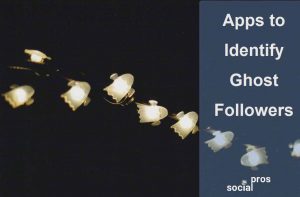 Sign up for a free account on AiGrow, and then configure your targeting settings using popular hashtags, competitor accounts, and/or locations where it can find people who would suit your offering. The AI-powered engine will generate a list of qualified Instagram users that our team will contact to visit your page.
2. My Ghost followers – Monitor inactive Instagram followers for IOS
This application lets you monitor your followers' actions to determine who does not interact with your Instagram. My ghost followers app will help you to identify your ghost followers. Unfortunately, this application is not a complete package and only supports IOS.
3. Follower Insight – Get Followers Details for Android
This application analyses your Instagram Account and gives you details of your ghost followers, mutual followers, and recent fake followers. You can download Follower Insight from Google Play and use it on Android devices.
Final Word
By choosing the right application, you will be assigned to a dedicated growth expert who will get to work on engaging with those users using proven methods to draw them to your page.