Have you ever scrolled through your Instagram feed only to realize accounts you wish you hadn't followed? It can be frustrating to see your feed flooded with unwanted content from thousands of accounts. Instagram mass unfollowing manually can be a challenging task due to the time and effort it requires.
That's where the need for a safe and effective mass unfollow tool arises. And this is exactly where AiGrow as a 100% safe Instagram unfollow app comes to your rescue.
Instagram is one of the most popular social networking platforms. However, it lacks a built-in feature that allows users to unfollow inactive, unwanted, or fake accounts in bulk. Luckily, there are ways and tools available to remove unwanted followers easily and instantly.
One such powerful and efficient tool is AiGrow, which enables you to mass unfollow Instagram users from your following list. If you're seeking a straightforward solution, click on the button below to access it! With AiGrow, you can control your Instagram feed and curate it according to your preferences.
Instagram Mass Unfollow: Why Do You Need It?
Before diving into how to unfollow on Instagram, it is crucial to understand why learning mass unfollowing for Instagram is essential for maintaining a successful account.
1- Master Instagram Mass Unfollow to Refine Your Online Presence
By following accounts that lack relevance to your desired brand, you open yourself up to the risk of being labeled an indiscriminate spammer or suspicious account. However, there is a solution within your reach: learning the art of mass unfollowing on Instagram. By mastering this technique, you gain the power to shed unnecessary and irrelevant accounts from your following list, allowing you to maintain a precise and targeted approach to your Instagram marketing strategy.
Imagine the impact of having a targeted following list that aligns seamlessly with your brand image and values. You will no longer be seen as just another spammer flooding feeds with irrelevant content. Instead, you will be recognized as someone who values quality over quantity, making a deliberate effort to engage with accounts that truly matter.
This shift in perception can open doors to new opportunities, collaborations, and an increased engagement rate. By taking control of your following list through mass unfollowing, you can distinguish yourself from the crowd, leaving a lasting impression on your audience and building a reputation as a trusted and authentic presence on Instagram.
Are You Interested in Getting More Targeted & Engaged Followers?
Try AiGrow For Guaranteed Results
2- Learn Mass Unfollow Instagram to Get Rid of Inactive or Irrelevant Accounts
Some accounts you followed may have become inactive or changed their interests, resulting in inactive followers or diminished relevance. Therefore, learning how to mass unfollow on Instagram enables you to identify and remove these accounts, keeping your feed engaging and up-to-date.
Read More: Interested In Checking Instagram Followers? Do Fake Follower Check
3- Disproportionate Follower-to-Following Ratio
When the number of accounts you follow significantly outweighs your followers, it creates a negative perception and decreases engagement. This imbalance can prompt people to avoid your page, creating a downward trend in terms of follower growth.
Begin by unfollowing accounts that do not reciprocate your follow. Doing so ensures a more balanced follower-to-following ratio and encourages reciprocal interactions.
In conclusion, understanding the need for Instagram mass unfollowing is crucial for maintaining a well-managed account, fostering reciprocal interactions, and attracting more engaged followers.
4- Mass Unfollow for Instagram To Remove Abandoned or Inactive Pages
If an Instagram account is abandoned and shows no activity, it's recommended to unfollow it. Also, people's interests change over time, and content that was once interesting may no longer captivate your attention. Don't hesitate to delete following on Instagram to avoid an overwhelming feed.
How to Mass Unfollow on Instagram
Now you're familiar with the benefits of Instagram mass unfollowing, let's go back to the main question and see how to unfollow a lot of people on Instagram.
1- Manual Mass unfollowing for Instagram
If you prefer a DIY approach and don't mind investing some time and effort, you can opt for the manual method to unfollow accounts on Instagram.
Navigate to your profile page.
click on the "Following" tab.
Look for the option labeled "Least Interacted With" and select it.
Next, For each account that you wish to unfollow, tap on the "Remove" button next to their username.
2- How to Unfollow on Instagram With AiGrow
In filtering out the right accounts to unfollow on Instagram without the risk of accidentally removing valuable connections, AiGrow emerges as the ultimate solution.
With Instagram's restrictions on third-party automation tools, AiGrow has developed an organic approach to unfollowing that guarantees 100% safety and effectiveness. Rest assured that AiGrow is the best tool for tracking Instagram unfollowers and optimizing your unfollowing process.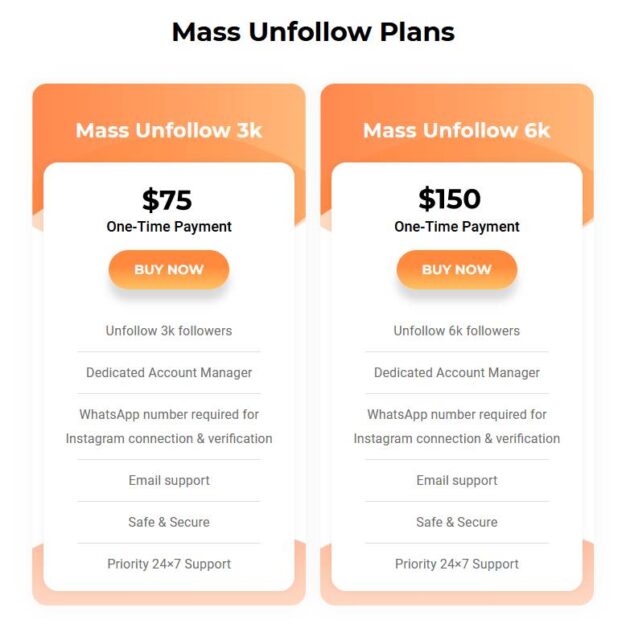 After choosing one of the above packages, AiGrow's professional account manager will start working on your account to maintain a streamlined following list tailored to your preferences.
When using the manual unfollow method on Instagram, it's important to remember that you can only unfollow up to 200 people per hour to avoid the risk of suspension or even a ban from the platform.
Additionally, remember that if you're following new accounts as part of your follower/following strategy, Instagram will count these actions against your daily and hourly follow/unfollow limits.
However, by utilizing AiGrow's unfollow tool for Instagram, you can rest assured that their account managers are well-versed in Instagram's algorithms and daily limits, eliminating any risk of your Instagram account being banned or suspended.
Instagram Mass Unfollow with AiGrow (Step-By-Step Guide):
To mass unfollow on Instagram without any risks, follow these simple steps using AiGrow:
Sign up for free on AiGrow and connect your Instagram account to its dashboard by clicking on 'Add Instagram Account.'
Then click on the Packages button at the top of your online dashboard and select 'Unfollow Plans' to view and purchase the unfollow packages, such as Unfollow 3k or 6k.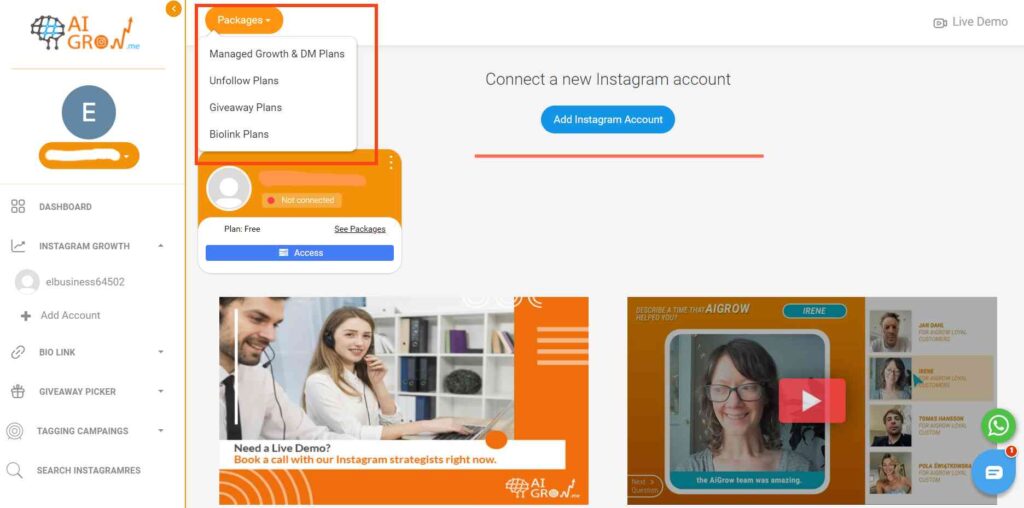 Your dedicated account manager will handle unfollowing inactive/ghost followers and users who haven't followed you back, ensuring a safe and effective mass unfollowing process.
AiGrow's unfollow app provides a safe method to remove unwanted followers without triggering any red flags from Instagram.
4. After purchasing the chosen package, you can utilize the service multiple times within three or six months, depending on the package you've selected. Also, you can schedule an onboarding session with an AiGrow team member to discuss the details and optimize your unfollowing strategy.
With AiGrow's Instagram unfollow tracker, you can safely and efficiently perform a mass unfollow on Instagram, enhancing your account's engagement. Start Instagram mass unfollowing securely with AiGrow Now.
Mass Unfollow for Instagram: Conclusion
By taking the necessary steps to unfollow in bulk on Instagram, you have opened up new possibilities to shape your digital future. Now, you can curate the content visible on your page and focus on the types of engagements that drive traffic to your site.
It is crucial to maintain consistency and thoroughness in managing your account to avoid the need for future mass unfollowing on Instagram.
To streamline your Instagram experience and optimize your follower base, you can leverage the power of AiGrow. With AiGrow, you can effortlessly remove inactive or fake followers, ensuring that your audience consists of genuine and engaged individuals. Additionally, AiGrow offers organic and safe methods to attract targeted followers who align with your brand's interests and values.
Embrace the opportunity to reshape your digital presence, focus on quality engagement, and let AiGrow support your journey towards Instagram success. With a strategic approach and the right tools at your disposal, you can maximize your Instagram impact and unlock the full potential of your online presence.
Mass Unfollow for Instagram? Try AiGrow Now
FAQs on Instagram Mass Unfollow
1- Do People Get Notified If You Unfollow Them on Instagram?
Instagram no longer provides notifications when someone unfollows your page, as the platform has undergone constant updates and changes over the years. However, there are still methods to determine your Instagram unfollowers, allowing you to create space for new engagements.
To check if someone has unfollowed you, regularly review your following list. Start by accessing your "Followers" list and enter the name of the person you want to check in the search bar. If their account is missing from the list, they have unfollowed you. In response, you can reciprocate by unfollowing them as well.
Monitoring your Instagram community is vital for fostering exclusive connections with like-minded individuals. To achieve this, focus on organic strategies that help build your followers organically without relying on automated third-party applications or Instagram bots. By cultivating a tight-knit online community, you can enhance engagement and foster meaningful interactions with followers who share similar interests.
Related Resource: Instagram Notifications Not Working? Here's How to Fix It
2- What Is the Daily and Hourly Limit for Mass Unfollow on Instagram?
When it comes to mass unfollowing on Instagram, there are certain limits you should know to ensure a smooth experience. Here are the key factors and limitations to consider:
Account Activity: Active users who consistently engage with the platform have more flexibility when unfollowing.
Account's Age: Older accounts have more leeway than newer ones. It's natural to unfollow up to 200 users after three months of activity, while new accounts may have a limit of 100.
Number of Active Followers: The level of engagement and the size of your follower base play a role. More active and established accounts have more freedom.
User's Engagement: To be recognized as an engaged user, you need to actively interact through various features like Instagram DMs, likes, comments, shares, and saved posts.
Account Type: Creator and business accounts have certain advantages over personal accounts, based on recent research.
💥Note: Ignoring Instagram's unfollow limit can lead to a temporary Instagram shadowban of 24 to 72 hours. This is where you lose access to certain features and cannot unfollow users. Continued violations may result in a permanent ban. To avoid this, unfollow users at various intervals to appear as a human, not a robot for Instagram. Or you can use the AiGrow organic unfollow tool for Instagram. AiGrow is a completely organic and safe approach for Instagram mass unfollowing.
Read More from SocialPros: