Have you ever noticed that you are more likely to follow Instagram accounts that their followers are much more than their followings? It seems like we trust the audiences of a page more than itself. Hence when an Instagram account has lots of followers, we consider it to be a tempting account that offers something valuable. So, the Instagram followers vs following ratio has an important impact on your Instagram account's reputation. 
In this article, I am going to talk about the best follower to following ratio for different types of Instagram accounts. Then, I'll show you how to get your ideal ratio. Keep reading. 
You may also be interested in:
Interpretation of Your Follower to Following Ratio
The ideal Instagram follower to following ratio depends on how you use Instagram. Actually, the ones who use Instagram as a place to share personal photos, may not care about this ratio. But, for business accounts, brands, and influencers, the follower to following ratio affects their income, popularity, and trustworthiness. 
Here are some general benchmarks about Instagram followers vs following ratio:
Instagram accounts that follow twice or more accounts as they attract are considered to be spammers. These accounts are usually used by Instagram growth services that offer fake followers. 
We call these suspicious accounts. These accounts usually try the follow-for-follow strategy and after a week or so, they'll unfollow you to increase their follow ratio.
This is an average follow ratio and it means that you are not too selective in following people. However, with such a follower to following ratio, you are not an influencer or professional brand account. 
Congrats! You have proved that your account is worth following. If the ratio of your followers vs following on Instagram lies in this interval, you are considered to be an Instagram micro-influencer. 
With a follower ratio of greater than 10, you have a great influence on Instagram and you'll be known to be an Instagram celebrity. 
Note: These benchmarks are for brands and influencers accounts. If you are managing a personal or private account, it is totally fine to have a follower ratio of less than 0.5. 
How to Calculate the Follower to Following Ratio?
Calculating the follower to following ratio is a piece of cake:
Following ratio = Number of Followers / Number of Followings
For instance, Marcus Rashford has 9.2 million followers and follows 149 Instagram users. 

His Instagram followers vs following ratio equal 9200000/149=61745. So, he's considered to be an Instagram celebrity and influencer who goes with brands into partnerships to bring them more followers. 
How to Get the Ideal Instagram Followers vs Following Ratio?
To get your ideal followers vs following ratio on Instagram, especially if you are planning to become an influencer and make money on Instagram, you have to work really hard and use the best Instagram followers apps. However, to avoid getting fake or ghost followers, we recommend you to use a complete package of Instagram tools and hire Instagram account managers to attract your target audience. If you are wondering where to find such a package, here's the best one we've found:
Use AiGrow for the best Followers/Following Ratio
To get your desired Instagram followers vs following ratio, we recommend you to use AiGrow, an intriguing Instagram marketing package. 

AiGrow in an Ai-powered management service. Depending on your niche, hashtags you use, accounts you follow, and your location, it generates a list of potential Instagram followers for you. Then, a dedicated Instagram account manager starts engaging with the potential followers and make them follow your account without exceeding the Instagram daily limits. This way, your Instagram followers vs following will get balanced and you can get your desired follow ratio.
To get your ideal number of followers vs following on Instagram using AiGrow, you have to use one of the following packages: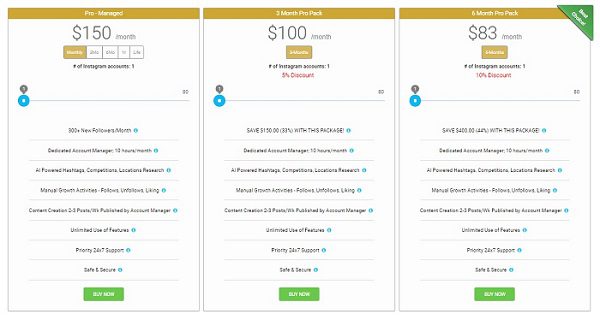 We suggest you purchase the 6-Month Pro package. Using it, not only you guarantee your growth on Instagram but also you have the chance to share a post created by a professional designer 2-3 times/week. Additionally, you get unlimited access to its Instagram tools such as scheduler, repost app, monitoring app, all-in-one bio link tool, and DM automation tool. Sign up for free right now, and give it a try! You'll love it!
Read More: Safe Instagram Growth Hacking App in 202
FAQs About Followers vs Following on Instagram 
If you have more questions about followers vs following on Instagram, you may find the answers in the following: 
#1 Is It Essential To Have More Followers Than Following On Instagram?
The short answer is no! It is true that by having more followers you'll feel more confident and by turning to an influencer you can make more money; however, the only point of being on Instagram is not sharing posts and becoming famous. You can follow as many accounts that you like on Instagram and engage with them. This may also help you to become more popular! 
#2 Do Private Accounts Get More Followers?
Sometimes, yes. This especially works when you go on an Instagram partnership. When someone advertises your products on Instagram, people will visit your profile to decide whether to follow you or not. When your account is private, they are more likely to follow you to see what else you offer on your account. However, make sure that you share captivating posts, or you'll lose all the new followers in a few hours. 
Keep Reading: A Secret Way to Get Among Top Posts on Instagram
#3 How Many Followers Do You Need To Get Paid?
According to Shopify, accounts with 10K-100K followers make around $250/post and those with 100K-1M followers can expect to gain $670/post on average. 
Also Read: Use This 1000 Free Instagram Followers Trial for Real Followers
Bottom Line
To sum it up, your Instagram followers vs following ratio is an important metric. It determines whether you are a micro-influencer, influencer, or brand account. Depending on what you want to be known as on Instagram, calculate your follower to following ratio, and use a growth tool to get your ideal ratio.