Instagram direct messages are one of the most popular features of this platform, helping people make friends on Instagram, communicate with their family members, friends, and customers in real-time. Being able to send photos and videos through direct messages and adding fun filters to them made this feature even more popular. But one of the users' biggest concerns is how to save a DM video on Instagram?
Well, at the first sight, this may seem a little tricky. However, in this article, I'm going to teach you how to do it in a few minutes and on every device. So, stay tuned!
You May Also Like: 
How to Save a DM Video on Instagram? In-App Solution 
Actually, saving an Instagram DM video is really easy if you send or receive a regular massage. In this case, all you have to do is to tap and hold on the intended video and tap on "Save".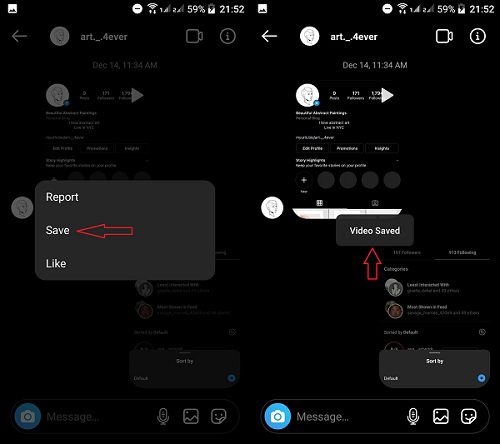 Then, the video will be downloaded into your gallery and you can watch it over whenever needed. 
However, as you may already know, the new Instagram update has a feature that allows users to take photos and videos and send them to other people using the Instagram camera roll. In this case, when you send a DM photo or video, you have the option to allow the other recipient to: 
Access the video whenever needed, 

Replay the message, 

Or view the message just for once. 
In the first mode, you still have the chance to tap and hold on the message and save it to your device. However, when using the two last modes that are called vanish mode, none of the chat participants are allowed to download the video using the official app after it's being sent. So, the only way to save the video is to use a screen recorder.
But if you are sending the video, you have the chance to tap on the download button and save it to your gallery.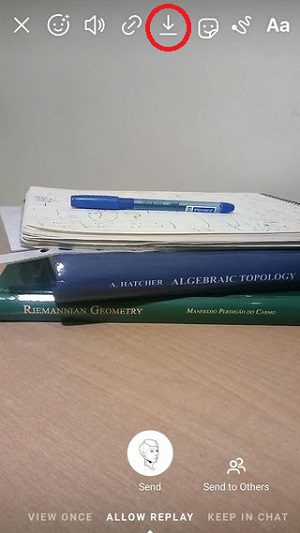 How to Save a Video From Instagram Direct Message on PC?
As may have noticed, Instagram added the direct messages inbox to the desktop version a few months ago. In this regard, right now, users are able to send and receive messages using the Instagram web and manage their conversations. 
However, to save a DM video on Instagram from a PC, you may face a little problem. Unluckily, using the web version, you cannot download videos shared on direct messages, especially the ones that are taken using the camera roll. This is because Instagram recognizes those videos as gifs, and gifs are loop videos on Instagram. So, when you try to download a video on a desktop, you are just allowed to download it as a single frame image!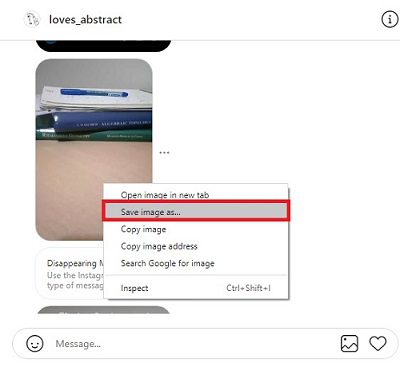 Additionally, it doesn't allow you to view the disappearing messages. So, how to save a DM video on Instagram from a PC? Let's see!
AiGrow: The Best Instagram DM Video Downloader
Fortunately, there is an easy way to download videos from Instagram direct messages on a PC. AiGrow is an Instagram management service that enables you to do so. Actually, this tool is a complete package of growth services, management tools, and publishing tools that'll help you grow your accounts. By the way, it also has a complete set of Instagram DM tools that let you: 
Send bulk DMs, 

Auto-reply to messages,
And more. 
But apart from all these intriguing features, it also enables you to save a DM video on Instagram. To do so, you just need to sign up for free and add your Instagram accounts. Then, under the "direct messages" tab, open your "inbox" and search for the intended video.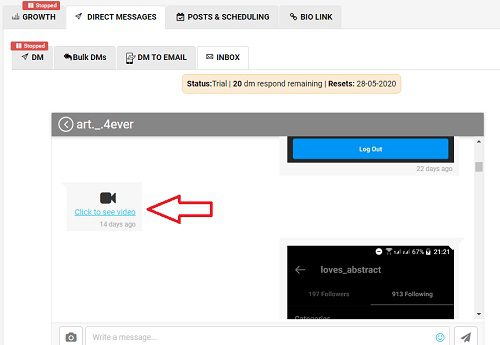 As you can see in the picture above, you just have to click on the link to see the video. When you click on it, the video opens on a new page, allowing you to save it on your desktop.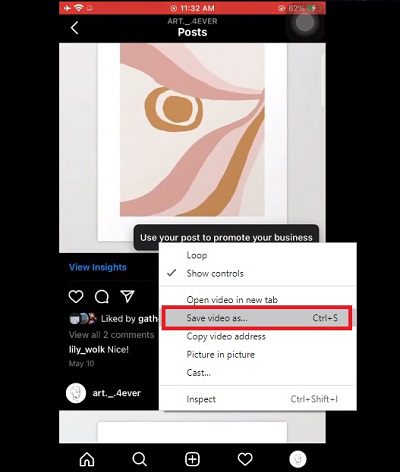 That's it! So, give it a try for free right now and save your DM videos.
FAQs About Saving DM Videos on Instagram
Now you know how to save a DM video on Instagram using the official app and also from a desktop. But you may still have some questions. So, take a look at the following tips to know more about the topic.
1- Can you save a disappearing video on Instagram?
Well, you cannot save a disappearing message, either on your mobile or from a PC. However, if it's important for you to re-watch a disappearing message, you can use a screen recorder and record the message before losing it on Instagram. However, note that this is against the Instagram privacy policy.
2- Does Instagram Notify When You Save a Video in DM?
The short answer to this question is NO! Instagram won't notify the other recipient if you save their video, even if you use a screen recorder. But if you take a screenshot from a disappearing message, Instagram notifies the sender.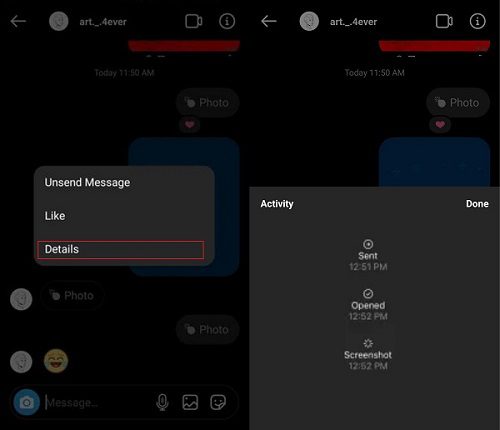 3- How do you reopen a DM video on Instagram?
The answer to this question depends on the message type. If you have received a video that was sent regularly, or the sender chose the option to keep it in the chat, you can always reopen the video and watch it over. However, for disappearing messages, you cannot do anything, unless you record the video while it's being played.
Bottom Line
To sum it up, sometimes you may want to save or download a video on Instagram direct messages to share it on other social channels or to rewatch it later. Here, we showed you how to save a DM video on Instagram from a PC or a mobile. So, read the article carefully and leave us a comment if you have any questions.