What do you use Instagram for? Is it business? Wanna promote your blog on Instagram or lead people to your newsletter landing page? Well, in all cases, you can add a URL in Instagram bio and using call-to-action buttons, invite people to join you. 
Instagram is a platform that not only is incapable of putting links in the posts but also does not illustrate how to put a link in bio! I would say there are strategies behind it. Whatever it is I am going to show you how to put a URL in the bio. It will take seconds I promise! But the impact of putting a URL in the bio of Instagram is huge. So, let's start!
How to Put a URL in the Instagram Bio
There are 2 ways to add a URL to the Instagram bio. They are:
Put a URL in the bio using the official Instagram app,

Create an all-in-one bio link using a third-party.
I'm pretty sure that you all know how to add a URL in Instagram bio using the official app. But if you don't, there's no need to worry! Here are the simple steps you must take: 
Open your Instagram profile and tap on

"Edit Profile"

.

Now, on the

website

section, enter your link.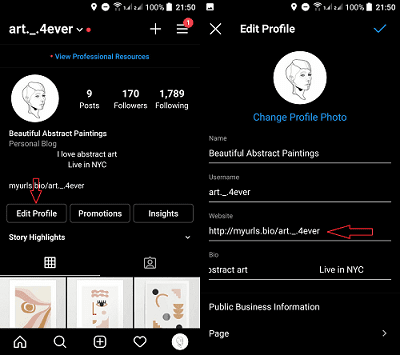 That's it! As you see, you can add a URL in Instagram bio in a few seconds. But this is not the problem when we talk about Instagram bio links. Unfortunately, using the official Instagram app you are just allowed to add a single link to your bio. In this regard, when it comes to linking Instagram to all social media accounts simultaneously, you'll face some problems. 
But no worries! As mentioned above, using some third-parties you have the chance to create a landing page for your Instagram bio and link to multiple channels all at once. Let's see what's the best app for this purpose! 
Put a Link on Instagram Bio Using MyURLs.bio
I know that there are tons of alternative tools for adding a URL in the Instagram Bio. Actually, using some of the competitors, you will face limits to put multiple links in the Instagram bio. But, the reason I choose MyURLs.bio is that it is totally free and offers you features that are not available on similar apps.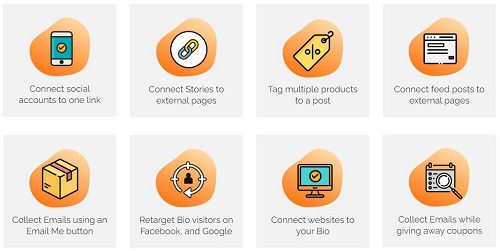 As you see in the picture above, it's offering you a bunch of intriguing features. Using it, you will simply: 
And more. Here's an example: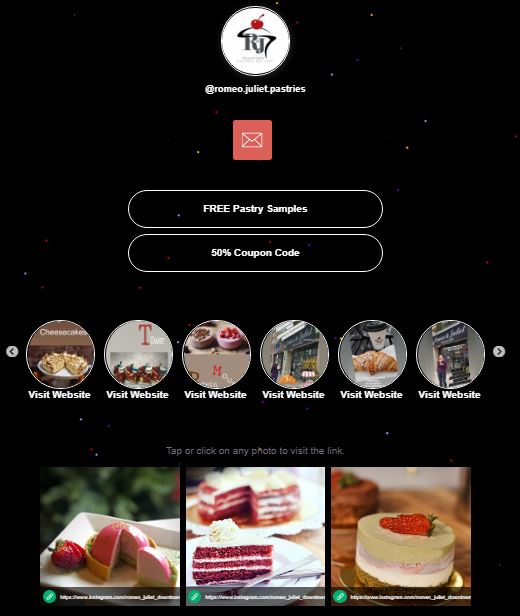 As you see, your Instagram landing page will look fabulous, and provided with the chance to add unlimited links, you can simply connect each of your products and services to a purchase page or a blog post for more information.
UseYour Instagram Bio Link Cleverly
Now that you learn how to put in the bio, it is the time to use it cleverly. Here are some ideas to address people.
Use the URL in Instagram Bio to Get Traffic
If you are an E-commerce owner that you probably have a website. If it is so, you and I have something in common. We both want to bring traffic to our website. Now that Instagram is this popular, why not put the URL in Instagram Bio to get traffic? 
Keep Reading: How to Derive Website Traffic from Instagram?
Add an URL in Instagram Bio to Run Giveaways
If you wanna sell more or gain more followers on Instagram, run a giveaway for the love of God to see how it rockets your account.
People love to win. Take full advantage of this innate desire of human beings to grow your Instagram and consequently yourself. It is a win-win deal.
Also Read: Best Instagram Contest Picker & Giveaway Apps in 2020
Address Followers to Other Social Media of Yours 
If you are trying to retarget your followers on all your social media, address them through Instagram bio URL. Do I have to mention it again that MyURLs.bio provides you with icons via Instagram bio URL?
Gift Your Followers 
Do you know what cheers followers up except for giveaways? Give them something free. You will be surprised to see how much the ER of your page increase.
What to Gift Via Instagram Bio URL
Free product

Coupon code

Something educative

Ticket of an event
Tips about Gifts
It must be valuable to followers

It must be relatable
Share a YouTube Link in Your Bio
I don't wanna bore you with data about how pop YouTube videos are. You also know that comparing to pictures, videos engage followers 4 times on Instagram. So it is not a very bad idea to put a YouTube link in the Instagram bio. It is not complicated I promise.
How to put YouTube link in Instagram Bio
Go to your Instagram profile

Tap add a profile

Tap website

A

dd the URL to your YouTube video, your YouTube channel
Read More: How to Share YouTube Video on Instagram Story, Post, and Bio
Final Thoughts
There are very smart ways to use link-in-the-bio to reach whatever your objective is on Instagram. Although Instagram lets you put only one link in the bio, MyURLs.bio allows you to put multiple links in the bio completely free. Take the chance! Add the URL in the Instagram Bio and grow!