Have you ever wanted to mark an Instagram DM as unread? Do you want to sort and filter your Instagram DMs? Do you miss some of your DMs in the pool of your Instagram DMs? Actually, Instagram has added some new features for business accounts that let users filter their Instagram DMs by importance; that is primary vs general Instagram messages.
Managing Instagram DMs can be a tough act to follow, especially when you own a business page on Instagram and receive tens and thousands of Instagram messages on a daily basis. Under such circumstances, some people prefer to get a hand from the best Instagram DM apps while others would rather stick to the original app.
Hence, if you're looking for a way or organize your DMs, we are here to tell you how to filter Instagram messages and sort them in a more advanced way, from any device, and without a business account. But if you don't wish to wait any longer, click here to get to the instant solution!
How to Sort Instagram DMs
If you're a business owner on Instagram or an influencer doing influencer marketing on this platform, you have been through the trouble of organizing your Instagram messages. Sometimes, you would have to spend hours finding a message in your DM inbox.
In this case, you can sort your IG DMs into two categories: Instagram general messages and primary ones. This way, you'll be given the opportunity to check Instagram messages with more ease.
However, bear in mind that this feature is only available for Instagram business accounts. At the end of this article, we will present a solution for those with personal accounts who wish to give a little order to their DM inbox as well.
But for now, let's focus on the difference between primary and general in Instagram DMs.
How to Get Primary and General DMs on Instagram
Well, as mentioned above, Instagram lets users with a business account filter their Instagram DMs by importance. Meaning that if you are running a business on Instagram and get tons of direct messages every day, you have the ability to sort your messages into 'General' and 'Primary' ones.
But what are these separations for, how to get primary and general DMs on Instagram, and how do they help to manage DMs more professionally?
Well, the general messages on Instagram are the ones that are less important and you want to reply to or read whenever you have time. Actually, when you mark a conversation as general, you will not receive any notifications from the sender. So, if your DM notifications are on, you'll just receive notifications for the conversations that are marked as 'Primary.' But how to mark a conversation as general or primary? Easy! Follow these steps:
Tap and hold the conversation you want to move to the general or primary inbox.
Tap on 'Move to General' if it is in the primary inbox and in the other case, tap on 'Move to Primary'. Also, by tapping on the select icon on the top right corner of the screen, you have the chance to select multiple conversations and mark them all as general or primary simultaneously.
That's it! Your messages have been sorted by their importance and now, you'll just get notifications from the ones that are marked as primary!
However, as we said, this just works for the ones who have a business account! How to filter Instagram messages without a business account and also how to sort and filter them by the reading status? We will find out!
Now that we have meticulously covered how to turn on general messages on Instagram and the difference between primary DMs and general ones, let us now delve deep into how to filter your IG DMs.
How to Filter Instagram Messages
Instagram's new feature allows you to filter your direct messages based on three factors: whether they are read, answered, and flagged or not. Indeed, general messages on Instagram and primary DMs will remain separate even when you use these filtering options.
Here's how to filter Instagram messages:
Go to your DM inbox on your Instagram business profile.
Tap on 'Filter' at the right upper corner of your screen.
Now, you can choose the way you wish your IG DMs to be filtered and ordered. 'Unread' DMs are the ones you haven't opened yet. 'Unanswered' messages are the ones you have read, yet not responded to. Finally, 'Flagged' DMs are the ones you have bookmarked.
Pro Tip: In case you wish to have your messages the way they were before, in other words, ordered as primary vs general in your Instagram dm inbox, simply follow the same steps and click on 'Clear' in the last step.
How to Flag Messages on Instagram in 2022
Another way to filter and organize your DMs is to flag them. Imagine you have a few important messages from your clients in your inbox and don't want to miss them. In this case, you can flag or bookmark them to separate them from all other DMs in your inbox.
Then, you can see them all at once by using the instructions given to you in the previous section.
Here's how to flag messages on Instagram:
First, go to your DM inbox.
Then, tap on a DM thread and hold it until the options are revealed.
Next, tap on the 'Flag' option.
Finally, your DM thread is flagged! You must see an orange bookmark at the right upper corner of your DM.
Well, we have now demonstrated how to get general and primary messages on Instagram, and how you can sort and filter your DMs. However, all these ways will work only if you have an Instagram business account. 
In other words, there's no way for you to organize your messages in a personal account using the official Instagram app. But don't worry! We've got you covered on that too! Read on to find out how!
How to Filter Instagram Messages Without a Business Account
As described in the previous section, you cannot sort and filter your Instagram direct messages by their status using the official app. Additionally, if you don't have a business account, you cannot even mark your messages as primary or general! So, how to filter Instagram direct messages in order to manage them like a pro?
Well, this can be done using an intriguing management tool like AiGrow.
AiGrow is a professional package of tools that lets you manage and grow your Instagram account in an amazing way. Actually, using this professional tool, you can:
Schedule Instagram posts and stories
Create all-in-one bio links
Manage and send DMs in an email-like environment
And more. But now, let's go back to our main question! How to filter Instagram messages using AiGrow? Well, using AiGrow you have two different options for sorting and filtering messages. One of them is using the app, and the other one is connecting your Instagram DM inbox to your email. In the following, we show you how to filter your messages using both of these features. So, keep on reading.
How to Filter Instagram Messages Via AiGrow
To sort and filter your Instagram direct messages by their read status on AiGrow, you have to follow these simple steps:
#1 Create an Account
To start managing and sorting your Instagram DMs using AiGrow, first, sign up for free from here.
#2 Add Instagram Accounts
Now, tap on the 'Add Instagram Account' button and add as many accounts as you want to manage multiple Instagram accounts simultaneously.
#3 Manage DM Inbox
After adding your Instagram account(s), tap on the 'Manage Account' button to go to the AiGrow dashboard. Then, tap on the 'Inbox' tab under 'Direct Messages' to access your Instagram DM inbox and manage your messages. Finally, tap on the '-Select Filter-' button and choose the filter you want. You can filter your message to the ones that are read, unread, and sent.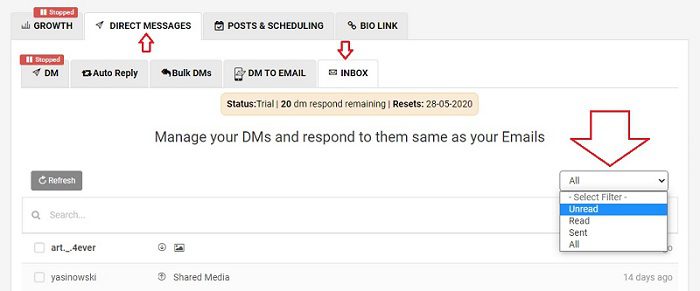 Also, you can read and reply to your messages from here. So, go ahead, create an account for free, and filter your Instagram messages.
How to Filter Instagram Messages Via Email
Actually, the feature we have talked about in the previous section is amazing and lets you manage all your Instagram messages professionally. But AiGrow has a 'DM to Email' feature that not only lets you manage, sort, and filter your DMs, but also lets you check, send, and receive your messages just by using your email inbox, without opening the Instagram app or any other apps. So, let's see how it works and how to filter Instagram messages just by email!
#1 Connect DM to Email
After creating a free account on AiGrow, adding your Instagram account, and going to the dashboard, tap on the 'DM to Email' tab. Then, add your Email address to the intended Instagram account and change the status to 'Active'.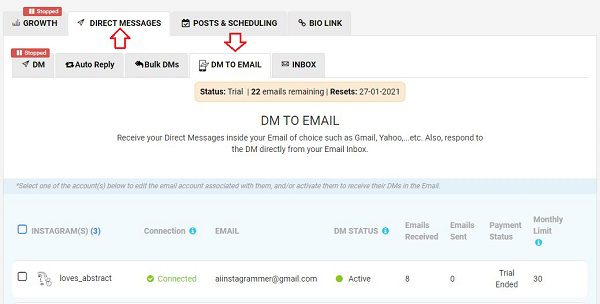 #2 Confirm Email
After saving the changes, AiGrow sends you a confirmation email. Go to your email inbox and confirm your email address.
#3 Sort and Filter Messages
Well, that's it! From now on, whenever you receive a direct message on Instagram, you'll receive an email containing the DMs you have received on Instagram. Here, you can sort your messages, filter them, mark them as unread, and also read them without being seen.
So, sign up for free right now and try filtering your messages in your email inbox.
FAQs on How to Sort and Filter Instagram Messages
So far in this article, we've provided you with a comprehensive answer to all of your main questions such as what is primary and general in the Instagram DM inbox and everything you need to know about organizing your IG messages.
Now, let us work on some of your most frequently asked questions.
#1 Why Can't I See My General Messages on Instagram?
First of all, make sure you have switched to a business account already. If you have a private account on Instagram, you won't see this categorization.
However, if you have a business account and yet don't see Instagram primary vs general categorization, you should consider clearing your Instagram cache. More often than not, this will fix the DM glitches.
#2 Can You Mark an Instagram Message as Unread?
In short, yes. Sometimes we accidentally open a chat thread but don't have the time to respond and forget to respond later on as well. Instagram has now enabled you to mark these DMs as unread so that you don't leave your clients' or friends' DMs unanswered.
Here's how to mark an Instagram message as unread:
Go to your DM inbox.
Tap on a DM thread and hold it.
Tap on 'Mark as unread'.
Wrap Up
To sum it up, sorting and filtering Instagram messages is an essential step that must be taken to avoid missing messages and keep in touch with your followers, customers, or even friends. However, Instagram just allows business accounts to filter their messages by their priority (primary and general in Instagram DMs) and not by the read status.
So, in this article, we introduced AiGrow as an all-in-one app that lets you sort, and filter your DMs without having a business account effortlessly and hassle-free. Read the article carefully, try the mentioned tips, and leave us a comment if you have any questions! 🙂