The realm of music is loaded with well-known faces, especially on Instagram. Using these music influencers on Instagram is one of the top ways to drive brand engagement with influencer marketing!
Out of the top 20 most-followed pages on the platform, almost half are musicians. No one can deny the power of music in all aspects of our lives, from listening to indie rock on hot summer nights to singing along with a commercial jingle on TV. Top music influencers on instagram have the same power if you want to promote your products in collaboration with top music influencers!
While many use music on Instagram just for fun, many musicians make money on Instagram. On top of the list, music influencers on Instagram are doing a great job making loads of money. But we all know that money does not grow on trees.
Don't worry; some useful tips and tricks will help you be among successful music influencers on Instagram or partner up with them in the right way. For instance, you can use the Ainfluencer Instagram marketplace to get fabulous results!
Whether you want to become a music influencer or promote your brand/client using music influencers, reading this article will help you achieve your goals. So, sit tight and read till the end. Here's an infographic to take a glance at: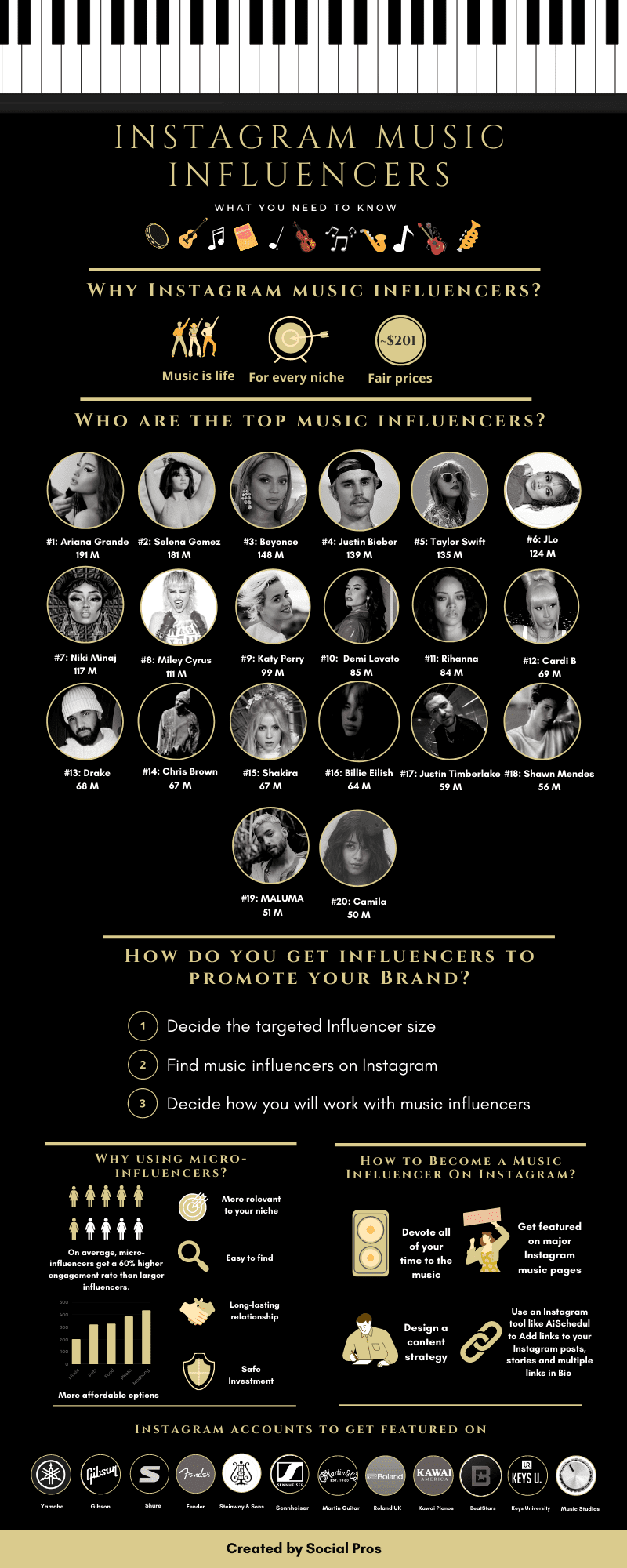 Who Are Music Influencers On Instagram
Some people think music influencers are only those most-followed well-known singers on Instagram; however, that's not entirely true. Apart from those celebrities, anyone who seeks the audience in music fans or the music industry can be a music influencer on Instagram.
For example, if someone can promote headphones, Bluetooth speakers, or musical instruments on an Instagram page, she can be a musical influencer.
Moreover, a music influencer might be a young artist who tries to expand his fanbase by promoting musical instruments or even writing a commercial song for a company. Those artists who make a name on Instagram soon become a target for all sorts of companies to promote their services and products, even if that item does not relate to music at all.
How To Find Top Music Influencers On Instagram
In terms of finding a list of music influencers, there are different ways. But as a marketer, if you want to find different types of influencers and contact them easily you should use Ainflunecer's marketplace.
However, you may find the best music influencers by Googling their niche. Moreover, you are able to find them by searching related hashtags on Instagram that musicians or music influencers use in their captions.
Why Are Instagram Music Influencers Essential
You may have some doubts about using music influencers or starting a career being a music influencer; let me tell you why music influencers can do a great job on Instagram.
The first thing to consider is that music is compelling and popular. Based on some studies, American millennials spend an average of five hours per day listening to music. The popularity of music on social media is unquestionable; many Instagram posts and stories contain a song. Here's how Dior uses the combination of Sia's voice and Natalie Portman's face to promote its perfume:
Related article: How to add music video on Instagram?
Looking at the average price per Instagram post, we see that music is among the top ten niches and music Influencers on Instagram make an average of $201, a typical price for a micro-influencer. Of course, macro-influencers get much higher rates, not to mention highest-earning Instagrammers such as Ariana Grande receive almost one million dollars per post.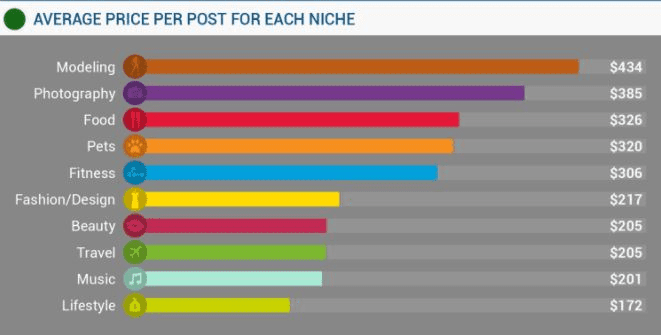 Another important fact to consider when it comes to music influencers is that they can promote pretty much everything. As mentioned above, the products that music influencers promote on Instagram are not necessarily related to the music industry.
Music influencers can support anything from food and drinks to cosmetics and clothes. The next part will see some examples of music influencers, celebrities, and non-celebrities promoting a wide range of products and services.
Who Are The Top Instagram Music Influencers
In this part, I listed some examples of the most successful music influencers in three categories: mega-influencers (aka celebrities), macro-influencers, and nano influencers, to see how they promote different brands. Here you go:
Mega Music Influencers On Instagram
Mega-influencers are those influencers that have more than one million Instagram followers. The following listed the biggest music influencers of all time; celebrities who we almost know all. These mega-influencers only partner up with major brands because only they can afford them, of course!
Now take a look at the list of instagram music influencers.
For years, Selena Gomez's page was the second-most followed account after @instagram. Also, she is one of the best music influencers on Instagram! Selena works with many brands, such as Puma and Coach. She currently has 348 million followers.
With over 332 million followers, the first one on the list is the 29 years old pop star, Ariana Grande. This superstar constantly shares selfies, concert images, and videos of her upcoming music videos.
#3- Beyonce – 276M Followers
With 276 million followers, Queen B ranked third among mega music influencers on Instagram. Beyonce works mostly with sportswear, such as her own clothing line, IVY PARK. She has another record on her Instagram profile by having the most-liked post in 2011 when she gratefully announced that she is expecting her child.
The number of "Beliebers" on Instagram is now exceeded 256 million! JB constantly shares photos of his family, holidays, and social events.
If you want to read funny captions and see lots of photos of cats, Taylor Swift's Instagram page seems like a perfect match. Tay Tay has one of the most creative Instagram pages among musicians as she publishes all sorts of entertaining content like her childhood and behind-the-scenes pictures.
223million people follow JLo on Instagram. She shares her moments of dances, music videos, fitness exercises, and of course, family on her Instagram page.
Finally, the first rapper on the list! As she called herself "Barbie," Nicki Minaj holds the seventh position on our list of mega music influencers. Her page is filled with selfies and a lot of pinks!
Miley Cyrus' Instagram page has more than 183 million followers. On this former Disney star account, you will see many of her favorite gestures, tongue out. When you've insured your iconic tongue for £1 million (no kidding), you get to use it a lot and maybe for commercial purposes.
#9- Katy Perry – 173M Followers
With approximately 173 million followers, the exotic Katy Perry shares the sparkle of her firework life with her fans. Just like Miley, Katy has a unique way of communicating in the virtual world.
#10- Cardi B – 162M Followers
Female rappers are all the rage these days! Cardi B hosts almost 69 162 million followers on her Instagram page. She shares family photos and videos of herself rapping!
Demi Lovato is another Disney star on our list of mega music influencers with more than 140 million followers. Demi works with many clothing brands.
#12- Rihanna – 136M Followers
Bad gal Riri shines like a diamond in the vast sky on Instagram. Eighty-four million followers prove that Rihanna's character and beautiful voice, and face are enough to make you stay on her page. Riri regularly partners up with cosmetics brands.
#13- Drake – 121M Followers
The Canadian rapper drake holds the second most-followed male singer on our list of popular mega-influencers of music. Drake promotes products that go with his style. Surely for being able to afford Drake, brands have to work, work, work, work, work, work.
The next person on the list is Chris Brown. The international love for Chris gained him more than 121million followers. That's how Chris promotes a product on Instagram.
#15- Shakira – 76.2 Followers
This one is for Shakira! Well, 76.2 million people are Shakira's instagram followers because surely they all always really knew that she could dance like this! The incredible Colombian dancer runs her Instagram page in the most vibrant way. Shakira continually posts about her latest songs and live performances in English and her mother tongue, Spanish.
Related Article: Top Instagram Dancers To Follow In 2020
Surprised to see her on the list? Did you really think people won't follow a 21-year-old talent when she has five Grammys? Dah!
Justin Timberlake can make 66.4 million people laugh with his unique sense of humor, both in her videos and photos. JT's Instagram is just like a mirror of his real character.
The young Canadian singer no longer needs stitches because he got more than 70 million followers and a pretty girlfriend on our list of most popular mega music influencers.
#19- MALUMA – 62.9M Followers
MALUMA is another popular Colombian pop singer on our list. With 62 million followers, many brands seek better opportunities by working with this stylish singer.
#20- Camila – 65.3M Followers
Camila is killing it on Instagram by uploading cute photos and some
influencer content on the way. By the way, you can just call her senorita!
Macro Music Influencers On Instagram
Generally speaking, those influencers who have between 50k and 1 million followers are considered macro-influencers. They might not be as famous as celebrities, but they still can make marked differences in advertising.
It's worth mentioning that many of these people got famous by posting videos on TikTok, the popular platform that allows you to share short music videos.
Here's the list of some of the successful macro music Influencers on Instagram:
8- MAUDE – 230K Followers
10- Samtompkinsuk– Music Influencers UK, 530K Followers
Micro Music Influencers On Instagram
If you have followers between around 5k and 50K, you are among music micro-influencers. These types of influencers are like a gold mine. Why? Let me explain it in the next part when I talk about finding and working with Instagram influencers. Now, take a look at the micro music influencer directory:
2- Drew Tuá – 54.8 Followers
3- NKIRA – 63.6K Followers
7- BAY – 38.2K Followers
How Do You Get Influencers To Promote Your Brand
Now, that you saw a list of mega, macro, and micro top music influencers on Instagram. You know how effective it is to collaborate with influencers.
Using a music influencer on Instagram is helping you to grow your business, it's time to dive into the process of employing them. To effectively run your influencer campaign, you need to take these three steps:
Step One: Decide The Targeted Size.
This step depends highly on your budget. Like many other brands, you may not afford the top Instagram influencers like Beyonce or JB, but that's fine; you gain the same result using influencers with a smaller number of followers. I highly recommend that you start with micro-influencers and establish a long-term relationship with them. You might be thinking I say this because of the budget issue, but it's really about gaining more Instagram engagement. Let me go further a little bit.
Why Using Micro-Influencers
There are numerous reasons why you should consider micro Influencers and be happy to work with them. Here's why:
1- Incredibly Higher Engagement Rate
On average, micro-influencers get a 60% higher engagement rate than larger influencers. Surprised? Well, it's true. It makes sense when you think about it. Micro-influencers have a close-knit community that follows them by their heart. They usually trust them more than celebrities. And that's exactly why even large companies consider Instagram micro-influencers as the key part of their strategies.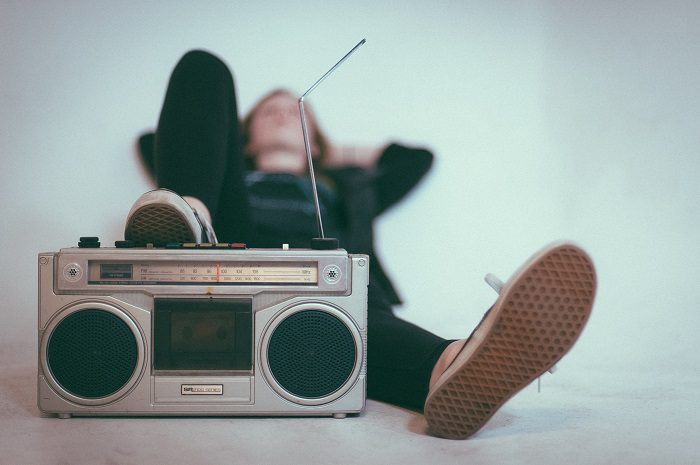 2- More Affordable Options
Back to the budget issue, money matters! Although ads are not costs but an investment, you can not ignore other important aspects. Although micro-influencers don't have famous faces, you can still get great results from them.
3- More Relevant To Your Niche
How much are your chances to find a mega-influencer who is a music journalist? Well, not that much. The beauty of working with micro-influencers is that they come with any niche that you desire! From hip hop influencers to emo rock bands.
4- Easy To Find
Well, music is a way of life and a fiery passion! There are countless people out there waiting for an opportunity to build their influencer careers. That makes it easy to find them. How? Keep reading to find out.
5-Long Lasting Relationship
Micro-influencers tend to hold on to their relationships with brands. So, working with them, you don't have to be constantly worried about your next influencer.
6- Low-Risk Investment
If you are not happy with your results with a particular, you can quickly move on to other music influencers on Instagram. As mentioned before, the average price for music influencers is around $200.
Now that you have a better idea of micro-influencers, you can decide whether to use them or partner up with macro or mega-influencers. Let's move on to the second step.
Step Two: Find Music Influencers On Instagram.
So it's time to find your influencer! You can take a look at the list that I provided you. But if you cannot find anyone or if you prefer to dig deeper, you can take a look at websites such as Songinfluencer or a more comprehensive one such as Ainfluencer.
Step Three: Decide How You Will Work With Music Influencers
Here comes the most challenging step. After narrowing down your options and negotiating with them, it's time to decide what type of content you want them to produce for you. It can be a jingle for your brand, a super cool photo of them using your product, or a simple Instagram Story that mentions your page.
How To Become A Music Influencer On Instagram
It's the influencers' turn! By far, I mostly talked about top music influencers on Instagram for brands, but from now on, I will explain how to become a successful music influencer on Instagram. So, here we go:
1-Devote All Of Your Time To The Music
If you are a musician, you're probably passionate and also an expert in music already. Also, you must have good knowledge of using music production software. But if you don't have a background in music, you should devote a tremendous amount of time to understanding this popular industry better.
Although it accounts for the most critical music aspect, listening to the songs is not the only way to become an expert in the world of music. You have to develop a habit of engaging in all aspects of music, from listening to all types of songs and going to live concerts hesitating, crossing the street to see music busking.
For example, if you wish to pursue a career in music journalism, you need to broaden your knowledge by reading loads of music journals and magazines and writing a lot about music.
2-Design A Content Strategy
To get sponsors on Instagram as an influencer, the most attractive part of your Instagram must be your content. Because that's what your sponsors will really pay for. Outstanding content can make a mark difference between you and your competitors. So, don't overlook the importance of what you publish on Instagram, and remember every post and Story matters.
To have an Instagram page with creative and attractive content, you can use some or all of these approaches in the following:
Write And Talk About Music
Like a beauty influencer who examines and leaves comments on the latest beauty products in the market, you can also express your thoughts and feelings about the latest songs and share them with your followers on your Instagram page.
Share Pictures And Videos Of Musicians
By sharing videos and pictures from singers and tagging them on the post, you use their popularity to gain more followers. Believe it or not, some influencers only publish high-quality content about musicians on Instagram and have thousands of engaged followers.
If it's possible, you can even manage interviews with some of the musicians in your area!
Publish At The Right Moment
You may have noticed that certain content gets more likes and comments compared to others. Besides the quality of posts and captions, publishing the posts at the best times is essential in designing a content strategy.
The best time to publish Instagram posts depends on many factors and varies from country to country. Instagram Insights is a useful tool that can assist you in indicating the best times to publish posts.
If you've already owned an Instagram business account, you are familiar with the term. But for those who don't, Instagram business accounts enable you to see some handy stats about your page, such as saved and shared posts, demographic features, and when you receive the best engagement from your posts.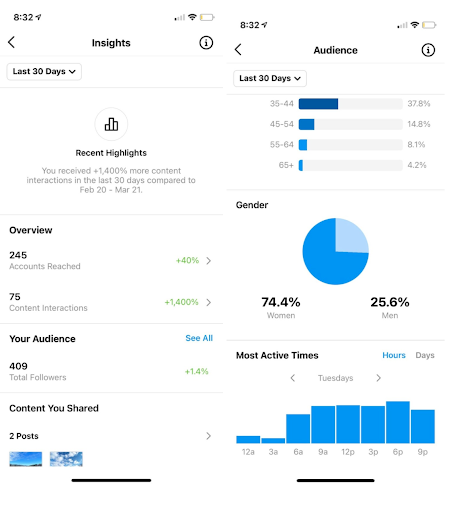 As you may be busy on those specific days, you might not be able to design images, write captions, and publish them at the time. The best alternative for you is using Instagram schedule tools.
Ainfluencer Instagram marketplace
An Influencer marketing campaign, also known as influencer marketing, uses an influencer's natural charisma and following to promote their brand name. Brands that use influencer marketing programs can hope to appeal to fans of a particular niche.
According to mediakix, a 2021 survey revealed that almost 90% of Instagram users believe that influencer marketing is the most successful method of marketing products on Instagram.
First and foremost, it's important to be aware of the value of working with a great influencer. In addition, you should remember that the bulk of the success of your influencer campaign depends on targeting the right content creator. It is vital to mindfully consider some insights and metrics (Key Performance Indicators) before acting.
Calculate your expected ROI. This is probably the most important KPI to consider.
Set clear goals that allow you to assess your progress over time.
Last but not least, you might not find your perfect content creator right away but it is important to stay focused and keep looking.
At Ainfluencer, we also understand that proper Influencer targeting prompts countless questions. "how do you find an influencer who suits your Instagram ambassador programs the best?", "what would be the most effective way to contact them?", "will they accept your offer?"
All you can do to target the right content creator, make the right offer, and everything else can be found on Ainfluencer.

An influencer marketplace exists outside of Instagram that provides excellent options. Ainfluencer is not only that, but it also serves as a platform that features useful functions to help with your Influencer program. Above all, it is free, so you won't have to be worried about surprise budgeting concerns when setting up your influencer program.
Let's watch how Ainfluencer makes an Instagram influencer program and ads on marketplaces easy and fast.
Finally, to make your profile visitors touch the following button, you need to take care of your page's aesthetic. Here's an example from Thatviolakid's Instagram page. Look how he manages to maintain the balance between about three colors: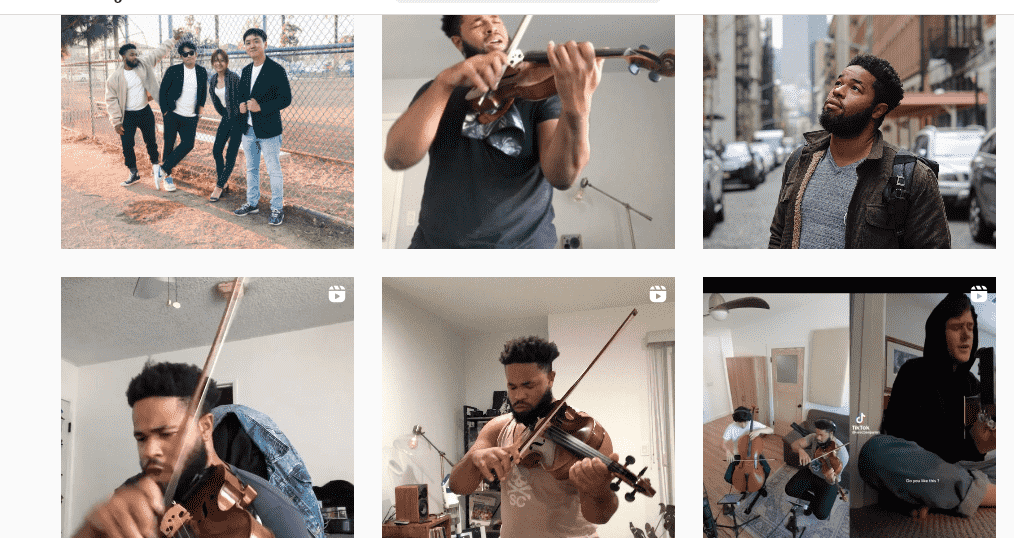 3- Make The Most Of Instagram Bio
Instagram bio is one of the most important parts of your page as an influencer. You describe yourself, what to do on your bio, add external links, and add a category label. Optimize this part to have the best Instagram bio to get followers using ways like:
Be Informative And Concise
You only have 150 characters to write on your bio. Then better use it in the most creative way to gain your followers' attention. After all, you want to show them that you are one of the coolest music influencers on Instagram!
Add Multiple Clickable Links To Your Instagram Bio
Instagram just allowed you to put one external link on your Instagram bio.
You can add multiple clickable external links to your Instagram bio. By using the AiSchedul Instagram management tool you can easily add multiple bio links by using its bio link feature. If you have an active YouTube channel and the website you can use AiSchedul for free and then you are able to have multiple links in the bio. Also, AiSchedul has lots of other features. Sign up on its dashboard and use them for free.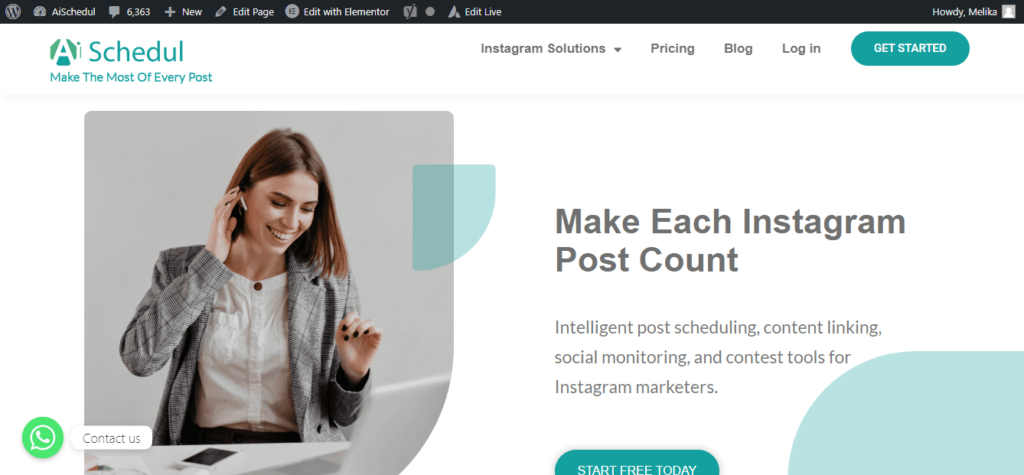 4- Get Featured On Major Instagram Music Pages
Getting featured on major pages is the dream of all the music influencers on Instagram. If you try your best, you can be one of those lucky accounts with a chance to be on great music-featured accounts. If you want to know how to do this job correctly, read How to get featured on Instagram – 2020 update.
For music influencers on Instagram, who also play instruments, the excellent idea is to get featured on music instrument brands. Take a video of yourself playing and send it to your instrument's brand page on Instagram. Here is a list of pages that might get you featured:
FAQs
Take a quick look at questions that people also ask about music influencers on Instagram.
#1. Who Are Top 10 Music Influencers On Instagram?
Selena Gomez
Ariana Grande
Justin Beiber
Beyonce
Taylor Swift
JLO
Niki Minaj
Miley Cyrus
Katy Perry
Demi Lovato
#2. Who Is The Most Popular Musician On Instagram?
The most popular music influencer on Instagram is Selena Gomez and Ariana Grande.
#3. Who Is The Most Paid Influencer?
According to Hopper HQ, a social media marketing platform, Ronaldo earns the most per sponsored post than any other Instagram influencer.
Conclusion
When words fail, music speaks. If you are talented in playing music, singing, or knowing the latest trend in the world of music, Instagram can be a great place for you to thrive and make some extra bucks by becoming an influencer. Also, top music influencers on Instagram can make a big difference for brands too. So, don't lose the opportunity of using more of the music on Instagram!
Get started with Ainfluencer now!