Influencers have a unique role in Instagram marketing strategies. As the name suggests, they use their influence to promote products, services, and events related to their Instagram niches. Actually, these professionals collaborate with companies to help them market their brands. Also, mom influencers have successfully found a way to promote a business or event related to their lifestyle and niche to boost that business's reputation.
If you are a mom dedicating so much time to your cuties, it is a good idea to share your precious experiences with moms who are having their babies. In this case, you can help moms to be and also attract businesses' attention to yourself and bring the bacon home.
Here are the top 5 mom influencers and how they make huge bucks of their impact.
So, let's dive in.
You May Like:
Top 5 Mom Influencers on Instagram to Follow
Mom influencers are the latest rising star in social media. Actually, the mothers and daughters of the world have established a considerable influence on their communities.
Here are the top 5 mom influencers on Instagram that you can follow and get the best ideas:
1. Chiara Ferragni (22.5M Followers)
Chiara Ferragni is an Italian entrepreneur, influencer, and designer who has collaborated with many fashion and beauty brands. Firstly, she got famous for her Instagram blog, Blonde Salad. In September 2017, she was ranked first on the Forbes "Top Fashion Influencers" list. Chiara is one of the highest-paid fashion influencers now, making about $8 million a year. Also, she is a shoe line owner, which brings her the most of her income.
In May 2018, Footwear News mentioned her as one of "the most influential moms in the fashion industry."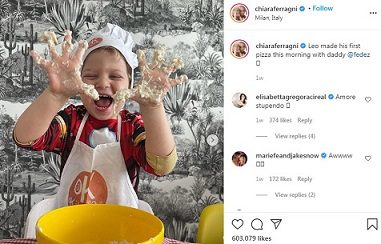 2. Colleen Ballinger (6.9M Followers)
Colleen is an American actress, comedian, singer, and writer. She got famous for her Internet character Miranda Sings, posting videos of the character on YouTube. Also, she won a Teen Choice Award for "Web Star Comedy" and a Streamy Award as Best Actress. Besides, The Hollywood Reporter picked her as one of its Top 25 Digital Stars. Additionally, she was one of the top entertainment influencers of Forbes magazine's 2017 list.
Colleen Ballinger, as a mom influencer, has performed many shows and performances for children. For instance, she gave a talk at the Boston Children's Theatre about using social media to promote yourself as a performer. Then, she began touring a Miranda show titled "Who Wants My Kid?".
Above all, She has been noted as a YouTuber who is "a good influence on kids."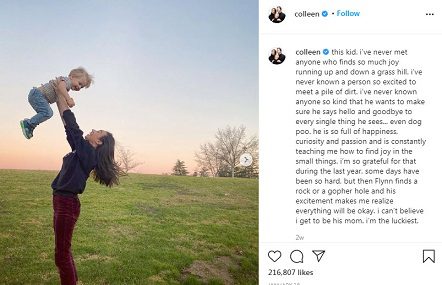 3. Lauren Conrad (6M Followers)
Lauren Conrad is a television personality, New York Times bestselling author, fashion designer, and philanthropist. Also, she has authored nine books, including L.A. Candy and The Fame Game trilogies. She is a successful mom influencer on Instagram. Besides, Lauren is the founder of Little Co. by Lauren Conrad, her new line of infant and toddler apparel. Additionally, she writes and conducts podcasts about parenthood on Instagram and her website laurenconrad.com.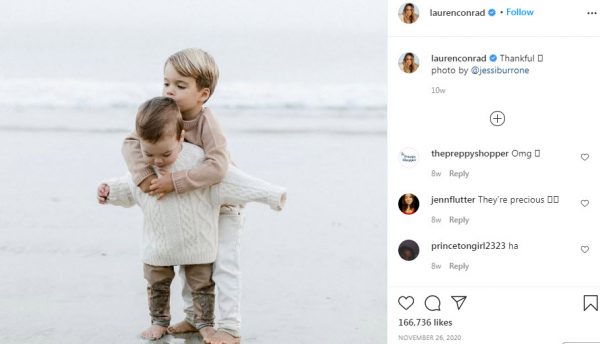 4. Kristin Cavallari (4.1M Followers)
Kristin Cavallari is an American actress, television personality, and fashion designer. She played on the popular MTV reality television series Laguna Beach: The Real Orange County and rose to fame in 2004. Also, she is the founder and CEO of @uncommonjames for jewelry and @littlejamesclothing for the little one in your life. Additionally, she has been three times Bestselling Author @nytimes.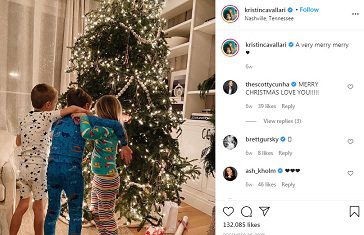 5. Stacey Solomon(4M Followers)
Stacey Solomon is an English wife and mom Instagram influencer. Actually, she is a singer and television personality and Mummy to 3 amazing pickles. Also, she is the author of the book, Tap to Tidy. Stacy won the tenth series of I'm a Celebrity. Get Me Out of Here!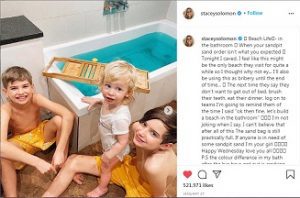 How to Find Mom Influencers on Instagram
There are numerous mom influencers thriving on social media platforms, particularly on Instagram, and there are several methods you can employ to discover and engage with them. One of the most effective approaches is through influencer marketing platforms like Ainfluencer.
Ainfluencer serves as a valuable DIY influencer marketing platform, offering a vast pool of over half a million influencers eager to collaborate. Among this extensive network, you'll find a multitude of mom influencers who are sharing their experiences and expertise.
To begin your journey, simply sign up for free on Ainfluencer and extend your collaboration offer. The influencers will promptly engage in negotiations to finalize the terms of the collaboration.
Additionally, Ainfluencer provides an advanced search tool, enabling you to filter influencers based on specific criteria such as language, engagement rate, location, number of followers, and more. Should you have any queries or concerns, Ainfluencer's dedicated customer support team is always ready to answer your questions and fix the issue.
Why Companies Prefer Working with Mom Influencers 
Businesses are looking to tap into the influence of mom influencers to drive brand engagement with influencer marketing. Typically, mom influencers are the best choice for a company because they already use the product or have a reasonable opinion. This allows businesses to place their brand in front of a community that is very interested in it. Besides, parents' and moms' communities are usually the best choices for services and products.
Recommendations from other mothers can help a company gain new customers. By being a mom influencer on Instagram, a blogger provides her audience with insightful information that the audience is likely to find valuable.
Their children's toys, games, interests, and passions become part of their everyday lives. Social media helps them connect with their fans and form an ever-growing community.
How to Grow Followers as A Mom Influencer
Here are the ways to take the influence of your favorite mom influencers:
1. Communicate with Mom Influencers
One of the biggest challenges for top mom influencers on Instagram is keeping communication open. Mom Instagram influencers communicate and interact with their followers on Instagram and many other platforms. Being open and honest can help keep followers involved and encouraged to continue following the Mom in their lives.
Moms influencers love to share the ins and outs of their day and share their unique experiences with their most beloved ones. They share photos and videos from weddings or birthday parties, fun activities, and important events.
2. Make Content Creators Marketable
If you want to be a mom Influencer on Instagram, you must make content creators marketable. This includes ensuring that your posts are search engine friendly, so they show up regularly in search results. Actually, you can do this by writing unique content, including bio links back to your site, using popular hashtags, and making creative stories. Moreover, make sure that you share your posts and content with other mommies on Instagram as well.
3. Create A Functionary Online Store
Creating a store on the web is something that many online businesses dream of doing. Indeed, creating a functional online store takes a lot of work and time. It isn't easy to drive traffic and drum up sales on a website that does not have any follow-through. Also, many mom influencers are using the power of social media marketing in Facebook and Twitter to build stores that are both functional and stylish. As a result, they are making huge profits while spending less than $100 on tools. They are well worth the investment.
4. Look up to Your Favorite Mom Influencers
When a mom decides to become an influencer, one of the best ways to do so is by following other mothers' practices. Therefore, use your favorite mom influencers as a resource. They can provide you with ideas, stories, and ideas that you would not be able to come up with on your own. In return, these experts will help spread the word about your online business. Here, the best option is making DM groups with mom influencers on Instagram.
5. Grow Your Followers Instantly as a Mom Influencer
As a mom Influencer on Instagram, who takes much time caring for kids, it is tough managing to do all the tasks. AiGrow, helps you attract your target followers and an account manager takes care of all their tasks.
AiGrow, an all in one Instagram management tool, will assist you perfectly. You can add up to 80 accounts in your single dashboard and manage multiple Instagram accounts on PC and mobile.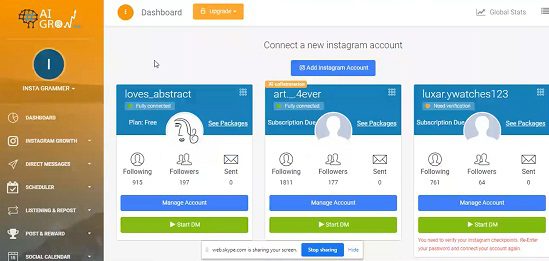 Sign up for free and boost your influence as a mom influencer on Instagram.
Final Words on Top 5 Mom Influencers on Instagram
The world of influencer marketing has changed drastically. The top companies in the industry spend millions of dollars each year hiring top-notch influencers to market their products. Business owners can easily take advantage of the top-notch content and design offered by these professionals. Besides, many of these professionals can take small online businesses and make them viral sensations. By hiring a knowledgeable, talented, and credible influencer in your industry, you will enjoy tremendous benefits for years to come.