This post will focus on Growthoid reviews, covering what Growthoid is, how it works, and what type of features it offers. As a result of reading this all-inclusive review, you will have a better understanding of the Growthoid Instagram growth service, its qualities, pros, and cons to decide more informedly if you want to invest in it or not.
We all know how difficult it is to choose the right service for your brand in a market filled with so many options and alternatives. But we are here to do our best and provide all the necessary information for you to make the right choice. The purpose of such reviews is to help you minimize the time and effort you put into your research to find the best Instagram growth services in 2022.
Here, I will also explain why AiGrow is a superior alternative to Growthoid. If you want more features and a professional management team behind you, AiGrow is your best bet. Continue reading this article to find out why!
Why You Need Organic Instagram Growth Services
There is no doubt that Instagram is a powerful marketing tool for today's businesses. With over one billion monthly active users, it is a must-have marketing platform for any brand and business.
However, winning the competition from your rivals and getting more followers on Instagram isn't as easy as it sounds. You need to produce high-quality content ideas for your Instagram marketing account, publish them at the best times, and constantly interact with your target audience to build trustable relationships with them over time.
Fortunately, a proven Instagram followers app can help improve your online presence more effectively and quickly than you could ever imagine. However, with so many third-party Instagram growth services and companies available on the market, all claiming to be the best, detecting those that will live up to their promises can be highly challenging.
You should be aware that many follower growth tools use illegal practices that go against the Instagram algorithm. Therefore, to help you choose the best Instagram account management service, we have created another review to analyze the Growthoid Instagram growth service from different perspectives. In this review, we will examine Growthoid to find out how it does by analyzing its strengths and weaknesses. Now, are you ready to jump in and see how it works?
What Is Growthoid
Interestingly enough, while searching for Growthoid to analyze the website in May 2022, we ended up on Thunderclap. (Thunderclap is an automated Instagram growth service. For more information, see our recent Thunderclap review here.)
The website is once again up at the time of this update. But not having access to the Growthoid official website, at least for a while, is a red flag, meaning the website had been closed and redirected to Thunderclap, which according to our previous research is nothing more than a scam.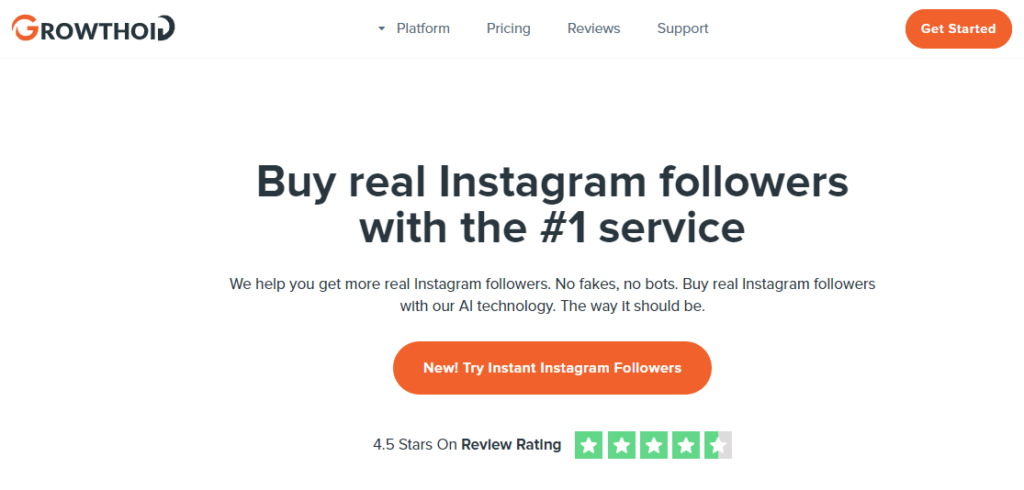 Based on recent negative reviews on Growthoid, we noticed that they have also changed their business model to one similar to Thunderclap. Therefore, their claim of growing Instagram followers organically without using bots or automation no longer holds true.
This time, Growthoid is back with offering you to 'buy real Instagram followers' which is really absurd! Obviously, Growthoid is an outdated Instagram bot that will provide irrelevant, low-quality fake followers.
How Does Growthoid Work
Growthoid says it has removed automation from its business model to provide manual growth for its clients. So, when you sign up for Growthoid, a personal account manager will be allegedly assigned to you to attract your target audience on Instagram and increase your reach with only organic and manual growth strategies.
Therefore, your account manager will manually search for users who share your interests based on your targeting instructions. However, many unsatisfied customers say otherwise and believe that using this tool brought many bots and irrelevant followers to their Instagram profiles.
Also, if you check out their website, you'll notice that they use 'auto-like', 'auto follow/unfollow', 'auto comment', and headings like these as an explanation for how the whole process is carried out. So, the account manager they boast about appears to be nothing but a traffic-drawing name.
To get started with Growthoid, you can:
Visit Growthoid.com,
Choose a package (Standard or Premium).
Enter your email and Instagram login info.
Pay up!
Key Features of Growthoid
Please take the following features with a grain of salt because the Growthoid official website is unavailable now. So, it is unclear whether these features are still available.
Dedicated Account Manager: Supposedly, this service will provide you with a dedicated account manager.
Growthoid Claims to Provide You with Relevant and High-Quality Followers.
According to Growthoid, Its Service Is Organic and Manual. Growthoid says that it uses absolutely no Instagram automation tool. Yet, they use AI tech to like, comment, and follow/unfollow automatically.
14-day Money-Back Guarantee.
Growthoid Pricing
Based on our online search, this service offers two packages (standard and premium) with a 14-day money-back guarantee. The features and price list for its monthly packages are as follows: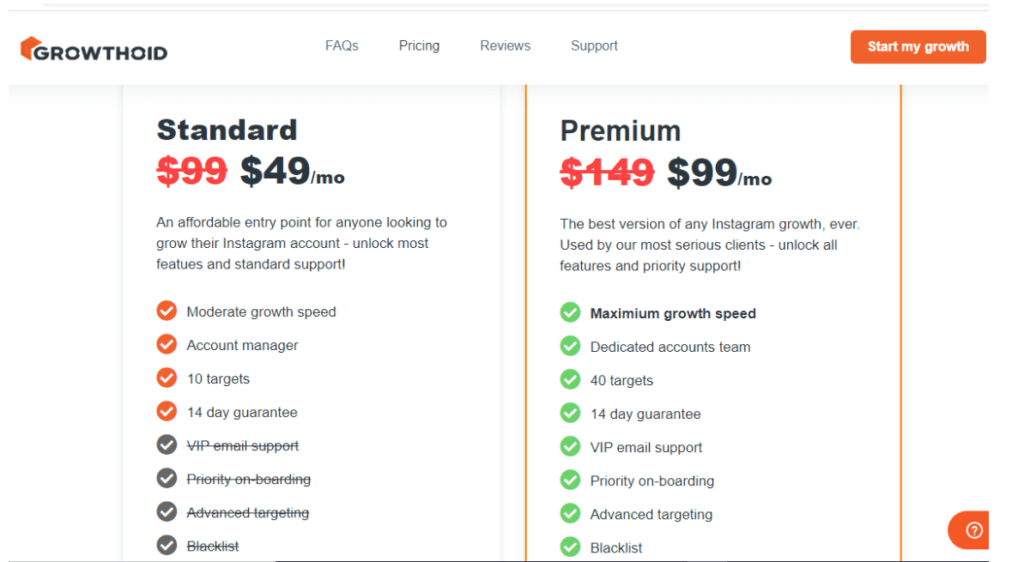 Growthoid Reviews
Any service provider can claim whatever they want. That's why we love hearing from their actual customers. Those who have tested the service, and are now expressing their honest feedback on credible review websites such as Trustpilot or Reddit. So, let's look at what real Growthoid users are saying about this tool.
Growthoid Reviews on Trustpilot
I searched for Growthoid Instagram reviews on Trustpilot. First, we saw this red banner that Trustpilot has detected misuse on their page. Obviously, Growthoid has abused the Trustpilot system by posting fake reviews on the site. Could you trust such a company to take care of your IG account growth?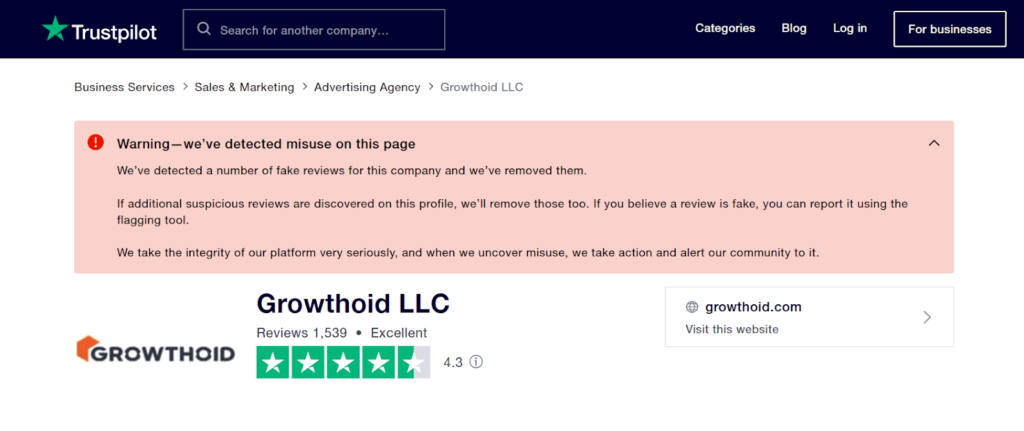 Moreover, many complaints have been made about Growthoid LLC recently that have gone unanswered by the company. In fact, the company replied only to 7 out of 193 negative reviews on Trustpilot, which is quite concerning.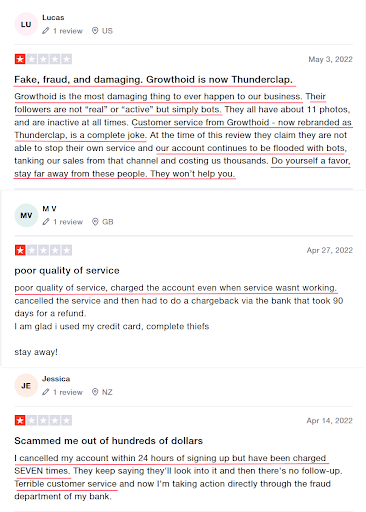 We cannot list all the Growthoid reviews from Trustpilot here, but the following are the most common complaints about the tool:
Growthoid reviews indicate that their customer service is very terrible.
Investing in Growthoid is a waste of time and money.
Canceling your membership or getting your money back is difficult.
In most cases, clients received bots or fake followers. Using the service also resulted in many Instagram accounts being blocked.
Growthoid reviews generally state that the website is a scam and not an efficient Instagram growth service.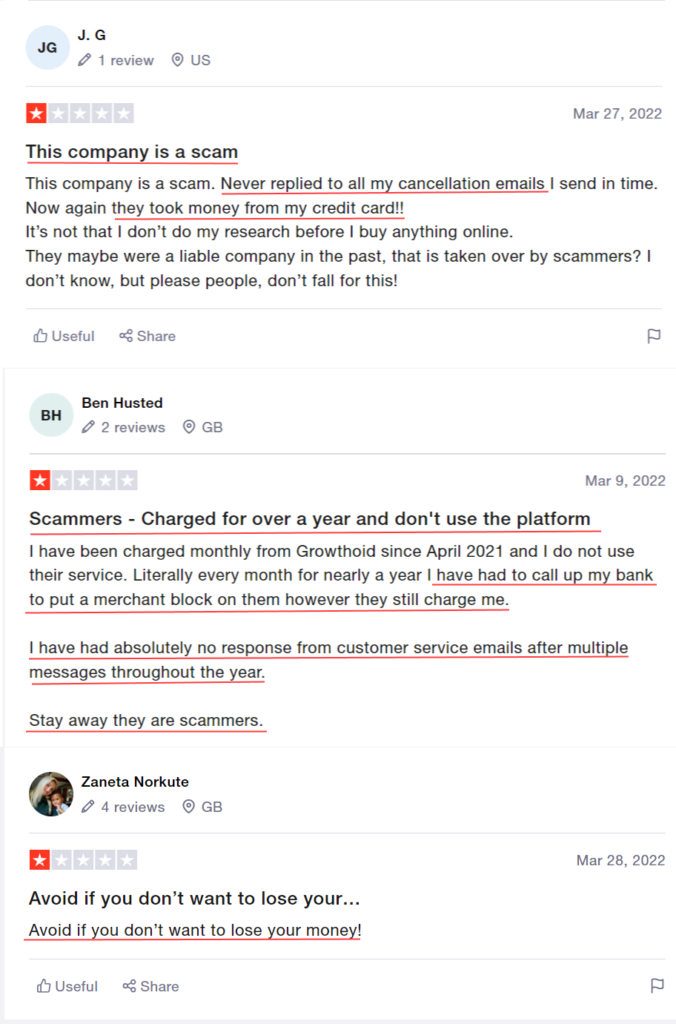 Growthoid Reviews on Reddit
Growthoid reviews on Reddit are not very positive either. Here is an example: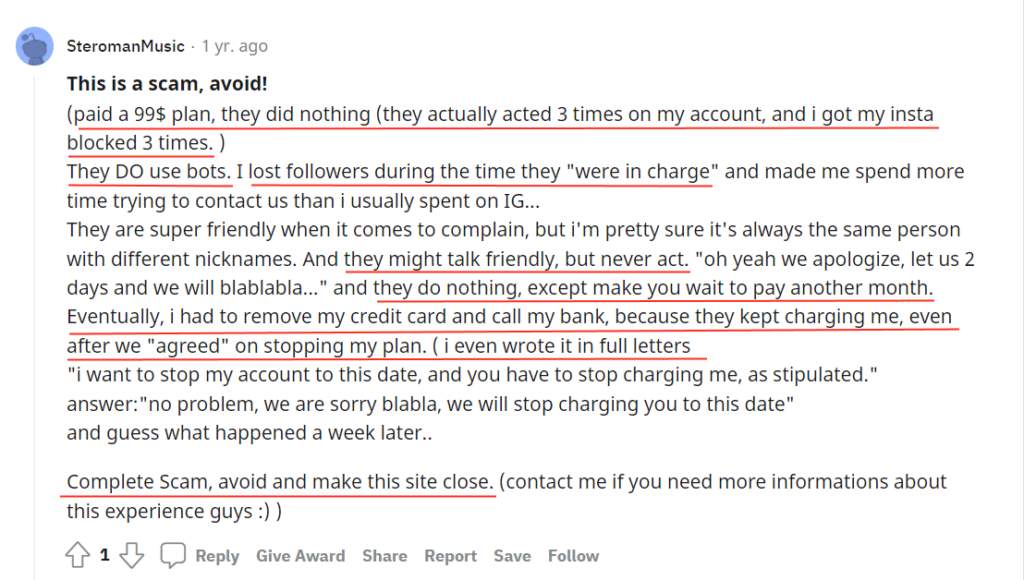 Can you see how similar these Growthoid reviews on Reddit are to those we read on Trustpilot? Generally, Growthoid led to unpleasant experiences and wasted its clients' time and energy. Therefore, if you want to avoid such negative experiences, it is best to stay away from this tool.
Let's see another one:

This user has stated in his Growthoid review that he used their services and gained no followers at all. He believes that Growthoid is a scam and is only after your money. Moreover, this Instagram growth tool doesn't seem to provide its clients with any refunds.
Below, you can hear from more customers and their experience with this company: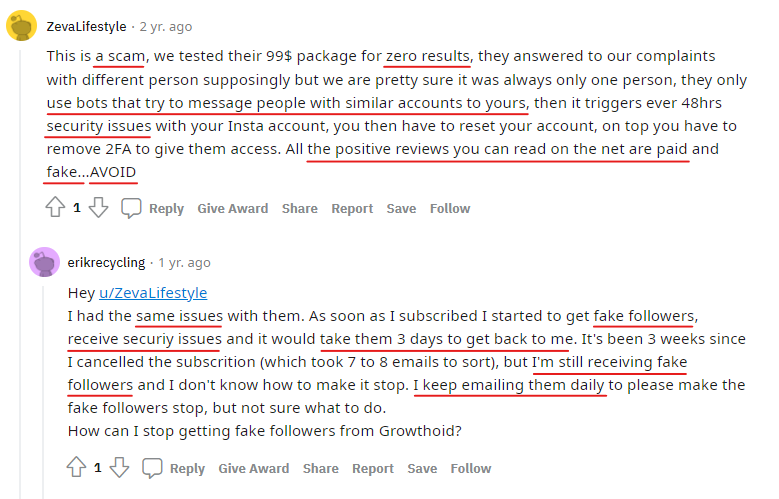 These two Growthoid reviews are indicators of the poor performance and unsafe services of this IG growth tool. According to them, they use bots to get you Instagram fake followers.
What's even worse is that their customer support team is not responsive and takes days to get back to you in case there's an issue. As you see in the first comment, the user even doubts if there's a real person behind those emails.
According to these Growthoid reviews which are left on Reddit, using this bot results in getting security alerts. In some cases, such as the one we've screenshotted below, it causes the total loss of your IG account!

Look how desperate this client is. Are you really willing to take such a huge risk only to get fake followers in the end? We suggest you take these Growthoid reviews on Reddit seriously, hear them out, and avoid such companies to prevent any trouble or damage.
Growthoid Pros and Cons
The following are some of the advantages and disadvantages of Growthoid:
Pros
It offers a 14-day money-back guarantee.
Cons
Initially, in May, our Google search for Growthoid led us to the Thunderclap website. This connection between the two services is weirdly suspicious.
It is more likely to be an Instagram bot.
There's a lack of options for pricing packages.
They provide no customer support for their clients. Often, you will not receive any customer support for days or weeks.
According to Growthoid reviews, many customers have been overcharged for using this Instagram follower tracker without seeing any results for their Instagram accounts.
Many people lost their followers when they started using the service.
Most customers received bots or fake followers despite their claims and promises.
Growthoid has many negative reviews on the internet that consider it a scam.
It can put your IG account in danger of being suspended or deleted for violating Instagram policies.
There are many fake Growthoid reviews and paid articles published in their favor.
Growthoid requires your Instagram password.
It is an outdated service that lacks advanced targeting/filtering options.
Only monthly subscriptions are available with this company
The company doesn't share any contact number, email, or address with the customers. This lack of transparency ignites the flames of doubt in the mind of every wise user, and makes them wonder 'is Growthoid legit?'.
Reasons Why We Don't Recommend Growthoid
We have already compiled a detailed list of the pros and cons of this IG growth company such as poor performance, not delivering on their promises, poor customer service, etc.
Yet, there's even more to be concerned about. Read the following section to find out.
#1 Growthoid Is Highly Suspicious
As mentioned earlier, their website was down not a long while ago when we first published this article. Back then, you would find Thunderclap instead of Growthoid.
Now, the official website is back again but there's another weird thing about it! Once you visit Growthoid's landing page, there's a large action button that says: 'New! Try Instant Instagram Followers'.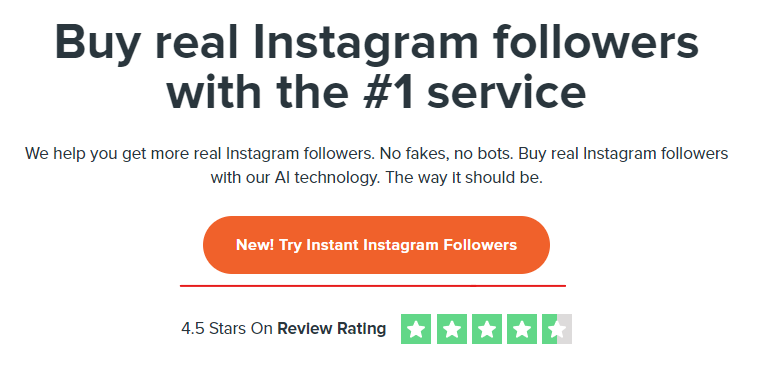 When you click on it, you'll be redirected to Useviral; another Instagram promotion service! What is this?! A sort of rebranding? Or do all these companies belong to one?! We don't know!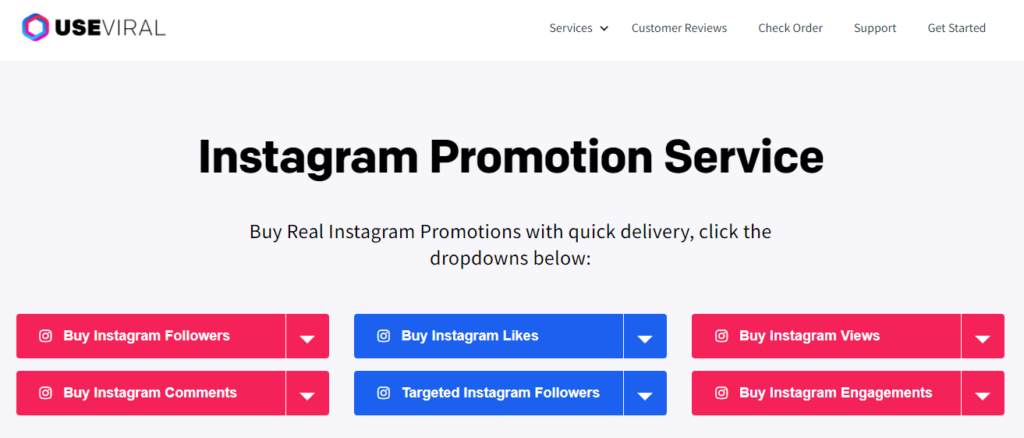 Under such circumstances in which there's no transparency regarding these suspicious activities of Growthoid, it's best to stay away from it for the sake of your brand's safety, reputation, and credibility.
Do we have an alternative for it? Of course!
AiGrow: The Best Alternative to Growthoid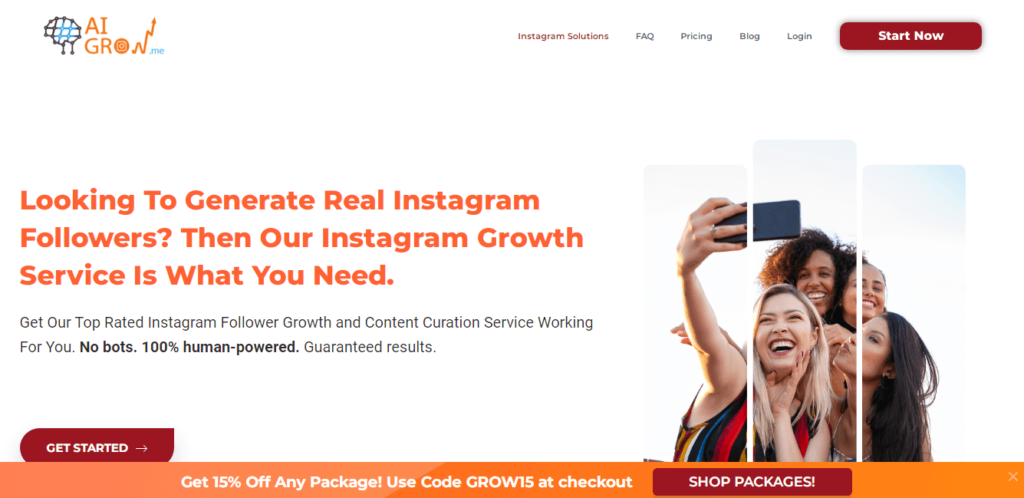 AiGrow is the best Instagram growth service dedicated to growing your follower count organically and safely. Once you have signed up with AiGrow, it assigns you a dedicated account manager who interacts with target accounts on your behalf and provides you with real followers. Moreover, its AI technology and advanced targeting methods will drive more qualified traffic to your page.
Employing this organic, manual Instagram account management service will give you peace of mind knowing that your IG account is being developed by a professional team concerned about your success and working honestly to achieve it.
AiGrow aims to increase your Instagram engagement rate because having a reasonable engagement rate is as important as having a healthy number of followers.
Guarantee your success with AiGrow right now!
For more information about this incredible service, check out our comprehensive AiGrow review.
How Does AiGrow Work
After signing up for free, you will go to your dashboard. It only takes a few minutes.

Click on 'growth' at the top of the dashboard and select the package that best meets your needs.
The next step is to specify your targets based on your niche, location, hashtags, competitors, or relevant accounts.
Then, AiGrow will connect you with its experienced team and increase your following and engagement on your Instagram business account. AiGrow's powerful AI-powered engine will provide a list of qualified, organic Instagram followers interested in your content. You can edit the list any time you want and enjoy watching your Instagram account grow organically.
Send an email to support@aigrow.me if you have any questions. AiGrow's customer support team can be reached at any time.
AiGrow Features
Now, let's jump in and learn about AiGrow's features:
A Dedicated Account Manager who is familiar with Instagram's terms of use. Moreover, your account manager will assist you in developing engaging content ideas for your Instagram marketing account and increasing your engagement rate.
Post Mate Feature: AiGrow has recently added this social media content strategy to provide clients with custom content creation and design plans to keep their Instagram pages fresh and relevant.
Instagram Giveaway Picker: This top Instagram giveaway picker will help run your giveaways on Instagram more effectively and choose random winners more fairly.
Automated DMs
Powerful Scheduling Tool: You can use this powerful tool to schedule your content automatically at the best times to post on Instagram to gain more views and likes.
Bio-Link Tool: This tool allows you to share multiple links on your Instagram bio.
24×7 Customer Support
Manual Growth Activities
Social Monitoring + Detailed Analytical Reports
Hashtag Generator Tool: Remember that including more relevant top Instagram hashtags in your posts will increase your chance of gaining more free Instagram followers who are interested in your content.
Managed Growth Plans
Mass Unfollow App: You can utilize this safe Instagram unfollow app to bulk-unfollow inactive and ghost Instagram followers.
Advanced Targeting Options
Post & Reward Tool
Instagram Post Deleter: This tool allows you to delete Instagram posts with a single click.
Content Repost Tool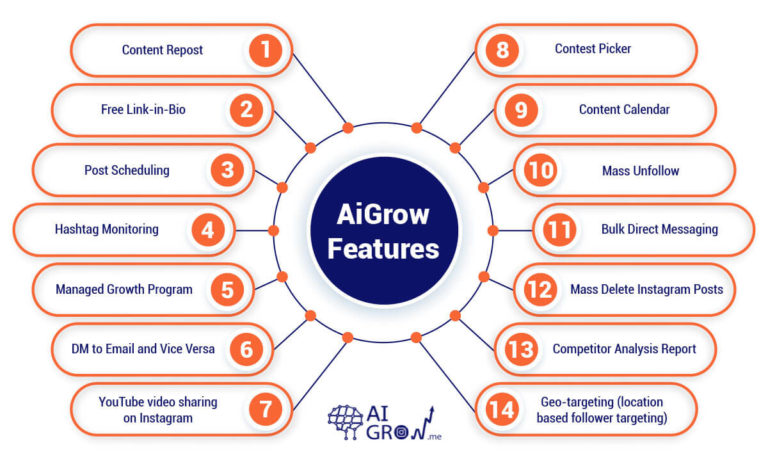 AiGrow is an all-in-one service that includes all the tools and features you'll need to succeed on Instagram.
So, why not get more out of Instagram with AiGrow?
AiGrow Pricing
With variation in pricing packages and diversity in its features, AiGrow is the best and most complete service that grows your followers organically and safely. With AiGrow, you will have access to an experienced account manager who will be there for you along the way. Therefore, given the quantity of manual labor involved, its prices are pretty reasonable. Click here to view all growth packages.
With the discount code, you can get AiGrow's Managed Starter plan for only $45 and cancel it at any time you want.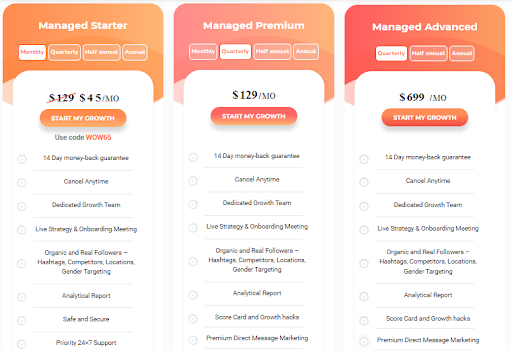 AiGrow Vs. Growthoid; Final Verdict
| Features | Growthoid | AiGrow |
| --- | --- | --- |
| A Dedicated Account Manager | ✅ | ✅ |
| Genuine & Organic Growth | ❌ | ✅ |
| Repost Tool | ❌ | ✅ |
| Real and Organic Instagram Followers | ❌ | ✅ |
| Advanced Targeting Options | ❌ | ✅ |
| Real Engagement | ❌ | ✅ |
| Providing Instagram Content Strategy Assistance | ❌ | ✅ |
| Sustainable Growth | ❌ | ✅ |
| Designed Templates For Content (Feeds/Stories). | ❌ | ✅ |
| All-in-One Bio-Link Tool | ❌ | ✅ |
| Instagram Post Deleter tool | ❌ | ✅ |
| Social Media Monitoring Tool | ❌ | ✅ |
| Human-Driven + Advanced-AI Growth Strategy | ❌ | ✅ |
| 24/7 Customer Service | ❌ | ✅ |
| Price | $49, $99 | $45, $129, $699 |
AiGrow Vs Growthoid
FAQs on Growthoid
Here are some frequently asked questions about the Growthoid Instagram growth service. We invite you to check them out.
Q1. Is Growthoid Legit?
No. Growthoid does not seem like a legitimate growth service. There are an alarmingly large number of unsatisfied customers, considering the Growthoid scam.
Another reason why we don't recommend using Growthoid is that its website was down a short while ago and redirected to Thunderclap. So we don't know whether the two services are actually the same, or whether Growthoid is cooperating with Thunderclap.
Thus, our recommendation is to stay away from such suspicious companies to protect your money and boost your business in the right direction. We recommend using a growth service with good reviews and successful history – such as AiGrow (our top pick in this review).
Q2. How to Cancel Growthoid?
According to customer testimonials on Reddit and Trustpilot, it is very difficult to cancel your membership. They even continue to add fake followers to your account and charge you for them even after you've canceled your subscription.
Q3. Does Growthoid Require You to Sign a Contract?
No. It is a monthly subscription service without a contract. Initially, it may sound great, but it also means they may disappear at any moment without warning, and you would not be able to keep them responsive.
Q4. Does Growthoid Work?
It only works if you want to receive fake Instagram followers. If you wish to have real IG followers with real engagement whom you can turn to paying customers later on, Growthoid doesn't work AT ALL.
Q5. Are Growthoid Instagram Followers Real?
Unfortunately, no. Growthoid uses bots to get you those followers, which based on customer reviews, are all fake. Plus, you can never 'buy' followers that are 'real', can you?!
Q6. Does Gowthoid Provide Refunds for Customers?
On their website, they claim that they do give refunds, but the customer reviews prove otherwise. According to Growthoid reviews on Trustpilot and Reddit, they refuse to provide you with any refunds in case you're dissatisfied with their performance.
Final Note on Growthoid Reviews
In short, Growthoid will ruin your IG account by using bots, providing horrible customer support, and not delivering on their promises. Therefore, we do not recommend using Growthoid as your Instagram growth tool.
Here, we recommend AiGrow as our top pick. AiGrow provides all the necessary tools you may need, including a powerful tool to schedule Instagram posts, analytical tools, etc. Its growth updated features are pretty comprehensive compared to other services on the market.
You can use AiGrow in any niche since a dedicated and experienced account manager will work on your account to grow Instagram followers organically and manually. Moreover, unlike Growthoid Trustpilot reviews, AiGrow has many positive and five-star reviews on Trustpilot and other credible websites from customers who have tried the service and are happy with it. In this sense, it is among the top proven Instagram growth tools worth investing in.
So, what are you waiting for? Give AiGrow a try now and get guaranteed results.