If you want to increase your Instagram followers, you've probably thought about buying followers from IG growth companies like Thunder Clap. But what is Thunderclap, and how does it work? In today's post, we will analyze this Instagram growth company from different perspectives to determine whether you should consider investing in it or not.
This comprehensive Thunderclap review will help you understand its history, quality, key features, advantages, and disadvantages. So, reading this article will allow you to choose your growth tool more informedly and stay away from spammy bots that can do nothing but waste your time and money.
We will also introduce AiGrow as a top alternative to Thunderclap and explain why it ranks among the top 20 best Instagram growth services. So, without further ado, let's get started and see if Thunderclap is a good fit for your Instagram marketing.
Note: If you don't have enough time to read the whole article, click here to get instant access to this proven Instagram account management service and all its great features.
Instagram Growth Services: Why Use Them
In today's digital age, Instagram is a powerful marketing platform for any influencer, brand, or business. However, if you plan to improve your online presence on Instagram, it can be hard to keep track of everything and try to grow your account simultaneously.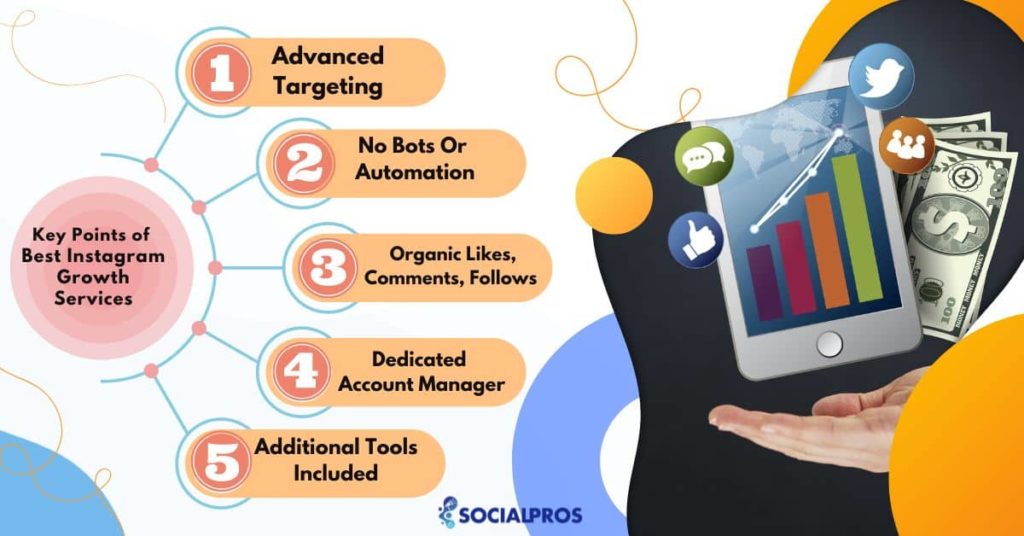 Figuring out how to get more followers on Instagram and keep them engaged, creating brilliant content ideas for your marketing account, using strategic hashtags and captions, and monitoring Instagram analytics will take time and effort.
So, why not employ proven Instagram growth tools to take on the burden of getting you new followers and helping your business stand out from the competition. Choosing a good service will allow you to get more followers on Instagram and give you more time and energy to handle other things.
Many organic Instagram growth services can help you save tons of time and get your growth on the right track. However, there are also many spammy Instagram automation tools that you should stay far away from if you care about your online reputation and credibility.
But how can you distinguish good services from spammy ones? The only reliable way is to increase your knowledge and do your due research before investing your hard-earned money in any growth service. Hence, we decided to review these Instagram growth tools as part of our series on SocialPros.co.
We investigated a lot of services that a few of them are as follows:
Plus, a plethora of other IG services that you can explore on the site and learn everything you need to know about every Instagram service you want.
Additionally, reading this complete Thunderclap review will help you decide if it is the right kind of Instagram growth service for your brand. Then, let's start our Thunderclap review and see how it works!
What Is Thunderclap.it
Thunderclap is an Instagram follower provider and engagement-generating services like Buzzoid, SocialFollow, and other services that just offer you to buy Instagram engagement and do not assign a specific account manager to each client.
Thunder Clap promises to grow Instagram followers organically and get more engagement without requiring you to share any personal information. Their clients have the option of buying Instagram followers in bulk packages.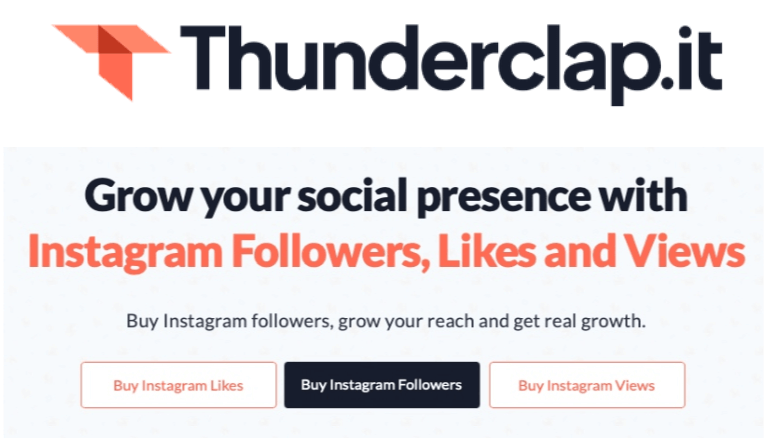 Thunder Clap claims to help you not only with followers but also with likes and views on Instagram. Additionally, they claim they have worked with more than 10,000 happy clients and can provide you with three times more engagement than their rivals. Not to mention that they promise their features will boost your engagement by 9.5 times!
However, we do not feel that purchasing followers or likes are very beneficial; instead, it puts your account at risk of being blocked or limited by Instagram.
But what is the reality? What is the quality of the followers they offer? Are they as effective as they claim to be or not? Read on to find out the truth.
About Thunderclap's Past
What is Thunderclap? Let's start by taking a look at its history.
Not too long ago, Thunderclap was the world's first crowd-speaking platform for organizing loud coordinated bangs of activity on social media. It was innovative, easy to use, affordable (even by small businesses and charities), and incredibly popular.
It helped gain support for protecting sea life in Antarctica's 'last ocean,' it helped small authors promote their books, helped dozens of small charities get the attention they deserved on social media, and much more. For instance, view the following review that praises Thunderclap for the help it offered at that time. Note the date (viz., Feb 2015) this review was posted.
So, what happened to Thunderclap? In September 2018, Thunderclap shut down after Facebook changed its terms of service and blocked apps from posting content. Twitter also suspended Thunderclap for violating its spam rules.
After that, Thunderclap continued to operate as a social media marketing tool. However, based on a few recent 'Thunderclap IT' reviews, which we will discuss in the following section, it is no longer effective and popular with its clients.
How Does Thunderclap Work
A user can buy likes, views, and followers from the Thunder Clap website, but keep in mind that we will never recommend that you do so. To begin making use of this service, you will first need to complete the following steps:
First, you should go to https://www.thunderclap.it and enter your Instagram username and email address. Also, remember that your IG account needs to be public when you use the service. They cannot offer any features for private Instagram accounts.
Then, you can use their sliding scale to select the quantity that suits your needs. You can choose either Instagram followers, views, or likes for your package.
In the end, you have to pay with a credit/debit card.
When you start using the tool by uploading your content on Instagram, Thunderclap will deliver auto-likes and auto-views at your desired speed.
It is worth noting that certain legitimate Instagram growth services, such as AiGrow, provide IG users with specialized account managers who are experts in Instagram guidelines. They will build your Instagram account organically and without danger.
Thunderclap Features
Thunder Clap lacks a variety of features and tools, such as a link in bio tool, a giveaway picker tool, the ability to mass delete posts, and other tools that other Instagram growth companies, such as AiGrow, have.
Thunderclap claims to offer the following features:
The service supposedly sells real Instagram followers in quantity their clients select.
Instagram auto-likes service: Using this Instagram likes app, you will receive a set number of likes from users in their in-house network. If this feature works, you will have high engagement from the very start.
Its AI-targeting engine will allegedly help you attract a target audience on Instagram.
Fast delivery: According to them, you will receive your order after a few hours of submitting it. Upon order confirmation with Thunderclap, their growth delivery team will proceed to deliver your order. As outlined on their website, you're supposed to see considerable growth within two to three days of placing an order.
Managed growth: You can choose the speed at which Thunderclap delivers your auto-likes or views.
Thunderclap Pricing
We decided to dig a bit deeper into their pricing for our Thunderclap IT review. Thunderclapit offers different packages at different price points, allowing you to choose the plan that best suits your needs and budget. Package prices will vary depending on how many followers or engagements you require.
Before, they used to offer follower packages ranging from 1,000 to 25,000 followers. But now when we investigate their site, their packages start from 100 followers for 2.99$ to 5000 followers for 39.99$.
Additionally, before, you could make a one-time purchase or acquire a monthly subscription based on your growth goals. But now you can only buy one time packages, and if you want more followers, you should make repeated purchases.
Thunderclap Reviews
On Trustpilot, we couldn't find any reviews concerning this service. The lack of online reviews about Thunderclap raises suspicions about investing in it. As a digital marketing company, they should have encouraged more online reviews if they cared about their online reputation. Neglecting the importance of online reviews is concerning.
They claim to have worked with more than 10,000 satisfied clients on their website. Then, why hasn't even one of their 10,000 happy customers left a positive review to encourage others to use the service!?
However, we kept searching and found a couple of highly negative reviews about the tool on G2.com.
Here are some of the most commonly expressed complaints about Thunderclap:
Thunderclap clients received low-quality and unrelated followers.
They received very unsatisfactory customer support.
Thunderclap users were overcharged without getting any results in terms of Instagram growth.
You cannot cancel your Thunderclap account or receive a refund as easily as they claim on the website. Thunderclap customers have reported that the only way to stop the charge was to cancel their credit cards.
Most existing reviews indicate that Thunderclap is a waste of time and money.
Thunderclap Pros & Cons
To get a better idea of this shady service, let's weigh its pros and cons. First, I'll start by examining its advantages:
Thunder Clap Pros
There is no need for your Instagram password or any other private information.
There is an FAQ page about the service on the website.
It has an active blog.
Thunder Clap Cons
It is an Instagram bot.
There are no Thunderclap reviews on credible websites like Trustpilot or Reddit.
You may receive irrelevant, untargeted followers using the service.
According to customer testimonials, their customer service does not provide any support.
There is no way to verify the authenticity of reviews posted on their website.
Cancellation or getting your money back can be challenging regardless of the claims on their website.
As you can see, there are no advantages to using the Thunder Clap Instagram service. So think about another service that can help you improve all aspects of your IG account. The best Instagram growth agency on the market is introduced in the following section.
AiGrow: The Best Alternative to Thunderclap
AiGrow is a superior alternative to Thunderclap. Using AiGrow, you don't have to deal with low-quality fake or ghost followers and bots, which could negatively affect your reputation. This tool cares about its clients as it strives to provide them with active, organic followers and engagements over the long run.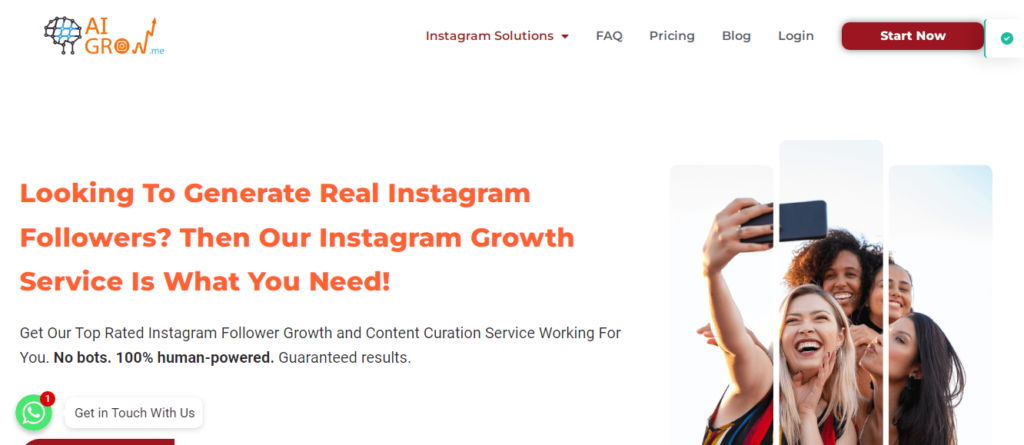 Upon registration, AiGrow will assign you a dedicated account manager to implement manual growth strategies based on the Instagram algorithm. Therefore, you will gain more followers with genuine interactions and have peace of mind knowing that a professional and experienced manager takes care of your growth.
Additionally, unlike Thunderclap, there are many positive feedbacks and reviews of AiGrow on Trustpilot and other credible online websites from users who have already tried the service and are pleased with it. Be assured that AiGrow is a tested and proven solution for you.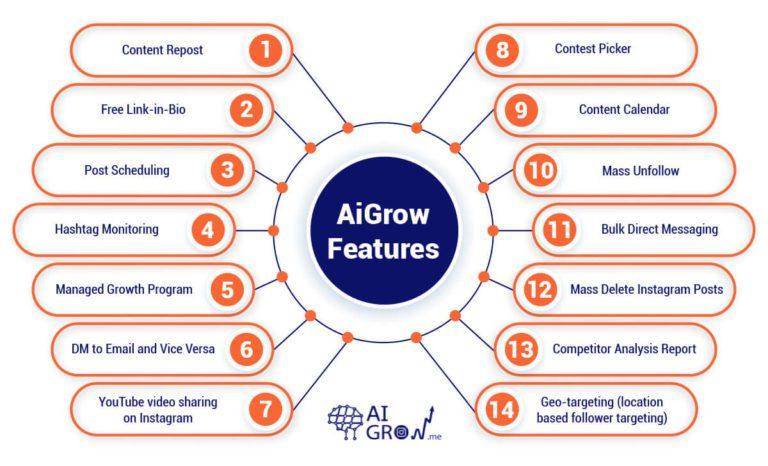 If you are interested in learning more about this fantastic organic Instagram growth service, you can check out our complete AiGrow review for more information.
Do you want a steady flow of organic followers? Click here.
How Does AiGrow Work
Follow the steps below to get started with AiGrow:
Sign up now and get instant access to your account dashboard. AiGrow's registration process is straightforward.
Click on 'growth' at the top of your dashboard and pick the plan that best suits you.
After that, AiGrow will ask you to specify your targeted accounts, including your niche, location, hashtags, competitors, and influencers. Additionally, once you've signed up, a dedicated and experienced account manager will take care of your account and help you develop your engagement, growth, and social media content strategy.
If you have a question, you can send an email to [email protected]. You can reach AiGrow's customer support team at any time.
Guarantee your success on Instagram with AiGrow, which utilizes highly advanced AI technology & professional human resources.
AiGrow Features
AiGrow is an all-in-one Instagram growth management service containing a wide range of useful tools. Listed below are some of its most valuable features:
Advanced Targeting Options
All-in-One Bio-Link Tool: This tool allows you to share multiple links on your Instagram bio.
A Dedicated Account Manager: The significant advantage of AiGrow is that it assigns you a dedicated account manager as soon as you sign up. You can meet weekly or monthly with your account manager to discuss and evaluate the type of material and design your account manager should create for you.
AiGrow's Scheduling Tool: This powerful post-scheduling tool allows you to post your content at the best times on Instagram to achieve the highest engagement rate.
Instagram Giveaway Picker Tool: You can host giveaways on your Instagram accounts and choose random winners more fairly.
Effective DM Marketing Tool
Post & Reward Tool
Instagram Post Deleter Tool: It allows you to delete Instagram posts with a single click.
Instagram Analytics and Social Monitoring Tool
PostMate Service
AiGrow's Hashtag Generator Tool: Including more strategic and relevant hashtags in your content will help you to gain more free Instagram followers interested in your content.
Mass Unfollow App: This feature will quickly help identify and unfollow inactive or fake followers.
Content Repost Tool
Managed Growth Plans
YouTube Video Sharing on Instagram
24/7 customer support
Get more out of Instagram with AiGrow.
AiGrow Pricing
AiGrow offers a variety of growth packages that allow you to make the most out of your IG account. With AiGrow, you will work with an experienced account manager who is always there to assist you at every step of the way. Because of this, its prices are pretty reasonable, given the amount of manual labor involved. Click here to view all AiGrow's growth packages.
AiGrow also offers a one-week package for new users. With the discount code, the first weekly package costs only $29, and you can cancel it at any time if you are not satisfied with the results.
If you're still not convinced, watch this video to see what AiGrow customers are saying about this comprehensive service:
AiGrow Vs. Thunderclap; Final Verdict.
Reading this Thunder Clap review, you will discover that it has nothing to compete with AiGrow. Not to mention that AiGrow has received great reviews from other websites, like this AiGrow review on the Hoothemes website. However, we compared these two platforms in the table below.
| Features | Thunderclap | AiGrow |
| --- | --- | --- |
| AI Targeting | ✅ | ✅ |
| Managed growth strategy | ✅ | ✅ |
| Improving your engagement rate | ✅ | ✅ |
| Active blog | ✅ | ✅ |
| Manual growth strategies | ❌ | ✅ |
| Organic growth | ❌ | ✅ |
| Personal account manager | ❌ | ✅ |
| Providing Instagram content strategy assistance | ❌ | ✅ |
| Sustainable growth | ❌ | ✅ |
| Designed templates for content (feeds/stories). | ❌ | ✅ |
| Instagram scheduling tool | ❌ | ✅ |
| All-in-One Bio-Link Tool | ❌ | ✅ |
| Instagram post deleter tool | ❌ | ✅ |
| Instagram unfollow tool | ❌ | ✅ |
| Social media monitoring tool | ❌ | ✅ |
| Providing in-depth Instagram analytics | ❌ | ✅ |
| Human-driven + advanced-AI growth strategy | ❌ | ✅ |
| Genuine customer reviews on the web | ❌ | ✅ |
| 24/7 customer service | ❌ | ✅ |
| Trust score | Currently unavailable | 4.4 out of 5 |
FAQs on Thunderclap
Here are some frequently asked questions about Thunderclap. Check them out to learn more.
Q1. Is Thunderclap it Legit or a Scam?
According to Scamadvisor, there is a possibility of risk. Also, Wikipedia reports that Facebook banned Thunderclap, which contributed to its downfall. Thus, Thunderclap and Daycause both announced their closures for September 2018.
A change to Facebook's terms of use prevented external apps from posting content, which led to the closure. Then, Thunderclap lost its power, and we do not think it has been able to regain it since then.
Additionally, a few recent reviews on the internet indicate that Thunderclap is a scam that will waste your time and energy. Hence, we do not recommend employing Thunderclap to grow your Instagram account.
Q2. Will Thunder clap refill the Service if They Notice a Drop in Your Numbers?
On the website, they promise to do so. Accordingly, Thunderclap will constantly monitor your Instagram profile to enhance it in case of low engagement or activity. However, we could find no feedback from Thunderclap customers about its effectiveness.
Q3. Is Thunderclap it Safe?
Yes. Thunderclap has a secure HTTPS website, and they use SSL encryption and trusted payment gateways to ensure your security.
Conclusion
As noted in this Thunder Clap review, there are some negative indications about the Thunderclap Instagram growth service.
ThunderClap is an Instagram bot that automatically boosts your Instagram followers and engagement rate. Instagram has rigorous policies about using automated tools and bots on its platform, so detecting a bot trying to get more followers or engagement may result in your IG account being banned or deleted.
Secondly, based on a few available recent comments, Thunderclap appears to be a scam. Weak online reviews and user ratings about Thunderclap raise severe concerns about utilizing this tool for real and safe social growth.
Thus, our top recommendation is to choose AiGrow with a decent online reputation. AiGrow cares about your online credibility and employs professional account managers besides its advanced AI technology to provide more guaranteed, organic growth. With its proven organic growth strategy, valuable features, positive online reviews & user ratings, and excellent customer support, AiGrow is your key to Instagram success.
Guarantee your success with AiGrow right now!