Since its appearance on social networks, Instagram has struck a chord among brands, influencers, and the younger generation. It has permeated our lives to the extent that IG organic growth has become a deciding factor in our success. So, it's not unlikely that every Instagram growth service like Nitreo introduces itself as an organic growth tool!
Previously, we introduced the best Instagram growth companies. Actually, among Instagram growth tools, Nitreo introduces itself as a genuine one! But, where does it really stand?! How does Nitreo work? Is it truly one of the best?! We don't think so! Hence, we have decided to provide a thorough Nitreo review by popular demand! 😉
There are a few businesses that have provided comprehensive tools and services to meet your demands in this area. Inevitably, we would like to draw your attention to the best alternative ever, called AiGrow.
Having gone through several reviews and first-hand experiences, we are ready to answer all your questions about these two tools, so you can decide which one is the best.
Let's dive in if you're as excited to read this eye-opening Nitreo review!
What Is Nitreo
It is a tool that claims to grow your Instagram followers organically. By using Nitreo, you don't need to buy followers, likes, or views. So, from what Nitreo tells us, we can understand that it's supposed to bring about organic growth without any fake or ghost followers. So far, so good, right?!
While, this tool promises not to use bots, there are a lot of reports from users that complain about inefficiency and fake followers and likes. We will investigate Nitreo reviews in the reviews section. But now, let's learn about its tools and features and determine if Nitreo is what it emphatically claims to be: a reliable growth service. Unfortunately, this definition really goes beyond this poorly-functioning service!
Additionally, we should say that an identical website to Nitreo.com was discovered throughout our research. The website address is Nitreo.co. When two websites with the same name and functionality pop up, you should take precautions, and examine them carefully before you start using them.
Nitreo Features & Tools
Although every Instagram follower service has a growth tool at its core, every company offers other unique perks to complement its services. So, let's find out what Nitreo offers and how it functions.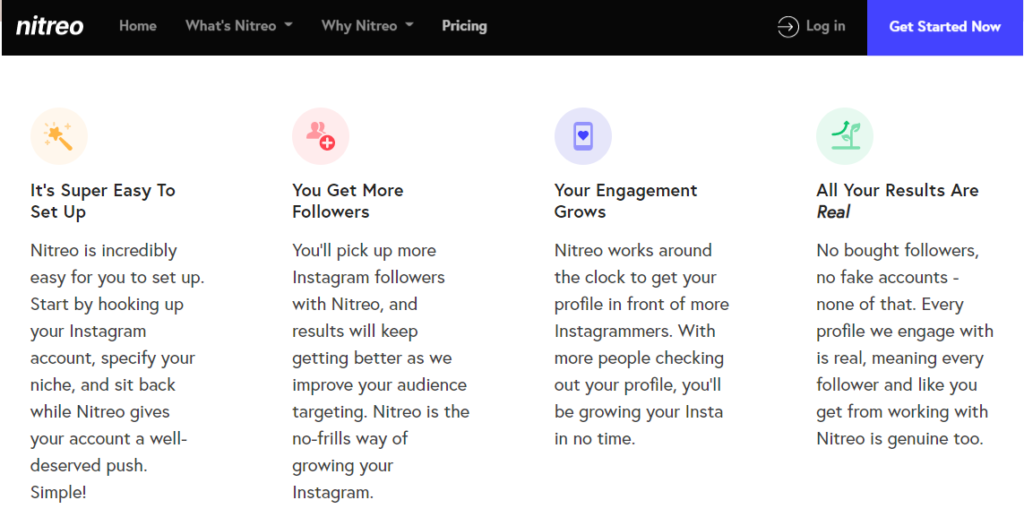 Nitreo Instagram Growth Tool
The most prominent feature of Nitreo is its growth tool. This platform emphasizes that it's not a malicious Instagram bot but an entirely organic service! That is, it promises to deliver followers that are engaged in your content and will interact with your page.
Nitreo claims that once you specify your niche, IG rivals, relevant hashtags, target audience, and goal, it will start getting real followers for you. But unfortunately, they are all talk and no action, according to some Nitreo reviews on Trustpilot and Reddit.
Plus, Nitreo asserts that it can interact with other posts and stories on your behalf. In other words, it will start viewing stories, leaving comments, and liking relevant content so that your account appears on other pages and attracts your IG target audience.
Are Nitreo Advanced Filters Effective
We can't say Nitreo is one of the best Instagram follower apps to generate real followers, but they claim that can help you target users! Perhaps, one of the advantages that can appeal to businesses is its many filters and criteria. You can filter your audience by location, gender, or age.
Moreover, using the advanced settings on the dashboard, you can further specify what characteristics you want your new followers to have! For instance, you can determine how many followers, followings, posts, likes, or views your new followers should have.
Disclaimer: Sure, this is a practical set of settings that will make you feel like you're in complete control of your progress. But, is that really the case?! Does Nitreo apply these filters as an Instagram followers booster?!
Based on these filters, Nitreo will search and find potential followers who match your standards. See, however, what we discovered from the Trustpilot reviews of the Nitreo tool! The reviewer mentioned that the user's targeting, which is the only Nitreo strength, is ineffective.
Looking at other Nitreo reviews left by customers, we encountered several disturbing comments. Almost everyone who had a first-hand experience with Nitreo complained about the arrival of bots and indifferent new followers to their page. Some had even lost their IG accounts because of the suspicious activities that Nitreo had taken.
So, why not using AiGrow, a powerful growth tool that has a human-based team to support and grant you advice at any time (24/7).
Start your journey with AiGrow and stay away from low-quality services like Nitreo that use bots and just make big claims.
Nitreo Analytics
While answering the question of 'How does Nitreo work?', it would be a huge disservice if we missed this perk. Most growth services will also provide in-depth analytics of your progress so that you can fully understand if their tool is working for you or not. And Nitreo is no exception to this rule! But according to some reviews Nitreo disappoint you with its dashboard!
Instagram insights will give you sufficient information about your followers and your performance. But the main drawback is that the data provided by IG insights only stretches as far as seven days. That's why you need the analytics offered by these apps.
With a glance at the 'General' tab on your dashboard, you will be aware of the actions Nitreo has taken in your favor. You get to see how many comments they have left instead of you, how many stories they have viewed, and how many followers you have gained.
Disclaimer: We thought that the analytics was legit! However, we came across multiple Nitreo Instagram reviews that ruined our expectations.
Several Nitreo clients have mentioned that the data was not precise. In other words, the analytics were at odds with what was, in fact, happening on their IG!
Going through Nitreo features, we just conclude that it's not what it claims, so no matter where you stand, it's about time you stop and change your service to AiGrow now, the best Nitreo alternative ever.
Does Nitreo Suggestions Work
No matter how good we are with the Instagram algorithm, there's always room for improvement. Nitreo claims, if it realizes that you're going down a wrong path or that there's something you need to fix, it will notify you! This is something that every growth solution that claims to boost up your Instagram organically should have.
For instance, if you are not writing aesthetic IG captions and hence losing followers for it, Nitreo will advise you to do better in this respect!
The 48-Hour Warm-Up Period
Nitreo offers a 48-hour warm-up where it will prepare your Instagram page for further activity. But it seems to be just to deceive people into trusting it!
Disclaimer: Yet another unfortunate fact is that many clients get stuck in this warm-up period. They can never manage to increase their IG engagement rate after the mentioned 48 hours!
How Does Nitreo Work
So far in this Nitreo review, you have learned about the features that Nitreo offers. But there still remain some doubts.
This platform claims that they don't use bots or automation. But if it's not a bot, who is taking action on your behalf? How is Nitreo commenting on posts and viewing stories if not through automation?! These valid questions are left unanswered by Nitreo!
For now, let's check out how Nitreo functions, what sections you have access to, and how you can work with it.
Nitreo Dashboard
When you first sign up for this tool and connect your Instagram account, you will end up in your dashboard. You will see your followers/following count, the Nitreo type of plan you have purchased, and the activity status on this page.
You can also add and manage multiple Instagram accounts here. If you tap on your connected Instagram username, you can make the necessary adjustments.
Now, you can find your analytics under the 'General' tab.
If you wish to change the relevant hashtags to your niche, rival accounts, or block specific hashtags and keywords, you can make the adjustments in the 'Settings' tab.
The 'Advanced Settings' section is where you can specify your target audience. As mentioned already, you can set the characteristics of your future followers.
But don't waste your time. Their hashtag targeting is very poor and doesn't work efficiently. These issues will be further explored in the Nitreo review section!
And the 'Improvement' tab is the section where Nitreo provides suggestions for your progress. Unfortunately, their support team doesn't perform that and it is done just by bots!
Nitreo Support
This platform boasts about a professional support team. Nitreo claims that 24/7 support is available to all clients. It is accessible in the left column on the dashboard page. But don't rely on this! Their support team never shows up!
You can just read their articles to guide you through your first Nitreo login and experience, or you can send reports.
However, you will sadly hear that their staff is a no-show if you ask real customers. And even if they do answer your reports, they don't help much according to Nitreo reviews on different websites. Hence, it's better to use another service like AiGrow that supports you 24/7 and never leaves you alone with its human-based team.
Nitreo Pricing
Bear in mind that this platform offers no free trials. So if you are genuinely interested in starting your growth with Nitreo, you should pay for a plan! There are two pricing plans you can sign up for.
1.The Essential Plan
It starts with a monthly 49-dollar pricing plan. The essential program can serve as a trial and address a beginner's needs.
You get no customer support in this plan, but Nitreo promises more Instagram followers organically. However, there's no mention of how it will manage to do so since you can't even determine your target audience!
So, if you ask us, we should say this tool never delivers real followers or a support team!
In comparison, even in the most basic packages, AiGrow will assign you a manager and a human-based team.
So, don't waste your precious time any longer and sign up now for AiGrow.
2.The Speed Plan
Starting with a 79-dollar monthly plan, you can access all features that Nitreo offers. If it's your first experience with this tool, you can use a Nitreo discount code. With that code, your essential plan will cost 24.5 dollars a month, and the speed plan will cost 39.5 dollars for a month.
But with all the bad Nitreo reviews and user experiences we mentioned above. is it worth using Nitreo? ?
To find out if the outcome is worth the price, keep reading this complete Nitreo review. We are about to reveal some aspects of this platform that you will never find on other websites!
Nitreo Reviews: Why You Should Reconsider
Yes, we've come all this way to tell you that you'd better reconsider! But why?! Real customers have left Nitreo reviews on Instagram, Reddit, and TrustPilot. And they have sufficiently proved this point to us.
Furthermore, we observed the Trustpilot website and noticed that their users' complaints are getting worse. The Nitreo score used to be 2, but after revising this post, it has dropped to 1.9!
Keep your horses to see what we're talking about!
#1 Nitreo's Lack Of Transparency
Unfortunately, Nitreo is not transparent with us. They have only ruled out automation as their means for growing your account, but there's no way to actually prove they don't use bots. And their claim can only leave us wondering over how they get the job done if they neither utilize bots nor human managers.
If we are realistic, this lack of transparency should raise several red flags. We can't take Instagram's growth lightly. And if you don't know how Nitreo delivers promises, you will have to live in fear of being shadowbanned by IG.
Among several Nitreo reviews, we found many customers who were either temporarily or permanently banned by Instagram.
#2 Fake & Inactive Followers
Despite what Nitreo claims, almost every customer who has purchased their services has been unhappy with the outcome. They realized that they could never turn the new followers into customers because they are either bots or not interested in their content or products!
The inactive followers are justifiable if you bought the essential plan since you get no access to the targeting tools. But those who had purchased the speed plan and specified their audience with advanced settings also noticed that their new followers didn't match the set descriptions.
#3 Poor Customer Service With Nitreo
After your first Nitreo login, you should be able to access unconditional and fast customer service. Yet, the customer support for the essential plan is officially nonexistent. And, there's no news of a strong supporting team even in the speed plan.
Real clients have repeatedly stated that it takes the customer service a long while to respond if you go to them with a problem. And once they do, they offer no real solutions!
#4 No Free Trial
This absence of a free trial means that you have to purchase a plan if you're remotely interested in their tools. In other words, you should pay to play!
Although many other reliable services have decided not to offer free trials, they are still trustworthy because they provide excellent customer service. That's not the case with Nitreo!
#5 No Refunds Guaranteed By Nitreo
Yes, Nitreo promises to return your money if you're unhappy with the services. And if you want to know how to cancel Nitreo, we should say, they have found a loophole!
Many clients have faced problems with Nitreo and tried to get a full refund, as promised. However, the support team had managed to get out of refunding the money by stating that they would only do so if there were technical issues on their part.
What's even more disappointing is that even when clients who had suffered technical problems asked for a refund, they still failed to get their hard-earned cash back!
But to hell with money! If you are Losing Instagram followers and getting shadowbanned, all your time and effort have gone down the drain!
AiGrow: The Best Nitreo Alternative
Whether you refer to a Nitreo review on Instagram, Reddit, or TrustPilot, you will come to one conclusion! Nitreo is not worth your time, money, or trust.
Perhaps they can solve all their issues and become reliable someday, but today's not it, and you can't wait any longer! So, let's find the best Nitreo alternative to start your IG growth right now!
AiGrow, a management and growth service, can ideally replace Nitreo. It provides multiple features and tools, making growth organic and effortless!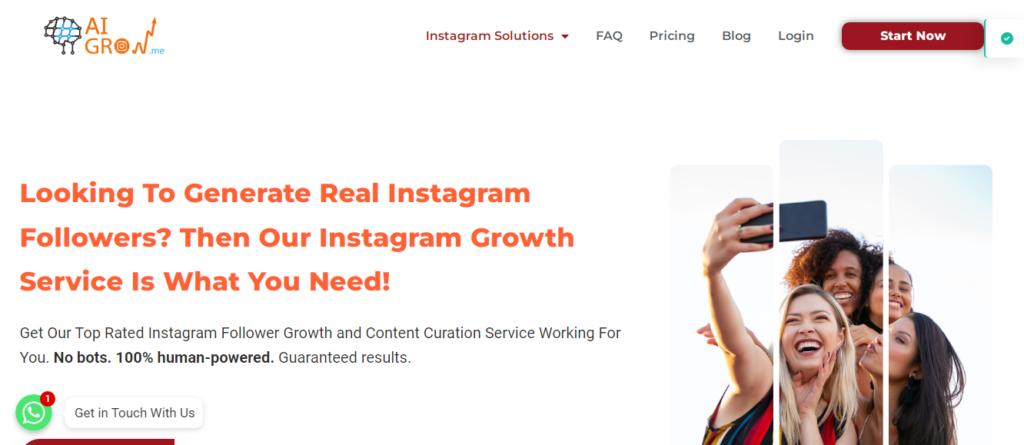 With this fantastic platform, you get to:
Reach the heights of success with a highly targeted audience.
Schedule content for the best times to post on Instagram.
Identify the best Instagram hashtags for followers and likes.
Mass DM potential followers or customers.
Repost content to your Instagram.
Host efficient giveaways.
And more!
But what sets AiGrow apart?! Unlike Nitreo, AiGrow uses professional managers! In effect, you get a dedicated team of Instagram managers with whom you can discuss your strategies, problems, and concerns!
Another aspect that distinguishes this platform is that it offers a genuine full refund if you don't get your results. So, if you're ever unhappy with AiGrow, you will get your money back; no questions asked! To better appreciate this tool, you can check out this AiGrow review.
So, what are you waiting for?! Start your journey to the height of Instagram success with AiGrow!
AiGrow VS. Nitreo
You might have noticed the Nitreo name on any website when looking for growth services online. It's worth mentioning that even positive ratings aren't always indicative of quality. Positive reviews on all websites may have been purchased. It is, therefore, preferable to use a different, and more reliable service.
We have compiled all of Nitreo's features in this section to contrast them with those of AiGrow. The excellence of AiGrow is readily apparent.
| Features | Nitreo | AiGrow |
| --- | --- | --- |
| AI-powered technology | ✅ | ✅ |
| Organic growth method. No bots, spam, or fake followers | ❌ | ✅ |
| Hashtag generator tool | ❌ | ✅ |
| Advanced filtering & targeting options | ✅ | ✅ |
| Growth with influencer marketing | ❌ | ✅ |
| Instagram analytics & social monitoring tools | ❌ | ✅ |
| Managed growth plans | ❌ | ✅ |
| Support in developing your Instagram content strategy | ✅ | ✅ |
| An experienced account manager will take care of your Instagram account (Manual Growth) | ❌ | ✅ |
| 24/7 Support | ❌ | ✅ |
| No password required | ✅ | ✅ |
| Viewing Insta stories | ✅ | ✅ |
| The number of followers and success guaranteed | ✅ | ✅ |
| Content design template (feed/stories) | ❌ | ✅ |
| Scheduling Tool | ❌ | ✅ |
| Multiple links in bio | ❌ | ✅ |
| Instagram post deleter tool | ❌ | ✅ |
| Instagram Mass unfollow tool | ❌ | ✅ |
| Mass DM marketing | ❌ | ✅ |
| Giveaway & contest picker | ❌ | ✅ |
| Fast delivery of services | ❌ | ✅ |
| Safety | ❌ | ✅ |
| Trustpilot Score | 1.9 | 4.7 |
FAQ on How Does Nitreo Work
We have been thorough and transparent with our Nitreo review in this article. Now, let's see what questions are left out!
1- How Long Does Nitreo Take to Work?
As explained earlier, Nitreo starts with a 48-hour warm-up. It will begin taking small steps towards your growth in the first two days. After a while, they will be more active, taking more radical actions.
However, some clients have faced specific problems. For instance, they have realized that the results aren't good enough even after the initial 48 hours. And since they couldn't get a refund, they had to forgo their money and disconnect their account!
2- Does Nitreo Unfollow Accounts?
Yes, Nitreo is also among the Instagram unfollower apps. Based on your specified preferences for your audience, Nitreo will remove your followers. Plus, if any of your existing audience is inactive or a ghost follower, it will unfollow them.
However, since Nitreo is not a reliable platform, why don't you use AiGrow for the same purpose?! AiGrow uses human managers to remove such followers at a reasonable speed while paying attention to Instagram's daily limits.
Over to You
This Nitreo review went through all aspects of this tool. We discussed its features and the different sections you will access once you sign up. But the biggest question we haven't been able to cover is, 'How does Nitreo work?' Unfortunately, Nitreo offers no information about how they will deliver the results!
We also took a look at the different Nitreo reviews users and customers had left. In conclusion, it's safe to say that Nitreo is not a decent option for such a crucial purpose! Instead, try AiGrow now and experience effortless growth!
We've offered our experience; now it's your turn! If you've had any experience with Nitreo, please leave us a comment below! 😉