Not interested in making content on Instagram at the eleventh hour? Or too busy to remember all the occasions on time? If you own a business and are challenging to organize and plan your future content on your Instagram, This article has a precious gift for you. How about the #1 Instagram Content Calendar for free?
It is essential to take action on the Instagram platform and publish more posts frequently, so the algorithm brings you more to the picture as a reward. Above all, with an Instagram content calendar, you can schedule and upload posts, engage your followers, and evaluate your performance.
This article introduces the best free applications, tools, and Instagram Content Calendar templates moreover helps you create the best of your own Instagram calendar.
What are the Instagram Content Calendars
A plan considering the time that helps you manage your Instagram strategically and precisely according to your business's goals and objectives is the Instagram content calendar.
Why is it important to use an Instagram Content Calendar
An Instagram content calendar lets you stay ahead of the time, national occasions, and holidays such as Mothers' Day and Halloween. Certainly, not all occasions or holidays are relevant to your brand and audience, but you must be aware of what is coming up in case it is.
Here are four reasons why we use the Instagram content calendar: Firstly, it avoids wasting time. Secondly, it decreases making mistakes. Furthermore, launching the content at the right time. Additionally, it helps you to make more valuable content.
The advantages of an Instagram Content Calendar
– Plans your upcoming program for months
– Reports the events, occasions, and the international days
– It assures you that each content will be published on time
– Eases managing your tasks, and you can save time, money, and energy.
– Preparing a content calendar provides a wide prospect for you. Meanwhile, it shows where exactly you are in performing your project and your tasks at a specific time.
How to create an Instagram Content Calendar
For making an Instagram Content Calendar, we must consider some essential steps as below:
1. Listing
 Mark up the occasions and holidays in your calendar

 List appropriate and important hashtags.

Make a list of the influencers of your business are
2. Planing
Plan for the content you are going to publish
Own a plan and scenario to make and publish your content and set your posts according to that scenario.
Plan your Instagram Stories weekly
Nowadays, Instagram stories have an important role in engaging the audience; moreover, many people are attracted to their stories.
3. Engaging
 publish simple posts to avoid your audience getting bored

 work on the layout of your page

 Share your interior zone with your audience
It is a good idea to share some pictures and posts of your office in your content calendar to build a sense of sympathy and empathy with your audience
4. Analyzing
 Analyze, tweak and optimize
The essential part of creating the best Instagram content calendar is the analysis. In other words, choosing your content and posting solely doesn't work for you until you analyze your audience's feedback to get to know what exactly works for you and by it manage your feed and change your strategy. 
The best features of an Instagram Content Calendar
The best feature of a scheduling tool is that it lets you plan your content, schedule your Instagram posts, trace your Instagram analytics, and manage your comments and conversations. Most importantly, by scheduling your calendar automatically, you could save time and focus on your content quality other than posting them.
Here are some features of an Instagram Content Calendar:
1. useful Saved Captions feature, where you can save and organize hashtags according to their theme.
2. A good Instagram Feed Planner allows you to see your content in advance; therefore, you can find the perfect image relevant to your content. As a result, this might help you create the best layout for your Instagram,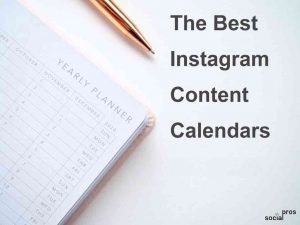 which is essential if you are eager to attract more followers.
3. You will get notifications whenever someone in your team updates or comments a content, with email or other ways of notifications.
4. It lets you create your posts step by step
5. It talks to and interacts with your target audience
6. You can store, classify, and use your content in a library.
7. It allows you to plan contents far in advance and will publish them for you
8. It automatically generates posts and ad previews before being published to avoid making mistakes.
How about double your follower growth by never missing a daily post
AiSchedul, the most powerful Instagram scheduler, covers all the features of the best Instagram Content Calendar in one application. Above all, use AiSchedul to manage every aspect of your content programs, like adding videos, Emojis, Hashtags, and texts.
Just pick a day and time, and you are done. Consequently, AiSchedul will directly publish your posts and stories for days, weeks, and even months ahead of your desktop's convenience.
That is to say, schedule the same post across multiple Instagram accounts and search and add tags locations and people to your posts.
AiSchedul is safe, secure, and rated the #1 scheduling tool for Instagram Marketers!