Instagram impressions vs. reach: which one you choose? Many marketers and Instagrammers get confused when it comes to Instagram impressions and reach. These two social media metrics are very similar; however, there are some fundamental differences between these two that I will discuss in this article.  
 So, once for all, let's see what's the difference between reach and impression on Instagram. 
Instagram
Impressions
vs Reach 
First, let's start with simple definitions of reach and impressions.
What Is Instagram Reach?
Instagram defines reach like this: 
"The total number of unique accounts that have seen your post. The reach metric is estimated and may not be exact."
This content can be a feed post or story. Pay attention that "reach" is the unique number of accounts that have seen your post only once. In the best-case scenario, and if you have a perfect engagement rate, every single one of your followers sees your posts, so each one of them is counted as one reach. However, in reality, this is not the case. 
Related Article: 29 Fool-Proof Ways to Get More Instagram Engagement
The reason is that based on the Instagram algorithm, your posts will be shown to the users that you are most interested in. So, many of your less-interacted followers might miss your posts. Also, if you have a public account, many of your followers might be bots or so-called ghost followers. These accounts might even be real, but they don't have any interaction with you. 
Related Article: Top 3 Apps to Find and Clean Ghost Followers
To see the number of reaches for your feed posts and stories, use Instagram insights: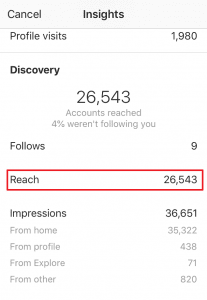 What is Instagram Impression?
Instagram says: "The number of times that your post has been seen." So, as you can guess, the impression is a more general metric compared to reach. For example, if somebody checks your post three times, it's one reach and three impressions. 
Just like reach, you can check the number of impressions using Instagram insights: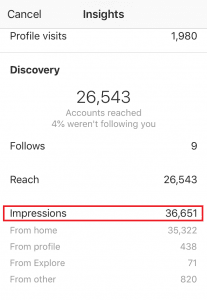 Your reach and impressions might come from sources other than your followers. For example, if one of your followers shares your posts, these numbers go up as your followers' followers also see your content.
Instagram Impression vs Reach, Which Metric is More Important
Well, in some social media, reach, and impressions have the same meaning. Actually, people use these two buzzwords interchangeably. But as I explained before, the Instagram impression is a more general metric.
If it's complicated to you, just remember that reach is related to the number of people who saw your post, and the impression is related to frequency. A drop in both of these metrics leads to a lower engagement rate.
Back then, the engagement rate was only calculated by the number of likes and comments; but now, it is more complicated.
So, which one is the more valuable metrics for your Instagram growth?
Well, it depends on your goal. You might think the more the merrier but the thing is, "reach" is more likely to be gained when people engage with your content but impression might be the result of a simple users' scrolling. So, it might be more valuable than impressions in this context. 
The important thing is, these two metrics help you to understand to what extent your efforts for increasing your brand awareness are effective. 
How to Increase Instagram Reach and Impression on Instagram?
There are two main ways to increase your reach and impression on Instagram: paid and organic.
As the name indicates, the organic reach and impression can be gained by the ordinary activities that you have on Instagram, such as posting photos and videos on the feed, IGTV, or Stories. 
On the other hand, paid reach and impression are the ones that are gained by ads. You may have come across ads in your feed and Stories. Well, every time you see one of these, the post gets one reach and impression. This is the easiest way to increase the Instagram reach and impression. 
So, how can you gain better results without paying huge amounts for advertising?
AiGrow: All-in-one Instagram Tool for Growth 
One of the easiest ways to increase your Instagram reach and impression is to use a trusted Instagram management service. Well, AiGrow is one of the best. Using this tool, you can use a combination of human expertise and AI technology. This tool helps you to increase your engagement continually, using its practical tools such as scheduler, bio-link, and social listening. 
Read this article to learn more about AiGrow.
Don't forget that you can test all the AiGrow tools for free as a trial! So, what are you waiting for? Start using AiGrow, right now!


Final Words on
Instagram
Impressions
vs Reach
In this article, I talked about Instagram reach and impressions, and they are different from each other. Also, I recommend one great tool that can help you to increase these two important metrics.