You may have wondered why every time you try to like or comment on an Instagram post, you get that "Link not allowed" message.
'It looks like your profile contains a link that is not allowed. We restrict certain content and actions to protect our community. Tell us if you think we made a mistake.'
Many Instagram users have recently reported an issue of Instagram blocking their bio links and even their accounts. This is due to the fact that Instagram has recently become very cautious about certain activities which may be considered spam. And if this is the reason which has brought you here, Stay tuned.
Which links are not allowed on Instagram bio?
As Instagram is not informing the user which types of links are not allowed, It is important to get professional help instead of experimenting and cause greater issues with your account security. In the following, we are going to list a few cases in which your unique link on Instagram is banned. And then we introduce certain tools by which you can fix the problem.
There are certain steps which can be taken in order to fix the problem. However, let us first review some of the known issues with the bio links. Here is a shortlist of what Instagram does not allow to be linked in the bio:
Telegram and Snapchat links

Shorten links and bitly links 

The website links to specific content which is against IG policy.

The links that appear on different accounts repetitively in a short period.

Fake websites or websites with multiple links.

Links that are not suitable for children under 16.

Links that are known to be linked by spammers.
If the link that you have put in your bio is not among the inappropriate links stated above, follow the instructions below to fix the problem based on the cause of the banal.
How to Solve the "Instagram Link Not Allowed" Error? 
Now that we have stated the conditions under which Instagram bans the link, we are prepared to give a few hints on how to fix the issue. We have categorized the solutions based on different causes of the problem.
#1 An error message without a link
Even if you do not have a link attached to your bio, you may still get the Instagram link not allowed message. In this case, the link is simply your IP address. Instagram does not approve of your IP address for any reason so what you need is another IP address. Try first just turning off your wifi and reconnect your device once your Wi-fi has been restarted. This will assign a new IP address to your device.
If you are using the cellular data on your phone, put your phone in flight mode and wait for 5 minutes. After 5 minutes put your phone back to normal and see if the issue is fixed.
If you still have trouble with any of the methods stated above, we have professionals who are ready to assist you in the best ways you could imagine! So feel free to contact us.
#2 Instagram link not allowed? Remove it!
Removing the link in the bio makes the issue fixed immediately. If you still have a problem with some of your activities on Instagram, do not add a link to your bio until the problem is completely solved. It is still recommended to wait for at least 45 minutes before adding a new link to your Instagram bio.
#3 Use Incognito Mode
Sometimes when your Instagram link is not allowed, the main reason for your banal is the application's cash. In this situation, you can bypass the issue by using the app Incognito. Logging into your Instagram account using the incognito mode of your Chrome browser will do the trick. You can find the detailed instruction here.
#4 Use subdomains
As short links are not reliable solutions and it is still likely that Instagram bans them because of the new policy, it is highly recommended to use subdomains instead of shortening the link when it's possible. For example, you can use m.facebook.com or web.facebook.com instead of facebook.com.
#5 Create your own safe landing page for free!
There are occasions on which we need to attach a link to our IG bio that we know is very likely to be banned by Instagram. For example a link to our other social media accounts such as Telegram and Snapchat. Besides Instagram only let one link attached to the profile at a time. However, many of us need to have more than a link in our IG bio.
 AiGrow here is the answer! AiGrow is a management service that provides you with a platform to not only link whatever you think is not allowed on Instagram but also lets you manage your account like a professional and its great features will help you to analyze and monitor the traffic of the clicks on your every link. Here is how it goes:
You will be allowed to pick any of the widgets among a list at the right of your screen. Add as many social media widgets as you need.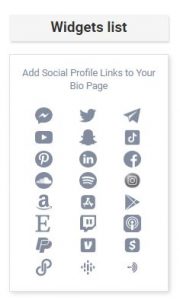 Use Add buttons for CTAs and External Links as it's demonstrated below: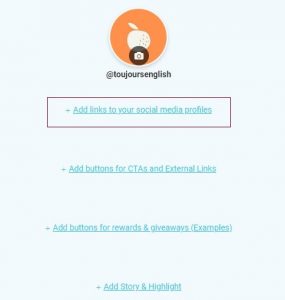 After safely creating your MyUrls profile as you wish, place it in your Instagram bio and you will be done! 

Conclusion
Although you can somehow bypass Instagram's new policy while your Instagram Link is not allowed, the best way to solve the problem is to use a highly efficient social media assistant such as AiGrow which not only lets you add your business websites and accounts freely but also makes you look like a professional in a risk-free way.