Since a vast number of influencers and brands are joining Instagram every day, it updates its features and services frequently to make it easier for creators to make money on Instagram. One of the newest features that is making it super easy to monetize Instagram is the Instagram live badge. 
But what is the Instagram live badge and how can one use it appropriately to make money? Also, what if you don't have the live badge but want to monetize your Instagram? To find all these, keep on reading! 
You May Also Like: 
What is Instagram Live Badge?
If I want to make the long story short, I'd say that Instagram live badges are a way to tip your favorite brands and influencers. If you are one of the Instagram users who is frequently joining different live videos and learns many topics from Instagram, you have already seen these badges. But if not, no worries! Here's how an Instagram live badge looks like: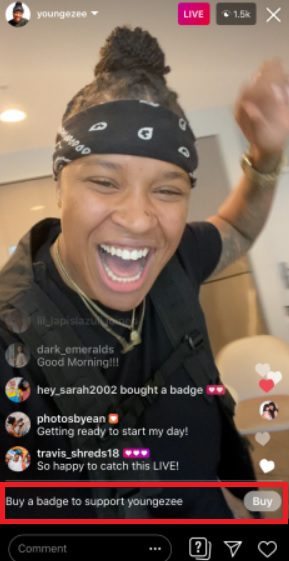 As mentioned before, these badges are created to support your favorite publisher and creator on Instagram. 
Honestly, right now just around 50,000 creators have this feature. But if you are a creator and share live videos on a regular basis, just keep an eye on it. Instagram may make this available to you sooner or later and from that moment, your followers can tip you from Instagram. By the way, to get these badges sooner, you can fill this form and request them to be added to your profile. But how do these badges work?
Well, your Instagram live viewers can buy 3 levels of badges: one for $0.99, two for $1.99, or three for $4.99. So, the more live viewers you have, the more money you make on Instagram live videos. But what if you don't have these badges? In the following, I'll share another way to ask your followers for their support. So, stick around.
I Don't Have the Live Badge! How to Monetize my Live Videos?
If you don't have the live badge yet, you have two different options to monetize your Instagram live videos: 
Share your live videos on Patreon, 

Share a "Donate" button on your Instagram bio. 
As you may already know, you are allowed to share videos, images, and voices on Patreon. This way, your fans or patrons can view your content by purchasing one of your monthly plans and help you make money. So, what you should do in this case is to share your Instagram live videos on Patreon and promote your Patreon account on Instagram to make more money. 
But to be honest, this is not the best alternative for Instagram live badges since: 
Your followers watch your videos on Instagram and they should move to Patreon to tip you, 

Your followers may not be willing to create a Patreon account, 
And more. So, I suggest you try the second way and add a "Donate" button to your Instagram bio. 
Add a Customized "Live Badge" Button to Your Instagram Bio
As mentioned above, if you have a huge number of fans but still don't have the live badge on Instagram, you can add a live badge button on your bio. Actually, this can't be done using the official Instagram features. However, using a professional bio link tool like MyURLs.bio, you can add a customized CTA button to your bio link. For this, just follow these steps: 
First, sign up for free on MyURLs.bio and add as many accounts as you have to your dashboard. 

Then, you just have to click on the "+" button to add a customized button, or even click on the Paypal widget to connect people directly to your Paypal account. 

Actually, when you choose to add a customized button, you can also add a thumbnail to your button. This can be your live video's cover so that your followers easier find the button. And that's all! In the end, your bio link will look like the following image and you easily make money from your Instagram live videos.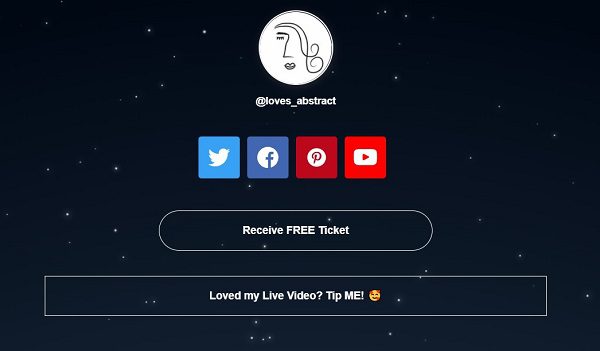 So, do not hesitate to create an account on MyURLs.bio and try this amazing feature.
Final Thoughts
To wrap it up, if you are a newbie influencer or you are a creator and love to share your ideas through videos, Instagram live badges are here to help you make money on Instagram. However, if you still don't have the live badge, just read this article and try the mentioned ways to get a customized badge.