Have you ever seen tagged photos on Instagram that take you to another Instagram page when you tap on them? Do you know that you can use Instagram tagged photos search to find a specific post?
As you know, your Instagram account can be tagged or mentioned by your friends, customers, clients, and your audience. Additionally, you can use location tags, and doing so will increase your Instagram engagement rate.
As a whole, tagging on Instagram is a helpful function that many people use to connect with other people's related posts. Instagram tagged photos search can be contentious. In this regard, people ask queries like how to search for tagged photos on Instagram or how to tag someone on Instagram at all.
This Instagram feature is crucial if you have a lot of interactions. To see all tags and mentions related to your account, you can use both your mobile phone and the web browser. You can also use third-party apps like AiSchedule to see IG tags.
So, let's see the answer to your questions including how to search Instagram tagged photos, how to hide tagged photos on Instagram, how to see someone else's tagged photos on Instagram, and all other related questions about it.
What Are Tagged Photos on Instagram
Tagging is one of the most important features of Instagram. On Instagram, 'tagged' photos are those that have a mark on them that, when you tap it, links you to the user's profile.
You can tag people in photos, stories, comments, and captions. You can also find all your tagged photos on instagram by tapping on this icon on your profile.

Additionally, you can find someone else's tagged photos by going to their profile and tapping on the icon shown above. This is how to see someone's tagged photos on instagram using your smartphone and the web browser on your laptop or PC.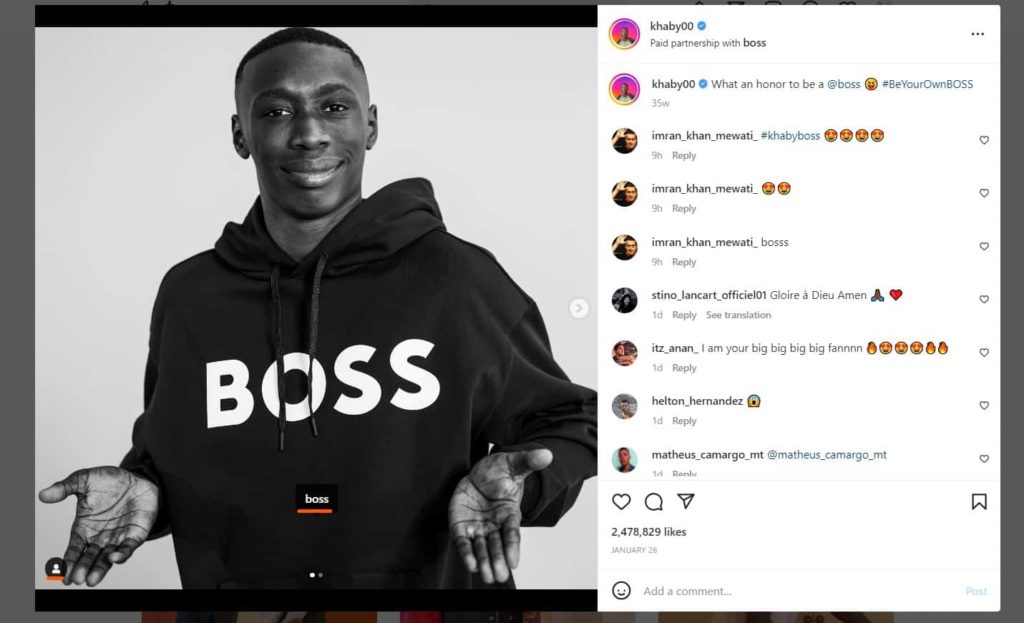 Bear in mind that you can only tag your followers if your account is private. It's worth noting that if you're tagging someone who has a creator or company account, you can also include their profile category by choosing Tag Category below their name.
Tagging is also a useful feature to use for products. But sometimes you may have difficulties using this feature and can't tag products on Instagram or locations on Instagram not working and you can't use geotags in your posts and stories to make them suitable for your target audience.
So, you may be wondering why can't you tag your friends and other users on Instagram to show them your relevant content. If you are unable to tag someone, it is possible that they have changed who can tag them in their privacy settings.
We discussed all these issues before, now you may be wondering what is the difference between tagging and mentioning and want to know how to search for someone else's tagged photos using the search bar on Instagram or other ways.
Keep reading to know them all.
Tagging an Instagram Account vs. Mentioning
Now that you know what tagging means on Instagram, you may ask what is the difference between tagging and mentioning. Generally, mentions and tags have three differences:
While tagging is done on the image of your original post and a tag will appear on that image, mentions are made by placing the @ symbol before the name of an Instagram page.
On Instagram, tagging can be done on an image, but mentioning can be done in a post's comment or caption.
Users and followers can also mention pages in comments, but only the page owner can tag an image.
So now that you know what Instagram tagging is and its difference with mentions, let's go through how to do an Instagram tagged photos search in depth.
How to Search Instagram Tagged Photos on a Mobile
You can search for tagged photos on Instagram by using the search feature on both the official Instagram app and the website in any desired web browser.
To use Instagram tagged photo search, open the Instagram app on your mobile device and sign in, then follow the guidelines below.
1- Instagram Tagged Photos Search- In-App Solution
You can see your tagged photos or other people's tagged photos by going through every person's profile. Instagram tagged photos search can be done in the tag folder of the mobile version of Instagram.
If you want to see pictures that someone else has tagged you or your friends in, go to your profile or your friend's profile and look in the tag folder.
However, this will only work if the profile owner has not disabled the feature. If you go to a friend's tag folder, you'll just see pictures that they have tagged from the private page you have followed or a public page where the images are shown to everyone.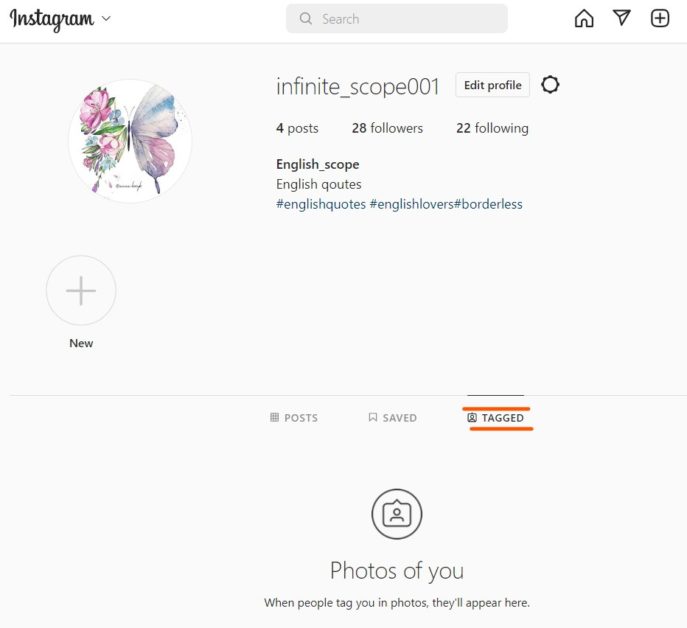 As you know, tagging is different from mentioning an account on Instagram. There is a disadvantage to just tagging an account and not mentioning it on Instagram.
While the tag on a post displays all of the accounts that have been tagged, most users would not tap on the content to see who has been tagged and who has been mentioned.
In this situation, it's also a good idea to mention all of the tagged accounts in the caption so that the average person reading it sees their usernames as well.
2- Use AiSchedul to Track All Your Tagged Photos
Use third-party apps to view all Instagram posts where you or someone else has tagged in. One tool you can use to track all of your Instagram-tagged photos is AiSchedul.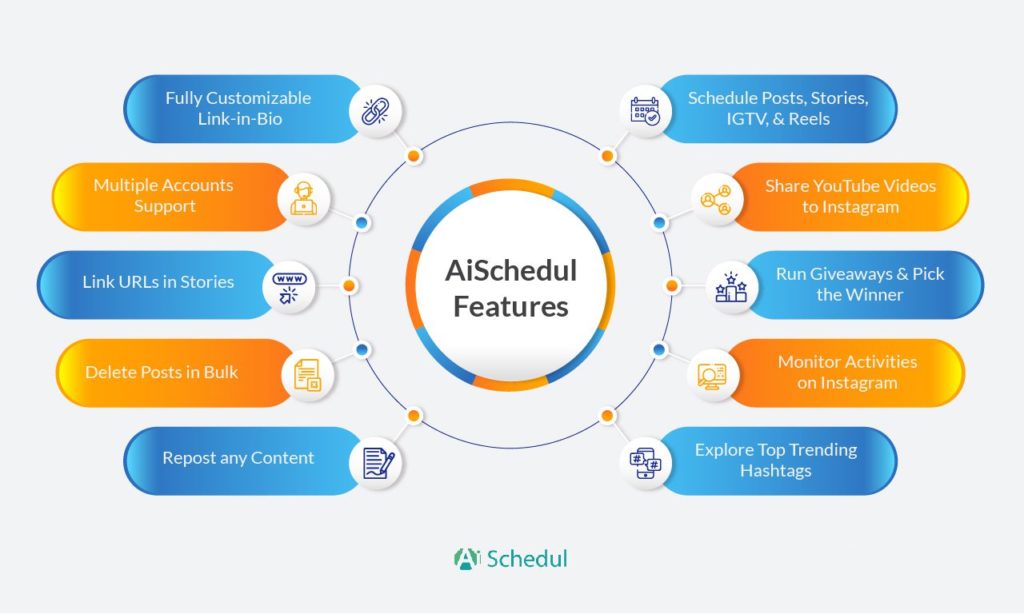 Using AiSchedul, you can see all posts that mention your name in the 'Listening and Repost' section of your AiSchedul account. The screenshot below shows the user interface and the section where you can see all tags and mentions.

AiSchedul is a multi-featured Instagram-based platform and one of the best scheduler tools on the market. It's also the best app for reposting on Instagram because it has more functionality and options than the competition.
Not only can you repost any content with it, but you can also schedule IG posts and stories, react to comments automatically, and so on. This app allows you to look for Instagram posts using IG hashtags, locations, and other criteria.
Using AiSchedul to track all your tagged photos is useful, especially for Instagram professional accounts of brands and businesses because they can see what their customers have said about them on social media.
In case you have organized an Instagram contest or giveaway, you can check all the User-Generated content (UGC) in one place on the desktop.
The advantage of using AiSchedul over the desktop version of Instagram is that you can repost the contents in which you are tagged from a desktop.
So, your audience can see the posts and realize that you have interactive followers. As a result, they find it easy to trust you and buy from you because they know about your credit on Instagram.
In addition, they get interested in taking part in your Instagram User Generated Content campaigns in the hope of appearing on your feed. Now let's know how to see tagged photos of others on Instagram on a desktop.
If you want to search for tagged photos on Instagram using a browser it may have some differences.
How to View Tagged Photos on Instagram on Computer
On Instagram's desktop platform, tagged photos/pictures are now available. To see tagged pictures of people and accounts you follow, you no longer need to use the app on your mobile phone.
This is part of Instagram's latest desktop feature. On the page of the account you're following, it'll be below the bio section. 'Posts' and 'tagged' are located immediately above the photo area.
View Tagged Photos Using Instagram Web Version
You can also access tagged Instagram images and posts on the website by typing 'tagged' in the address bar after the Instagram account you're following (For example https://www.instagram.com/instagram/tagged/).
This is particularly useful when you don't want to use your phone to see how other users are interacting with the accounts you follow. You can then follow those accounts in return or learn about new ones to visit or try.
Here is the tagged section of @lancomeofficial: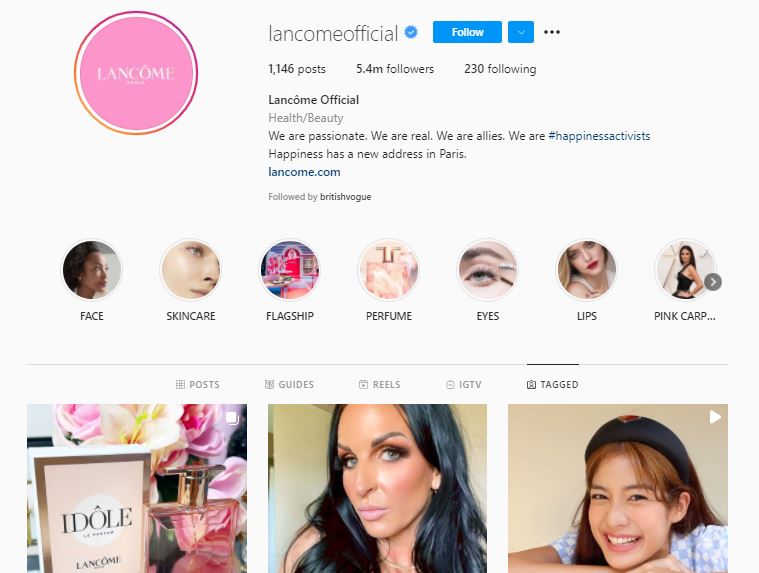 To view tagged photos on the Instagram web version, enter the account name of the person whose tagged images you want to view. You can enter the search term with or without the hashtag symbol. If you can't find what you're looking for, use the Tags tab to narrow down the results without tags.
We should mention that you can view Instagram tagged photos using the official Instagram web version but you cannot repost any of them.
Using AiSchedul, you can repost any posts you are tagged in from your computer.
View and Repost Tagged Photos on Instagram from a PC
As already mentioned, you cannot repost tagged photos from the official web version of Instagram. If you want to repost your UGC or any other content that you are tagged in, you should use Instagram tools.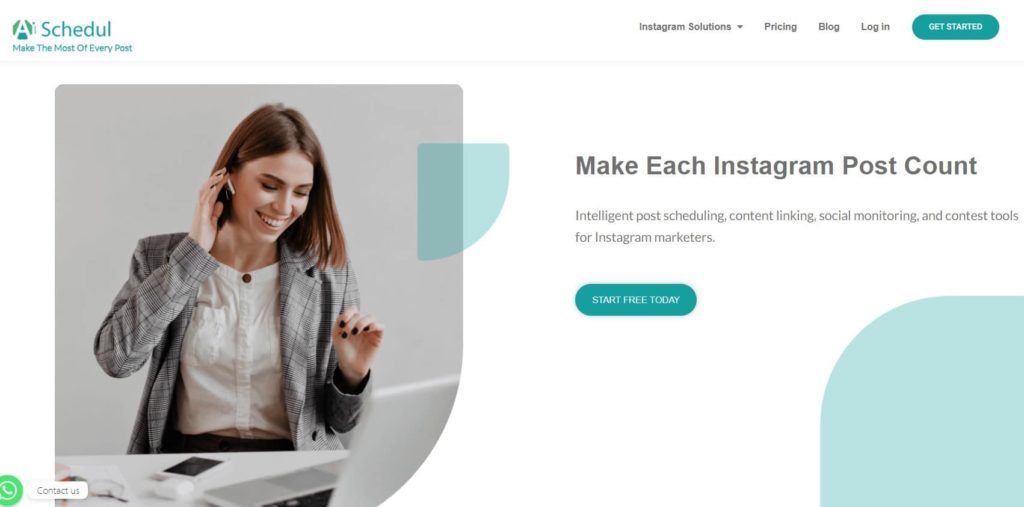 For reposting multiple photos on Instagram using AiSchedul, follow these steps:
Open the AiSchedul website on your browser and sign up for free.
After you've signed up, go to your Instagram account and start handling it.
Pick Add Instagram account from the Dashboard. You can connect up to 80 accounts at once and handle them all at once.
Select Manage Account after signing into your Instagram account.
Click on Repost and choose where you want to repost it, Feed, or Story.
After clicking on Feed, you can choose the way you want to find the content. You can repost by hashtags, usernames, locations, or URLs.
In case you don't know how to tag someone on Instagram, we'll show you how in the next part.
How to Tag Someone on Instagram
You can only tag users who have public profiles or users who you are following. If you tag a private account, the tagged user will receive a request to approve or decline the tag before it appears in your post.
Also, it's important to respect other users' privacy and ask for their permission before tagging them in your posts. To tag someone on Instagram, follow these steps:
Open the Instagram app on your mobile device and log in to your account.
Start creating a new post by tapping the '+' button at the bottom center of the screen.
Choose a photo or video from your camera roll or take a new one using the app's camera.
Apply any desired filters or edits to your photo or video.
Then, you can tap on the photo or video to add tags by tapping on the 'Tag People' option before sharing your post.
You can also mention the user by typing '@' followed by the username of the person you want to tag in the caption or comment section. As you type, Instagram will show suggestions of usernames that match the letters you've entered. You can tap on the correct username from the list of suggestions.
The tagged username will appear as a link in your photo, caption, or comment, and the person you've tagged will receive a notification that they've been tagged in your post.
You may want to hide tagged photos from other users' views after viewing and discovering them, but how should you do so? Continue reading.
How to Hide Tagged Photos on Instagram
There are various ways to hide and unhide tagged photos on Instagram. Simply select the option that works best for you. In this way, you can hide your tagged photos from your profile.
However, keep in mind that this will prevent anyone browsing your profile from seeing your tagged photos, but your tagged photos can be seen by searching them.
To hide the tagged photo from your profile on Instagram, follow the steps below:
Go to your profile by pressing the profile picture or username on the home screen of the Instagram app.
Look for the picture that has been tagged to see if the photos are still there.
On the top right, tap the hamburger button.
Go to Settings.
Open Privacy.
You should see a list of pending tagged photos and their number which you should open.
Hide any picture you want by tapping on it.
To unhide Tagged Instagram Photos:
On the top right of the selected frame, tap the three-dot icon.
Post Options should be available.
Select Show on My Profile.
FAQs about Instagram Tagged Photos Search
There may be more questions about how to see tagged photos on Instagram and tagged photos search, here in this section, we will briefly answer some of the most frequently asked questions.
1- How Do You See Someone's Hidden Tagged Photos on Instagram?
Well, you can't. It is not possible to see someone's hidden tagged photos on Instagram. Just as you cannot see the posts of a private account on Instagram, you cannot see the tagged posts of private accounts either.
2- Why are Tagged Photos not Showing up?
On Instagram, you can choose whether to allow posts to appear on your profile manually or automatically. So, if your tagged images aren't appearing on Instagram, search the feature called 'Photos of You.' Set it to 'Add Automatically' to get all the tagged images added to your profile automatically.
3- How Do I Follow a Tag on Instagram?
You can just follow the top hashtags on Instagram and not tags. Here's how to do that:
Open the Instagram app on your mobile device.
Tap on the 'Search' icon (the magnifying glass icon) to go to the Instagram search page.
In the search bar at the top, type in the hashtag or tag that you want to follow. For example, if you want to follow posts related to travel, you can type in '#travel'.
From the search results, tap on the desired hashtag or tag to view the posts associated with it.
On the top of the hashtag or tag page, you will see a blue 'Follow' button. Tap on it to start following the tag.


Once you have followed the tag, posts containing that hashtag or tag will start appearing in your Instagram feed, allowing you to easily discover and engage with content related to that specific tag.
Note: You can also unfollow a tag by going to the hashtag or tag page and tapping on the 'Following' button, which will change to "Follow" when you are already following it.
Bottom Line on Instagram Tagged Photos Search
Now you know how to see someone's tagged photos on Instagram. Additionally, finding all your tagged photos on Instagram and mentions of your Instagram account is necessary, especially if you have a business on Instagram.
You should know what your audience is saying about you because it plays an important role in your Instagram marketing strategies. To do so you need to know how to do Instagram tagged photos search.
Using AiSchedul, you can find all tags and mentions on your Instagram account in one place, and you can repost them on your feed or story if you want.