"Music and podcasts for every moment!" Spotify is the most intelligent music app in the whole world. Indeed, I am a big fan and share my Spotify top songs on Instagram. In addition, you can quickly post long videos on the Instagram story, feed, & IGTV. Earlier, the only method for non-verified Instagrammers to share Spotify songs was posting a screenshot of the music you were listening to. However, now there is an Instagram Stories option to the share menu for playlists, tracks, albums, and artists. Therefore, many people are looking for how to share Spotify song on Instagram story.
Spotify's unique integration with IG lets you share songs and videos to your Instagram Stories with a clickable link. It will lead your followers straight to Spotify plus boost engagement rate on Instagram. So let's keep in touch to study how to add a Spotify song to an Instagram story.
How to Share Spotify Song on Instagram Story
It would be a great idea to add music to the Instagram story. Many music bands and singers display some single tracks and music videos so you can publish them on Instagram. 
So if you want to know how to share Spotify songs on an Instagram story, follow the instruction below:
1- Open your Spotify player and select an album, playlist, or artist you want to listen to. 
2- Choose the Music You desire to Share on Spotify. Once you click on the album image of the song, a mini clip will start. Ensure that the video loop you choose works correctly, like a Boomerang.
3- To share the song, tap the three dots in the upper right-hand corner of the screen.
4- Tap "Share."
5- Pick "Instagram Stories" in the list. You can also choose other apps like Facebook to share music.
6- It will navigate you to the Instagram app and automatically shares the song link and icon in a new story post. 
7- You can make and add custom stickers to your story, 
8- After editing your story, tap "Send to" at the bottom of the screen. 
9- Select "Share" next to "Your Story" and share the music. 
That's it!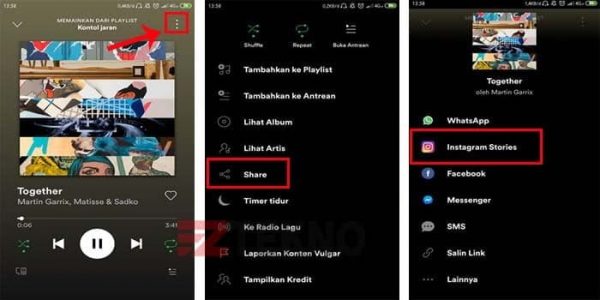 Now, viewers will notice the "Play on Spotify" option on the top-left corner of their screen when it goes live. With this link, fans and followers will engage with you on Instagram and Spotify while reaching your music instantly.
How to Loop a Video on Spotify to Share on Instagram Story?
Instagram story videos help to develop your business, primarily when you use creativity and make loop videos. Indeed, if you want to share a Spotify video on Instagram story you need to change it to a loop video.
Canvas is a Spotify feature that lets artists add an 8-second visual loop to their tracks. Indeed, Spotify calls this feature "Album artwork for the streaming age." It will loop in the Now Playing view of the Spotify app. 
Before adding a Spotify Canvas to your video, remember the specification below when making your file:
Ratio: 9:16 Height: At least 720px
Length: 3 secs – 8 secs File
Format: MP4 or JPG only
Loop a Video on Spotify from Desktop
Now, to add a Spotify Canvas to Your Video on the desktop, you need to:
Log in to

Spotify for Artists

.

Select the Music.

Choose a song and click on "ADD CANVAS."

Click the "+" and upload your file.
After 1 hour of uploading, people can listen to your song.
Loop a Video on Spotify from Mobile
To add a Spotify Canvas to Your Video on the mobile, you need to:
Install and log into the Spotify for Artists mobile app.

head over to the "profiles4a" icon profile.

Select a release or an upcoming release.

Press "+" next to a song and choose a file.

You can edit and trim it if needed. 

Tap 'Post Canvas." 
That's it! 
How to Share Spotify Link on Instagram Story from PC
MyURLs.bio is an Instagram bio tool that lets you share Spotify songs and videos on stories and posts, linking each post and story to a Spotify link. 
MyURLs.Bio is an excellent Instagram link-to-profile tool for businesses. This app lets you prioritize the links in your profile by various shapes, buttons, and colors. 
The fantastic news is that MyURLs.Bio enables you to put all your social media links in your Instagram profile, plus joining your website link to your profile. Therefore, you don't have to pick the best link to share in your bio, as you can add all of them.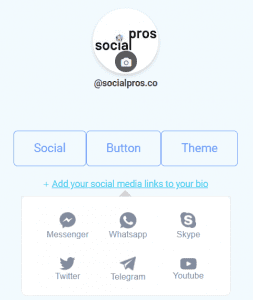 Spice up Your Bio and Drag the Attention of Your Audience
Listen to Guy Scheiman's music, who shares Spotify's songs on Instagram stories.
Take a look at his newest tracks and draw the spirit to the audience's life! 
What people love about his MyURLs.bio page is that he chose a dark theme for his page. So with colorful social media widgets, he built up a magnificent eye-catching scene. Applying these social media icons, you can join him on Facebook, TikTok, Twitter, or even Twitch.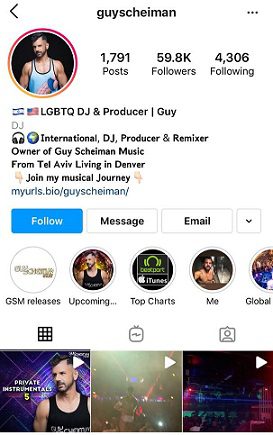 Therefore, you can watch his live performance and join his community. Moreover, he designed some catchy buttons with a small thumbnail. That'll guide you on where to find his socials, music store, or homepage on his website. 
Above all, by adding links to his stories on MyURLs.bio, Guy made it easier for followers to find the tracks they loved that he played on stories.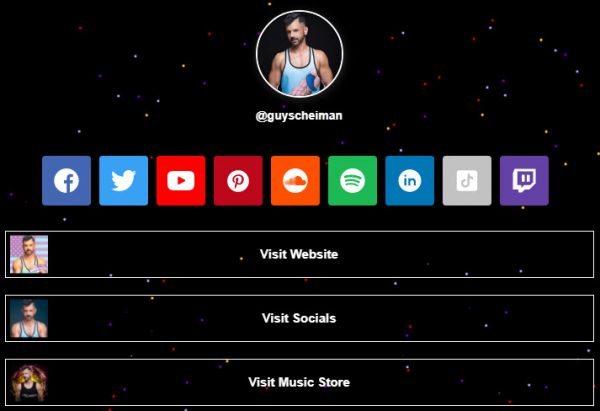 As you see in his bio links, he added Spotify to Instagram. So you can click on each button to navigate to another social media.
Additionally, this app lets you customize the background picture and theme and social media links with thumbnails.

You only need to sign up for free and make most of its various features. 
Moreover, having MyURLs.Bio tool you won't face Instagram links in bio not working anymore. 
FAQs about How to Share Spotify Song on Instagram Story
Now, you have precise information about sharing a song from Spotify to Instagram stories. However, many people encounter some problems that I mention the most common ones.
1- Why can't I share my Spotify song on Instagram?
If you can't share Spotify songs on Instagram, update your Instagram app and try it again. However, using MyURLs.Bio, you can easily link your stories and posts to Spotify on mobile and PC without facing any issue.
2- How do I get Spotify stats?
At the end of each year, Spotify showcases the music and genres that you listened to over the whole year. So you can see your Wrapped 2020 results using the Spotify app on mobile by following these steps: 
With the app installed on your phone, open a browser like Google Chrome.

Head over to Spotify's Wrapped 2020 website

Then, select the "Log in to see your 2020 Wrapped" link.
Final Words
Sharing music is one of the best ideas to expose a feeling or tell a story on Instagram. It will increase the engagement rate and draw followers to your account. On the other hand, utilizing MyURLs.Bio will ease your task and multiply the outcome of adding music to Instagram stories.