Today, there's fierce competition between different brands and merchants on Instagram. Being provided with the opportunity to create a shoppable Instagram feed in a few minutes, all IG users want to attract more customers, boost their sales, and win the marketplace.
But undoubtedly, without tracking your competitor and analyzing their performance, you won't be able to find and employ the winning strategies. This is exactly where you may need to use tools like Snoopreport.
This post will focus on Snoopereport Instagram account tracker to see how effective this IG tool can be in your marketing strategies. So, without further ado, let's dive right into the topic.
What Is Snoopreport
According to their website, Snoop Report is a platform to see what someone likes on Instagram anonymously. So, roughly speaking, Snoopreport is an Instagram monitoring app that allows you to track someone's Instagram activities without following them.

The major features of this Instagram account tracker tool are as follows:
Weekly reports on the number of likes, follows, and favorite users,
Posts that your target user has liked during a week,
Hashtags they're interested in,
And a few more details. Actually, what you see when tracking someone using this tool looks like the following image: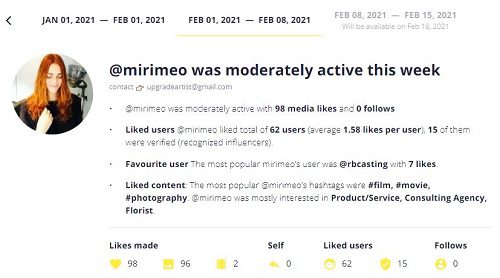 If you scroll down the screen, you can also find more information about the users and posts that your target user has liked: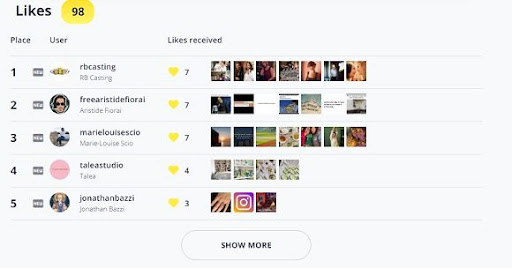 So, it helps you see what someone did in the past few weeks on Instagram and track their activities.
As mentioned on their website, Snoop Report only tracks open sources. Meaning that it only provides you with information from public followers and even when you check a public account using it, you won't be able to know the exact number of likes and follows. This is because it cannot access private accounts. Hence, if your target users like a post from a private account, you'll never know. Let's take a look at its pros and cons to decide!
Snoopreport Pricing
Here are the plans and packages offered by Snoopreport: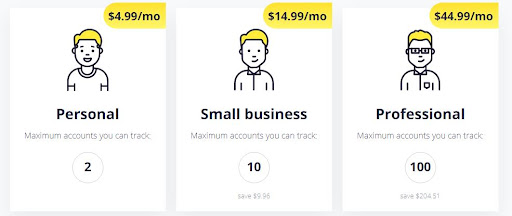 Snoopreport Review: Pros & Cons
Before purchasing any of the packages above, you'd better check the advantages and disadvantages listed below.
Snoopreport Review: Pros
As an Instagram tracking app, Snoopreport may be a good choice for you because:
It allows you to track activities anonymously,
Gives you a quick report of the account you are tracking,
And provides you with the opportunity to check for updates week by week.
The information you get from Snoopreport is very reliable and detailed.
Furthermore, with Snoop Report, you do not need to install an app or log into your Instagram account to track someone's activity on Instagram.
Snoopreport Review Cons
It only tracks public Instagram accounts.
Snoopreport Reviews
According to our extensive online research, this Instagram monitoring tool has received many positive reviews.
For example, on producthunt.com (a reliable platform in the tech world), many clients have given the tool a lot of positive feedback, which is very reassuring.
If you also have any experiences with Snoopreport, please let us know in the comments below.
Snoopreport Reports
Many people have already used this IG tool. Now, let's see what Snoopreport shows. Among the valuable and detailed information displayed are liked accounts, hashtag interactions, and favorite users.
Moreover, it allows us to observe how interactive Instagram accounts were with other IG users on the platform. These reports will appear on your dashboard every week, and all you have to do is to sit back and watch them come in.
For example, we have the following report from Snoopreport about Jilo: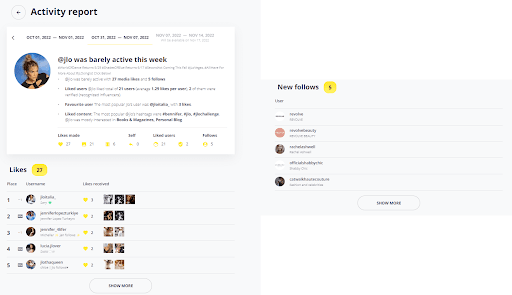 As you can see, with this Instagram activity tracker, you can receive valuable insights about anyone's public account on Instagram to see what they like and who they follow.
In this way, you will gain a deeper understanding of your target audiences to optimize your marketing campaigns more informedly.
Here is another report. It shows the posts that he has liked and his new favorite followers. So, you now know what kind of content is most engaging for him. In this way, you can create content that appeals to IG users' interests.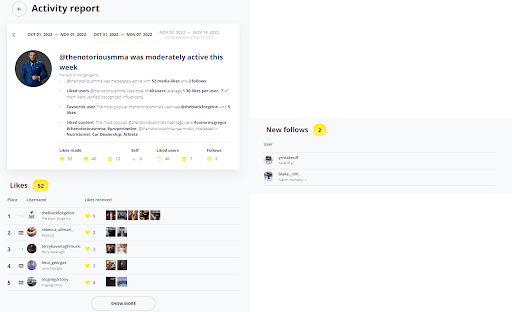 💡Pro Tip: Keeping your child safe on social media is possible with the Snoop Report tool if you are a parent worried about their activities on Instagram.
For more information about this incredible tool and how it works, you can watch the video below:
FAQs On Snoopreport
Up to this point, we've provided you with an all-inclusive article regarding this Instagram monitoring tool and everything you need to know about it. Now, let us delve deep into some of your most frequently asked questions and help you get clear-cut answers to them.
Q1. Is Snoopreport Anonymous?
Apparently, yes! Using this tool, you don't have to log in to your Instagram account and you just have to sign up using your email address, which does not necessarily need to be the email by which you signed up on Instagram.
Q2. Is Snoopreport Safe?
The answer is yes! Snoopreport just uses open sources to track users. Additionally, it doesn't require your login information on Instagram. So, you can use it without worrying about your privacy or even your target user's privacy.
Q3. Is Snoop Report Legal?
Yes, besides being 100% legal, it's also ethical. This is because the information you receive in Snoop reports is public. It does not provide any personal information or any private account activity.
SnoopReport Review: Bottom Line
In a nutshell, Snoop Report is a good choice for those who want to track basic activities such as likes and follows of an Instagram user.
According to their website, 55,000 people have already used it as a reliable and accurate IG monitoring tool.
And many marketers are satisfied with it in boosting their Instagram marketing activities. Using Snoopreport, they have had a better understanding of their target audiences to better serve them in the media.
So, If you are interested in receiving actionable and in-depth data about IG users' behaviors, we recommend giving Snoopreport a try now.