You've developed a business, done anything to provide your customers with the best product or services, created a website to showcase them, and are ready to skyrocket your business, but see not very promising results! Desperate, you come across WatchThemLive in your quest to find a solution.
WatchThemLive promises to give you valuable marketing analytics about your visitors and track user experience on your website. Yet, do they stay true to their vows?
After testing this user behavior analytics tool, we realized that WatchThemLive is a legit company with incredible services and customer support. In this WatchThemLive review, we're going to discuss its features, pricing, pros, and cons, and customer reviews in depth to help you see for yourself.
So buckle up, and let's get started!
What Is WatchThemLive
If you're looking for ways to track user experience and increase your conversion rate WatchThemLive is the right tool for you. Especially, if you're a small business owner.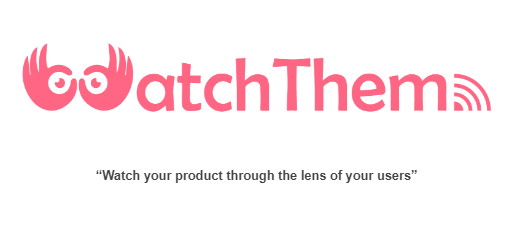 WatchThemLive is a behavior analytics tool that helps Business owners pinpoint anything that might be wrong with their website. This includes a variety of features such as finding confusing interfaces and bugs and giving you the opportunity to know the users' OS (operating systems).
Using this CRO tool, you can track users' behavior to see what they think of your web pages instead of directly asking for user feedback. Overall, WatchThemLive makes sure you have a smooth cross-device experience.
Let us now focus on some of its core features to help you gain a deeper understanding of this incredibly helpful website tool. Shall we?
WatchThemLive Features
Given the fact that WatchThemLive is an all-in-one, no-code platform, it takes a convenient, straightforward approach to behavioral analytics. What's noteworthy is that a lot of these analytics are showcased in graphs as well.
Here are some of its distinguishing features that pave the way for such performance.
#1 Demo Mode
What really sets WatchThemLive apart from its competitors is that it gives the users to try a demo before they make any purchase. This feature is highly beneficial for those who don't have a functional website yet and are pre-planning their journey or just want to know how it actually works before investing in it.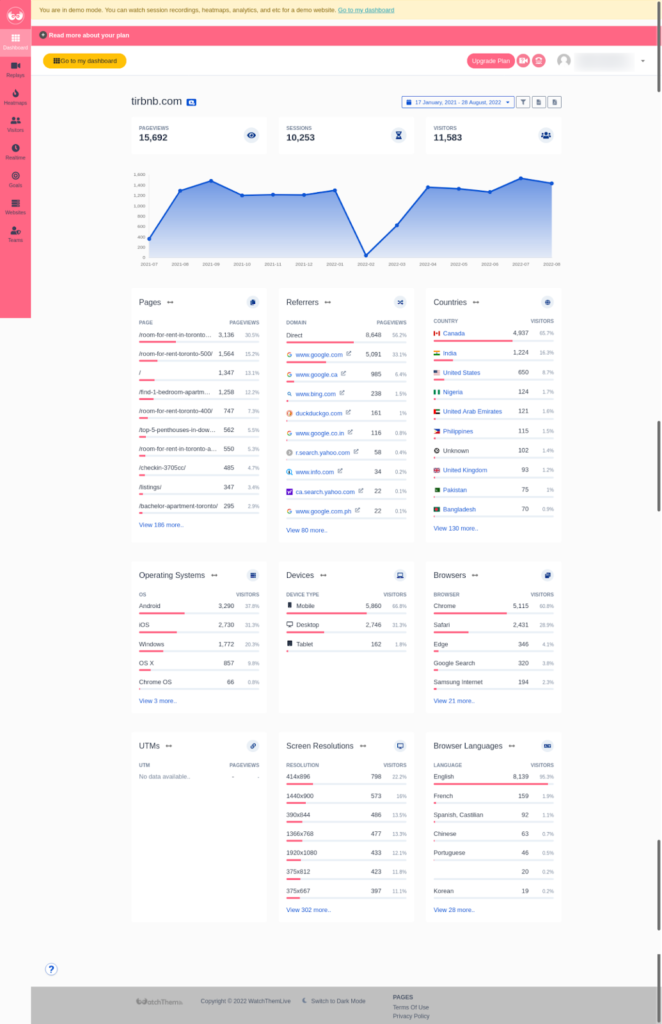 #2 WatchThemLive Analytics Dashboard
'I never guess, it is a shocking habit – destructive to the logical faculty' once said, Sherlock Holmes! In the world of businesses, especially digital ones, knowing exact analytics is a must for improvement.
WatchThemLive's website analytics dashboard, therefore, is a great tool in your toolkit. It has everything every website owner needs, and consists of 9 main widgets that answer the following questions:
Who are my visitors?
What devices are they using?
What pages do they visit?
Where are my visitors from and what languages do they speak?
What are my visitors' landing and exit pages?
How much is the bounce rate of every subdirectory and subdomain of my website?
How many of my visitors are being referred from social media platforms?
What operating system are they on?
What's their screen resolution?
Which browser are they using?
Pro Tip: Every piece of data on WatchThemLive's dashboard can be exported in either CSV or PDF.
#3 Active Filters
WatchThemLive has also made it possible for clients to access the data they want conveniently and hassle-free by giving them the chance to use multiple filters.
The data on your dashboard can be filtered by various factors such as date range, name, email, page, country code, screen resolution, browser language, OS, device, event type, and session duration.
#4 WatchThemLive Session Replays
Wouldn't it be great if you could have an eye on the journey a visitor goes through when they visit your website to see where you lose them?
Session replays show playback of every visitor's unique interaction with the client's website. This will enable website owners to identify why users lose interest in some pages and decide to close them, or in case they've faced any bugs along the way.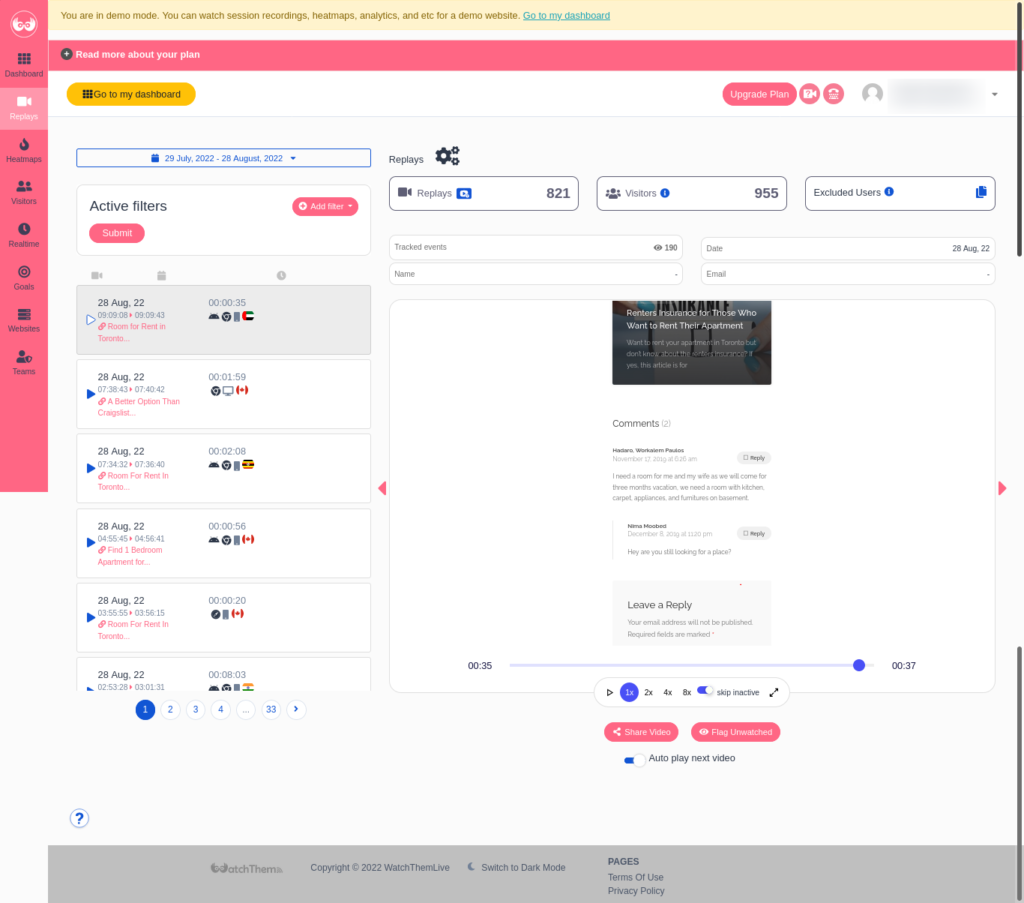 This will give you the opportunity to determine if the whole thing is progressing as you wish, and take any precautions if necessary. By clicking on each session, you can view the designated video playback.
What's even more fascinating about this feature is that it shows console errors in these session replays as well and you get to receive a warning every time a console error is detected.
Don't worry if you need to share the video with your co-workers or developers! WatchThemLive's session replay feature has a 'Share Video' option that allows you to share these replays even if your colleagues don't have an account on this conversion rate optimization tool.
Recently, they have added the option to autoplay videos back to back to back which has been requested by a lot of users.
#5 WatchThemLive Heatmaps
If you've watched weather forecasts at least once, you're already familiar with heatmaps. Heatmap is a tool that provides information about the areas that get the most (and least) attention from visitors that come across a platform.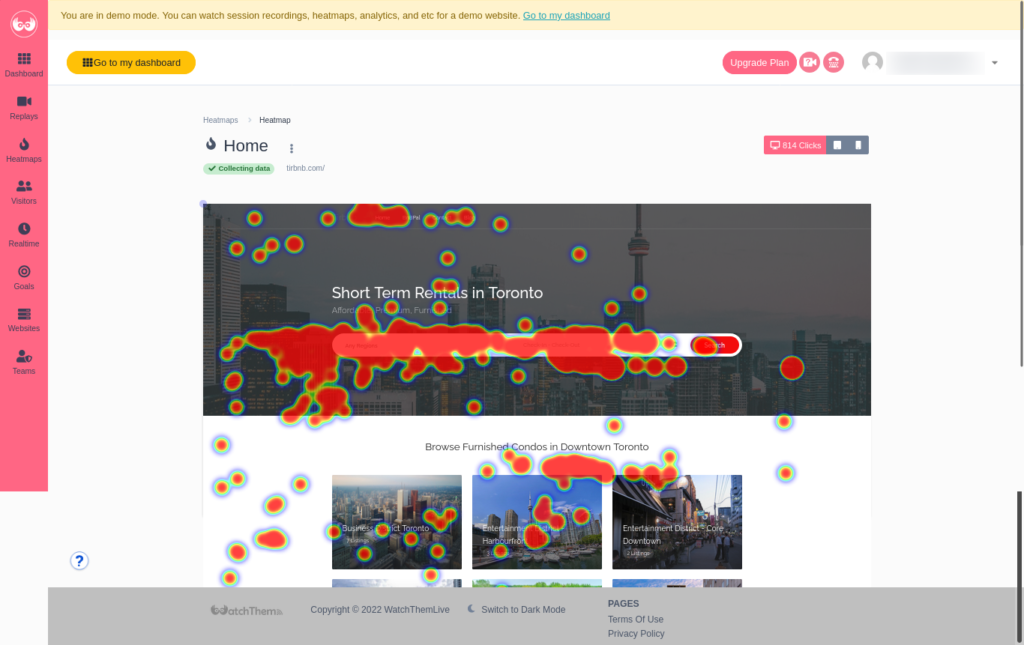 Currently, WatchThemLive provides its clients with click heatmaps which showcase where visitors of their website click the most. For instance, the picture above shows that the search bar is the most popular area of this webpage.
Heatmaps are incredibly helpful when it comes to running sales campaigns, fill-out forms, and surveys. To see your overall campaign's feedback, you may reset the heatmap. This will allow you to see the new heatmap of your web pages.
#6 Visitors
Would you like to know all about your visitors' journey from scratch including where they land, how far they scroll down your web pages, the time they spend on your website, if they resize the pages they're on, and where they leave your website, etc.? Then you can use WatchThemLive's visitors' feature.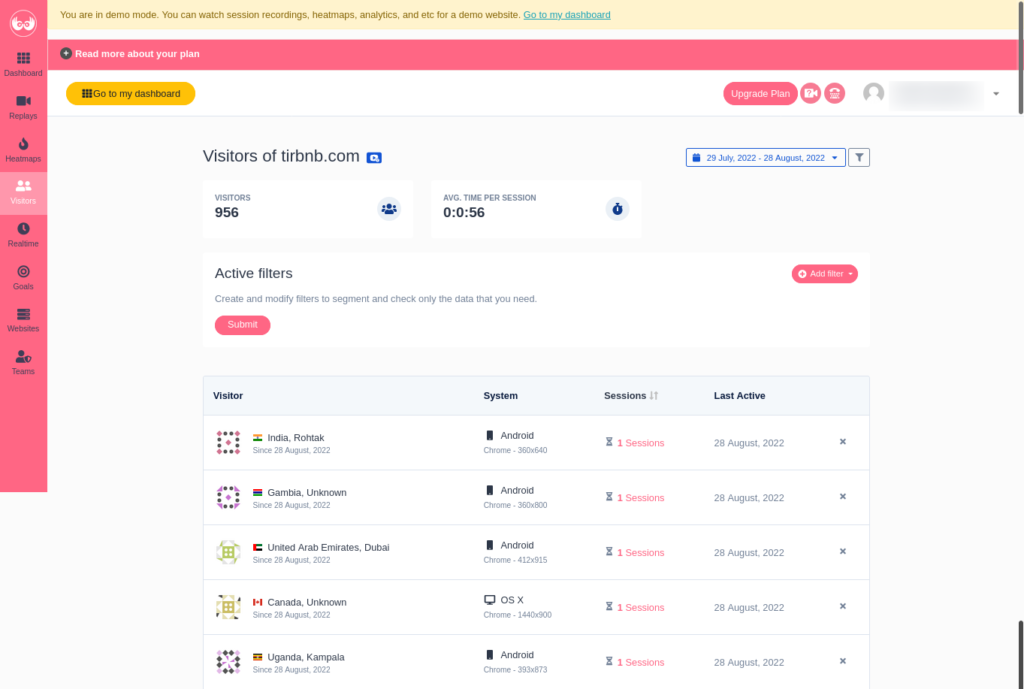 You can get access to all those data by simply clicking on the sessions. In addition to the points mentioned above, WatchThemLive's visitors' feature enables you to keep an eye on the users' full interaction history in detail. For instance, you will be informed of whether they are newcomers or returning visitors, their IP address, location, etc.
A complete profile of interaction history provided by WatchThemLive is illustrated in the picture below: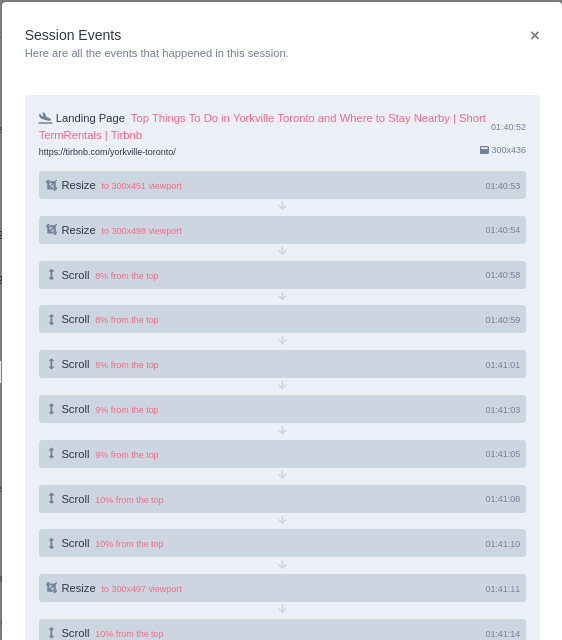 #7 Realtime
Has your customer support team been struggling with keeping track of your clients? Do you need a tool to help you understand the number of your online visitors, their countries, devices, and the pages they're visiting in real time?
WatchThemLive offers a feature called 'Realtime mode' which enables you to have all those information in just one click!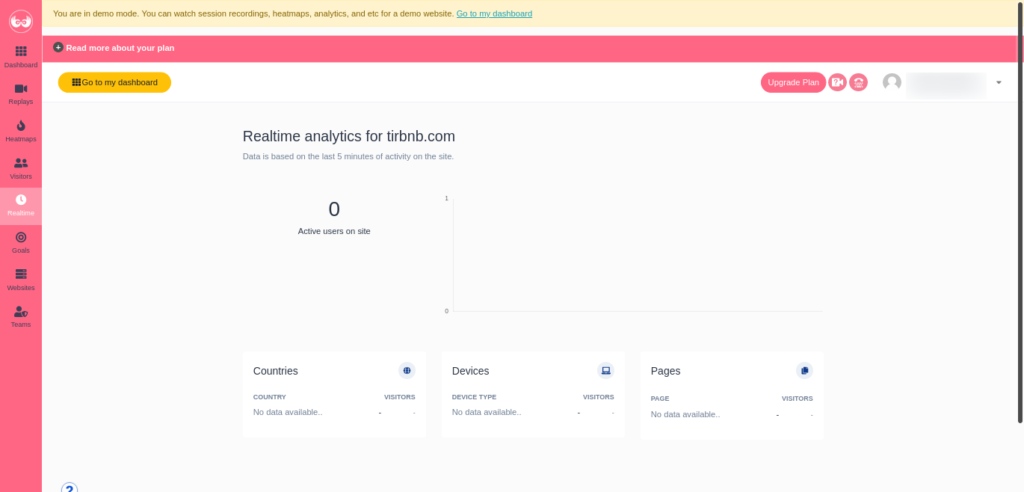 #8 Goals
Let's say you have added a survey to your website and you want to track the number of conversions that follow through after filling out the survey. With the help of 'Goals,' you can easily set up custom events and track their conversions.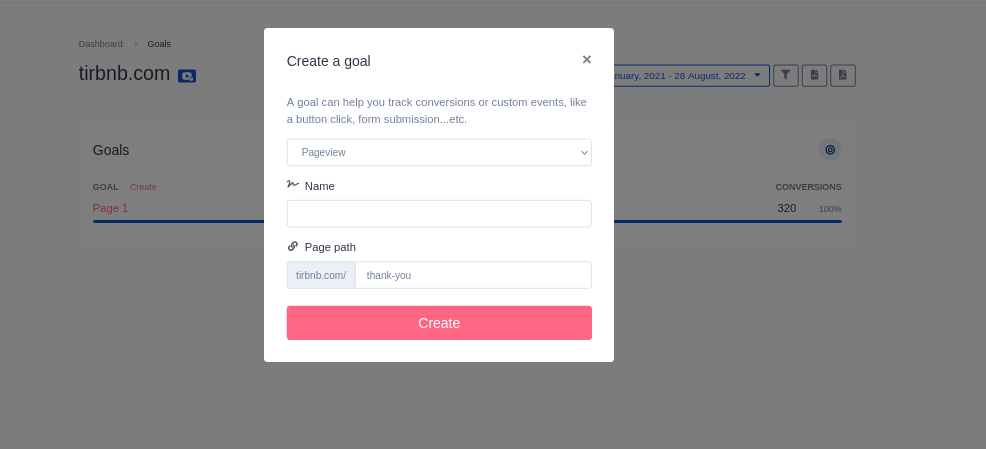 Keep in mind that these custom events can be pageviews, button clicks, form submissions, or even scrolling. The number of visitors who complete your set goal will be shown in the progress bar. As always, this data is exportable in CSV and PDF.
#9 Teams
Using this feature, you can easily manage your team and get them involved in the troubleshooting process.
Here's how WatchThemLive's team works:
First, the project owner will create a team.
Then, they designate a team member to a certain web page.
Next, an invitation email will be sent to the members' inboxes.
Finally, by accepting the invitation, all team members can access the features.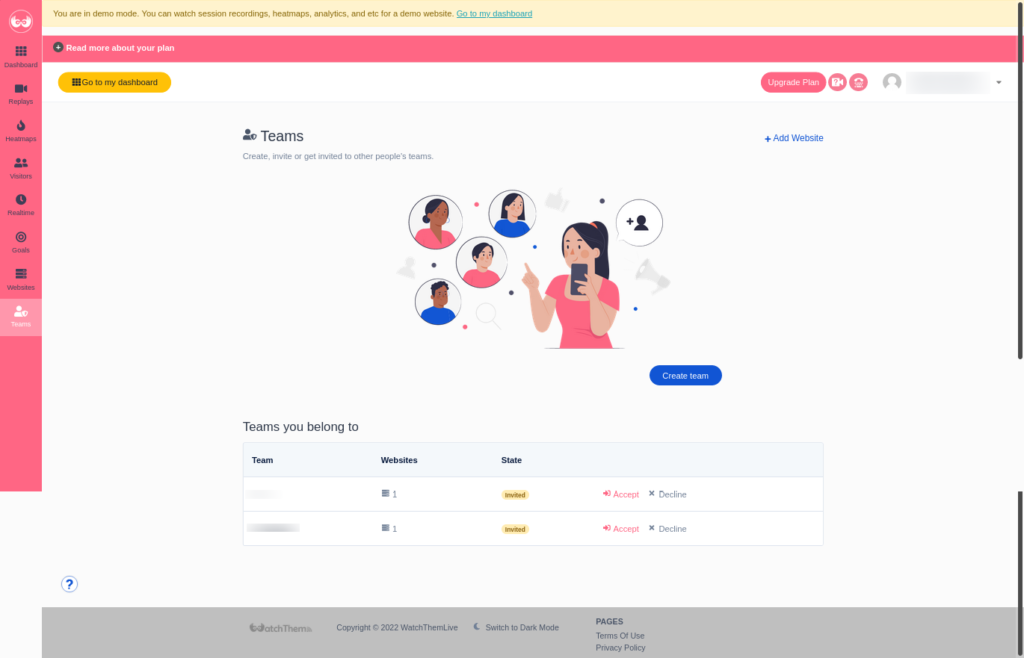 #10 Websites
This is rather a tool that helps you keep track of your website's package usage. By clicking on the 'i' icon, you may see how many session replays, visitor events, and pageviews you have left on your package.

By navigating through the website menu, you can see your tracking code, edit your website details, or delete your website from the tool.
#11. Support
Basically, you can find the answer to all your questions in the helpful guides they have already
posted on their website. However, WatchThemLive's support team is always available to smoothen the experience for you.
In case you face any issues, it only takes a few minutes to get a response in the live chat during business hours. Outside office hours, it might take a few hours, but you will always get a response.
WatchThemLive Pricing
You're probably thinking that if a tool is offering all these features, it must be very expensive. So we did! However, WatchThemLive's pricing is quite reasonable.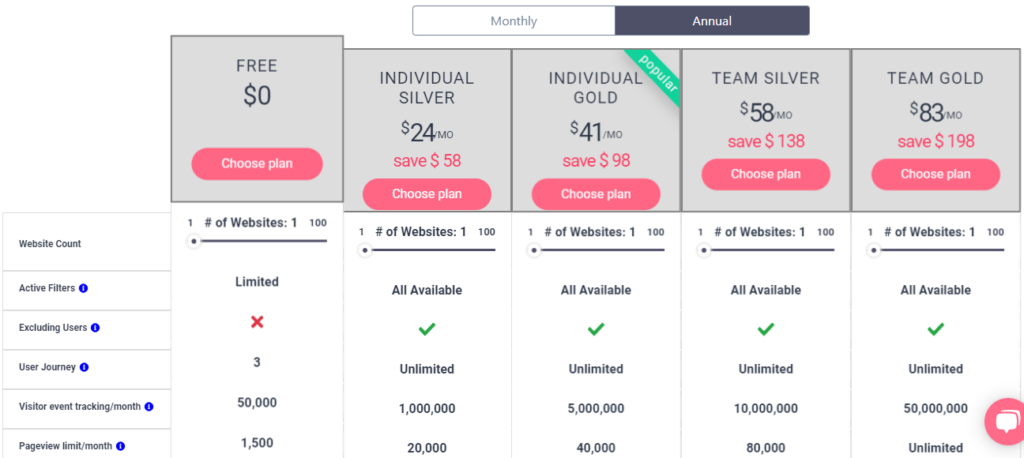 WatchThemLive Reviews
You might wonder whether WatchThemLive delivers on its promises or not. And you've got every right to. Therefore, we've collected some reviews of its clients to help you make up your mind about this conversion rate optimization agency.
Let's take a look, shall we?
WatchThemLive Reviews on Trustpilot
WatchThemLive has earned a very high average score on Trustpilot. As illustrated in the screenshot below, it has earned a 4.8 average score out of 58 customer reviews on this website. This shows that most of its clients are incredibly satisfied with its performance.
Let's take a look, shall we?

Let us now have a glance at some of these comments. In the picture below, you can read about Zina's experience with the tool. In her WatchThemLive review, she states that it's a user-friendly, reliable tool.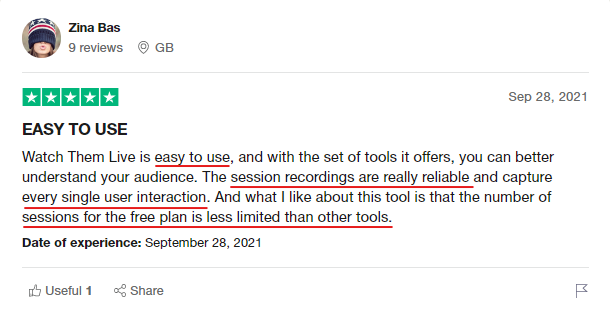 Here's another review left by a customer. As you can see, Robert is incredibly happy with the new light WatchThemLive has brought to his business.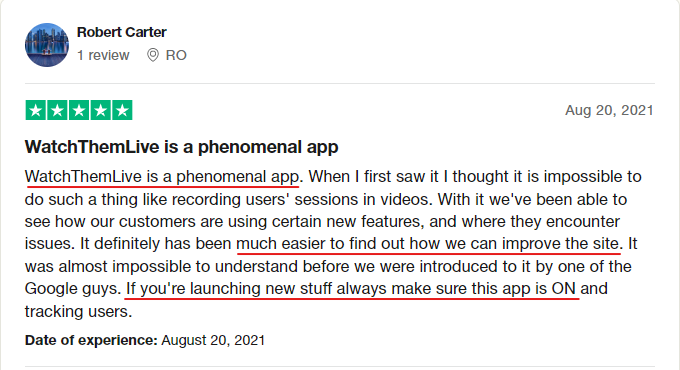 WatchThemLive Customer Reviews
If you wish to read a detailed review of this behavior analytics tool, read the ones below. As you can see, customers are quite satisfied with using this tool.

Here's another customer review:

If you wish to hear it out from a client, you can watch the video below. This is a video recorded by Klaus Grosser, a successful entrepreneur and the founder of Consciousnest.
WatchThemLive Pros and Cons
Now, let's summarize the pros and cons of this conversion rate optimization service to help you decide better if you want to use it or not.
WatchThemLive Pros
By using this all-in-one CRO tool you can take advantage of:
A demo mode to get familiar with how it works,
A precise analytics dashboard,
Various filters,
Valuable data about your users' journey on your website,
Session replays and the opportunity to share them with your co-workers,
Click heatmaps,
Realtime mode to assess your online visitors in real-time,
Setting up custom events and tracking them,
More conclusive reports through the Teams feature,
Keeping track of your website's package usage,
GDPR compliance,
Great customer support and live chat.
WatchThemLive Cons
By using this website analytics tool, you don't have access to
Scroll heatmaps,
A/B testing.
WatchThemLive's FAQs
So far, we've discussed everything about this CRO tool. Now, it's time for some of your most frequently asked questions to help you make a decision.
Q1. Does WatchThemLive Work?
Yes, it actually works pretty well. In fact, what we liked most about WatchThemLive is that it has a much more user-friendly analytics dashboard compared to google analytics.
Q2. What Is Conversion Rate Optimization?
Conversion rate optimization or CRO is the process of increasing the number of conversions on your website. Therefore, CRO tools such as WatchThemLive help you track user behavior on your web pages and see whether they are performing the actions you wish them to.
Final Words on WatchThemLive
Overall, knowing what journey users go through when they visit your website is incredibly helpful for your brand to identify the obstacles that prevent them from purchasing your services or products.
Therefore, using a reliable CRO tool like WatchThemLive which has proven to be effective is essential if you wish to take your sales to another level.
So, don't waste a second more and sign up on WatchThemLive to watch your users live!