Are you looking to increase your revenues by growing your Instagram account? Do you have a business with physical products and you want to sell them on Instagram? Wondering why you cannot tag your products on Instagram? 
In this article, you will find out about Instagram's product tagging process and selling on Instagram. So, read more to see how you can enable Instagram product tagging. 
What is Instagram Product Tagging?
Instagram product tagging is a fantastic feature of Instagram since 2017 that enables Instagram business accounts to tag their physical products in their posts and link them to their Facebook catalog to buy what they want in a few seconds. 
Instagram product tagging or Instagram Shopping is a great way to increase your sales. It is also a great way to increase your followers and convert them into loyal customers. But sometimes you may find it not working! What can you do in this case? Keep reading to find out!
Why Can't I Tag Products on Instagram?
To tag products on Instagram, your store must be eligible for product tagging. If you cannot get the approval for launching Instagram Shopping and tagging your products on Instagram, you can try these pro solutions:
#1 Do the Basics
If you can't tag products on Instagram, the very first thing you must do is to check for the fundamentals. This actually includes 8 steps. So, keep reading and check all these steps to see if you can get your tagging feature back or not! 
1. Disconnect your Instagram Account and Facebook Page
You should first disconnect your Instagram account from your Facebook page and switch your account from business to personal. To disconnect your account, you should go to Settings, choose Account, then tap on Sharing to Other Apps. Choose Facebook and disconnect it easily. 
You also have to disconnect your Instagram account and Facebook page in the settings of Facebook. The process takes a few seconds and you should open Facebook in a web browser and click on Settings at the top of the page and choose Instagram in the left menu. Find the Disconnect button at the bottom of the page and you are done. 
Then, you should switch your Instagram business account to a personal account. You should remember that doing this means you will lose the data of your posts and the Insights feature. To switch, you should go to Instagram Settings, choose Account, and then tap on the blue option at the end of the menu which is Switch to Personal Account.
In addition, remember to disconnect your Instagram account from Business Manager.
2. Set Your Facebook Page Template to Shopping
The next step is to check if your Facebook business page is set to the correct template. A general business page would not give you the approval of Instagram Shopping. You should use the Shopping template on your Facebook business page. So, go to Facebook Settings and choose Templates and Tabs in the left menu. Then, choose Shopping on the right.
3. Switch your Instagram Account Back to Business
Wait for some days and then switch your Instagram account back to business. But remember not to connect it to Facebook in this step. 
4. Set Up Your Facebook Catalog
Now, you should open your Business Manager and set up your Facebook Catalog manually. Depending on the app you choose to sell your products, e.g. if you use Shopify, Etsy, etc., the process is different. You can choose Catalog Manager in Business Manager and click Create Catalog. Remember to choose eCommerce as your business category. 
5. Set Up Commerce Manager
You should set up a Commerce Manager if you want your Facebook shop to be approved. You can set it up with your Business Manager. Go to Create & Manage Section and click on Commerce Manager.
6. Connect Your Facebook Catalog to Your Facebook Shop
Here is the next step. To do this, go to your catalog in Business Manager. Click on the catalog and you will see the Use Cases area of the catalog. Connect your Facebook page to your catalog right there. You should wait some minutes before you can see your catalog on your business page. 
7. Set Up a Button on Your Facebook Business Page
Remember not to miss this step because then it is probable that you cannot tag your products in your Instagram posts. To add a button, go to your Facebook page and click on Add a Button. A new window pops up. Choose Shop with You and then Shop Now. There it is, the Shop Now button! 
8. Reconnect to Your Instagram Business Account
Now, everything is set and done. All you need to do is to reconnect your Instagram account and Facebook page. Remember to update your Instagram app to the latest version available. In addition, keep in mind to reconnect your two accounts both on Instagram and Facebook. 
#2 Use a Professional Third-Party to Tag Products on Instagram
Well, the process of getting the product tagging feaure is really time-taking and complex. Also, you may check all the mentioned steps and still can't tag products. What can you do in this case? Hopefully, you can use a third-party app like AiGrow to sell on Instagram even without a business account. 
Actually, AiGrow is a combination of Instagram growth services and management tools that gives you the opportunity to get the most out of this social network. Using AiGrow's bio link tool you'll be able to add product tags to your posts without getting approved. So, if you see that the product tag is not working, just sign up for free here and create your own bio link page. After that, whenever you post something on Instagram, you can add as many product tags as you want even without meeting Instagram's requirements. So, go ahead and give it a try right now.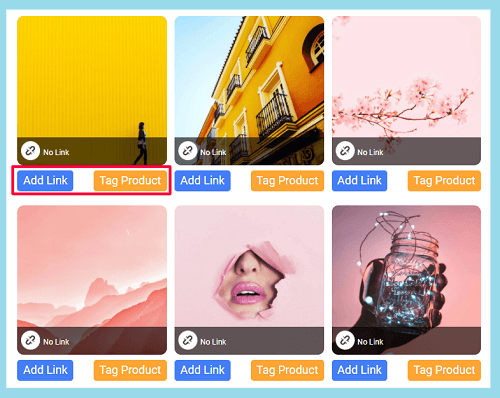 #3 Hire an Instagram Account Manager 
Unfortunately, this is not the only error you may face while using Instagram. Everyday users repost many errors and glitches such as: 
And more. Well, this is really frustrating and in some cases may also affect your brand authority. But there's no need to worry! Just by hiring a professional account manager, you can avoid all these errors and fix them right at the moment they appear. But where to find an Instagram account manager? 
Luckily, AiGrow is here to help you! Actually, when you purchase a package from AiGrow, you'll have a dedicated account manager who keeps track of your Instagram activities and issues and helps you have a better experience while using the platform. Apart from this, they handle your Instagram growth process and attract thousands of followers every month. So, sign up for free here, check the packages, and hire your account mangare ASAP!
Conclusion
No matter if it is your first time that you apply for Instagram Shopping or you are doing it again after being denied, this article has solved the issue of not being able to tag your products in Instagram posts by providing pro solutions.