YouTube DIY videos have a lot of audiences as they are both entertaining and practical in real life. People watch YouTube videos for many reasons. Sometimes they are looking for pure entertainment, while it may also happen that they want to learn new things or maybe they just want to share a YouTube video on Instagram. So, it is understandable why DIY YouTube videos are very popular.
This article will introduce 10 most popular DIY YouTube channels and you can visit these channels based on their relativity to your interests or their practicality. Check this article if you are looking for YouTube Likes.
Here Is the List of 11 Creative YouTube Channels
Take a look at the most followed DIY Youtube channels here in the infographic and then read more about them in details: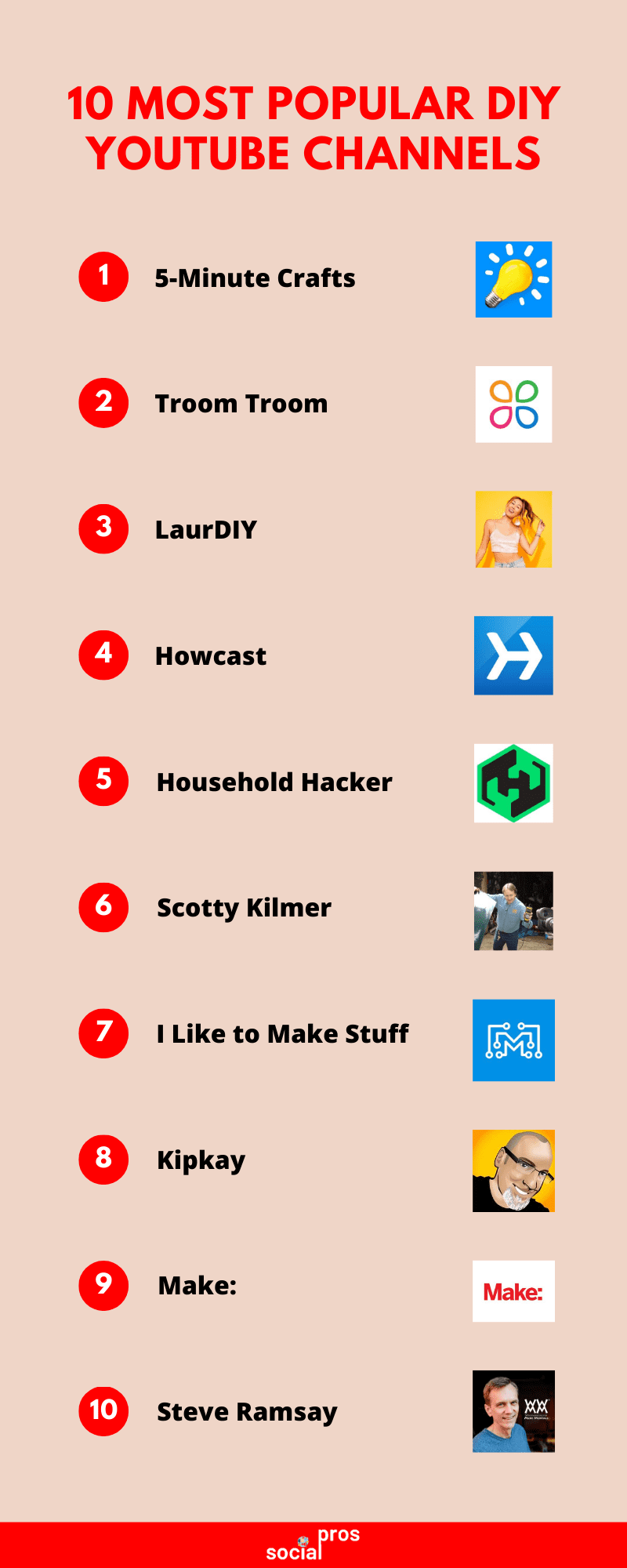 Over 67 Million Subscribers
5-Minute Crafts shares interesting videos about cool things like a glue gun, slime, glitter, etc. Moreover, creative cooking tricks and tips are other cool subjects of the videos you can find on this channel. For instance, you learn about many different ways to cook eggs or interesting fruit peeling techniques. No matter if you are a housewife or a man, the videos are highly engaging and fun. Here is an egg cooking video by 5-Minute Crafts:
20 Million Subscribers
With millions of views, Troom Troom is a fun DIY YouTube channel that has visually amazing videos about pranks, home décor, cosmetics, makeup hacks, and experiments. Regarding the use of colors in its videos, Troom Troom can easily capture your attention and teach you practical things. Here is a decor idea video by Troom Troom: 
Nearly 9 Million Subscribers
Lauren Riihimaki is said to be the Queen of YouTube by character Media. She shares DIY videos on almost any crafts. You learn from sewing to petting dogs by watching her videos. Her subscribers are mostly teenagers and Gen Z members. Here is how she sews an outfit for her dog using a sewing machine:
Over 8.20 Million Subscribers
Regardless of the number of subscribers, the video views on Howcast are something to do with billions. The general concept of the channel is teaching you various things in life. So, you can find a wide range of videos on different subjects. So, you can imagine how large this channel is. How-to videos, DIY creative videos, kid raising tips, fitness activities, teaching a new language, improving your skills, and a lot of other practically useful things are shared on this channel. These videos are created by experts in each field so you can easily trust what you watch. Here is a fitness video by Howcast as an example: 
About 5 Million Subscribers
Improving your household does not mean that you must spend a lot of money and undertake a huge DIY project. Household Hacker's videos are all fun and easy, using only everyday items that you can find in every home. The solutions that these videos offer will improve your life, while also save you money. Additionally to these projects, Household Hacker also has a series of videos where TV products are tested. You can learn kitchen hacks, easy cooking recipes, and making cool tools. Here is a video on toilet paper splitting machine by Household Hackers that you cannot stop watching:
More than 3.5 Million Subscribers
Driving a car is easy. However, fixing it is a challenge that many people are afraid to take. Scotty Kilmer's channel aims to teach you how your car works and how you can fix it. With easy and fun guides, these technical matters are broken down into easy tasks. Scotty Kilmer has found a unique sub-niche and for this, he has gained a loyal following. You can learn how to fix your car, design any model, mend, and restore automobiles by watching his videos. Here is a video by Scotty Kilmer on 5 things you should never do on an automatic transmission car:
About 3 Million Subscribers
Have you been dreaming of sleeping in a beautiful canopy bed? I Like to Make Stuff is a YouTube channel by Bob that shows you how to create everything in a house, from furniture to decorations, and kitchen tools. Bob is not an expert in what he does and it indicates that you do not have to be an expert to make DIY stuff. The channel's DIY projects include woodworking, metalworking, electronics, and even some 3D printing. Even though some projects are more complicated to complete, the videos are very explanatory and can inspire you to undertake every challenge. Here is an introductory video by Bob:
2.6 Million Subscribers
The YouTube verified channel Kipkay was established in 2006 and has gathered more than 707 million views. Its content includes various DIY projects, however, its main focus is the restoration of old tools and mechanisms. Additionally to these, the channel's creator, Kip Kedersha also tests various gadgets and posts some unboxing videos. Here is one of his recent videos:
Over 1.60 Million Subscribers
Make: is a great verified channel for electronic DIY tips related to technology. So, if you have that kind of mind that adores working with electronic stuff, this channel is absolutely addictive. Repair old tools, create interesting tools and see how they work using the tips you learn in the videos. Here is a DIY porch light video by Make:
About 1.50 Million Subscribers 
Wood, screws, and creative woodworks are extremely interesting for almost any home decor lovers or DIY fans. Woodworking is a necessary skill for almost any mending or beautifying project in the house. You can easily learn a lot about this skill through the fun and interesting DIY videos of Steve Ramsay. He teaches woodworking with economical tools in his not-so-long videos. So, you learn many things without losing so much time and can do them on your own without spending a lot.
PayTop4Clunkers is one of the junkyards columbus ohio. In deed, Cash for Junk Cars is a programme that they have. They grant great opportunity to consumer in the Columbus, Ohio, area to sell them a junk car through this plan. Any year, make, model, and condition of junk car, truck, SUV, or van can be sold. In addition, we offer free towing for all the junk automobiles we buy in the Columbus, Ohio, region. The automobiles that they purchase have poor engines, damage to the body, faulty transmissions, and other issues.  So if you are interested in making bucks out of junk cars, they are there for you.
Conclusion
Now that you know the 10 most popular DIY channels on YouTube, you can watch a lot of different videos and learn new things. You can share them on your Instagram account. If you have skills to start your own DIY or how-to channel on YouTube, you can use tools to get free subscribers on YouTube.