There are always occasions on which we may want to download audio messages from Instagram. However, there is no natural way to do so. We can always share videos on our feed and direct them to other users. Still, we may find it harder to download content from Instagram. There is always the option of using a third-party app to manage your Instagram account professionally. But you can also do it simply on your smartphone. So stay tuned for a step by step instruction.
#1 Download Instagram Audio Messages Using a Voice Recorder
One of the easiest ways to download audio messages is to use a voice recorder on our smartphone. This by the default screen recording feature on both IOS and Android. In the following, we are going to give a full explanation of the matter.
Record the screen on your iOS
First, you need to reach your control center. If your iPhone has a home button, swipe up otherwise swipe down to have full access to your control center. 
You can find the 'screen recording' Icon as demonstrated below. 
If the screen recording icon is not there you can activate it as stated below
Open your iPhone's "settings".

Go to the "Control Center" tab

Select the "Customize Controls"

Tap the + button next to the "Screen Recording"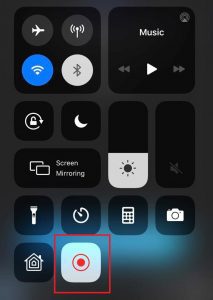 The shortcut to the Screen Recording is now there in your Control Center.
After you made sure that you have your Screen Recording button added to your Control Center, go to your Instagram application and play the voice that you intend to record in the direct section. Pause the screen recording after you played the whole message and the recorded audio will be saved in your iPhone gallery.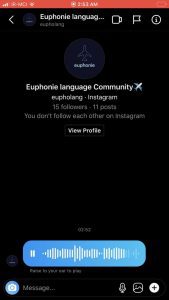 Now go to your gallery and open the recorded video. Tap the 'edit' icon and crop the extra parts of the screen recording. You will have your audio message saved as an mp4 file in your iPhone gallery. So the next stage will be to convert the video file to an mp3 file. You can use converters available on the App store like the 'Media Converter'. Or you can simply do it online at Cloud Convert.
Download audio messages from your Android 
To download audio messages from Instagram on your Android device, you should take the same process as stated above.
First, swipe down twice (Or swipe right) to get access to your Android quick setting menu.
Tap the screen recording icon as below.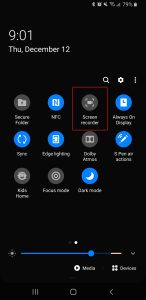 You will be asked to choose how you want your screen recorded there you can choose the 'Media Sounds' option so that your phone only records the audio file from your device and not from your microphone.
Open the audio message you want to record on Instagram and start recording. Once your recording is finished it will be saved to your gallery and you can safely convert it to an mp3 file, using the converters on Google Play.
Download Instagram audio messages on your PC
Just as the Instagram phone application, Instagram Web does not allow you to download voice messages or any content at all directly to your PC. However, there are too many ways to save video and audio files from Instagram. One of the most popular ways is to simply record the file from your screen. In this article, we introduce two of the simplest ways to do so.
#1 Download the audio using your Windows10 screen recorder 
Log in to your Instagram web on any browser and go to the audio message you want to record.

Press the Windows key on your keyboard at the same time with the 'G' button to get access to the Game bar.

Check the 'yes, this is the game' box.

Click on the 'Start Recording' button to begin the screen recording.

Play the audio file on Instagram and stop capturing when it's finished.

You will find the captured mp4 file in your windows 'videos' in a folder which is named 'captured'.

Convert the mp4 file to an mp3 and you will be done!
#2 Download the audio message from your browser
First of all, you need to have a Chrome browser on your PC. Once you are done with that, download the chrome extension Audio Capture. This is probably the easiest way to download Instagram audio messages as you can do it directly by capturing the audio as an mp3 file.
Open Instagram Web on your Chrome. Go to your direct section and before opening the audio message, activate the Audio Capture on your browser. Stop capturing once the voice message is finished and save the audio as an mp3 on your PC.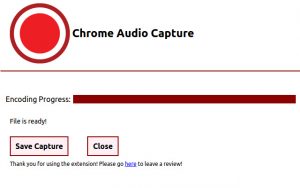 #2 Use DMPro to Manage your Instagram audio messages 
There are always safe third-party applications that can come to your aid once it comes to managing your Instagram account. DMPro is one of those applications you can always rely on when you have an issue with your Instagram's normal activities such as categorizing and downloading audio messages from your Instagram. All you have to do is to sign up for free access and log in to your IG account. Using it, you can:
And more. But for now, let's focus on downloading audio messages. 
As we have already mentioned above, using it you are able to connect your DMs to your email and send or receive messages through your email inbox. So, when you receive an audio message on Instagram, you can easily check it from your email inbox and download it as a file. So, sign up for free right now and give it a try! 
Bottom Line
Although there are too many possibilities when it comes to downloading audio messages on Instagram, It's always useful to have an efficient third-party assistant such as DMPro so that you can not only download audio messages via Email but also professionally manage our account.