More and more users tend to rely on Instagram tools like Gramblr for managing their Instagram tasks. Businesses are moving toward online platforms such as Instagram to get more sales through social media. According to a report by Statista in 2017, there are 25 million active business profiles on Instagram. As a result, the current preferences of business owners are due to their need to survive in the modern era of technology. So, to keep the business going constantly, it is better to use Instagram monitoring apps, as well as safe Instagram growth hacking apps, and repost apps for doing a part of the tasks of Instagram business accounts. 
What Was Gramblr?
Gramblr was a third-party Instagram manager tool that automated Instagram tasks through PC. Gramblr is currently down for quite a while. It was used by both Mac and Windows users for two main reasons.
Firstly, it enabled users to post their content on Instagram through the desktop version. So, they did not have to transfer their photos to their phones for posting.
Secondly, Gramblr had a scheduling feature, which used to be a time-saving blessing to Instagram users, especially business accounts. With the assistance of the scheduling feature, users could prepare a post online and schedule it for the future if they did not want to post it immediately. So, Gramblr users could devote some hours a day to design a lot of posts, and then they could have spent more time on the other aspects of their marketing strategies.
What Were Gramblr Features?
Gramblr contained features like editing tools such as frames, filters, and red-eye remover. Therefore, its users could have enough tools to edit their designs before posting or scheduling them. 
Moreover, they could actually buy likes for your posts. At the same time, it was possible for them to earn coins by liking other users' posts. All they had to do was to click on 'Earn Coins.' 
In addition, Gramblr users could also skip the phase of resizing their photos because Gramblr could automatically do it for them. It must be noted that Instagram automatically does that now as a recent feature. 
Gramblr Pros and Cons
Here we will know about the advantages and disadvantages of Gramblr:
Pros
It used to be easy to use for its simple design.

Gramblr saved a lot of time as users could schedule their posts ahead of time.  

This app was a free app so its users could use it with no fees charged.
Cons
It lacked the bulk upload feature. So, when users wanted to post a lot of pictures, they had to do it one by one. It is a huge limit for business accounts
Gramblr did not guarantee security and users were responsible for the protection of their account against hackers or other threats.

It allowed less than 500 KB pictures and only in JPG format. 

Users used to pay for fake followers that have recently been banned by

the Instagram algorithm

. 
What Are Gramblr Alternatives?
As Gramblr has stopped functioning, its users might now want to choose another application as an alternative. If you were among Gramblr users, follow us to have a review on what is the best alternative.
#1: AiGrow
The very best alternative for Gramblr is AiGrow. When you sign up in AiGrow (it's free), you will immediately notice how better it is in comparison to Gramblr. It is not only an Instagram scheduler app but also a tool that provides many more services and options that any business account might need.

Pros
It has a free trial.

It has reasonable and economical prices per package.

It has 24/7 support.

There is no need to download the app.

You can prepare your post or story and

schedule your post

in the 'Posts and Scheduling' section either for the future or post it just now.

It allows you to schedule both posts and stories. 

You can choose multiple hashtags based on your keyword.

It gives you

reposting

options from related viral posts without watermark.

'Mention' section lets you

see the posts in which you are mentioned

.

You can see the related posts to an international event every month in the free '

Social Calendar

' section and

find hashtags for global events

. It not only reminds you of the event but also is an inspiration for your own posts as you can see the similar posts to each event. 

The all-in-one

Bio Link

allows you to add

several links on Instagram bio

. So, Instagram's limitation would not limit you to share your links. Here is the video that introduces Bio Link on AiGrow:
In addition to all the services and advantages, the most popular feature of AiGrow is its

organic growth hacking services

. You can pay for gaining different numbers of active and organic followers per month using this service. 
Cons
It has a rather poor UI design.
Pricing
Here are the packages of services that AiGrow provides and their prices. You can choose the one that you think can meet your needs most. Needless to say, the services that you get are, of course, worth the cost.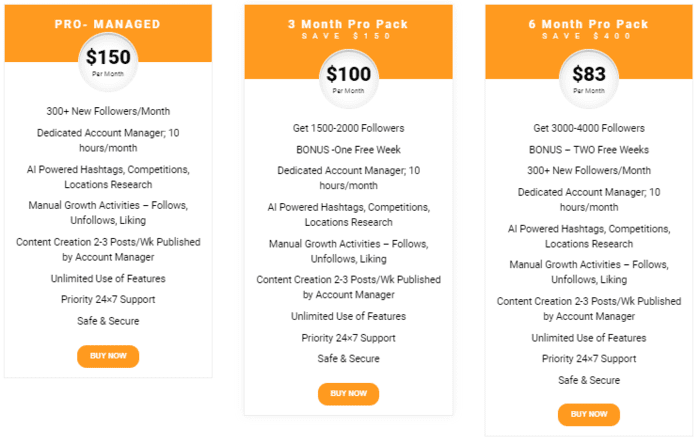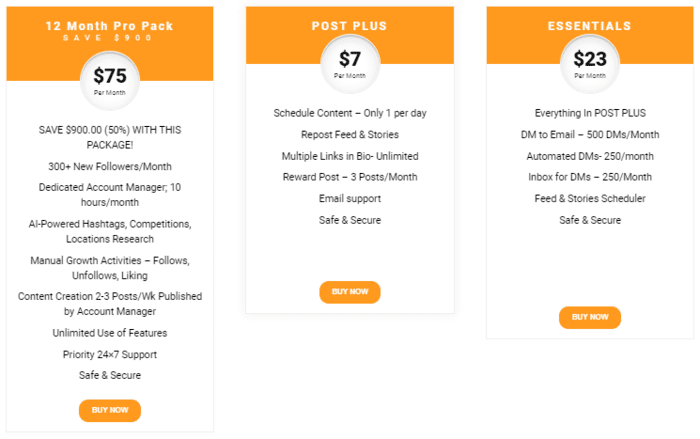 There is also a free package, and you can enjoy the services without any fees.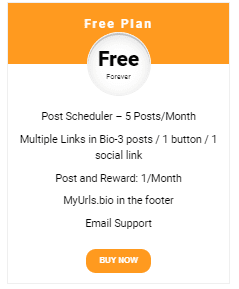 #2: Later
Another alternative that you can rely on for managing your Instagram account through PC is Later. It is free but only for limited usage. There are five different plans to choose from in Later regarding your needs. Each plan has its own features, and so the pricing differs from plan to plan. There are Free, Plus, Premium, Starter, and Brand plans. If all you need is to post through PC, you can choose the free plan. Obviously, the more the plan gives you different features, the more the cost gets.

Pros
It has a free trial.

It allows you both to schedule posts and stories. 

It sends informational emails about the latest updates on Instagram, guiding you on your future marketing plans. 
Cons
It is not user-friendly. 

You cannot pay the monthly fees with PayPal but by credit or debit cards.
Pricing
Here is the pricing of Later, which is less than the prices of AiGrow. However, the money that you pay for a few services is higher than what you pay for the services of AiGrow. 

#3: Flume
Flume is another alternative for Gramblr that enables you to use Instagram on desktop. However, it should be noted that it only works on Mac. It does all the things that Instagram web app does not do for you including posting new content on feed or story. 

Pros
You can upload your photos or videos directly from your Mac.

Flume allows you to edit your photos or videos and apply filters before posting them.

Reposting through Mac is possible. 

DM sending and receiving is another feature.

You do not see any sponsored posts on your feed.
Cons
Flume has a low speed which is very annoying.

It only works for Mac.

It does not have a scheduling feature.

You cannot see your 'Saved' posts on Flume. 

You lose the top-right menu items if you use the full-screen mode.
Pricing
Flume costs $4.99 per month which is considered very expensive as there are some free applications out there with less bugs..
Conclusion
As Gramblr does not work anymore, Instagram users may want to find an alternative to manage their Instagram tasks. Using a third-party app for automating Instagram is necessary for you as an Instagram marketer as it organizes your work and saves time. The great result would be satisfying as it leads to the growth of the account and you can focus on more important aspects of your job, such as creating admirable posts. You can also devote some time to optimize their Instagram profiles for example by developing ideas for Instagram bio, etc. 
According to the above comparisons, this conclusion can easily be drawn that AiGrow is the most efficient yet economical Instagram managing app as an alternative for Gramblr.