Ever since the dawn of the internet, online marketing has never been more in demand. Especially with the outbreak of COVID-19, people are more drawn to online shopping and that's a good thing! It's a great opportunity for online business owners to expand their market, and for doing so you need the help of conversion optimization tools such as Hotjar. But is it your best bet? We'll see!
There are many CRO tools that can help you optimize your website, but not all of them are worth your money. You need to do thorough research and find the best option for your business.
When it comes to choosing a CRO tool, we always recommend WatchThemLive as the best all-in-one analytic tool that can help you boost your conversion in no time. Sign up for free and start your journey today, or keep reading this Hotjar review to learn all about it to better understand the reason behind our recommendation!
What Is Hotjar
It's a conversion rate optimization tool that allows business owners to personalize their customer journey and increase their website conversion. Hotjar promises to enhance your revenue by offering features such as session replay, heatmaps, feedback polls, and a conversion funnel.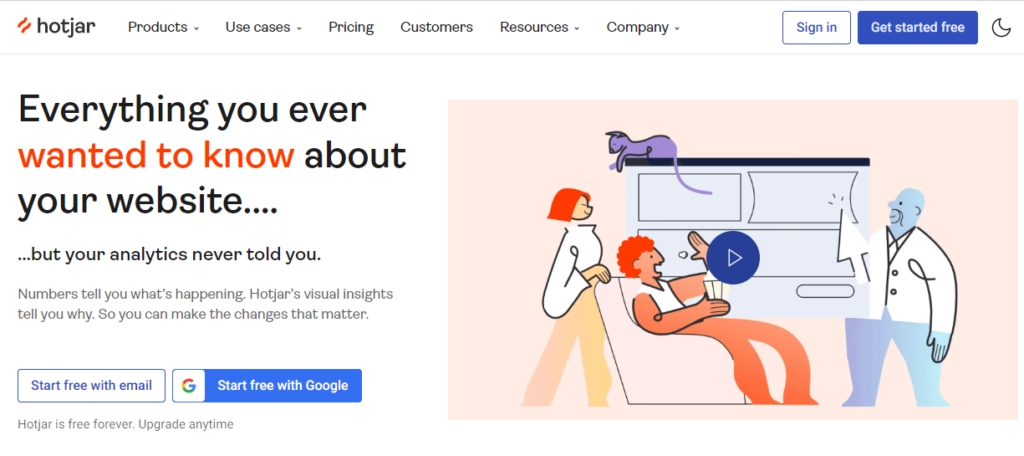 The importance of CRO tools lies in the fact that they can help you better understand your target customers by analyzing their journey throughout your website. That's why it's crucial to use software that can meet your needs and help you in your business.
In this Hotjar review, we're going to elaborate on every aspect of this tool. So let's walk you through it, shall we?
Hotjar Features
This platform offers services to help business owners know their target audience better and optimize their websites accordingly. Now, let's delve into Hotjar features!
Session Replay
It's defined as capturing every action your visitors take from the minute they enter your website until they leave. By going over these recordings you can gain better insight into your customers' behavior.
Hotjar offers this feature, but many users are unhappy with how it works. We'll get to that later but first, let's learn more about other Hotjar features.
Heatmaps
As you might already know, heatmaps are a kind of data visualization that allows you to see where visitors click or scroll more. Hotjar offers these heatmaps to its users like many other heatmap tools, but there have been reports of the inaccuracy of them.
Feedback
Hotjar offers a feedback widget so that you can ask your visitors how they feel about your website and their experience with you. But the truth is, not many people take the time to write about their thoughts and journey. That's why even though it can be helpful at times, it's not really a reliable source of data.
Surveys
Hotjar promises to shed light on your customers' opinions by offering on-site and external surveys. You can ask your desired questions and see what your customers think about them.
Hotjar Pricing
The pricing structure of Hotjar can be steep and hard to afford for startups or smaller businesses. There is a free plan, but it can be limited as it only allows you to capture 1050 sessions per month. The Plus plan is 39$ per month which provides only 3,000 sessions. Many websites find it to be insufficient, so they will have to upgrade to Business plan which starts at 99$ per month.
There's also a Scale plan where you're gonna have to reach out to the Hotjar team for pricing. Take a look at their pricing page.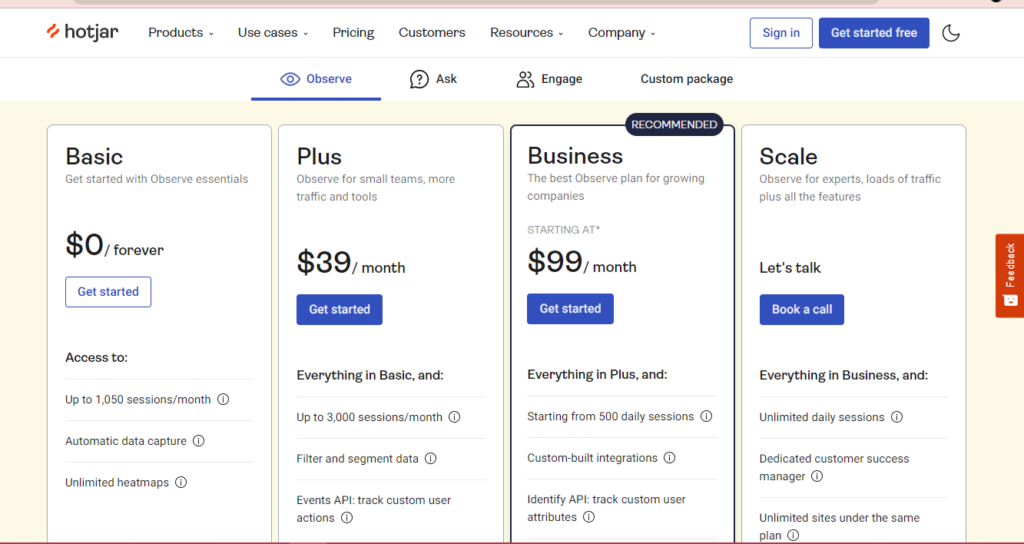 But the most important part is, you won't get all the promised features in one plan alone. You'll have to sign up for Ask plans to be able to access feedback or surveys. Like the Observe plans, the free plan in the Ask section is also limited and not sufficient for websites with higher traffic.
Hotjar Review: Real Customers' Opinions
Now that you know the fundamentals of Hotjar, it's time to see what real users say about their experience with Hotjar on legit review websites such as Trustpilot and G2.
Hotjar Heatmaps Are Not Totally Accurate
Many users had issues with Hotjar heatmaps. They stated that it needed improvement, or at times, wasn't capturing the whole page and was inaccurate.
Heatmaps can be a great advantage for understanding which parts of your website are more engaging to viewers. But apparently, Hotjar heatmaps are not what users expect them to be sometimes. Here is another review left by an unhappy customer.
Here's another review of this issue.
Hotjar Session Replays Depend on Cookies And Lack Advanced Filtering
Session replay is the main feature of Hotjar and many users are drawn to this tool mainly because of this service. But like every other platform, there are some weak points that you need to know before deciding.
One of the primary limitations of Hotjar session recordings is the fact that it depends on cookies to collect data. Therefore, if the visitor doesn't accept cookies, their session won't be captured. This user has pointed out this issue along with other disadvantages of Hotjar.
Some reviews also show that some users are not happy with the session replay's filtering options.
Hotjar Increases Website Loading Time
Another issue with Hotjar is its impact on a website's loading time. It's a great disadvantage as it will highly affect website's conversion and efficiency. Here is a review written by an unsatisfied customer who then had to uninstall Hotjar.
And these reviews are more than one! A lot of users struggle with their website loading time increasing while using Hotjar. Here's another one.
It's Expensive!
Many users are unhappy with how steep Hotjar pricing can be. It's an expensive service compared to competitors and the free plan is hardly sufficient.
Here is another review regarding this matter.
Hotjar Free Trial Is Limited
As we said earlier, the free plan is not helpful for bigger scopes and this user also mentions this matter.
Hotjar Pros and Cons
Now that we elaborated on Hotjar features and customers' reviews, it's time to go over the advantages and disadvantages of this tool. Like any other platform, Hotjar also has strong and weak points. Keep scrolling!
Hotjar Pros
Has a free plan,
Easy to set up and use,
Good customer support,
Allows you to monitor your users' actions,
Offers conversion funnels.
Hotjar Cons
Increases website loading time,
Pricing can be steep,
The free plan is limited,
Doesn't offer A/B testing,
Relies on cookies to track users,
Heatmaps are not functional as other platforms,
It sometimes doesn't capture sessions properly, or at all,
Doesn't use the sampling method for capturing sessions,
Doesn't work well with single-page applications,
Inaccurate heatmaps.
I'm not here to take sides and tell you which tool to choose. I just want to help you make the best decision by elaborating on each tool and then, let you decide.
Now that you know about Hotjar features and pricing, it's time you learned more about the best alternative to Hotjar and similar platforms, WatchThemLive.
WatchThemLive: The Best Hotjar Alternative
Earlier, we recommended WatchThemLive as the best all-in-one CRO tool that can help businesses of any size to reach their desired conversion rate. Now, we're going to explain the reason behind our recommendation.
WatchThemLive is a customer behavior analytic tool that allows you to keep track of every visitor who enters your website, analyzes their behavior, offers deep insight into their actions, and eventually, drastically boosts your revenue.
If you want to start right away, you can sign up for free now, or keep reading to learn about its features more.
WatchThemLive Features
The most important factor that distinguishes WatchThemLive from other behavioral analytic tools is its great features combined with affordable prices. In the following, we'll introduce WatchThemLive features so that you can compare it with Hotjar and other competitors.
Session Replay
As we explained earlier, session replay is defined as capturing every action your users take when they enter your website until they leave. It's a great method for understanding your users' behavior and how they interact with your website.
WatchThemLive offers a session replay feature even in their free plan and it's more functional and easier to use compared to similar platforms. You can use various filters to organize and find your target sessions with ease and save a lot of time.
Heatmaps
Understanding visualized data is much easier and more comprehensible to every member of your team. That's why heatmaps are always welcomed! They allow you to identify areas for improvement in your website by showing where customers click on more or scroll. By analyzing this data, you'll know exactly where to put your CTAs, sign-up links, plans page, etc.
Video Testimonials
WatchThemLive allows business owners to share their customers' feedback with the world through videos. You'll be able to ask your users to share their feelings and experience with your website by recording a video. Then, you can share that on any platform you want.
According to PowerReviews, over 99.9% of customers read reviews before online shopping. That's why it's crucial to show your positive reviews to the world! So, always keep that in mind and gain the trust of your potential customers by getting real user feedback on your website!
As we mentioned earlier, Hotjar offers surveys and feedback which are simple forms of gathering feedback from customers. On the other hand, video testimonials are a great way of introducing your services through videos taken by happy customers. There's no doubt it's also much more effective and engaging than just simple texts.
Visual Live Chat
Customer support is one of the primary elements in any online business and is a game changer. Visitors are more likely to convert when they can access responsive customer support. WatchThemLive offers a visual live chat that can help deliver the best customer experience across your website.
Visual live chat enables you to access real-time session recordings of the users who reach out to you through live support. It allows you to better understand what your users are going through and what inquiries they face. Then you can deliver the solution and answer their questions in the best possible way.
Page Tracking
By using filters, you can find all the visitors who land on a certain page on your website and track their journey throughout your page. WatchThemLive allows you to gain deep insight into your overall progress and identify any possible pain points.
Goal Tracking
Set goals that align with your desired results and keep track of them so that you never lose sight of where you want to be. WatchThemLive offers goal tracking feature to help you keep track of your goals and achieve your never-ending dreams.
Console Recording
You can get data on the errors and warnings your users encounter anywhere on your website. This will allow you to identify any posible inquiries and fix them as soon as possible.
WatchThemLive Pricing
Now that you're familiar with WatchThemLive features, it's time to see at what price you can access and use them. Unlike other platforms such as Hotjar, WatchThemLive pricing is straightforward and reasonable.
You can enjoy using all the features in every plan you purchase and there's no need to get different plans to reach your full potential.
Pic of pricing page( the pricing page is updating)
There's also a free plan which offers all the necessary solutions to drastically boost your conversion rate and personalize your customers' journey more than ever. One of the reasons to our recommendation is WatchThemLive's fair pricing alongside the complete set of necessary features.
So waste no more time and start your website optimization journey today and sign up on WatchThemLive for free!
Hotjar FAQs
We hope you got the answer to all your questions! Here are a few frequently asked questions to shed light on any other unanswered questions!
Q1. What Does Hotjar Do?
Hotjar is a website optimization tool that allows you to monitor your users' actions and understand the 'why' behind their purchases and interactions.
Q2. Are There Better Tools Than Hotjar?
There are many alternatives to Hotjar with a different range of features and pricing. You need to have a clear view of your business and see which one is a better suit for you.
One of these alternatives is WatchThemLive, a great option for all kinds of businesses who want to increase their conversion and boost their revenue more than ever with just a few simple steps!
Other alternatives consist of Crazyegg, Mouseflow, Smartlook, etc.
Conclusion
There is no better way to enhance your revenue and optimize your website other than using CRO tools. That's why in this article we tried to shed light on one of the most famous platforms and explained everything you needed to know.
We also introduced WatchThemLive as a great all-in-one alternative to Hotjar and explained why. The choice is yours now! Make sure to make the best one.
Sign up on WatchThemLive today and surpass all your competitors in the blink of an eye.
Author: Reyhaneh Afshar