Have you ever thought of adding a new option/feature to your website and wondered, 'How would I know if my visitors pay attention to it or even see it?' This is exactly where website heatmap tools and software come to your help.
With the quick advancement in technology, you can now track and monitor all your visitors' behavior on your website and find possible errors using a proper CRO tool that includes a heatmap.
Plus, you can improve the features that are already getting enough attention and clicks with reliable website heatmaps like WatchThemLive.
In this post, we'll introduce you to 10 heatmap tracking software to pave the way for your business growth. Are you ready? Let's go!
What Is a Website Heatmap
Heatmaps are graphical maps that show a website's data in a color-coding system. They provide visual data of a website and help marketers find out where they need to make changes on a platform.
A website heatmap also helps website owners see how their users interact with different sections on their websites.
Moreover, they can be used to promote features, optimize conversion rates, and increase sales.
What Is the Meaning of Every Color on Website Heatmap Tools
As you might know, heatmaps display data by colors. If a section on your website got more attention and users interacted with that section more than other parts, that section is shown on your heatmap with a warmer color.
So, red, as the warmest color, shows the most interaction and purple, the coldest color, shows the least engagement.
Best Website Heatmap Tools
With a simple search, you will find dozens of website heatmaps on Google, both for your PC and your mobile. But the question is, 'Can you find a reliable, and at the same time useful, website heat map?'
The answer is YES. There are many. All you need to do is to distinguish the proper ones from the poor ones. By deciding what you expect from a heatmap for your website, you will definitely find one suitable option for your business.
In the following, you'll see a list of the ten best website heatmap tools.
#1 WatchThemLive: The Best Free Heatmap Tool
If you're looking for an all-inclusive marketing analytics tool with other amazing features besides being a website heatmap, WatchThemLive is undoubtedly the best.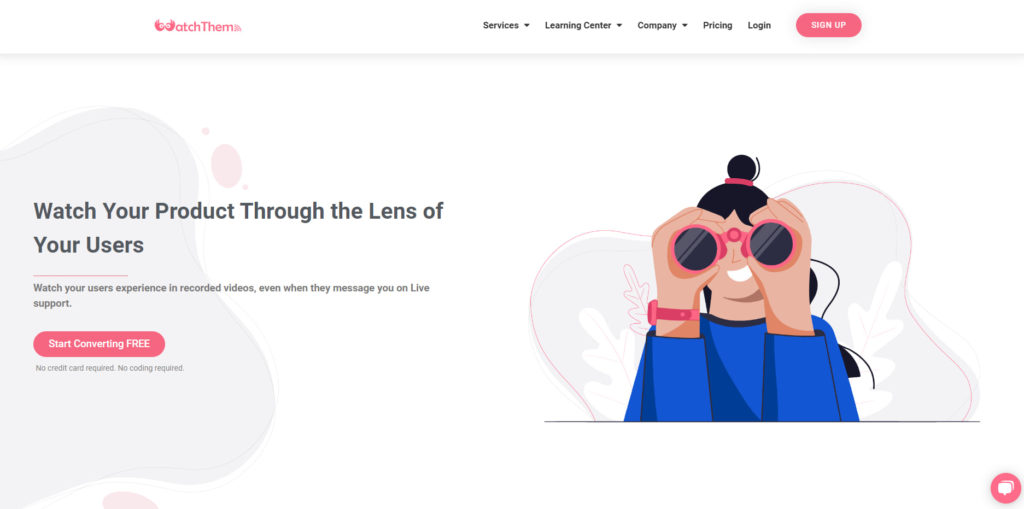 Using WatchThemLive (WTL), you can benefit from its heatmap for free and find the most popular sections on your platform and take advantage of useful options for tracking user behavior.
But, how does WatchThemLive website heat map work?
WTL provides you with a colored map and each color on its free heatmap tool shows which parts on your website get more attention and are clicked most; the higher the clicks, the warmer the colors.
After analyzing the heatmap, you get to know which sections to improve and which ones to promote.
In addition to WTL free heatmap tool, session recording is another useful option on WatchThemLive.
Session replays are the recordings of your website visitors' behavior which help you find the errors, improve the features that are already performing well, and think about new ideas for future business growth.
You can also measure your website pages' bounce rates and identify the reasons behind your churn rate by analyzing the data on your dashboard, visitors section, etc.
Moreover, you get to share all the new projects and ideas with your team members.
Additionally, you may set up goals over a period and check if you reach the desired results using your website heat map, session replays, and all the data provided on WatchThemLive dashboard.
Another good news is that you can add as many websites as you want to one single dashboard and use WatchThemLive on any device you want (desktop, mobile, tablet). WatchThemLive also gives its users the benefit of using a live chat feature to strengthen the bond between users and customers and get direct feedback from users.
To have a deeper look into this platform, you can also read our thorough review on WatchThemLive. 🙂
WatchThemLive Pricing
Besides a heatmapping tool and great features of WatchThemLive, this platform has another superiority over rivals: WTL provides you with a totally FREE plan, and you can use this free plan FOREVER. However, as shown in the picture below, you can find four other amazing and affordable packages on WatchThemLive.
#2 Smartlook
Smartlook is another platform providing a website heatmap besides other features. Allegedly, this platform provides users with analytics data and shows how customers interact with different sections of a website or even mobile app by recording the time they spend reading or using a platform.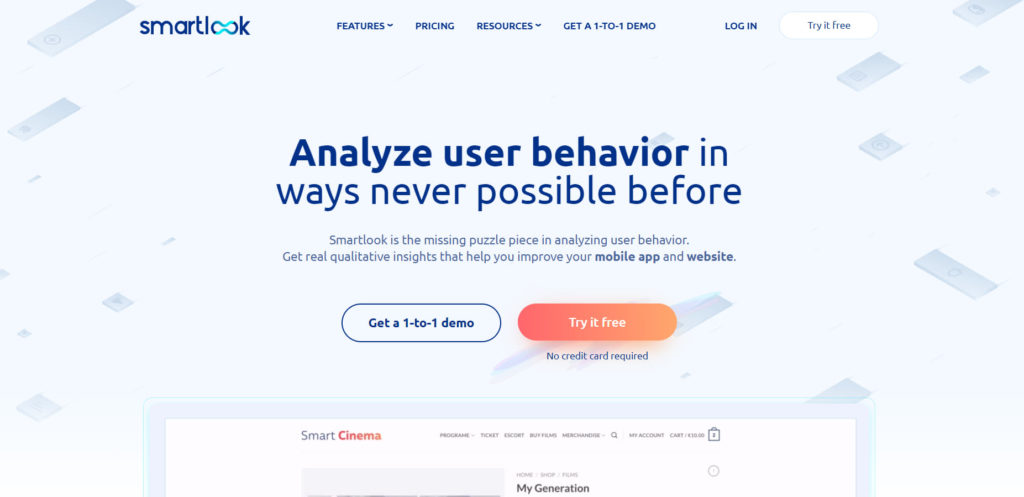 Moreover, Smartlook claims to gather data on where users give up on conversion path and exit pages and where they click or scroll more using its free heatmap tool.
This way, Smartlook also allows users to see what exactly is preventing users from joining them as customers and why the conversion rate is low.
Furthermore, users may see all the data they need on a single dashboard on Smartlook and share it with colleagues.
Smartlook Pricing
Smartlook offers a free trial with very limited options, and their other packages are more expensive compared to other platforms.
#3 Mouseflow
Another website heatmap tool is Mouseflow which is almost the same as Smartlook. Apparently, using this platform, users can record visitors' interaction with website/sign-up pages, set up conversion funnels, and find possible faults with features and options.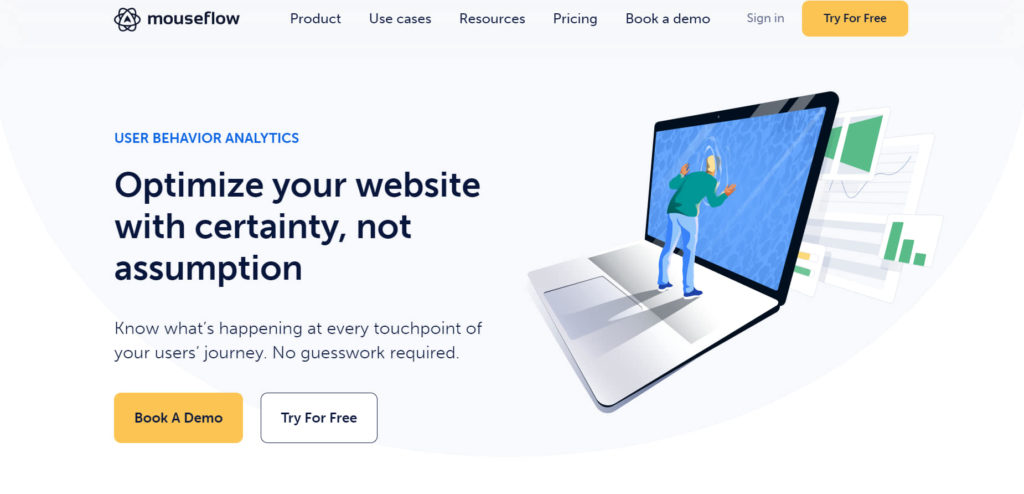 Also, they can create form analytics and see where they lose visitors. Besides, as they claim, users may start feedback campaigns to keep an eye on their visitors and clients.
Mouseflow Pricing
Like previous website heatmap tools, Mouseflow comes with a free plan and five more packages for different needs. However, based on customers' reviews, you have to delete data to see more recordings if you do not want to upgrade your plan on Mouseflow.
#4 Hotjar
The fourth option on our list that puts forth a free heatmap tool on the table is Hotjar. Seemingly, Hotjar gives its users a chance to focus on user behavior so that they can change strategies according to their needs. However, you can only keep heatmaps for only thirty days on Hotjar!!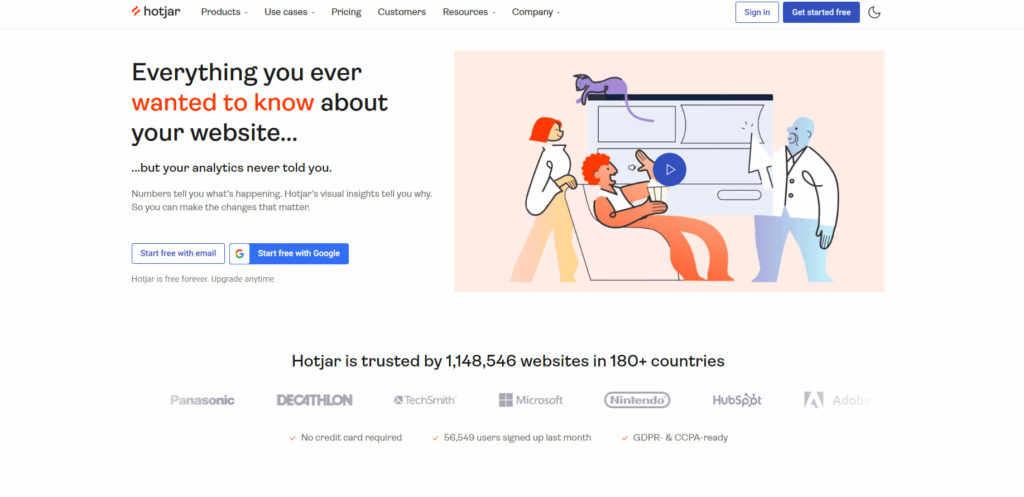 To increase the conversion rate on one's website, Hotjar claims to use a mixture of feedback and analysis tools and starts to identify trends.
On Hotjar, one can also add a feedback box where users can express their feelings or share their thoughts on the features, buttons, pricing, etc., and do a survey by gathering visitors' data.
Hotjar Pricing
This platform also offers a free package. Besides, users may choose from the other three packages on Hotjar.
#5 Plerdy
Almost similar to previous website heatmap tools, Plerdy offers the same services for tracking user experience and optimizing conversion rates. On Plerdy, users can see total clicks, idle mouse, scrolls, and website traffic. And accordingly, they seem to be able to set a plan to make a progressive change on their website.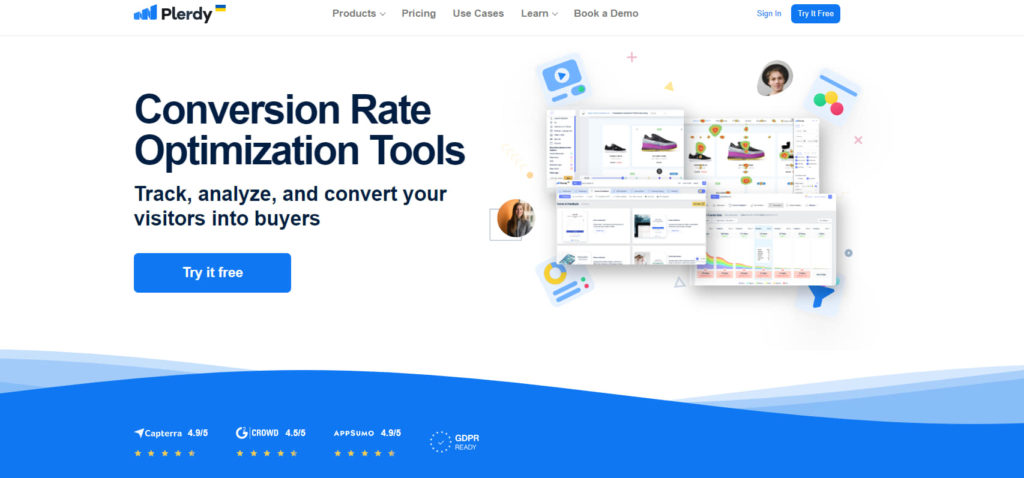 The data users receive from Plerdy dashboard might increase the chance of removing errors and promoting features. For instance, they'll figure out where to put pop-up polls and buttons and when is the best time to launch a new feature or introduce a new tool or product.
However, the dashboard on Plerdy seems complicated and difficult to use for some users.
Plerdy doesn't solely provide screenshots of specific moments of user experience. It claims to record visitors' behavior when using one's website with the help of a session replay tool and offers users a free heatmap tool. It also uses an NPS (Net Promoter Score) tool for gathering customer feedback.
Moreover, by forming hypotheses and going through ongoing trial and error processes, Plerdy grants users the data they need. They can see if they're doing fine in converting visitors to customers or losing potential customers at a specific stage when they want to sign up or purchase products.
This platform also promises to provide its users with SEO data and shows health scores on the content that website owners create and post [but it doesn't seem to satisfy users the way it should, based on reviews]. Seemingly, Plerdy users can also activate Google Search Console API to analyze whatever users write based on SEO metrics.
Plerdy Pricing
For an all-in-one package on Plerdy, users have four options, and the first one is free.
#6 Fullstory
As Fullstory defines itself, it is a Digital Experience Intelligence (DXI) platform that makes finding bugs and glitches easier. How? By recording sessions and providing a website heatmap.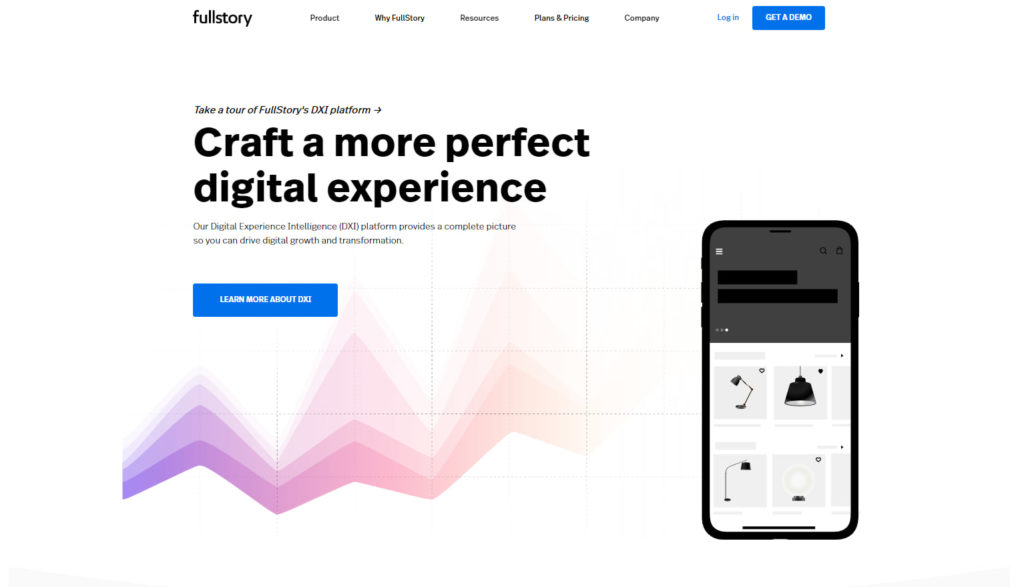 For those searching for ways to understand user behavior better, increase their conversion rate, and create a comfortable digital environment for visitors, FullStory may meet their needs. However, it would be best if you were professional to understand what's going on Fullstory since analyzing the data on this platform [based on customer reviews] is somehow difficult.
Fullstory states that it can send frustration signals to its users whenever it senses visitors are facing a problem and want to give up and close their website windows.
Moreover, on Fullstory, one may analyze users based on the browser they use, the packages they purchase, or the bugs they encounter when working with their website.
Fullstory Pricing
FullStory offers only two packages and a demo for each plan. Here is an image of the packages and their prices.
#7 Lucky Orange
Feeling curious to know why you get your desired website traffic, but a few people tend to buy from you? Lucky Orange is another tool that provides you with a website heatmap tool and conversion funnels and claims to be a popular tool supporting over 300,000 websites worldwide.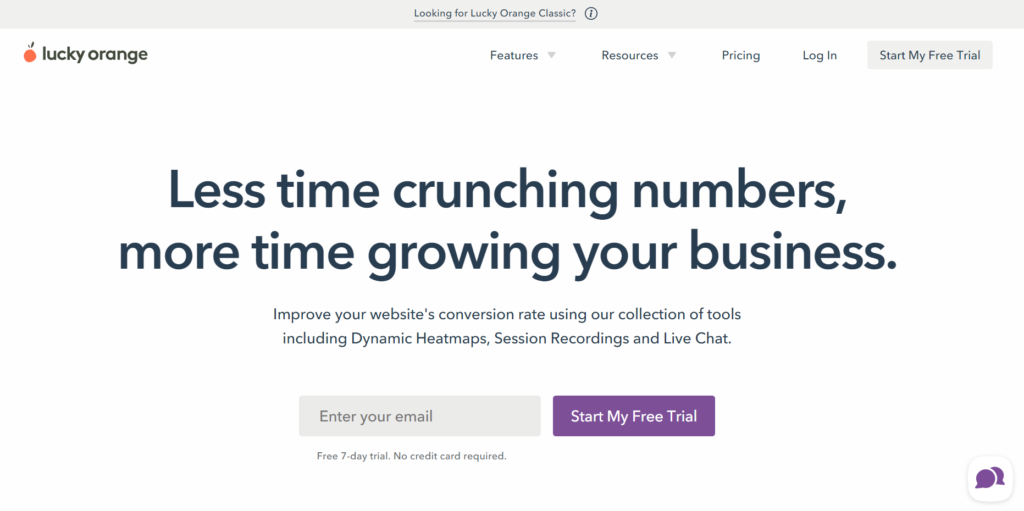 On this platform, users may look at online visitors' info and see if they face any problems when filling out forms using the form analytics tool. Plus, they can see what keywords, locations, etc., are bringing traffic to your website.
Dynamic heatmaps and session replays of visitors' behavior are the tools that Lucky Orange offers users to see what is behind the drop in conversation rates, where a website gets the most attention from visitors, where visitors scroll and leave pages, etc.
Using Lucky Orange, one can also use the live chat feature. So, for example, if people are in the process of buying a product and suddenly change their minds and want to exit the purchase page, this live chat feature helps website owners talk to them and convince them to complete the purchase.
Surveys for finding possible technical issues, and providing discount codes or product updates, are other features Lucky Orange promises to provide for users.
Lucky Orange Pricing
Lucky Orange provides a free 7-day trial, but users must pay the following prices for other packages. And unfortunately, since the prices are all based on page views, some customers find this platform expensive.
#8 Zoho PageSense
A CRO tool, Zoho PageSense helps marketers track visitors and find their interests by using heat map software.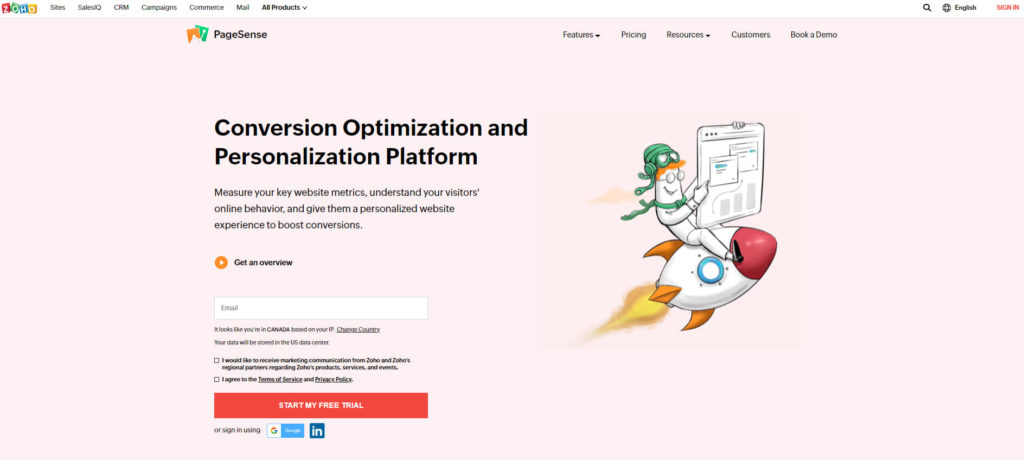 Calculating the number of clicks, using a scroll website heat map, and analyzing visitors' behavior based on predefined metrics on this platform's dashboard are the features that they offer users to count on.
Using Zoho PageSense, one might be able to analyze funnels, use web/form analytics, ask for feedback by creating polls/pop-ups, compare conversion rates through A/B testing, and finally, set up goals and track key website metrics. However, based on what we learned from customer reviews, it's not easy to use some of this platform's features, and maybe a few tutorials could be helpful.
Zoho PageSense Pricing
This platform comes with a 15-day free trial. However, the packages on Zoho come at a logical price.
#9 Crazyegg
Crazyegg is also another heatmap tool that may cover the needs of some marketers and CRO managers. This analytics tool tracks whatever goes on a website through the lenses of visitors.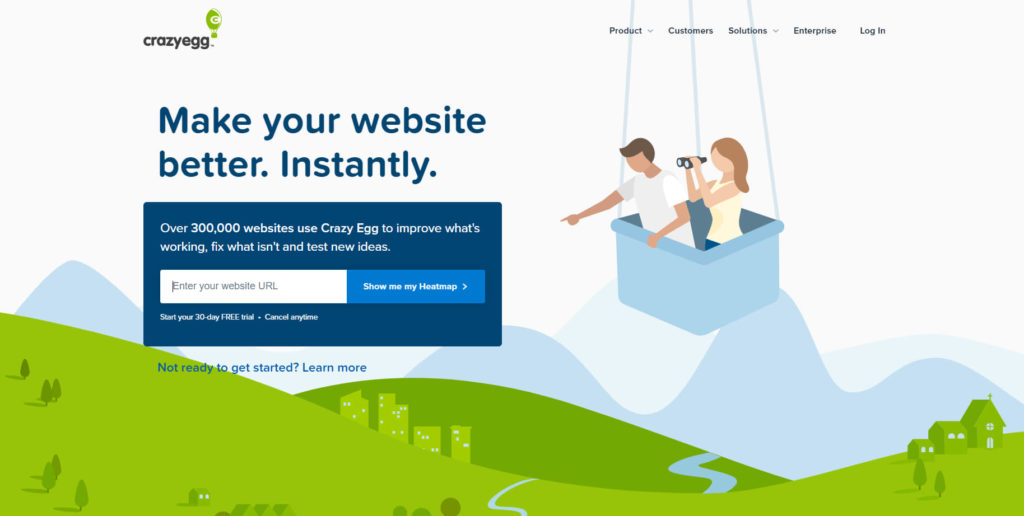 Therefore, if there are problematic issues behind sign-up links, blogs, pricing/FAQ pages, etc., you may use Crazyegg to fix the problems.
As Crazyegg claims, users can ensure that the buttons or CTAs they insert on their website are visible to customers.
Like other services mentioned above, Crazyegg provides a website heat map, records users' sessions, and applies A/B testing to a new feature or button.
Besides, this tool gathers data by analyzing website traffic, finding glitches and bugs, and taking snapshots. Nevertheless, users argue that setting up snapshots is a tiring process since they have to do it manually for each page on their website.
Crazyegg Pricing
Crazyegg comes with a 30-day free trial on every package, but it doesn't offer any free plan as a separate package. Here are all the plans that Crazyegg suggests to its users.
#10 NotifyVisitors
NotifyVisitors is the last marketing tool on our list to analyze visitors' behavior when they enter a website.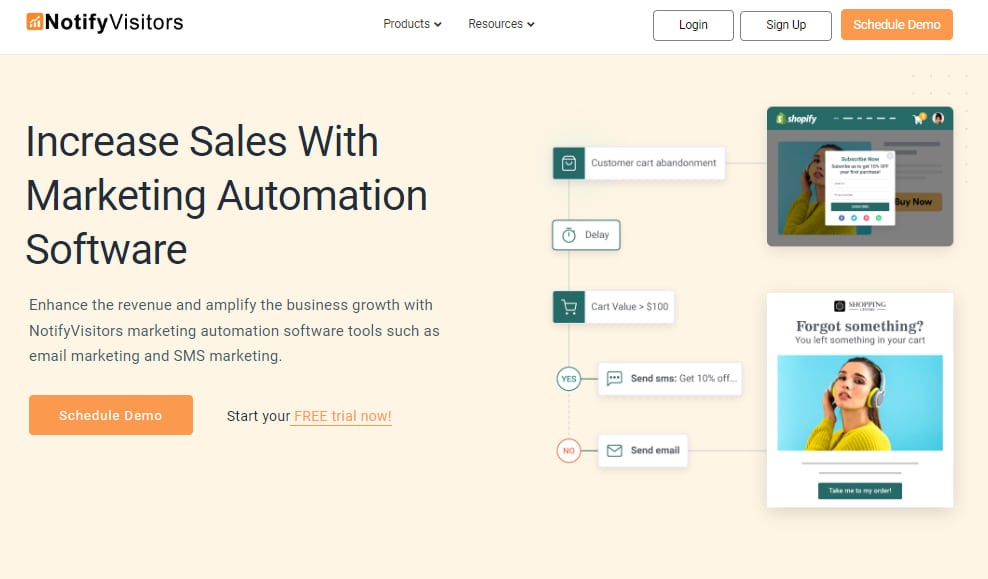 This platform gives its users visual information about visitors' clicks, mouse movements, real-time analytics for watching online visitors, average scrollings, and glitch points on its heat map tool.
By NotifiyVisitors, website owners seem to have access to session replays and form analytics. This way, they can monitor their clients and see where they tend to leave a specific page on the website.
NotifyVisitors Pricing
In addition to a free plan on NotifyVisitors, one can choose from the other two packages this platform provides.
Best Heatmap Tools: Editors' Pick
To sum up our thoughts in a few words, we suggest you WatchThemLive as the best free heatmap tool on the market.
Using WatchThemLive free plan, you get to use many other features in addition to its website heatmap tool. Here are the reasons why we think WatchThemLive is the best option for you:
WatchThemLive is easy to use, and you can use the free plan as long as you want.
In addition to a free heatmap tool, you have the chance to watch session recordings even on its free plan and send them to your colleagues.
You may also take a look at user journeys when they enter and exit your website.
Also, you can track events that you have set up on the platform.
You can also see page views, track console errors, and create teams for your co-workers on WTL.
Active filters on this great platform help you analyze your target users based on the metrics you want to measure.
On WTL, you can set goals and see if you reach them in a specific period.
Additionally, you can add as many websites as you want to WTL dashboard and watch user behavior even when they are online on your website.
More importantly, WatchThemLive packages are affordable for anyone who tends to analyze and promote their website performance.
Website Heatmap FAQs
Now that we introduced you to ten great website heatmap tools that are free or at least offer a free or demo trial, it's time to look at other frequently asked questions about heat mapping software.
#1 What Are Heatmaps Used for?
They are usually used to illustrate user behavior and see which parts of a website get more attention, clicks, etc.
#2 How Many Types of Heatmaps Do We Have?
There are three types of heatmaps: scrolling, clicking, and mouse tracking heatmaps. [However, we have eye-tracking heatmaps used in labs and not for website users.]
Last Words on Website Heatmap Tools
In this post, we did our best to introduce you to ten useful website heatmaps. Now, it depends on you which one to choose according to your needs.
However, if you want our advice, we suggest WatchThemLive since it comes at a reasonable price and meets anyone's needs based on good reviews on Trustpilot and other websites.
So, what are you waiting for?
Sign up on WatchThemLive for FREE and enjoy trying its free heatmap tool RIGHT NOW.