Have you ever kept scrolling your Instagram Search & Explore page and thought, "Why do I see this post on my Instagram?" Well, that happens a lot. Although being on the Search & Explore page is a fantastic way to reach new audiences, some people prefer not to see certain types of content on their Instagram page. That's why in this article, we're going to see how to reset or change Instagram's Explore page settings so that you have a more tailor-made feed. 
So, without any further ado, let's jump in.
What's the Use of Search & Explore Page?
Before checking Instagram Search & Explore page settings, it's better to see why in the first place, you have this section on your app. Well, Search & Explore has two primary purposes:
1- It's Instagram Search Engine
Obviously, as its name indicates, the Search & Explore page helps you find other Instagram accounts, tags, and places. It also shows you the most recent and top results for the phrases that you search for.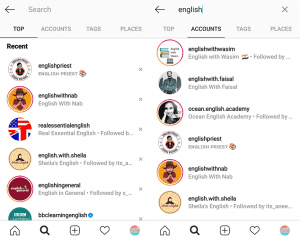 Using the Instagram search engine, you can access the top posts for each tag: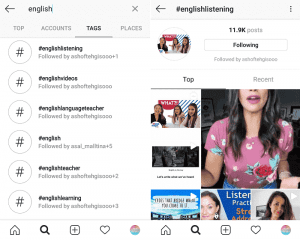 Related Article: A Secret Way to Get Among Top Posts on Instagram
2- It Helps You to Find New Content
The second purpose of the Search & Explore page is to offer new content that you might be interested in. There are a few ways that Instagram decides how to show you certain content. This is how Instagram puts it:
"We're always working to update the types of photos and videos you see in Search & Explore to better tailor it to you. Posts are selected automatically based on things like the people you follow or the posts you like."
If you open one of the posts on the sear pay attention to the line written next to the publish date, you see that usually, Instagram curates the Search & Explore feed based on these criteria:
2.1- Instagram Suggested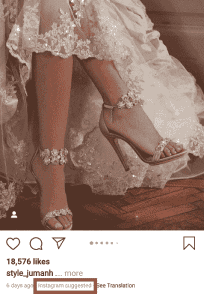 2.2- Similar to Posts You Interacted with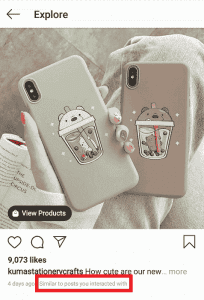 2.3- Similar to Accounts you Interacted with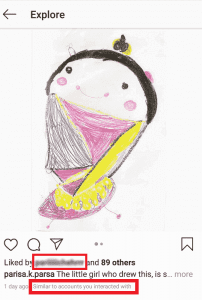 Note: you can see actually which one of your followers or following interacted with this post.
2.4- Based on the Posts You Liked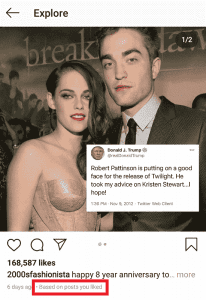 2.5- Based on the Posts You Saved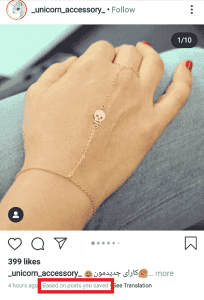 The Search & Explore page can be entertaining and useful, however, as these selections are done automatically, the results might not be as tailor-made as Instagram hopes. As a result, people might not be happy with the content that they have in this feed. 
In the following, we show you how to reset the Instagram Search & Explore page. So keep reading.
Related Article: Can You Hide Followers or Following on Instagram?
How Do You Reset Your Explore Page on Instagram?
Unfortunately, Instagram does not have an option that allows you to reset your Search & Explore page settings. However, you can take some actions to make this page more manageable and somehow change what appears on Instagram to explore.
Here are these tricks:
1- Clear Search History
To clear your Instagram search history, do this:
Tap your profile picture in the bottom right to go to your profile.

Tap on the three lines in the top right, then tap on Settings.

Tap Security, then tap Clear Search History (iPhone) or Search History (Android).

Tap Clear All, then tap Clear All to confirm.
Once you've done this, your Instagram account becomes clean and reset.
2- Clear Your Instagram Cache
To have a deeper cleaning, delete all the Instagram cache on your phone. When you do this, it's like if you've just downloaded Instagram for the first time.
To clean your cache on android:
Go to Android Settings

Select Apps & Notifications

Look for the Installed Instagram app.

Tap on Storage

Clear Instagram Cache
In iPhone or iOS, you need to first delete the app and then reinstall it. On the iPhone, do these:
Launch the Settings app.

Tap on the General tab.

Tap the iPhone Storage tab.

Wait for all apps to load, then scroll down to Instagram and tap it.

Tap "Delete App," then confirm.

Go to the App Store app and redownload Instagram.
3- Use Instagram Settings
If you wish to stop seeing some type of posts on your Explore feed, there's a way to do it. Open the photo or video you don't like, tap on the three dots on the right top and choose "Not Interested" or "see fewer posts like this." After this, Instagram will try to hide this type of content from you.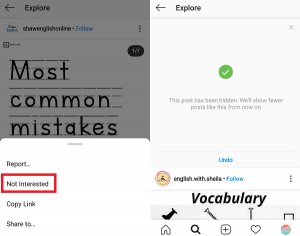 4- Change Your Behavior on Instagram
As mentioned above, there's no way to reset the Search & Explore page settings completely. Even if you have zero followers and following, Instagram still shows posts on your Explore page. We saw that Instagram mostly chooses the content of your Search & Explore page based on the posts you or your followers liked. So, you can stop following and liking certain posts, hashtags, or accounts. 
It'll take some time, but if you stick to this method, you'll have a much more tailor-made Explore Feed.


Final Words on Instagram Explore Settings
Instagram Search & Explore page can be a great source to discover new accounts and contents, but due to its limitations, you might want to reset its settings. In this article, we tried to introduce the best ways to solve this problem. Happy Instagram Explore page scrolling!