In the ever-changing landscape of social media, Instagram has risen as a dominant force, influencing trends, nurturing relationships, and empowering brands to unprecedented success. Nonetheless, numerous Instagram users encounter hurtful messages and remarks, prompting the question: Is it possible to mute certain words on Instagram?
While the Instagram Algorithm is crafted to elevate user satisfaction by tailoring content to personal preferences, there are instances when offensive content or captions are encountered. To address such situations, 'Instagram Hidden Words' and restriction functionalities come into play, effectively preventing the reoccurrence of such issues.
By muting key Instagram words, you can reduce the amount of stuff that bothers you, prevent offensive comments, and limit the amount of content you see to more desirable content! The application currently has a feature that permits users to utilize keywords and emojis to mute words on Instagram, preventing them from appearing in suggested posts and comments.
In this article, we'll have an in-depth look into the 'not interested' button and Instagram hidden words feature to help you know how to activate these content restriction features.
Want More Real & Engaged Instagram Followers with Guaranteed Results?
What Are Hidden Words on Instagram?
While Instagram and other platforms like this offer an avenue for self-expression and connection, they also come with their fair share of challenges. One such challenge is encountering offensive or inappropriate language in comments and posts. This is where the ability to block certain words on Instagram proves useful.
In response to the controversy generated by the app's aggressive shift toward suggestions, Instagram now offers users extra ways to customize their suggested posts, providing greater flexibility for modifications.
On August 10, 2021, Adam Mosseri announced that Instagram's policy on provocative and abusive content would be reinforced.
Instagram now offers the capability to block specific words, preventing them from appearing in your comments, Stories, and live streams. This new security feature (known as hidden words Instagram) not only shields you from viewing these terms, but it also ensures that your followers won't come across them.
The Instagram Hidden Words feature enables you to specify particular words for Instagram. As a result, content containing those words, as well as comments or direct messages featuring them, will be automatically hidden. Instagram says users who activate hidden word settings in Instagram comments experience a 40% reduction in offensive and impolite comments.
Additional restrictive features are also made available to assist you in curbing the content displayed in your Feed or Explore, ensuring that unwanted content is minimized like:
Hiding specific words,
Limiting what you see,
Limiting people or groups who can comment,
Muting certain Instagram pages, you don't like,
Hiding unwanted content appears on your feed or Explore by using the 'not interested' button.
Curious to learn how to block certain words on Instagram and effectively avoid encountering content that includes those particular Instagram words? Continue reading to discover all the details.
Read more on our site: 25 Best Instagram Growth Services
How to Filter, Block, and Hide Harmful Content on Instagram?
You can't overlook the power of Instagram words! Leveraging impactful phrases help you gain more IG followers and higher engagement. On the other hand, using harmful and triggering words on Instagram can have a bad impact on your followers and make them unfollow you.
Instagram blocks words and IG hashtags that do not comply with its community guidelines. For instance, Instagram banned hashtags that contained words it does not allow in content. These hashtags may not necessarily be overtly offensive, but they still violate Instagram's Community Guidelines.
You might already be aware of these certain aspects, but what if you wish to avoid encountering Instagram words such as slang, cursing abuses, and offensive language? We'll guide you through methods to restrict the visibility of these Instagram words in your content. Keep reading to learn more.
How to Block Words on Instagram
There are several methods you can employ to conceal potentially Instagram offensive comments and unwanted message requests that you'd rather not encounter on Instagram. Besides limiting accounts using the restrict feature, you can now restrict certain words. Instagram lets users filter abusive messages.
You can choose which words and emojis to hide on your account. In this method, you have the option to establish a personalized list of words, phrases, numbers, and emojis that you wish to keep hidden. This way, you can lessen your interaction with abusive users too.
Content that doesn't directly violate Instagram Community Guidelines yet might be deemed inappropriate, disrespectful, or offensive (such as racial slurs, profanity, or scams) can be effectively hidden using the Hidden Words feature.
Here is a step-by-step guide on how to block certain words on Instagram:
To start blocking words, open the Instagram app and navigate to your profile page.
Next, locate and tap on the three horizontal lines at the top right corner of the screen to access the 'Settings and Privacy' menu.
Within the 'Settings and Privacy,' scroll down to the 'Hidden Words' section. This is where you can customize the settings related to comments on your posts.
Choose 'Hidden Words.'
Scroll down until you reach the 'Manage Custom Words and Phrases.'
Tap 'Add to List.'
Add as many words as you want to the list of abusive words to be hidden.
✨Pro Tip: Before getting started, update your Instagram app and ensure that you have the latest version of the Instagram app installed on your device. Keeping your app updated guarantees access to the latest features, including word blocking.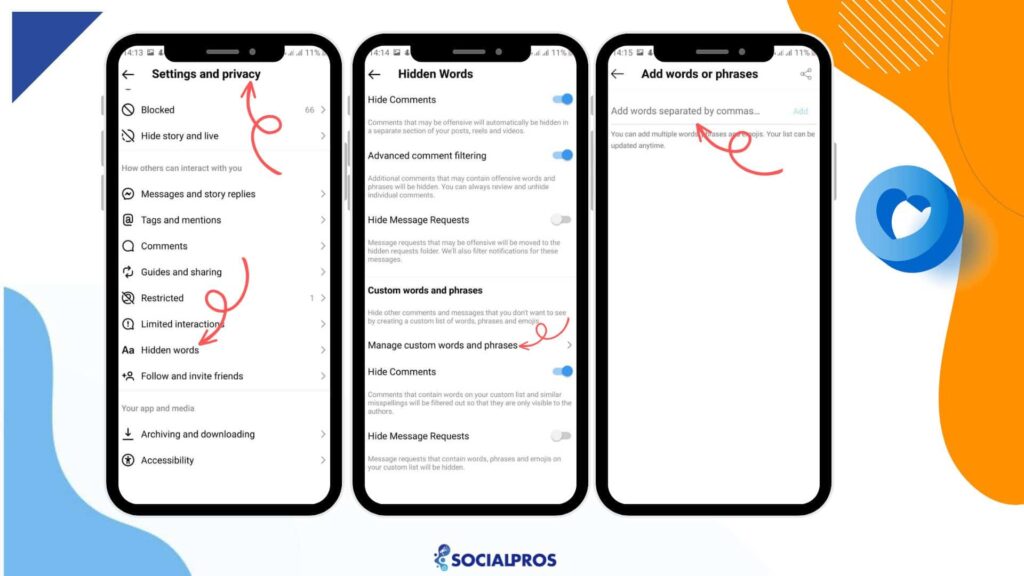 After entering the words you wish to block, make sure to save your changes. This ensures that the words you've added will be filtered out from your comments and posts.
To confirm that your selected words have been successfully blocked, try leaving a comment on one of your posts using the blocked words. If the comment doesn't appear as expected, it means your word-blocking settings are working effectively.
Please note hidden comments on Instagram are still included in your total comment count. Moreover, the person who sent the hidden comment won't be notified of its concealment.
You have the option to activate the 'Hide Comments' feature if you prefer to prevent anyone from leaving comments on your posts. Additionally, you can opt to enable 'Hide Message Requests' if you wish to prevent receiving message requests from others.
According to Instagram, message requests are the most likely occasions on which users can receive abusive texts. On the other hand, the DM inbox is usually where we get messages from friends. So it is less likely to receive bullying texts in our inbox.
This action also will result in hiding comments and DMs containing the words on your list. Now that you understand the importance of blocking certain words on Instagram let's delve into how to hide suggested posts on Instagram containing certain Instagram words.
Read more on our site: The Best Instagram Followers App
How to Stop Viewing Suggested Posts with Specific Words on Instagram
This feature is exclusively accessible on the Instagram app for both Android and iPhone devices. When you decide to conceal a suggested post you come across on Instagram, you also have the option to hide other suggested posts containing hashtags or captions that incorporate specific words, phrases, or emojis.
Making your Instagram feed align with your preferences doesn't need to be complex. Here's a straightforward way to hide suggested posts with specific words when viewing a post:
While viewing a post, you might come across a suggested post containing a specific word you'd like to filter out.
On the top right corner of the suggested post, you'll see three dots (ellipses). Tap on these dots to access post options. For reels, tap more actions in the bottom right.
Just tap on 'Not Interested,' and then select 'Don't suggest posts with certain words' indicated by the 'Aa' icon.
Input a word, phrase, or emoji that you wish to employ for concealing suggested posts.
Pro Tip: You can include multiple items simultaneously by separating each entry with a comma. (Example: word1, word2)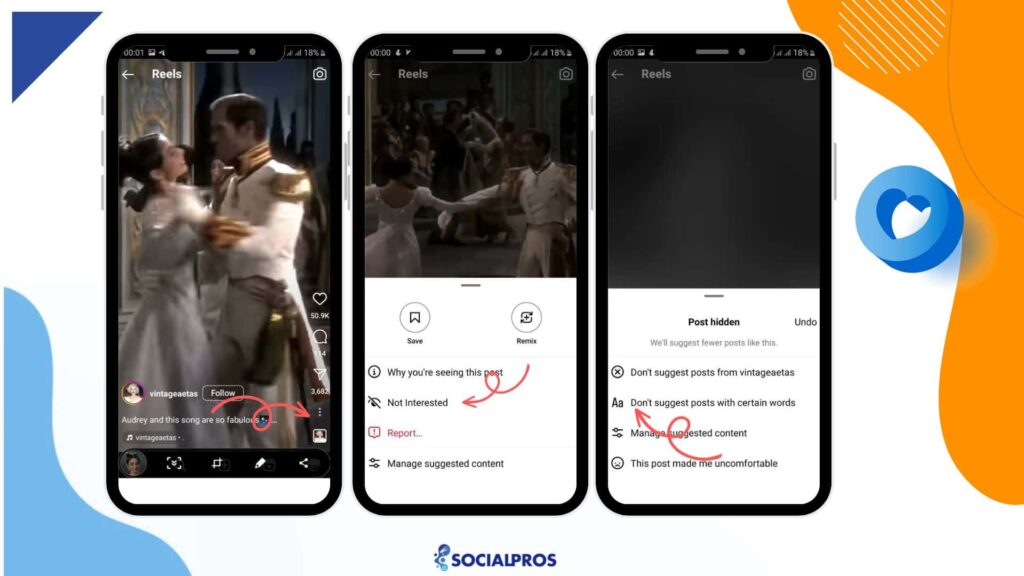 After completing these steps, refresh your feed to see the impact. Instagram will work to adjust your suggested posts according to your preferences.
Note that it may take up to 24 hours to no longer see suggested posts that include the items you've added to your list.
You May Also Like to Read: Troubleshooting the 'Instagram Couldn't Refresh Feed' Error [Best Solutions]
You Can Manage the Mute Words on Instagram
You have the flexibility to manage your personalized list of words and phrases for suggested posts at any given time. Here's how you can view or modify your list:
Tap on your profile picture or profile icon located at the bottom right corner to navigate to your profile.
Click on the three dots (more options) situated in the upper right corner.
Select "Settings and Privacy."
Tap on "Suggested Content."
Proceed to "Specific Words and Phrases."
Keep in Mind: The items you add to your customized list of words and phrases will:
Need to be an exact match to hashtags utilized in suggested posts to effectively hide those posts.
Not conceal posts from accounts you follow, even if their posts' captions or hashtags encompass items from your list.
Not influence suggested posts that appear when you visit your account via instagram.com.
Solely applies to hashtags and captions of suggested posts. Consequently, you might still encounter suggested posts containing comments featuring items from your list.
Also Read: How to See Who Unfollowed You on Instagram
Need to clean up your following list from Fake or Inactive Followers?
Limited Interactions On Instagram
Instagram is a large community with more than two billion active users. So, such a large platform must take safety measures. As a result of increased sensitivity among Instagram users, Instagram introduced several new security features to protect users from online harassment.
Instagram has already established a few limitations to increase security. However, according to many specialists, they were not enough. For example, there are Instagram daily limits for actions on Instagram. These kinds of limitations prevent spammers from using illegal Instagram bots to gain followers.
There are also restrictions for sensitive content. However, many users and critics admit that Instagram measurements and precautions against hateful content have not been enough. Instagram is full of abusive, sexist, racist, and homophobic messages both in comments and DMs.
Some communities need more protection. We cannot control what other people write. However, one of the most effective ways to restrict verbal violence is to filter our inboxes. There are two ways to limit unwanted messages and message requests on Instagram.
Restrict an Undesired User on Instagram
One effective method to safeguard your DM inbox is by individually restricting unwanted users. This feature is not a recent addition; it's been available for some time. The Restrict feature allows you to manage Instagram users without unfollowing them. It serves as a useful tool to restrict individuals who employ offensive Instagram words that need hiding.
By restriction, you can control their comments on your posts. Moreover, their DMs will be moved to message requests, so you don't get notifications from them. And you can read their messages without their notice.
In the following, we will give a step-by-step guide on how to restrict a certain user on Instagram.
Log in to 'Instagram.'
On your 'home page', search the username in the 'search box.'
Go to their 'profile.'
On the top right of your screen, click on the '…' icon.
Choose the 'Restrict' option.
Another approach to prevent receiving offensive words in DMs involves utilizing the Hidden Words Instagram feature, which we discussed earlier.
Instagram will recommend groups of accounts that you may want to restrict. Moreover, You can choose for how long you want them to be limited. After taking all the steps in the image below, tap on the 'Turn On' button.
You can keep Instagram users limited for as long as you wish. However, if you ever want to restore the changes to your account, you can take the same path and tap on the 'Turn Off ' button instead.
Read More: "We Restrict Certain Activity on Instagram" [10 Best Strategies to Fix Instagram Restrictions]
Method One: Hide Comments on Instagram
Rather than relying solely on the Instagram Hidden Words feature to conceal offensive words, you can also hide comments or disable them. Instagram offers the ability to hide comments on your posts through the following steps:
Open Instagram App: Launch the Instagram app on your mobile device and log in to your account if you haven't already.
Navigate to Your Post: Go to the post for which you want to hide comments. You can do this by either tapping on your profile picture and selecting the post or by scrolling through your feed and selecting the post.
Access Post Options: Under the selected post, you'll see three dots or lines (the "More" or "Options" button) typically located at the top right corner of the post. Tap on this button.
Select Comment Controls: A menu will pop up with various options. Look for "Comment Controls" or a similar option (the wording might change slightly based on updates after September 2021). Tap on this option.
Hide Comments: In the Comment Controls menu, you should find an option to "Hide Offensive Comments." Enable this option, and you might also have the option to "Manually Filter Comments" if you want more control over what's shown.
Method Two: Hide Comments on Instagram Manually
To hide a comment on your Instagram post:
Open Instagram on your mobile device.
Find the comment you want to hide.
Tap the "Hide" option beneath that comment. Remember, you can only manually hide comments on your own posts.
Hidden comments on Instagram will be visible only to you and those who made them. Others won't see it, and the commenter won't know it's hidden.
To unhide a comment on your post:
Log in to your Instagram account using the mobile app on your iOS or Android device.
Navigate to the post where the comment is hidden.
Scroll to the bottom of the comment section and tap "View hidden comments."
Select "Unhide" under the comment you wish to reveal again.
Keep in mind that Instagram's interface and features can change over time due to updates and user feedback. If the steps provided here don't match what you see on your app, you might want to explore the app's settings or check for updated instructions from Instagram's official help center.
Additionally, if you're concerned about specific comments from particular users, you can also individually delete comments on your posts. Simply swipe left on the comment you want to remove, and options to delete or reply will appear.
Read more on our site: The Best Ghost Followers Apps
Final Words on Instagram Hidden Words and Limits
Instagram became concerned with abusive and hateful content on their platform. To make Instagram a safer place for everyone, they decided to add extra protective features. Hidden words setting is one of Instagram's new security measures. They are indeed very advanced tracking tools to filter abusive and offensive online content.
Taking the initiative to block certain words empowers you to curate your Instagram feed according to your preferences. It's a proactive step towards creating a supportive online community that aligns with your values and interests. This content moderation not only benefits you but also contributes to a healthier digital environment for everyone.
This article introduced the two new Limits and Hidden Words features on Instagram. Moreover, we briefly explained the old restrict feature closely related to these two new updates. No one deserves to be harassed and bullied online.
FAQs on Hidden Words Settings Instagram
Q1. Does Instagram Impose a Word Limit?
Does Instagram have a word limit? No, it does not. Instead, it enforces a character limit. Each Instagram post is subject to a maximum of 2,200 characters. This roughly equates to about 300-400 words. However, this doesn't necessarily imply that you should exhaust the entire character count.
Q2. What's the Word Blocking Capacity?
Instagram offers you the capability to block a considerable quantity of words. You have the flexibility to construct an extensive blocklist encompassing a diverse array of terms, thereby ensuring a positive and enriching user experience.
Q3. Is Word Blocking on Instagram Available in Different Languages?
Indeed, Instagram's word-blocking functionality accommodates various languages. This proves especially valuable if you possess an international audience or frequently interact with users proficient in different languages.
Q4. Can I use the hidden words Instagram feature in the Instagram web version?
No, this feature is only accessible through the Instagram mobile app for Android and iPhone.
Q5. Is it possible to change the Instagram hidden words list?
Yes. To do so, follow the steps below:
Select 'Settings' and tap on 'Privacy'.
Choose 'Hidden Words.'
Scroll down and click 'Manage list'.
After typing several words and phrases that you often find in your spam-like comments, press 'Add.'
Q6. Can people see your Instagram hidden words?
No. They won't see your Instagram hidden words.
Q7. Why did Instagram create a hidden words feature on its platform?
Instagram introduced the Hidden Words feature to enhance user safety by filtering harmful comments and direct message requests. Instagram recognizes the harm caused by abusive content and the need to combat it effectively. Instagram's hidden words feature protects against scammy message requests and inappropriate Story replies. When activated, it reduces offensive comments by 40%. Users can easily customize and toggle the hidden word settings on Instagram as needed.