Instagram is a large community with more than one billion active users. It is necessary for such a large platform to device anti-safety measures. Many Instagram users tend to get hateful messages and comments. As a result of increased sensitivity among Instagram users, Instagram introduced several new security features to protect users from online harassment. Instagram introduced these features to halt abusive content. On August 10, 2021, Adam Mosseri announced that Instagram's approach towards offensive and abusive content would become stricter. And in this article, we'll have an in-depth look into Instagram hidden words and limits features.
Limited Interactions On Instagram
Instagram has already established a few limitations to increase security. However, according to many specialists, they were not enough. For example, there are Instagram daily limits for actions on Instagram. These kinds of limitations prevent spammers from using illegal Instagram bots to gain followers. There are also restrictions for sensitive content. However, many users and critics admit that Instagram measurements and precautions against hateful content have not been enough. Instagram is full of abusive, sexist, racist, and homophobic messages both in comments and DMs. Some communities need more protection. We cannot control what other people write. However, one of the most effective ways to restrict verbal violence is to filter our inboxes. There are two ways to limit unwanted messages and message requests on Instagram. This section gives a step-by-step guide on how to do so. 
# Restrict an Undesired User on Instagram
The first way to protect your DM inbox is to restrict unwanted users one by one. This feature is not a new one. It has been a while since you can restrict Instagram users. The Restrict feature does not make you unfollow the user. By restriction, you can control their comments on your posts. Moreover, their DMs will be moved to message requests, so you don't get notifications from them. And you can read their messages without their notice.
In the following, we will give a step-by-step guide on how to restrict a certain user on Instagram. 
Log in to 'Instagram.'

On your

'home page', search the username in the 'search box.'
Go to their 'profile.'

On the top right of your screen, click on the

'…'

icon.

Choose the

'Restrict'

option. 
After doing so, you will get the following message: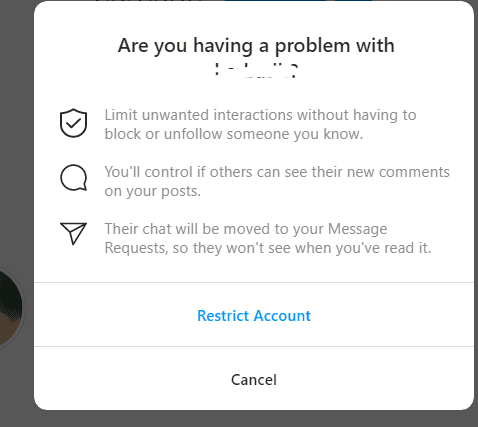 Tap on the

'Restrict Account'

option. 
# Instagram Limits Feature
The restrict feature is brilliant. However, it is still not enough if you want to protect your community from harm. In most cases, the abusers are unknown. Besides, it is time-consuming for high-follower Instagram accounts to restrict individuals. That's where you can use the new Instagram Limit feature. This new feature allows you to limit your interaction with a large group of people at once. Let's say you can restrict all of your new followers or non-followers. After all, we all know that most of the abusive comments and DMs come from those who have not been following you for too long.
Take the following steps to hide unwelcome comments and DMs on Instagram. 
Login to your 'Instagram Account.'

 

At the bottom of your screen, tap on your 'profile picture icon.'
Tap on the 'hamburger icon'

(three parallel lines) on the top right of your profile.

Choose 'Settings'

.

Tap on the 'Privacy'

option on your Settings.

Choose 'Limits'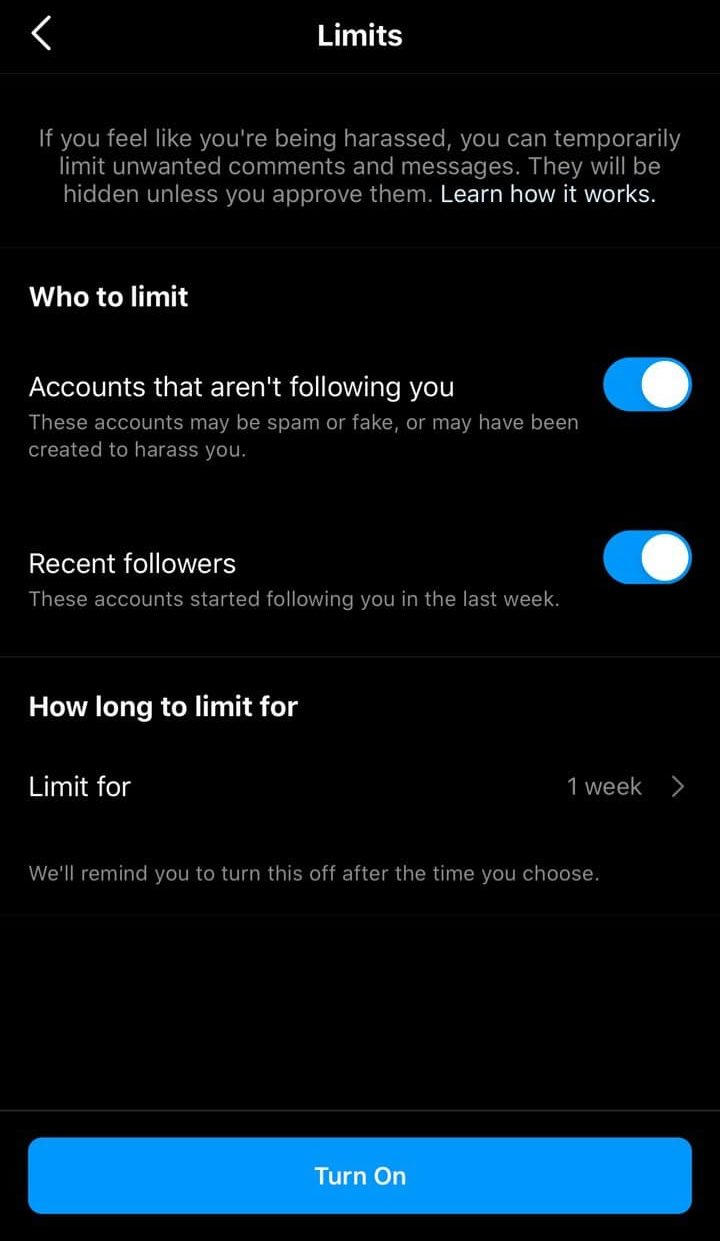 Instagram will recommend groups of accounts that you may want to restrict. Moreover, You can choose for how long you want them to be limited. After taking all the steps in the image below, tap on the 'Turn On' button. 
You can keep Instagram users limited for as long as you wish. However, if you ever want to restore the changes to your account, you can take the same path and tap on the 'Turn Off ' button instead. 
# Instagram Hidden Words
Apart from limiting accounts using the Limits feature, you can now restrict certain words. Instagram lets users filter abusive messages in its recent update. The new feature is personalized. You can choose which words and emojis to hide on your account. This way, you can lessen your interaction with abusive users. 
To avoid harassment and bullying, this time, Instagram has focused on DM requests. According to Instagram, message requests are the most likely occasions on which users can receive abusive texts. On the other hand, the DM inbox is usually where we get messages from friends. So it is less likely to receive bullying texts in our inbox.
To add hidden words to your DMs, take the following steps on your Instagram application:
Login to your 'Instagram Account.'

 

At the bottom of your screen, tap on your 'profile picture icon.'
Tap on the 'hamburger icon'

(three parallel lines) on the top right of your profile.

Choose 'Settings'

.

Tap on the 'Privacy'

option on your Settings.

Choose 'Hidden Words.'
Scroll down until you reach the 'Manage Custom Word List.'
Tap 'Add to List.'

Add as many words as you want to the list of abusive words to be hidden.

Turn on the '

Hide Comments'

 and

'Hide Message Requests'

switches.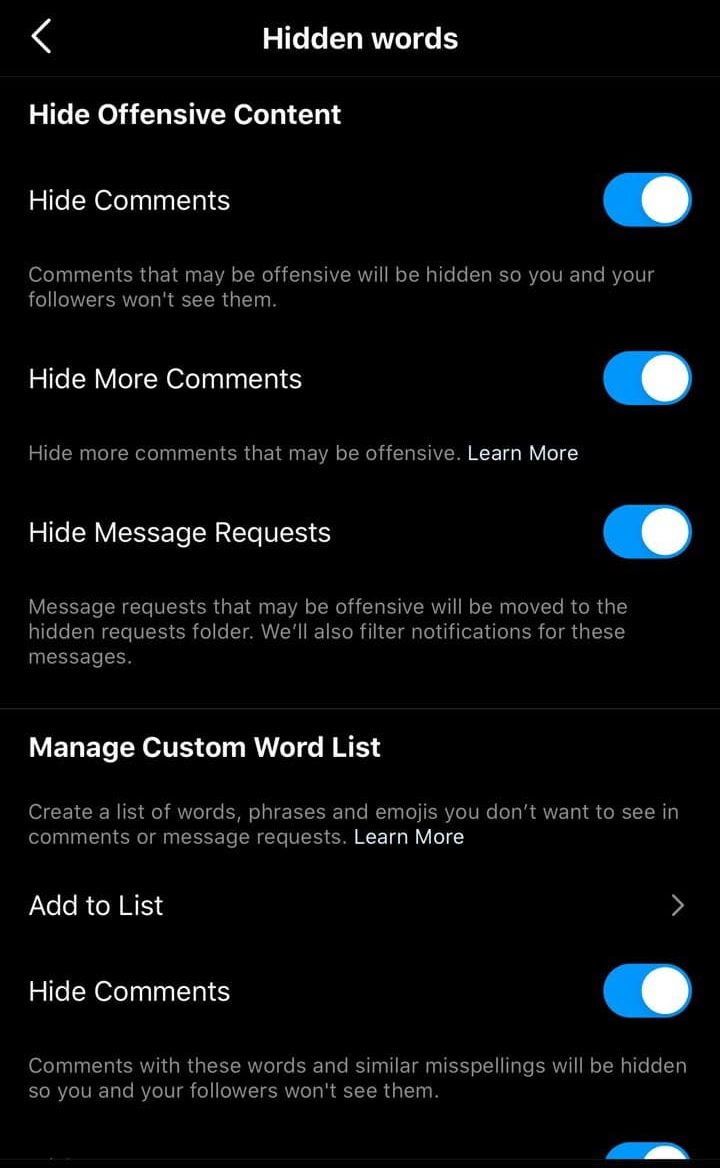 The last action will result in hiding comments and DMs containing the words on your list. Moreover, Instagram can track misspellings of those offensive words. 
# Hide Comments and Message Requests
On the top of the Hidden Words section, there is another protective feature. Just above the manage Custom Word List section, there are three switches as well. This feature existed before the personalized hidden words list. However, it is worth it to turn those switches on if you want to be truly protected. By turning on the Hide Comments and Hide Message Requests, Instagram protects you against potentially offensive content. Unlike the Custom Word List feature, this feature is not personalized. Instagram automatically filters out texts that are likely to be abusive, sexist, homophobic, racist, etc. Further, by turning on the Hide More comments, you can double the protection. 
Final Words on Instagram Hidden Words and Limits
Instagram recently became concerned with abusive and hateful content on their platform. To make Instagram a safer place for everyone, they decided to add extra protective features. These features are not simple privacy tools. They are indeed very advanced tracking tools to filter abusive and offensive online content. This article introduced the two new Limits and Hidden Words features on Instagram. Moreover, we briefly explained the old restrict feature closely related to these two new updates. No one deserves to be harassed and bullied online.
---
And check out more of our content: