Want to know how to get featured on Instagram and have tons of new followers? The bad news is, it might seem impossible to be seen on Instagram, considering the popularity and the size of the platform. However, the good news is almost one out of seven people in the world use Instagram regularly, and more than 200 million of them check a business profile daily!
This is an excellent opportunity for you to showcase your talent, business, and work and get more likes on Instagram. If you want to know everything about getting featured on Instagram, sit tight, and read this article till the end.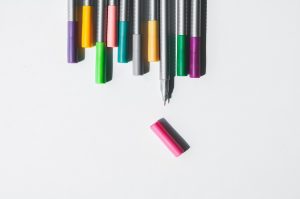 What is a featured Instagram post?
Basically, a featured post on Instagram is an image or video that is reposted by a featured or curation account. These types of accounts select and introduce the most interesting content in the specific area that they are covering.
As Instagram is all about visual content, common types of featured accounts are those who are about different photography styles, such as portrait, still life, or minimal. Here is an example of a featured post in photography:

Using featured posts, you can get your art noticed on Instagram. Also, you don't have to be a professional photographer to be featured on Instagram. Sometimes, all you need is a cute puffy in your house. Look at this furry featured post:
View this post on Instagram

Sometimes, a single page can share all the categories such as animals, photography, food, fashion, or cars. But getting featured on these types of pages are really competitive. You already know the most famous featured account on Instagram: the Instagram official page!
As the most followed account on the platform with more than 340 million followers, the official account of Instagram is the best page to be featured on. Every day, Instagram introduces a lucky Instagrammer with a unique feed or post. It might find them by hashtags such as #theweekoninstagram.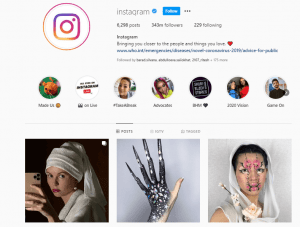 Want to be among the few chosen ones and how to get featured on Instagram? Keep reading to find out HOW!
How to get featured on Instagram?
Getting featured on Instagram is no easy task. It takes much trying and patience. But some tricks can make you the featured posts on the featured pages! Here is how to get featured on Instagram:
1- Find and interact with Instagram pages that to aim to be featured on
There are thousands and might even millions of Instagram accounts out there that are willing to publish your photo. But obviously, you need to narrow your choices down to get a better chance of getting featured. Find the best featured accounts in your niche and start interacting with them.
You may already know some, but a faster way to find and start interacting with them is using AiGrow. AiGrow is an Instagram management tool that can handle the difficult part of having an Instagram page for you. Not only AiGrow can get you numerous organic followers, but it also facilitates the way of getting featured on an Instagram page. Here is how AiGrow helps you:
AiGrow interacts with the featured accounts
With AiGrow, you can add your selected featured accounts and continuously interact with them. For example, if a featured account uses a particular hashtag (most of them do), you can search and add that hashtag to AiGrow. What happens next is that AiGrow will start interacting with the contents that include that hashtag. It likes and leaves comments on the targeted posts.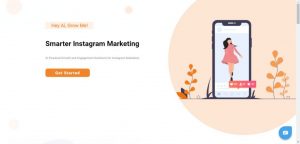 This constant interaction with featured accounts makes you more visible and of course, more familiar in the eye of them. So, don't miss the chance and let the AiGrow take care of all the liking and commenting.
Tip: When selecting a featured account, take a look at their followers. Usually, accounts that have more than 100K followers are challenging to be featured on and require you to have absolute terrific content. If you are a starter, it is better to target less popular accounts and when you get more credits, you can move on to the higher levels.
AiGrow gets you more followers

One of the best things that AiGrow does for your Instagram account is getting you new followers. Besides interacting with certain IG accounts, using hashtags can attract new followers to your account. Also, you can add your selected profiles to the list so that AiGrow starts catching their followers.
Why is it essential to have more followers? New – and, of course, real – followers can level up your exposure on Instagram. The more followers you have, the higher your chance to go viral. You might even appear on the featured accounts' explore page, which is excellent!
Luckily, AiGrow offers a variety of promotional packages based on your needs. With AiGrow VIP packages, you can even get a (guaranteed) minimum of 500 followers per month! To enjoy a boost in your followers, sign up for AiGrow.
Moreover, it's good to know that AiGrow offers Instagram engagement groups or pods. In these groups, you can interact with accounts in your niche that will increase your engagement rate even more. Also, our experts will craft you some eye-catching content that will make your feed more attractive. 
2- Read submitting guidance carefully
Most of the featured accounts on Instagram have a clear guideline, which exactly explains how to get featured on their Instagram page. All you have to do is to look for any instruction on their bio. If you didn't find any explanation, try to contact them via email or direct message. If you want to send a message to numerous accounts, save your time and use AiGrow DMs to send DMs in bulk.
Here is an example of submitting guidance: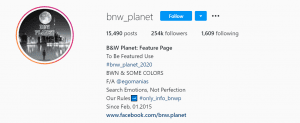 As you can see, they introduce a unique hashtag to find you easily on Instagram.
3- Create great content
Needless to say, having great content in the first place is a must! How can you have hopes to get featured on Instagram when your photos are blurry and not visually appealing?
You can use Instagram in-build filters or use graphic apps such as preview app to craft beautiful posts.
View this post on Instagram
4- Take photos with brand's products and tag them
If you are dreaming of getting featured by a big brand that offers specific products, you can take a really cool picture using that product and then simply tag them. Many brands use these user-generated content to show how much they care about their customers. One of the best examples of using this technique is @Starbucks:
View this post on Instagram
5- Partner with influencers
Another great way to get exposure and increase your chance of getting featured on Instagram is by partnering up with an influencer. As the name indicates, influencers have a considerable effect on their followers. For example, they can ask their followers to follow or like your photo, which increases your level of engagement.
Want to find an influencer – of any size like mega, nano, or macro – the easiest way is to use Ainfluencer, a fantastic platform that handles all the influencer-related matters for you.
Conclusion on how to get featured on Instagram
To sum it up, getting featured on Instagram is a difficult job. But if you follow the guidance and use the tips that we introduced you in this article, you will exactly know how to get featured on Instagram. Have a little bit of patience and wait for the popularity to come!