GIFs are funny and by using them you can share your feelings and thoughts without using any words and in a more digestible way. Being a popular visual social media network, Instagram has turned out to be a place where people make friends,  build their own brands, and express their feelings through images and videos. However, sharing GIFs on posts and stories seems to be a little challenging which disappoints users. In this article, I'm going to teach you how to post a GIF on Instagram stories and feed posts in a few minutes. So keep reading. 
How to Post a GIF to Instagram from Your Phone? 
The easiest way to post a GIF on Instagram is to use the GIPHY app. As you may already know, GIPHY is the most popular website to find, create, and share GIFs. Luckily, GIPHY has a mobile app by which you can simply find or create your desired GIF and share it on Instagram or other social media channels. But how to post a GIF on Instagram using this app? Well, follow these steps: 
Step 1: Download and Instagram GIPHY and Sign Up for Free
The first step is really easy. Just open Google Play or App Store on your mobile phone and download and install GIPHY. After installing the app, you have to create an account using your email address or your Facebook account which is really easy.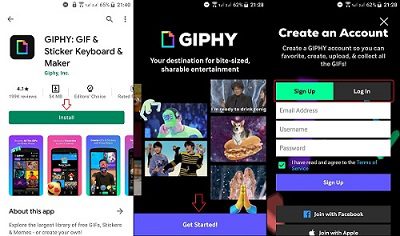 Also, if you already have an account, just log in to your account and save your time. 
Step 2: Create or Find Your Desired GIF and Post it on Instagram
GIPHY allows you to create GIFs or search for some keywords and find related GIFs to share on Instagram or other channels. In either way, open the intended GIF and tap on the arrow button below it. Then, tap on the Instagram icon as you see in the image below: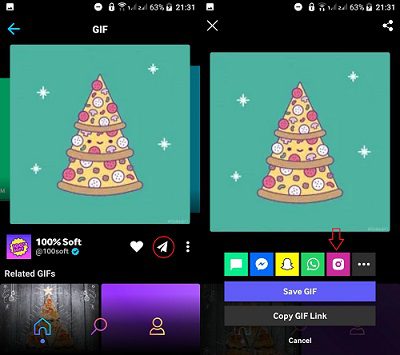 Finally, you have to choose if you want to post the GIF on Instagram stories or feed. By choosing each of these items, the GIF will be uploaded to your stories or feed. Then, you can simply crop it, edit it as you wish, and share it on Instagram just like sharing regular posts and stories.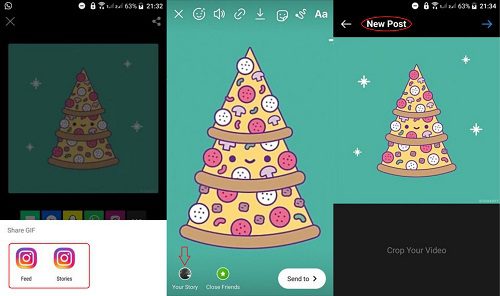 That's it! This is how to post a GIF on Instagram using the GIPHY app from your phone. 
How to Post a GIF on Instagram from a PC? 
Actually, posting a GIF on Instagram from a PC is a bit more challenging. Unfortunately, Instagram still doesn't allow users to share posts and stories using the website version. So, to post a GIF you must use an Instagram scheduler like AiSchedul. But how to post a GIF on Instagram from a PC using a schedule? 
First, save your GIF as an MP4 video. Actually, if you have found or created a GIF from GIPHY, to download the MP4 version, you have to enter your email and GIPHY sends you the GIF in the correct format.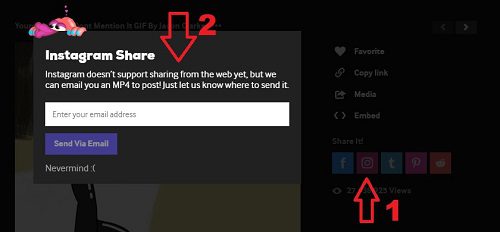 By the way, note that this is not the only way to do it. You can download your GIF and use a free converter to modify the format. So, don't worry if your intended GIF is not available on GIPHY. 
Now, on AiSchedul, you should just upload your GIF and schedule it to be shared on your feed or stories.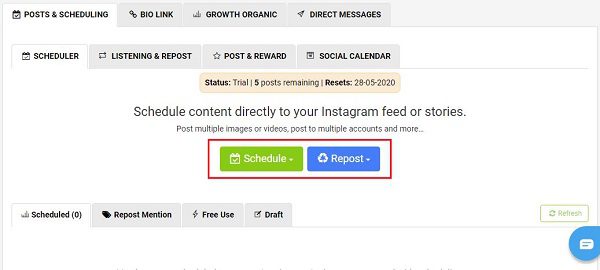 Also, if you have seen a GIF on someone else's posts or stories, using AiSchedul you can simply repost it. So, click here to know how to schedule Instagram posts and easily share your GIFs on Instagram. 
How to Post a GIF on Instagram from Camera Roll? 
Unluckily, if you try to upload a GIF directly from your camera roll to Instagram, it may appear as a single frame and will not be shown as the animated GIF that you wanted. This is because Instagram doesn't support the GIF format. So, if you convert your GIF into an MP4 video, the problem will be solved. 
To covert your GIFs, you can use free tools like ezgif. All you have to do is to upload your photo on this website, convert it to MP4, and download it to your mobile phone. Then, just like the times you share a video on your Instagram stories and posts, upload your GIF and share it from the camera roll. 
FAQs About How to Post a GIF on Instagram
Here are some of the questions related to sharing GIFs on Instagram that you may also ask: 
1- How to Share a Loop on Instagram? 
Actually, loops are the same as GIFs, meaning that they are videos with at most a 15-seconds length which automatically start from the beginning and will be played for unlimited times. Luckily, Instagram has a feature called Boomerang on stories, by which you can create DIY GIFs and share them directly on Instagram. However, if you want to create and share loops without using the Boomerang feature, you have to use third-parties like GIPHY. 
2- How to Add a GIF to Instagram Stories as a Sticker?
We have previously answered this question and showed you how to make custom GIF stickers for Instagram stories. But to give a short answer here, you have to create a brand channel on GIPHY or try to share your GIFs as stickers by adding multiple photos to one Instagram story. 
Final Thoughts
In a nutshell, no matter if you are using Instagram to promote your business or just to share photos with your family and friends, you may sometimes want to share GIFs to receive more engagements. By the way, uploading a GIF file directly to Instagram results in sharing a one-frame picture and not a short animated loop. In this article, I described how to post a GIF on Instagram posts, stories, and from any device. Read the article carefully and if you have any other questions, feel free to leave us a comment.