Finally decided to share your musical talent with others? Did you know that you can make money online with your music? In this article, we're going to show you how to make money on Instagram with music in simple steps. So, stay with us and read this article till the end.
I know, being a musician is hard; especially being a full-time one. But music is a fiery passion for many people. Lots of teenagers and youth dream of becoming a distinguished musician. Back then, it was kind of a difficult job to make a name in the music world. You need to be talented, exceptional, and of course lucky to gain enough attention and release your songs. But things have changed since then. Now, you have a magical tool called Instagram!
Instagram for musicians in 2020
Well, I have good and bad news for you; the good news is, with the emergence of social media, – especially Instagram – you can access numerous audiences and showcase your talent. But the bad news is, it ain't going to be easier than the past, because nowadays, everyone wants to be famous on Instagram! But, there are still effective ways that if you employ them, not only can you become a well-known musician on Instagram, but also you can make some real money along the way.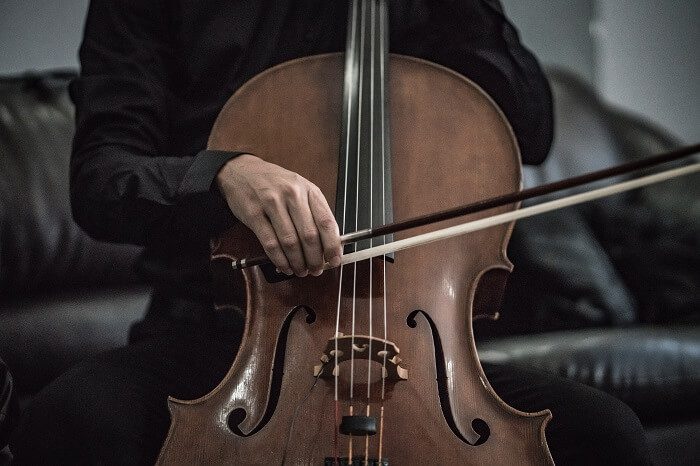 Musicians use many ways on Instagram to make money. In the following, we're going to share the guidance of Instagram for musicians in 2020 that show you exactly how to make money on Instagram with music in three steps. First, let's see why Instagram is a good platform for musicians and then we see how to make money on Instagram with music.
How many people follow musicians on Instagram?
Instagrammers love musicians; nine of twenty most-followed Instagram pages belong to musicians. For years, Selena Gomez was the most-followed celebrity on Instagram. Also, musicians' Instagram posts sometimes get historical likes. Remember the pregnancy announcement of Beyonce?
In 2017, of Instagram's 800 million users worldwide, about 350 million follow 10 or more verified musicians accounts.
Now that you know how much Instagrammers love musicians, let's see how you become a musician on Instagram and make money using it. 
How to make money on Instagram with music step 1: Set up your page
It might seem too simple but setting up your Instagram account correctly is the first important step to making money on Instagram. So, let's see how you can take the first step and dive into the world on Instagram musicians.
Set up your page as a musician
You may ask yourself, should I make a new Instagram for my music? Well, if you prefer to have a separate account on Instagram for your music, we suggest setting up a business account. Or, if you prefer to use your current page, you can simply switch your current account to a business account. Take these steps (from Instagram Help Center):
Go to your profile and tap on three lines in the upper right corner.

Tap Settings.

Tap

Account

.

Tap

Switch

to Professional

Account

.

Tap

Business

.

If you'd like, you can follow the steps to connect your

business account

to a Facebook Page associated with your

business

.
How to make a band Instagram account?
If you have a music band and want all the members to have access to the page, it's better to make an Instagram business page. Because in this way, Instagram lets several people run Instagram. Also, if you are not interested in having a business account, another way is to use Instagram management apps such as AiGrow. I will go through AiGrow's features throughout this article and tell you how it can help you to promote your music account in different stages.
Make your bio shine
You can use exactly 150 characters (not words) in your Instagram bio. So, try to make the most of it! Your bio should tell who you are, and what you do. Try to grab the visitors' attention by using the best Bio ideas to get more followers on Instagram. 
You can include only one external link, maybe your website or Patreon address, to your bio. Well, it's a little bit disappointing to show your visitors only one URL. After all, Instagram is one of the greatest tools to lead traffic to your website. So, what should be done?
Luckily, I have an excellent solution for you. What if I tell you that you can have unlimited external links in your Instagram bio? Or even add an external and clickable link to the individual posts? Sounds great, right? Well, you can have them all using AiGrow, an amazing Instagram management service that will help you grow your Instagram effectively. 
Here is a video tutorial for AiGrow's Bio Link:
Choose a great profile photo
As a musician, you want to be as attractive as possible. So, be picky about choosing your profile photo. It can be a really cool rock & roll photo of yourself, or even your band's logo, which gives your profile a more professional look.

How to make money on Instagram with music step 2: Growing your Instagram as a musician
Instagram has many benefits for musicians in 2020. It offers a wide range of tools that can come real handy for them. After setting up your Instagram account and optimizing it, now it's time to let people know you're a musician! There are great Instagram pages out there running by talented musicians but nobody knows them yet. Why? Because you need to market your Instagram so that people know you exist and worth following.
So, you need to gain followers as much as you can! But, how to get more followers on Instagram for musicians? Do these steps:
1- Share perfect content
Content is your number one friend when it comes to growing your Instagram account. As a musician and someone who speaks to the fans directly, you need to be a content specialist as well. 
What should a musician post on Instagram?
Here are the best options:
Videos
For musicians, videos are more important, as they can record their work and then share it with their fans. You can record a piece that you've played and then upload it in Instagram feed, IGTV, or stories. 
View this post on Instagram
Mix things up
Be creative when it comes to content. Don't just publish one type of content as it might bore your followers. As a musician, you have many cool options to consider when it comes to Instagram posts. 
View this post on Instagram
For example, you can use videos of you practicing, share music tips, introduce your new merch, live show clips, behind the scenes clips, lyric notebooks, or cover a song. 
Behind the scene and stories
Believe it or not, people love behind the scene content. It's different, almost always funny, and authentic! So, why not use some behind the scene photo and videos to grab the followers' attention? Here are some example of this type of content by @thebeatles:   
Write killing caption
An engaging caption can help you greatly to communicate with your followers This 2200 limited space allows you to show the instagrammers your speaking style and more importantly, your ideas. You can use a piece of your lyrics if it is attractive enough. Don't forget to add a CTA button.

When writing a caption, remember to don't act like you made it! Be humble, but not too much to the point of begging.
Have a beautiful feed
I know you rock but let's face it: when you are still not that popular, having a beautiful feed will greatly help you to gain more followers. Here's the Thatviolakid Instagram page. Look how he manages to maintain the balance between about three colors: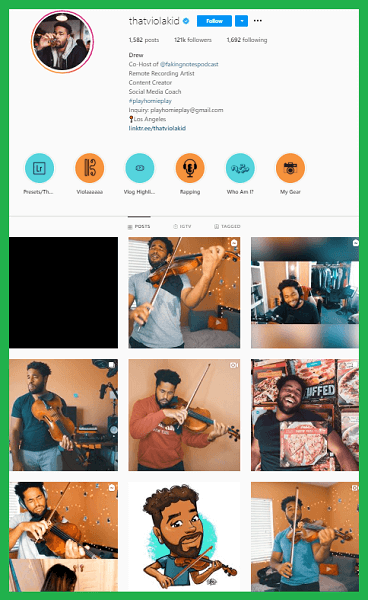 If you don't have any idea how to make beautiful feed, AiGrow can help you with that too by creating eye-catching feed and Story posts for you.
Use hashtags wisely
Although it is possible to gain followers without using hashtags, if used wisely, they are still one of the most popular features of Instagram. So, when uploading your posts, remember to use the most related and popular hashtags.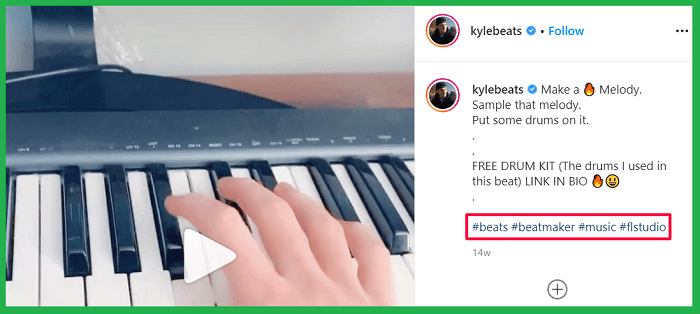 What are the best hashtags for musicians on Instagram?
Here's is list of popular music hashtags:
#classicalmusic #classicalmusicians #music #instruments #goodmusic #livemusic #orchestra #rehearsal #practice #oboe #bassoon #clarinet #trombone #violin #piano #flute #cello #viola #harp #percussion #horn #trumpet #doublebass #musicianlife #convert
#musicians #musicismylife#guitar4life #musicvideo #musicmonday #musicstudio #musiclove #album #songwriter #guitarcase ##musician#musicproducer #song #cover #coversong #band #event #rock #concert #pop #musictalent #livemusic #stage #showmustgoon
Did you know with AiGrow, you can easily find the best hashtags for your posts?
You can even track hashtags using AiGrow's "Listening & Repost." It works this way: You add some of your favorite hashtags and all the popular posts with that hashtags will appear on your dashboard. You can deeply scan all the posts and select some of them to repost it on your feed. 
Stories
Did you know you can boost your engagement using stories? Instagram Story has many interactive items such as poll, ask question, quiz, slider emoji, and challenge. Also, many Instagram marketing experts believe that Story is the best feature that Instagram has ever introduced in terms of gaining more engagement. So, don't ever underestimate the power of Instagram Story.
4- Post at the best times, consistently
Creating good content is essential to building an attractive account but it is not enough. If you can't show your one-of-the-kind post to the majority of your followers, what is the use of making them at all? Based on the ever-changing Instagram algorithm that was introduced in 2017, Instagrammers see posts based on engagement and not chronological order. 
But still, you can espouse your post to more followers by publishing on the peak hours. The internet peak hour differs from place to place, but don't worry, you can easily find when your followers are more active by Instagram Insights.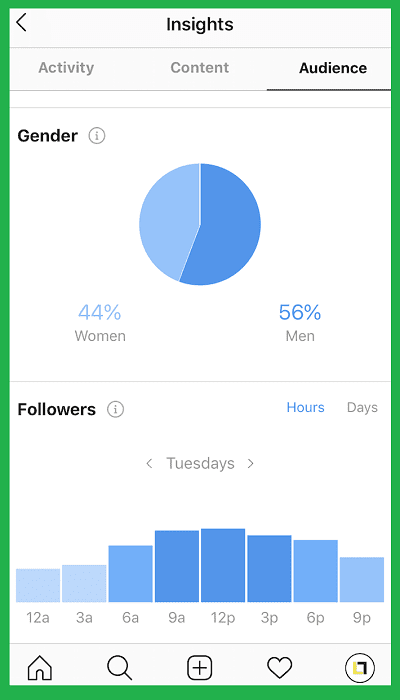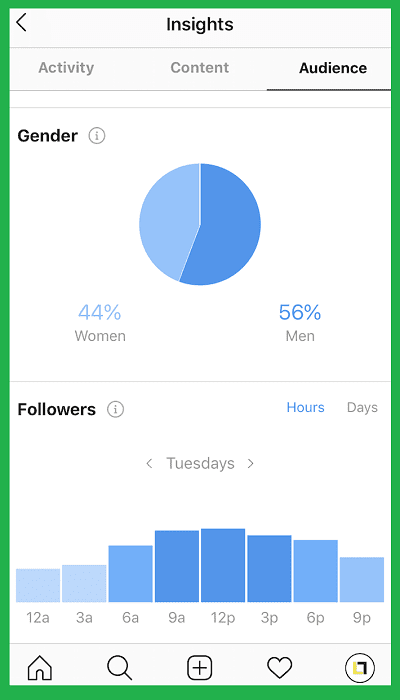 How often should a musician post on Instagram?
Now that you know the best time to publish your content, it's time to make a publishing scheduler and see how many times you should post on Instagram? It's pretty hard to remember all these peak times and then prepare a post and publish it accordingly each time. It's time-consuming and you may don't have the time at that particular moment. That's why you should consider using an Instagram scheduler.
Unfortunately, Instagram does not have an in-build feature for scheduling your Instagram posts. So, you need to use Instagram management apps such as AiGrow. 
5- Use Instagram management apps
If you want a guaranteed way to increase your followers, using Instagram marketing apps is a must. Why? Well, when you choose a platform so popular with more than one billion monthly active users, you also have thousands and perhaps millions of competitors. So, as you can see, your voice might become muffled and that's the last thing you want as a musician on Instagram.
On the other hand, gaining organic and most importantly engaged followers is a delicate job and you cannot trust any apps. With AiGrow, you can promote your account in the most secure way. 
AiGrow offers many promotional packages for all the tastes and budgets. By using some of these packages, you can gain over 500 real followers per month!
6- Connect your Instagram to your other social media
One of the most effective ways to gain new and authentic followers is to connect your Instagram to other social media. You can add for example, your YouTube URL, to the bio. But unfortunately, you cannot add multiple clickable links to the bio. So, what should be done? Well, I have a great solution! AiGrow comes again to rescue you!
AiGrow has a unique feature called Bio Link. With Bio Link, you can add unlimited external links to your bio. Here's how you can add all of Social Media Account(s) to your bio:
How to make money on Instagram with music step 3: Start making money
Now that you know how to gain new fresh followers, it's time to finally make some money using Instagram! In the following, 
1- Add your music in Instagram stories
Did you know you can earn money by allowing Instagram to use your music in stories? By signing up for Facebook Music, you make your music accessible to billions of users. When an Instagrammer uses the music sticker on their story, they might like your music and use it! The best thing is adding your music to Facebook Music is completely free.
There are websites such as CDbaby and TuneCore to get paid for your music on Instagram music library.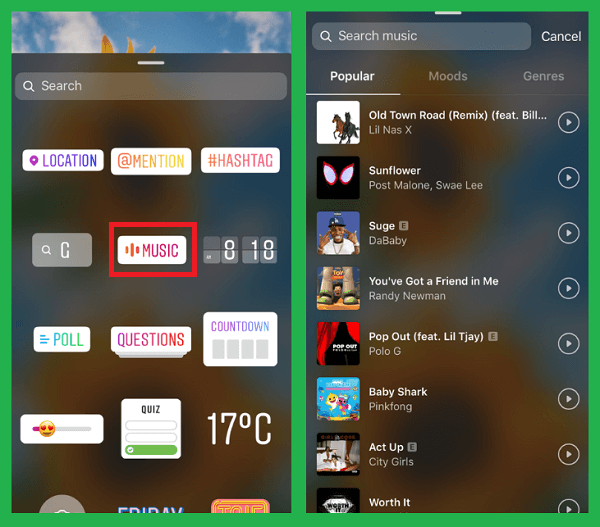 2- Register in membership platforms
Want to have a monthly income as a musician? Then why not set up an account for membership platforms, where you can grow your fanbase? For musicians, Patreon might be the best place to start. Patreon is a membership platform where you can use its variety of business tools to earn a monthly income.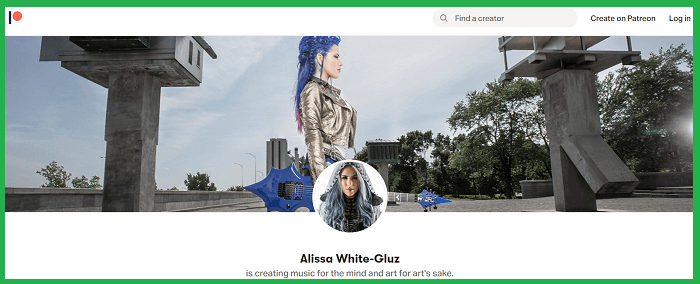 Actually, anyone who makes digital products such as musicians, podcasters, video creators, and many others can become a Patreon creator. Where does your money come from? From your patrons or your fans who subscribe to your account. Here is an example of three types of memberships offered by one of the Patreon creators.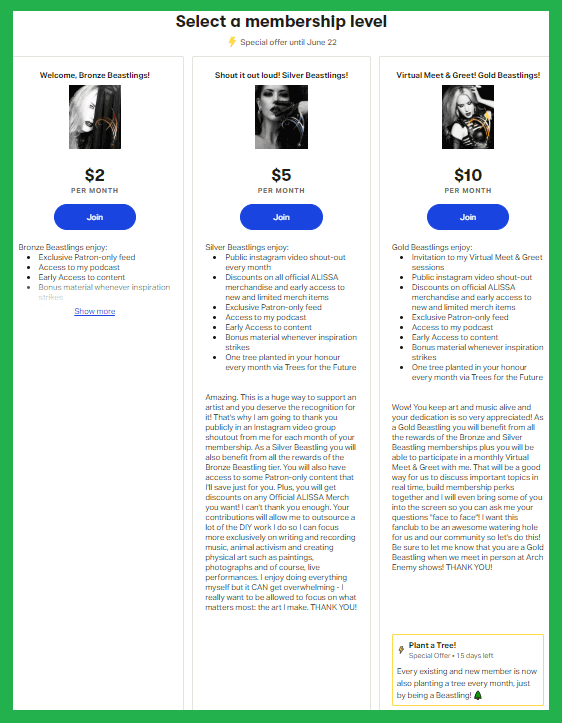 As you can see, there are many ways ﹘ or as Patreon itself put it "million ways" ﹘ to earn money on the platform.
You can add your Patron account URL to your Instagram and invite your followers to subscribe to Patreon or even be a creator (Patreon gives you 50$ for that). 

Remember AiGrow's Bio Link? This tool can come real handy here as it allows you to add multiple URLs, not only to your bio, but also to each post. So, when promoting your Patreon via Instagram, make sure you include the URL on the post.
3- Get sponsors and become a music influencer
Instagram offers opportunities for earning money for all niches. You can get some money by becoming a music influencer, even if you have only 1K followers. You may promote an instrument or a partner up with some companies that sponsored musicians such as Hope For The Day, Pabst Blue Ribbon Music Society, and even Taco Bell. 
View this post on Instagram

If you want to know more, read Get Sponsors on Instagram: The Complete Guide.
4- Get featured on Instagram
Another way to make money on Instagram is to get featured on major Instagram accounts that feature music. But how do you get your music noticed on Instagram? Simple, by following Instagram music promotion pages and constantly interacting with them. 
The feature pages normally write about their conditions for featuring in their bio. Here's a list of best Instagram accounts for music lovers that will feature you:
@chorus – 10.9 Millions Followers

@amazingds – 6.4 Million Followers

@hotvoices – 6.3 Million Followers

@amazingvideo.s – 5.6 Million Followers

@trending – 4.3 Million Followers

@omgvoices – 2.4 Million Followers

@giftedvoices – 1.6 Million Followers

@listentothesevoices – 1.2 Million Followers

@crazyvoicess – 1 Million Followers

@allaboutvoices – 991K Followers

@talented_musicians – 481K Followers

@theamazingsingers – 467K Followers

@topvocalist – 122K Followers

@litvoices – 80K Followers

@wowmusicians – 79K Followers

@topvoices_ – 70K Followers

@voicesandmore – 61K Followers

@stars.uncovered – 46K Followers

@voicesomg – 44K Followers

@starscat.music.shoutout – 33K Followers

@music.stars – 29K Followers
5- Merchandise Sale
Want to know how to make money on Instagram with music in a cool way? When you gain enough followers, you can try to sell merch! Don't think "who's going to buy a T-shirt with my name on it?" If you have real followers on Instagram, then the chances are high that some of them are truly interested in you and are your loyal fans.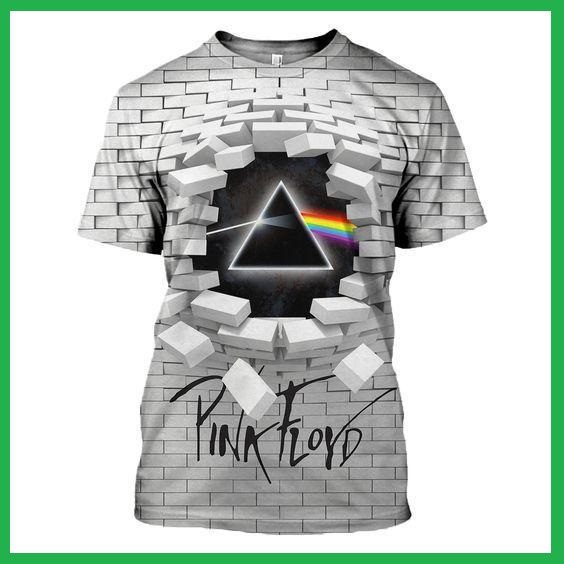 Thread Society is a great clothing company that stays involved with musicians. They even send influencer packages and sponsor some of the musicians. So, you can count on them for your merch. Contact info@threadsociety.com for more information.  
Final words on how to make money on Instagram with music
Earning money as a musician on Instagram might be a little bit slow and difficult at first. But when you pursue your dream of being a successful musician hard enough, it will pay off one day. So, be patient and invest your time and energy on Instagram! Or, make things a whole lot easier by working with AiGrow.