LinkedIn is one of the best social media platforms for businesses. Known globally with almost 690 million users, the platform hosts numerous top-level executives and business owners. So you can see that it's mostly a platform for professionals, and this actually creates plenty of opportunities to connect your brand with the right decision-makers and influencers. Many of these professional companies and figures definitely benefit from a well-thought-out LinkedIn marketing strategy. Plus, they have an informative, aesthetic page on LinkedIn, and you can check out the list of the 'Top 10 Company Pages of 2018' picked by the platform to see how organized and attention-grabbing these pages are.
Although marketing on LinkedIn demands knowledge, time, and effort, it's worth incorporating having an active presence on LinkedIn into your social media strategy. In a nutshell, you must be the Jack of all trades and be familiar with leveraging tools for social media marketing. That's why we've put together a 16-step guide for you to begin your marketing journey on LinkedIn. So let's dive in and find out how to build your LinkedIn marketing strategy from scratch.
Steps to Creating a LinkedIn Marketing Strategy
In the following section, you will read about 16 LinkedIn marketing tips required to set up a solid strategy. 
#1 Define Your Objectives
Primarily it would be best if you determined why exactly you want to start marketing on LinkedIn. Indeed, your marketing strategy on LinkedIn or any other social media depends on your goals and objectives. Therefore, take a pen and paper, make up your mind, and list your essential purposes. If you have no clue where to start, take a look at the following tips to help you choose a goal that fits your demands.
Generate leads

Sell products or service

Increase brand awareness

Reinforce brand reputation

Engage with your target audience
#2 Know your Target Audience
Wondering how to market on LinkedIn? Then, gather customer insights from social media and know your potential customers. After making up your mind and choosing your marketing goal on LinkedIn, it's time to get to know your audience. You can categorize your audiences depending on their business, profession, location, and interests. It would be great if you know them precisely and leverage behavioral marketing to grow your business.
LinkedIn organic targeting option for posts is a unique marketing tool. Using this tool, page admin can target posts based on items below:
Job

Industry

Seniority

Geography

Follower profile data

Language preference

Including organization size
#3 Create Your LinkedIn Profile
The very first and essential asset of your LinkedIn marketing strategy is your page. Indeed, your profile can make or break your business! Your page should be engaging when users search in the LinkedIn search bar.
So do your best to build up your LinkedIn page according to your customer's demands. If you have done the first step, knowing your audience correctly, this step will be more straightforward. 
Typically, it includes information about your products or services, employees, and offices.
To create a LinkedIn page, go through these steps:

Then, click 'Create your Page.'

Pick the category for your business.

Next, fill in company details. You can check your page preview to see how it looks as you add content. 

Select a good URL for your brand. It is a good idea to make it the same as your username on other social networks.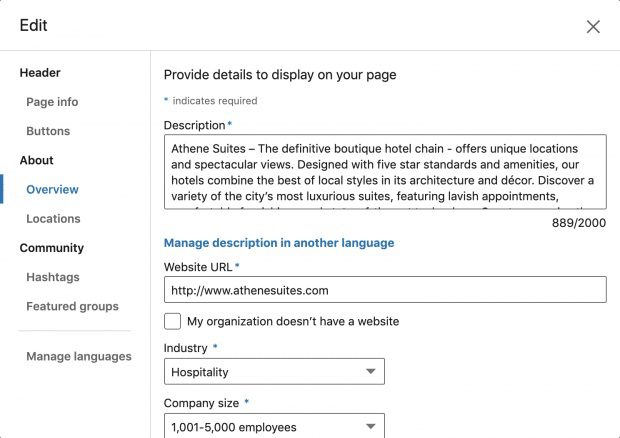 Upload your brand logo and add your tagline. According to LinkedIn, companies with logos get six times more visits

 than others.

Press 'Create Page.'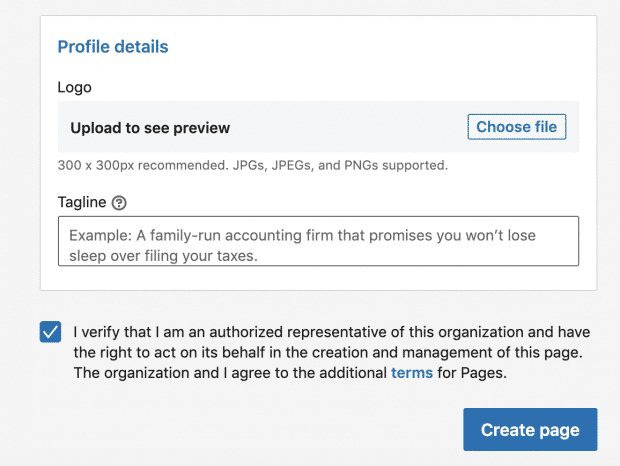 #4 Optimize Your LinkedIn Page
According to research, complete pages get 30% more views. Therefore, add all the details you think you need to your page and make it comprehensive. Now, click the pencil icon on your profile under your company name and start adding information.
Description
Provide your audience with a description of your products and services in a few short paragraphs. Also, let them know your vision, mission, and values. Besides, elaborate on how you can benefit them. Cash in on keywords to make your description SEO-friendly as Google shows preview up to 156 characters of your page's text.
Location
Mention your organization or office's geographical locations. If you have multiple branches or offices, you can add them all by electing '+Add Location.'
Hashtags
Here, you have the opportunity to add up to three hashtags making your profile more discoverable. Choose hashtags that best fit your business and are common in your industry. 
Cover photo
Now, it's time to make your profile visual and eye-catching. The proper image size for your cover photo is 1584 (width) x 396 (height) pixels. So, pick a high-quality image that showcases your business clearly. 
Custom button
Add a custom call-to-action button like 'Register,' 'Visit our website,' 'Contact Us,' or 'Sign up' to your profile to encourage action. But ensure to add the correct URL to lead them to the page and a UTM parameter for tracking.
Manage language
LinkedIn lets you add your name, tagline, and description in up to 20 various languages. So if you promote an international brand or target multilingual audiences, consider those languages you need.
#5 Monitor Competitors Pages to Build a Solid LinkedIn Marketing Strategy
To magnify your LinkedIn marketing strategy, you need to have precise information about your opponents and know how to prosper against them. Ready to spy on people? 
Therefore, cash in on LinkedIn's 'Companies to track' feature and check the list of:
Companies similar to yours

Total number of followers

Follower growth

Social media engagement
Accordingly, track post metrics to check the posts people engaged with most and what failed. Indeed, by monitoring your competitors, you will distinguish what works well for them. 
Therefore, check LinkedIn Analytics constantly to consider your rivals' tactics into your LinkedIn marketing strategy and build a robust one.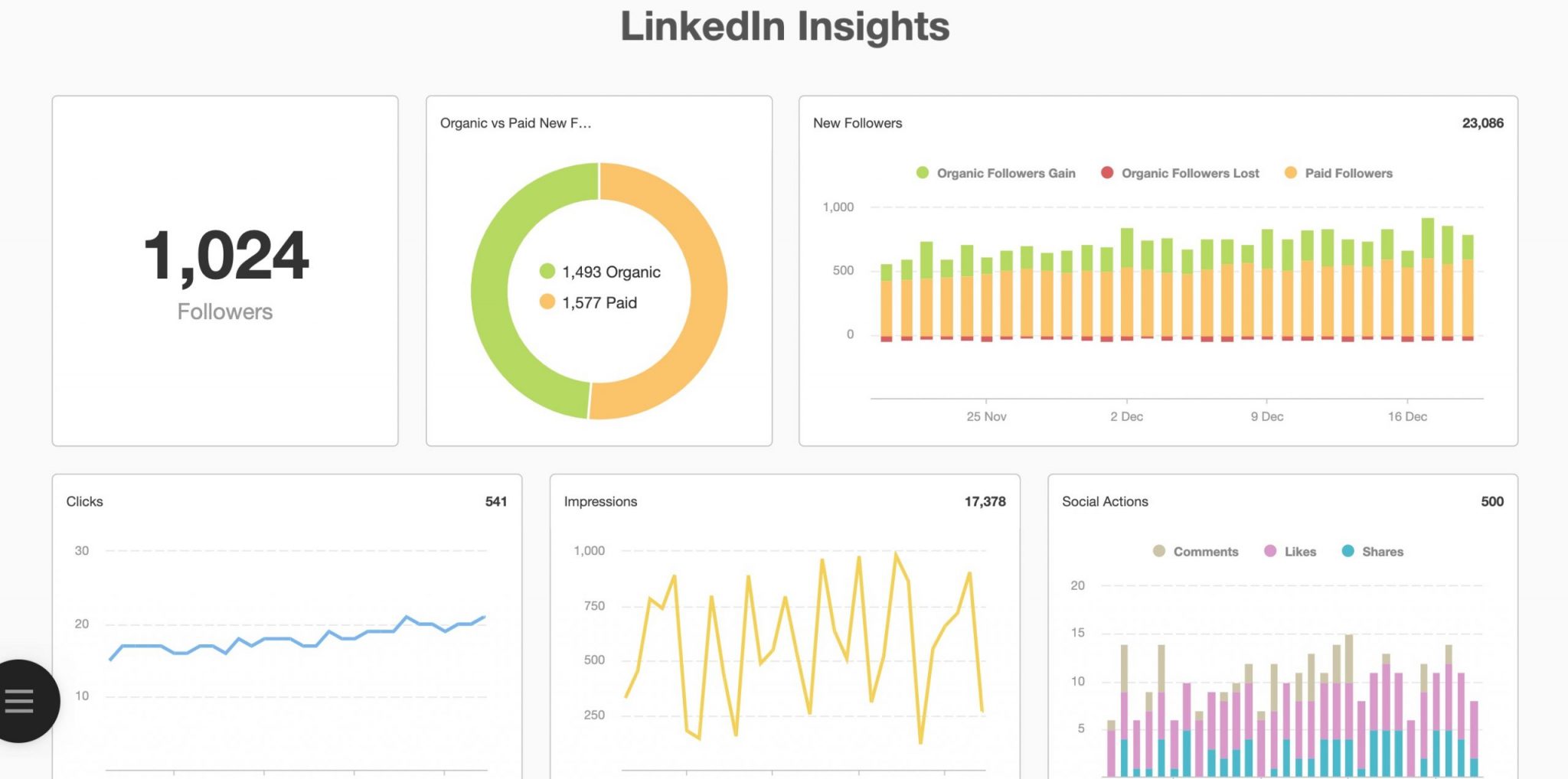 #6 Create a LinkedIn Content Calendar
It's time to set your chicks in a row! What matters on social media is publishing your content when it gets the highest traction. In this case, the next step of the LinkedIn strategy is to map out a LinkedIn content calendar. Adjust your content calendar according to your most to least engaged posts. But in advance, check click-through rates of the 'Updates' section of your Page analytics. 
The essential component of any successful LinkedIn marketing strategy is its all-embracing content calendar. If you are new to LinkedIn or social medial, you may wonder how to do it. But don't worry! You can easily create a social media calendar to keep track of all your LinkedIn marketing objectives. 
Plan posts in advance to publish engaging and awesome LinkedIn content regularly and build a sense of credibility among your followers.
#7 Post at The Best Time
To get the best results, you need to know the best time to post on LinkedIn. Also, you will enhance your engagement efficiently and effectively, making huge bucks.
LinkedIn anticipates companies that post once a month will gain followers six times faster than those that don't. Also, brands that post weekly get two times the engagement, and the ones that post once a day gain even more traction. To clarify, read the below information to perform marketing with LinkedIn adequately.
The best times to post on LinkedIn: 7:45, 10:45, 12:45 p.m., and 17:45 (EST). 

B2B brands best times to post: Wednesday. 

B2C brands best times to post: Mondays and Wednesdays
#8 Use Visual Content in Your LinkedIn Marketing Strategy
Photos and videos are incredible, as they skyrocket your engagement. Indeed, Visual content typically performs better for all social media networks like Facebook, Instagram, and LinkedIn.
LinkedIn finds that posts with images get 98% more comments than the others. Also, custom collages with 3-4 pictures in a single post work well for most pages.
Try to post original and custom images to grasp much more engagement than stock imagery. 
Also, videos get five times more engagement on LinkedIn than any other content type. As LinkedIn native video auto-plays by scrolling, it catches the audiences' attention instantly. Furthermore, the LinkedIn algorithm prioritizes its native videos.
#9 Go Live on LinkedIn: A Unique Marketing Strategy 
Live video is the only format more engaging than video on LinkedIn. In fact, live broadcasts see 24 times the engagement that a pre-taped video does.
Fireside chats

Interviews 

Webinars

Virtual events
Spread the word of your LinkedIn live on LinkedIn and other social media networks across all your audience touchpoints.
#10 Use a Robust LinkedIn Scheduling Tool
Scheduling your posts will save you time, money, and work effectively. Also, you can be confident that your posts are at optimized times every day. However, you must use one of the top tools to schedule your social media posts. For instance, 'Everypost' is a perfect tool to schedule visual posts on LinkedIn, Facebook, Twitter, Google+, Pinterest, and Tumblr. It lets you publish to personal and business accounts on the app or its website platform.
#11 Add LinkedIn buttons
Include a call-to-action button of the most up-to-date version of LinkedIn icon to your website or other social media networks like YouTube or Instagram. Plus, you can apply the 'Share' or 'Follow' buttons with LinkedIn Plugins. In this case, you make it easy for people to find your LinkedIn Page. 
#12 Tag and Mention People 
Tagging people and pages you've quoted or referenced in your content is a crucial step in your LinkedIn marketing strategy.
In this case, the person you've tagged and their followers will be notified along with their connections. This LinkedIn marketing strategy helps more people see your content and page. As a result, you will boost the visibility and engagement of your posts.
#13 Create LinkedIn Polls in Marketing Strategy
Create LinkedIn polls for feedback and better engagement. According to an experiment, the organic impressions of posts, including a poll, are about 115% higher than the average post impressions! 
You can add 2-4 options for voters to choose from. Still, the poll answers are limited to 30 characters and the questions to 140 characters. So questions and poll options need to be clear and easy to understand.
On the other hand, you can log in on mobile and select the '+ Post' design a poll for your 'Home' view or profile, page, or group and then select to post it. Here are some LinkedIn marketing tips for using polls:
Get your audience opinions

Ask questions

Get Feedback

Build interest in a product launch

Conduct market research
#14 Link Your LinkedIn to other Social Media Accounts
You can link your page on LinkedIn to other social media accounts like Instagram. For instance, Instagram lets any user add only one link to the bio. However, if you have multiple social media channels or accounts, you can put all your social media links to your Instagram bio using a potent tool like MyURLs. If you have high engagement on your Instagram, you will drive traffic to your LinkedIn instantly. Luckily, MyURLs is a free app that everyone can take to their advantage.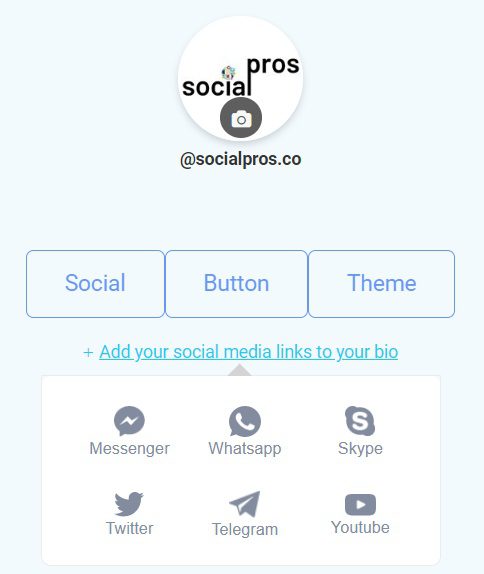 #15 Interact with Audience
Do not underestimate engaging with your audience and followers to build credibility and brand trust. Therefore, respond to comments within a short period to encourage more engagement. It is a practical idea to use email marketing, too. Also, you can create a LinkedIn group to make your content visible and connect and interact with your niche folks. However, you can't be a group member with a LinkedIn page, but you can present a LinkedIn group on your page.
Therefore, start your group and be part of an existing group using your LinkedIn profile. If you want to gain control and awareness in the industry, be the moderator and admin of a group.
Now, to create a LinkedIn group, go through these steps:
Click the 'Work icon' on the top right corner of your homepage.

Then, go to 'Visit more LinkedIn products'

Select 'Groups.'

Next, press 'Create a new group' from the top right corner

And, fill in the needed information: group name, about this group, group rules, privacy

Finally, click the 'Create button.' 
Presently, you created your group, and it's done.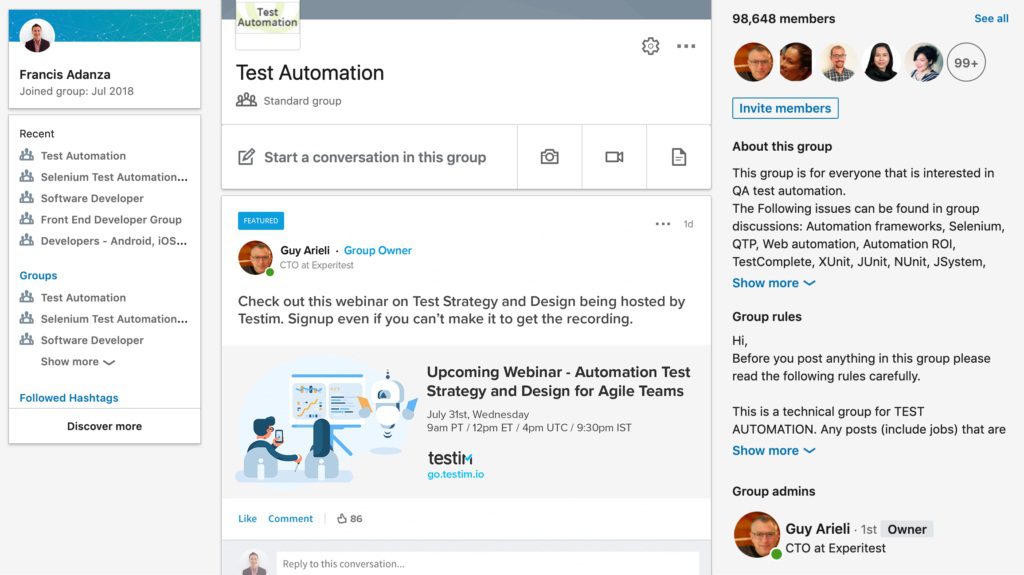 Furthermore, if you want to highlight your group on your LinkedIn page, you need to:
Head over to your LinkedIn page

In the 'Featured groups tab,' click 'Add a LinkedIn group.' 

Pick the group(up to 10) you want to show on your page (you can add up to 10 groups)

Press 'Save'
On the other hand, if you desire to delete a group, select the "Delete icon."
#16 Make Your Employees Your Brand Ambassadors
If you are a manager with employees, you hold all the aces. Indeed, people engage more with employee profiles than with company pages, so count them as an essential part of your LinkedIn marketing strategy. Also, ask your employees to follow your page and like and share your updates. In addition, make sure to encourage them to complete their personal LinkedIn profiles and add your company as their employer.
Most importantly, make your employees your brand's best ambassadors and the face of your company. Admittedly, you can enhance your presence by asking them to share articles from the company's blog, new features, and events mentioning the company name in the post.
Summing Up Everything on Creating a LinkedIn Marketing Strategy
LinkedIn has grown into a powerful marketing media that helps you build brand awareness and increase sales conversion. Use and take advantage of the above LinkedIn marketing strategies. Then, publish posts that will appeal particularly to your audience on LinkedIn.