Instagram stories are an exceptional opportunity to share new know-how or products with your followers instantly. In addition, many users repost other their successful competitors' stories to boost engagement rates and draw followers to their accounts. If you crave taking advantage of this chance, you can easily repost Instagram stories for free. Therefore, you will inspire your audience and develop your business effectively. 
Instagram has provided many features for users to be more visible and sell their products successfully. For instance, you can even repost on an Instagram story when you're not tagged in.
If you want to drive attention to your account and get more views, I'll show you to easily repost Instagram stories. 
How to Easily Repost Instagram Stories for free in 2021
It's pretty simple to repost a video on Instagram story. Now, If you want to be able to repost other people's stories to your own stories without using any other tools, there are two things you require: 
1- You must be mentioned or tagged in the story you want to repost. In this case, you will get a notification in your direct message telling you that you've been tagged or you've been mentioned in someone's story.
2- The creator's account must be public because when you repost, other people who are not necessarily following that person might be able to see that story.
Therefore, when someone posts an Instagram story and tags you or mentions you in that story, you get a notification in the form of a direct message. When you are in your direct messages, you will see a small link saying "Add this to your story" on top of that story.
 Now, to tag someone in your story, you need to:
Choose the "Aa" on top of your screen or tap on the story you are preparing.

Next, tag the person as @username.

So they will notice the message of "1 story mentions you" as a notification in "Mentions."
Once you post the story, Instagram sends a notification to the account you tagged the username and sends the stories to them by a DM. 
Also, this is how you can recognize if someone mentioned you in an Instagram story. 
It's pretty easy to repost on the Instagram story when the user tags you. Accordingly, to repost the story, go through the following instruction:
Open your Instagram Messages box

Select the "Mentions"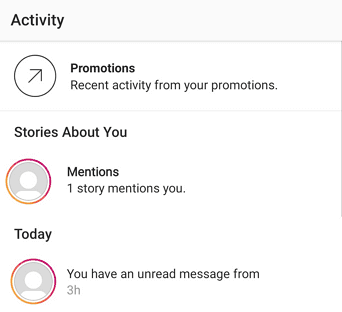 Later, press "Add This to Your Story."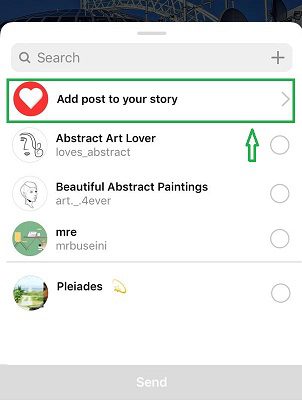 Tap "Send to

"

Ultimately, select "Share

"

and repost the story.
That's it, and you have reposted your favorite story. Though, keep in mind that you can edit Instagram stories & posts after publishing.
How to Easily Repost an Instagram Story if You're Not Tagged
Don't get upset if you are not tagged in a story and still want to report that story! I have a piece of good news! It's still possible to save Instagram Stories on PC! 
Here, I'll show you two methods to easily repost Instagram stories when they do not tag or mention you:
1- Take Screenshots of Instagram Stories
A way to repost Instagram stories when you're not mentioned is to take screenshots or record the story on your screen by a recorder app. However, gone are the days of screenshots! Taking screenshots and editing the whole video after recording it is time-consuming. So the resolution and quality will decline, and it's not worth it. 
But, practicing the best Instagram repost app, you can easily repost Instagram stories when they forget to mention you.
2- Quickly & Easily Repost Instagram Stories via AiSchedule
 AiSchedul is one of the best repost apps for Instagram stories that allows you to add up to 80 accounts. Indeed, it is a multi-tasking Instagram management tool that lets you schedule, repost and download Instagram reels.
The only action you need to take is to:
Sign up for free

and add your accounts.

Press "Manage Account."

Tap "POSTS & SCHEDULING."

Next, select the "Repost" button.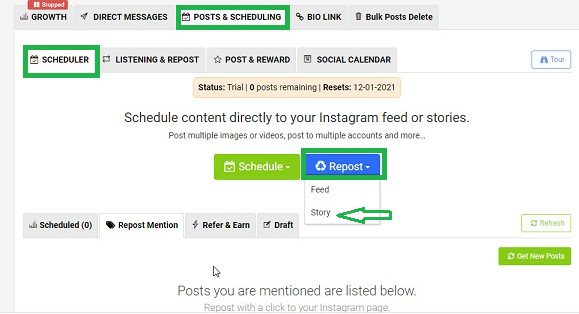 Choose "Story." 

Instantly, enter the account's username.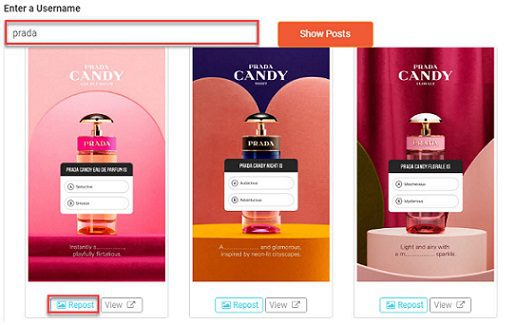 You will view all the stories listed by date. Formerly choose the one you desire to repost.  

Now, you can edit and add the tags and every detail you want.

Next, tap on "Post Now," or to schedule the time, select the "Post in future."

Eventually, submit your post.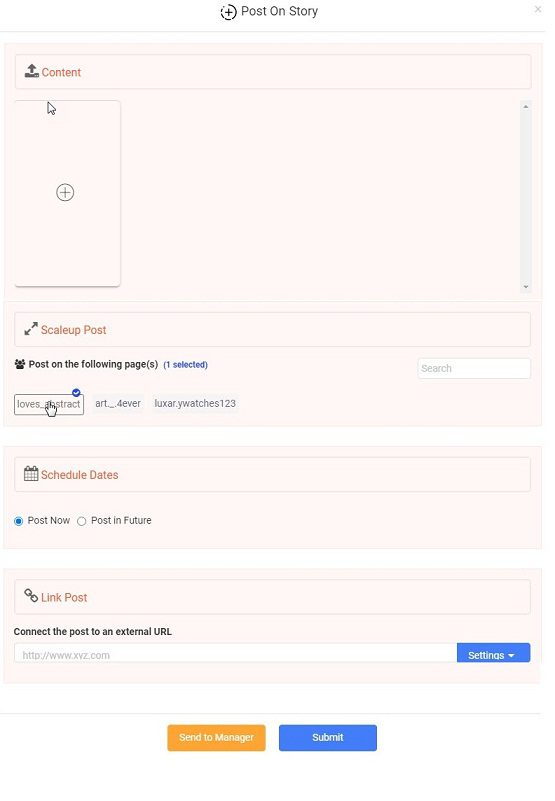 AiSchedul is the most reliable and agile method to repost Instagram stories when you're not tagged in. Also, it grants you a feature to repost on Instagram and edit the original caption.
How to Repost a Post to Instagram Stories
Instagram provides its users to repost photos and videos to Instagram stories. Therefore, whenever you like content, you can instantly repost it on a story by going through the following steps:
Head over to your desired post.

Select the paper plane icon beneath the post.

Then, tap "Add Post to Your Story."

Here, you can edit the post if you wish.

Lastly, repost the content.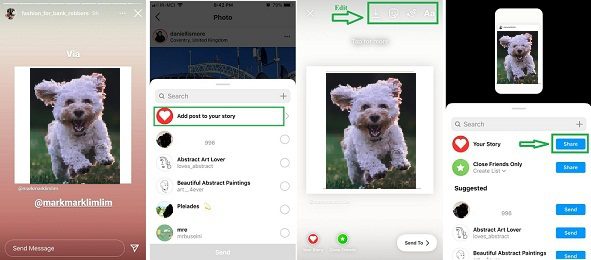 Apparently, it is an effortless task to perform, though you are not able to do it on your PC. Actually, many Instagram features are only available on mobile, which is not always a good idea. However, AiSchedul is an IG-friendly app that opens a back door to easily repost content on your desktop.
How to Easily Repost a Post on Instagram Stories from PC
AiSchedul affords you a feature to easily repost an Instagram story from a desktop. Therefore, login to your account and follow this instruction:
Click on "Manage Account."

Choose "POSTS & SCHEDULING"

Then, click on the "Repost" button.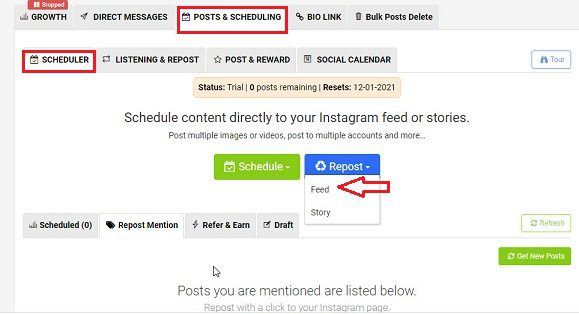 Select "Feed." 

Insert the account's username that you want to repost its content.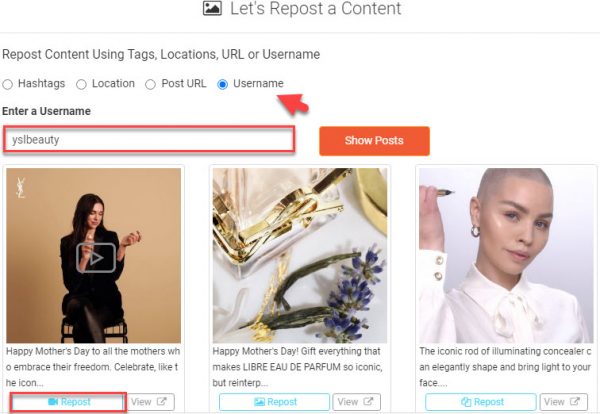 To repost a photo or video, choose hashtags, location, or username. 

Edit the caption and add hashtags.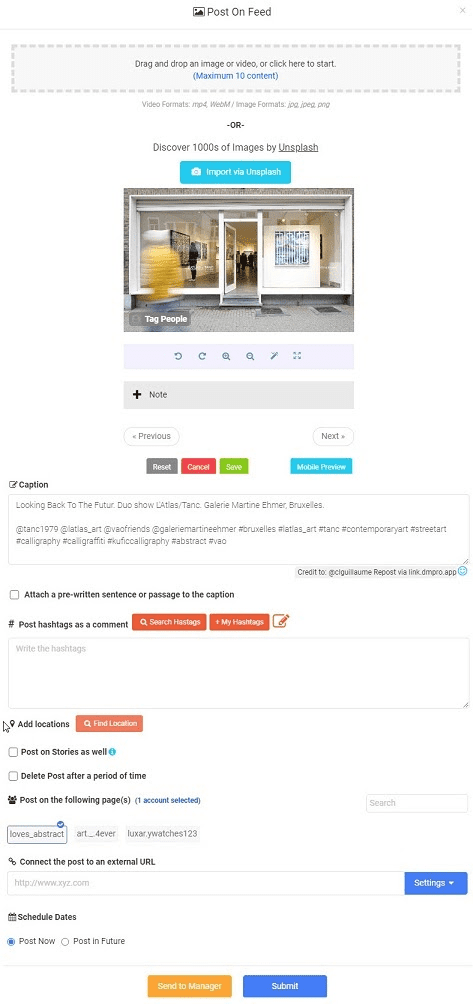 Then, click on the "Post in future" to schedule the time or select "Post Now."
And that's it! 
Final Words
Many marketers and business owners use Instagram stories daily. Indeed, reposting viral content will help you grow followers and expand your community in your niche. Therefore, if you think about exploring with stories to boost your reach, now is a perfect time.