Do you know how to search for a specific message on Instagram?
It is quite a challenge for many users to search Instagram messages. Especially if you have thousands of messages, it can be difficult to find the one you are looking for.
However, with the right knowledge and a few simple steps, searching for messages on Instagram is not only possible but also quite easy!
This article will provide tips and tricks on how to search for a specific message on Instagram and will introduce you to one of the best Instagram DM apps, making it easy for you to find what you're looking for in your DM inbox.
Note: If you are looking for an effective DM tool to help you to search Instagram DMs on your phone or PC easily and quickly, DMpro is the best option. In the following sections, we will discuss its incredible features in more detail. So, stay tuned, and let's get started.
Can You Search Messages On Instagram
It's no secret that Instagram has become an essential part of our online lives. We share stories, pictures, and videos with friends, family, and the world. But what about those private messages that you'd like to keep track of? Can you search Instagram messages?
The answer is yes! Continue reading to learn how you can search Instagram messages easily.
How To Search Instagram Messages
Searching through messages on Instagram can be a tedious process. But we will help you to find out how to search Instagram messages easily. Whether it's a conversation with an old friend or an important message from your boss, here is how to search for a specific message on Instagram.
The first step is to open up your Direct Messages
Second, tab on the feed.
Now, once there, type in the name of the user whose messages you need to search in the search bar located at the top part of your screen.
Then, when their profile pops up in front of you, click on it, and all their messages appear in one thread below that window.
This makes it easy for you to scroll through and look out for any keyword or phrase that stands out while searching for your desired message.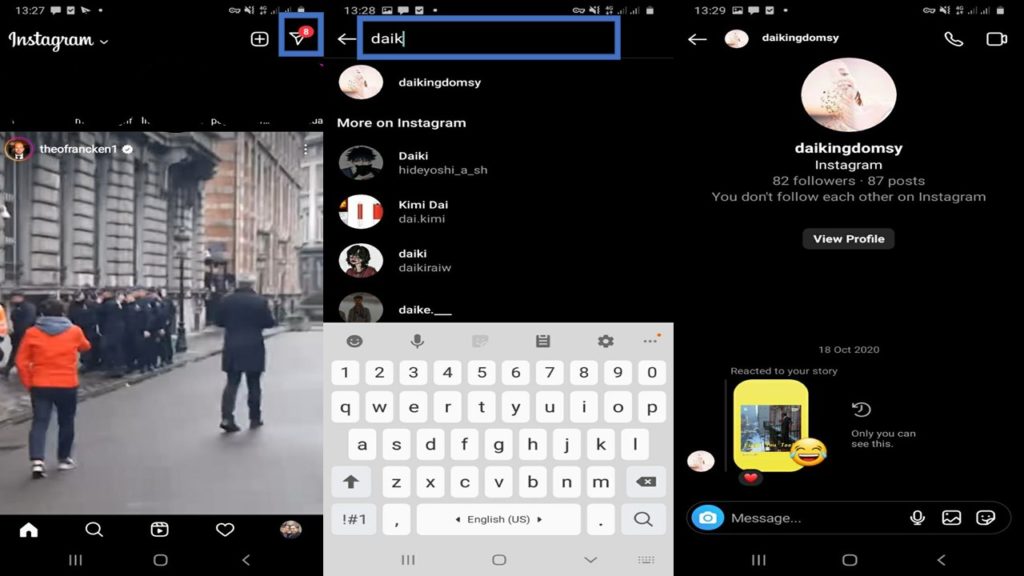 How To Search Messages On iPhone
For anyone using an iPhone, searching Instagram messages is not a daunting task. To do so, follow this step-by-step guide to understand how you can search for specific messages on your iPhone:
To search through your Instagram messages quickly and easily,
First, open the app and log in to your account.
Once you're logged in, select 'Messages' from the bottom menu bar now that you are viewing all of your messages,
You will see the search box on the top of your screen.
Once you have tapped on it, type whatever words or phrases into it that you wish to search for within your inbox and hit enter.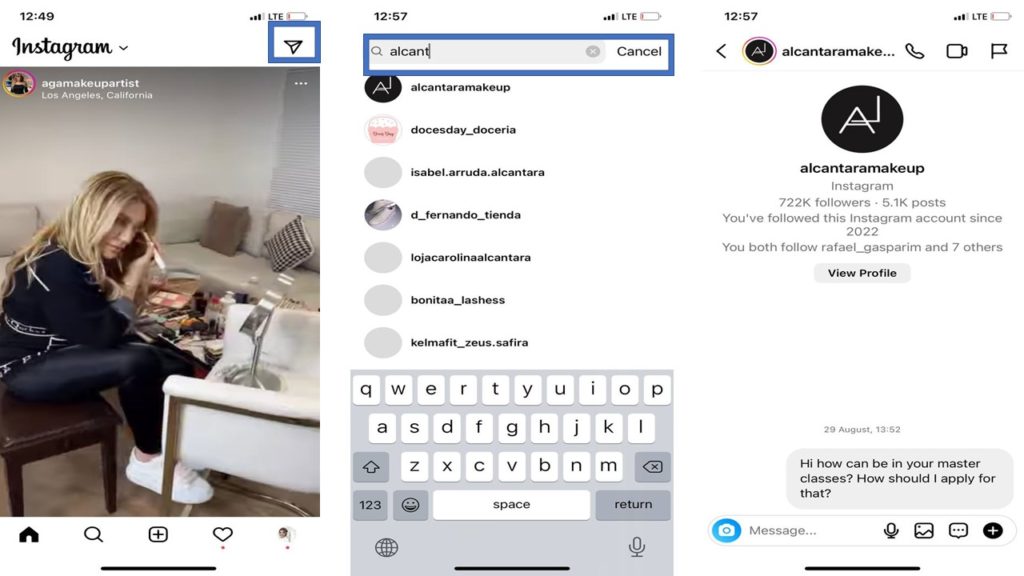 How to Search Instagram Messages on A PC
Searching Instagram messages on your PC may be something you feel the need to do. Whether for work or personal reasons, there are ways to search Instagram messages from a PC.
The first step to searching your Instagram messages on a computer is downloading the appropriate software. This can be done by finding an app that supports messaging and connecting it with your Instagram account. Afterward, you can access your conversations from the comfort of your desktop.
Once you have downloaded and installed the necessary software, searching through your messages is quite simple.
There are two simple ways that we are going to explain to you.
How To Search Messages On Instagram Using DMpro
DMpro is one of the most reliable Instagram DM tools. It has lots of features to grow your Instagram account. DMpro allows you to search through Instagram on your phone or PC.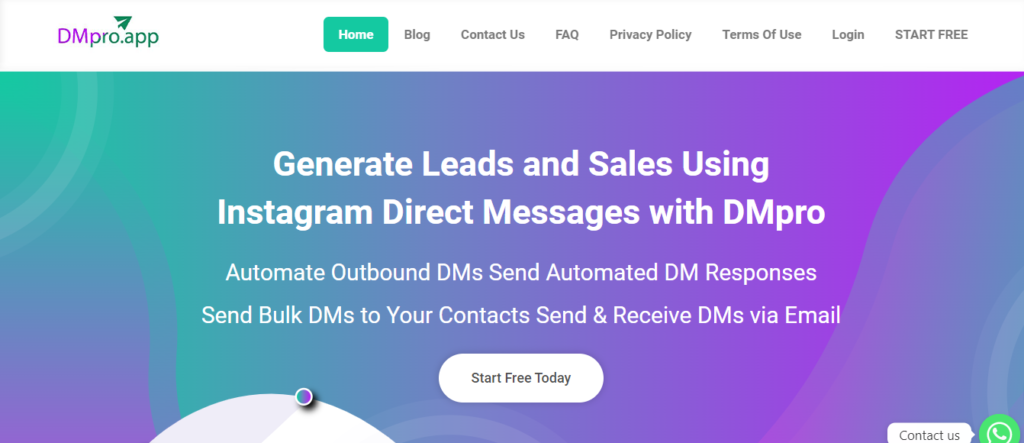 To use DMpro, follow the steps below:
First of all, sign up on DMpro.
Then, connect your IG account.
Now, open your dashboard and choose 'Manage'.
Pick the Instagram 'DM inbox' and choose a conversation.
Here, you can search the intended keyword by pressing ctrl+F (on Windows) or cmd+F (on Mac) and find the message you want.
DMpro Features
Here is a list of DMpro's other major features.
Powerful Targeting – You can automate outbound DMs to be sent to an excel list you have uploaded, your current followers, new followers, followers of an influencer, and Hashtag users. Your DMs could vary from updates about a new launch or a welcome message to any creative introductory message that you wish to send to people who are into your niche.
Connect Instagram DMs to emails – Connect your DM to your email so you can receive and reply to messages in your email account.
Desktop inbox – You can use your mobile or desktop inbox to organize, filter, or delete DMs.
Sending an auto-response – Use DMpro to create a powerful response and send it to anyone automatically.
Send bulk DMs -Make your direct message look as if it was sent by a human instead of a robot, and send it to as many users as you want at once.
2. How to Look up Messages on Instagram Using Data Download
There is still one more in-app solution to search and check Instagram messages on a PC. In order to search for DMs on a PC, follow the steps below:
After logging into your account, tap on your profile picture and select 'Settings.'
Then, choose 'Privacy and Security' > 'Data Download.'
Here, tap on 'Request Download' under 'Data Download.'
If you haven't entered your email address, do it and choose the kind of information format [HTML or JSON] you want.
Within 14 days, you will receive an email including all the information about your account, such as your search history, posts, DMs, etc.
Finally, you can open the zip files in your email and search keywords using ctrl+F(on Windows) or cmd+F (on Mac).
But the problem with searching Instagram messages with this method is all the files are so messy.
Frequently Ask Questions About Search Instagram Messages
Now let's read some questions that people also ask about the topic.
#1. How To Search Text On iPhone?
With millions of new photos, videos, and messages posted daily on social media platforms like Instagram, it can be hard to keep track of everything. But luckily, the iPhone makes it easy to search and find specific text within your messages. Whether you need to find a direct message or just want to browse through old conversations – here's how you can search for text on your iPhone.
To begin searching Instagram messages, open up the app and navigate to the chat window that contains the conversation you would like to search through. Once inside the chat window, tap on the search bar at the top right-hand corner of your screen. From there, type in any keyword you are looking for and hit enter. All results will appear automatically with all messages containing that keyword highlighted in blue font.
#2. How To Check Messages On Instagram?
Checking messages on Instagram is quite easy. All you need to do is open the app and look for the icon at the
top right corner of your screen. Tap on it, and you can access all your direct messages with other users on Instagram.
#3. Are Instagram Messages Private?
With the ever-changing world of social media, it can be difficult to keep up with the latest privacy settings.
Instagram doesn't let anyone log into your account without having your IG username and password. Also, anyone with your IG password can sign in to your account and read your messages.
So, if you want to keep your account safe, keep your IG password just for yourself.
#4. What Is A DM On Instagram?
Are you familiar with Instagram? Have you ever wondered what a direct message (DM) is on the platform? DMs are an important feature of Instagram that allows users to communicate privately with their followers, friends, and family.
A DM or direct message is a private conversation between two Instagram users. This type of communication offers total privacy from other users on the platform. It's like having a private chat room! You can even send images, links, and videos through private messages.
To start sending a DM on Instagram, just click the 'message' icon at the top right corner of your profile page or on someone else's profile page. Then type your message and hit send. That's it! Your friend will receive it right away.
Conclusion
In conclusion, learning how to search Instagram Messages can be a great way to stay on top of conversations and find the information you need quickly. With the right tools and strategies, you can easily search through old messages to find what you're looking for.
Don't let searching for messages become a chore — take advantage of the features that DMpro provides to make it easy. Give it a try today and see how easy it is to find exactly what you need in your direct messages!