Got a DM notification but when you check your DM inbox, there's no message inside? Or have you ever received one of those disappearing photos and videos that can be seen only once or twice? So, what can you do in these cases? How to see expired photos on Instagram and how to view unsend photos and videos? 
In the following, I'll show you how to view unsend or expired photos and videos. So, stick around and follow me to the end of the article. But first, let's see how you can send disappearing messages on Instagram. 
How to Send Disappearing Photos and Videos on Instagram DMs? 
Sending disappearing messages or expiring photos and videos on Instagram is really easy. All you have to do is to follow these steps: 
Open your chat with whom you want to send an expiring photo. 

On the bottom of the screen, tap on the blue camera icon. 

Now, take a photo or video and then choose if you want the other recipient to view it once, twice, or forever.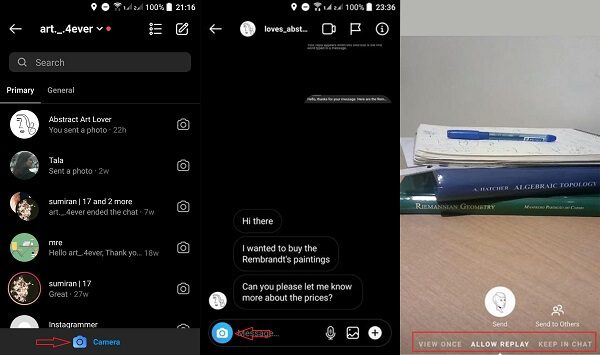 That's it! Also, as you see in the picture above, you can send these photos just by tapping on the "Camera" icon in your DM inbox. 
How to Reply to Disappearing or Expired Photos on Instagram? 
Replying to disappearing messages on Instagram is just like replying to regular messages. You just have to open the message, view the photo or video and then, reply to it. 
However, keep in mind that you just have the chance to view the disappearing message 1-2 times. After that, if the sent message has not been set to remain in the chat, you won't be able to view them anymore and they are assumed to be expired photos on Instagram. But now, let's see if you can see expired photos!
How to See Expired Photos on Instagram?
Honestly, there are no ways to see expired photos on Instagram, unless: 
The sender decides to keep the photo in the chat, 

Or you take a screenshot. 
In the first case, you can always re-open the photo or video and view them as many times as you like. But if you receive a disappearing message that is viewable once or twice, you may think that taking a screenshot is ok. 
Well, unfortunately, in the latest Instagram updates, the sender will get notified if you take a screenshot of the disappearing messages.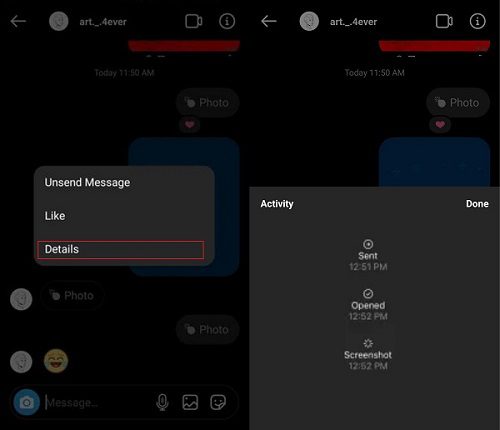 So, to see an expired photo on Instagram, I suggest you simply ask the sender to re-send it to you. 
By the way, sometimes you may need to see the expired photos you have sent on a chat. What to do in this case? Let's see!
Recover Expired Photos and Videos You've Sent
Well, just like the expiring photos and videos you receive on Instagram, you cannot see the expired photos you have sent! I know that this is too weird, but if you want to have access to the disappearing messages you send, you have to try one of the following ways: 
Send photos and videos from your camera roll, 

Or save the photo you want to send to your gallery before sending it,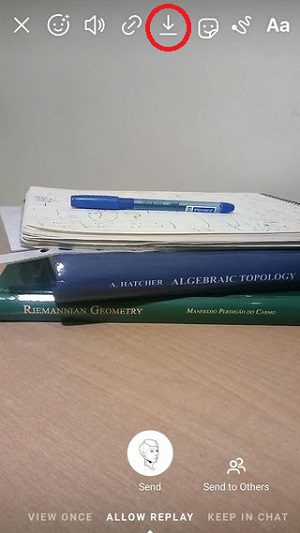 Otherwise, if you send any messages in the vanish mode and it gets expired, you'll never access them again. 
Read More: How to Save a DM Video on Instagram in a Minute?
View & Save Unsend Instagram Photos Someone Has Sent You
Another case that may lead you to search for a way to view expired photos and videos on Instagram is when the sender unsends the messages. Well, hopefully, this one has a really easy solution and in the following, I'll tell you how to read and view unsend Instagram messages.
Actually, this is not something that can be done using the official Instagram app. For this, you have to use a professional Instagram DM management tool like DMpro. Using this amazing DM tool, you connect your Instagram DM inbox to your email address. What happens is that as soon as you receive a message on Instagram, the message will be forwarded to your email inbox. So, when the sender unsends the message, you still have it in your emails and hence, you can easily view and save them if you want. So, sign up for free and give it a try to see expired photos on Instagram.
Bottom Line
To sum it up, there is no way to see expired photos on Instagram DMs. However, if you are sending any messages in the vanish mode, save them on your device before sending them. Also, if by expired photos you mean the photos and videos that the sender has deleted, use a third-party like DMpro to view and save them.