If you don't have a bio link on your TikTok account, now's the time to add one! TikTok is a popular platform with many great features for brands — including the ability to add a link to your bio. By using a TikTok bio link, you can take your TikTok marketing to the next level and capture more leads than ever and connect your TikTok account to Instagram or other popular social media. 
Let's break down why your TikTok bio link is such an important opportunity and how you can use it to get more leads. 
The TikTok Bio Link
TikTok's bio link is similar to the bio link you have on Instagram. Your link in bio on TikTok is found in between your bio and your feed of videos. You're only allowed to add one URL at a time. Many brands choose to link to their website, while individual creators often cross-promote their other social media platforms. 
Zach King, a popular TikTok creator, uses his bio link to send his followers to a YouTube video.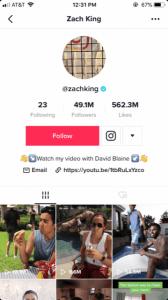 It's important to take advantage of this bio link and add a link to your bio. TikTok is becoming more and more popular, making a great marketing platform for brands. But you shouldn't stop with just making TikTok videos — encourage your followers to visit your website, where they'll hopefully convert into paying customers. 
How to Add a Clickable Link To TikTok Bio?
You can add a link in your TikTok bio by opening the TikTok app and going to your profile. Tap the "Edit profile" button in the center of the screen. Then you'll see a "Website" option appear in a list of other choices (bio, Instagram, YouTube). Tap that "Website" button. Then you can paste the URL you'd like to include and save it to your profile.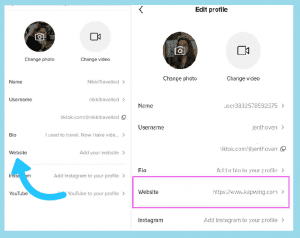 Not all TikTok users have access to the "link in bio" feature. TikTok is still testing this feature, so if you don't see a button to add a link to your account, don't worry! You can get access to the latest TikTok features by joining the TikTok testers program. To find this program, tap the three dots in the upper right-hand corner of your profile. Then select "Join TikTok Testers." From there, you can get the TestFlight app and then join the beta. This will allow you to help TikTok to test out new features.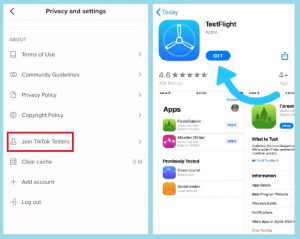 Ready to take advantage of TikTok's link in bio feature? Let's break down the best ways to get more leads through TikTok.
How to Generate Leads Through Your TikTok Bio Link?
As mentioned above, TikTok only lets you add a single clickable link to your bio. So it's better to make the most of this precious link. A link in bio tools such as MyURLs.Bio lets you create a custom landing page where you can list several links for your followers to peruse. 
First, let's examine how you can get your all-in-one link and free landing page on MyURLs.Bio and then we'll examine things that you can promote with this service. 
Use MyURLs.Bio to Manage All External Links on Your TikTok Bio
MyURLs.Bio lets you add as many links as you'd like. You can also generally use the tool to customize your landing page and make it be on-brand. And you'll have the ability to track the traffic you're getting from your TikTok link, too.
To use this free tool, first sign up for MyURLs.Bio: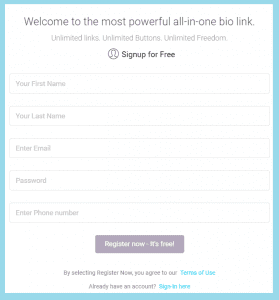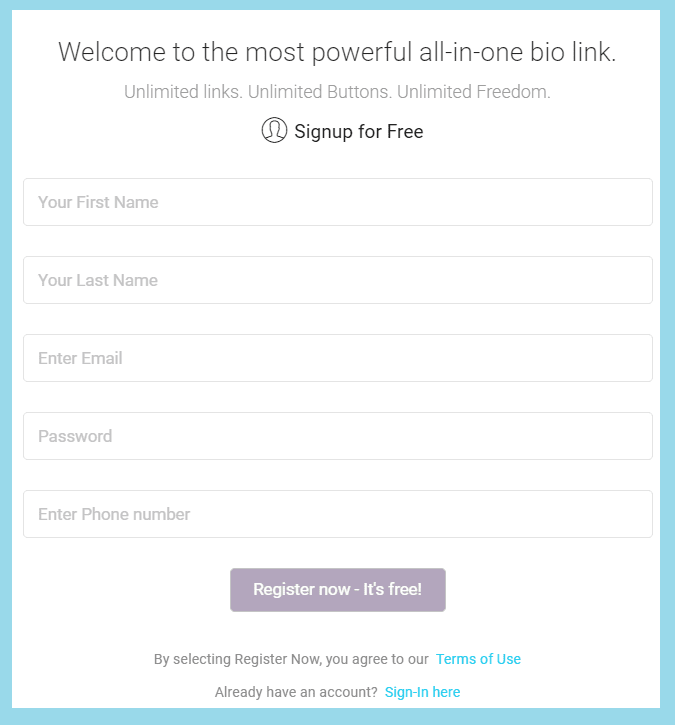 Then you should add an Instagram account to be able to generate your bio link. After that, go to the bio link and copy your unique URL.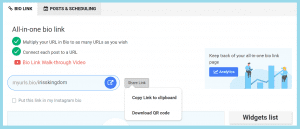 And place this link into your TikTot and enjoy it!
Here are some of the benefits of using this tool:
Related Article: How to Convert TikTok Videos to Instagram Posts
1- Add Any External Link 
This tactic is a no-brainer for brands who want to succeed with marketing on TikTok — it allows them to simultaneously promote multiple links simultaneously. You might choose to include any combination of the following links with your link in bio tool:
2- Link to Your Ecommerce Product Page with Email Opt-in
Another smart tactic to use with your TikTok bio link is to add a link to your eCommerce product page with an email opt-in. When your followers visit this webpage, they'll see a pop-up asking them to enter their email (to receive a discount or simply receive a newsletter). If they enter their email address to join your email list, there'll still be leads, even if they don't convert and make a purchase during that first visit.
David Dobrik, a well-known YouTuber who is highly popular on TikTok as well, uses his link in bio to send followers to his online shop. When you tap the link, you're taken to David's merch shop — the Official David Dobrik Store. You'll also see a pop-up advertising a 10% off coupon if you subscribe to receive automated marketing text messages.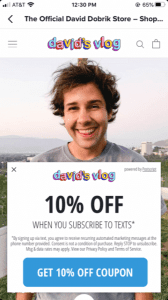 This is a great way for David to capture more leads. Even if a website visitor doesn't purchase one of his sweatshirts or other products, they still might add their phone number and opt-in to receive texts. Then David will continue nurturing that lead over time through marketing messages, turning his TikTok account into a lead generation machine. 
On MyURLs.Bio, you can easily add a "Contact Me" button.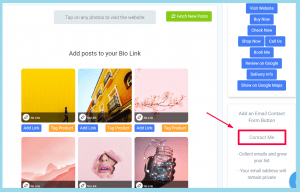 3- Create Gated Content and Link to It From Your Bio 
Gated content has a lot of benefits for brands. And when you create gated content and link to it from your TikTok bio, you can generate even more leads from this social media app.
Gated content is a piece of content that's not publicly available. Users can only view or download this content by providing their email address or other contact information to "unlock" it. Once you've built brand awareness with consumers through ungated content (for example, informative TikTok videos), you can move to the next stage in the funnel: capturing leads through content that's gated.
What type of content should you create? The answer to that question will depend on your brand's industry and niche. B2B companies might see success offering a white paper, while companies with an audience of consumers may have better luck with an easily digestible PDF. You'll also want to pick a topic that's highly relevant to your audience.
Related Article: Become a Successful Instagram Content Creator in 2020
Here's an excellent example of what gated content on TikTok can look like. Sammi Brondo, an NYC-based registered dietitian, provides nutrition services to clients, working with people who want to lose or manage their weight and create a better relationship with food. Sammi has a TikTok account @veggiesandchocolate, where she regularly posts videos with quick recipes or nutrition tips.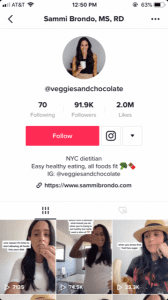 Sammi uses her TikTok bio link to link to her website. When you click on that link, you're taken to her website homepage, where you'll see a pop-up advertising a piece of gated content — a list of Sammi's 10 kitchen staples, plus 10 recipes to go along with them. If you enter your email address and sign up for Sammi's newsletter, you can receive the free list.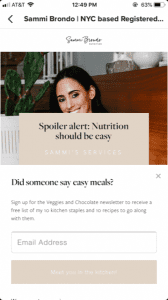 For Sammi, this is a smart move. The piece of content is highly relevant to her audience, many of whom probably visit Sammi's social media accounts because they're looking for recipes. And it's a double win for Sammi because anyone who opts in to receive the content will have signed up for her email newsletter, too.
2. Use BrandID
The other great tool that can help you is BrandID.
This very easy-to-use design tool will help you create a curated collection of links plus an attractive landing page that will engage your visitors and encourage them to follow you.
So, do not miss this great design service to better showcase your brand on social media platforms.
Final Words 
These tactics are all excellent ways to take advantage of your TikTok bio link and capture more leads. Use MyURLs.Bio to the best of your ability so your TikTok followers will become paying customers, too!